30 Fall Slow Cooker Recipes for Busy Weeknights
Nothing says "Happy fall, y'all" like having a delicious, warm bowl of soup, chili, or other delectable, hearty meal slowly cooking in your crock pot and filling the house with enticing aromas. So today, we have 30 fall slow cooker recipes to share with you. What's amazing about these slow cooker recipes? They are easy to throw together for a weeknight meal so that dinner can be ready when your family is ready to eat. Also, these recipes feature many fantastic fall foods, such as pumpkin, squash, cranberries, and more.
30 Fall Slow Cooker Recipes for Busy Weeknights
Easy slow cooker steak chili from 100 Days of Real Food. Several chili recipes, which are a staple of fall and winter, made this list. But this is the only chili with stew beef (along with the beans), as the protein.
Crock pot chicken noodle soup from Family Fresh Meals.  A great chicken noodle soup recipe, especially one made in the slow cooker, is a must have for fall and winter.
Cranberry mustard pork roast from Super Healthy Kids.  Cranberry is one of those delicious foods that we associate with fall, and this recipe delights with fresh or frozen cranberry paired with pork roast. A bonus to this recipe is that it is easily prepped and frozen to simply add to the slow cooker when needed.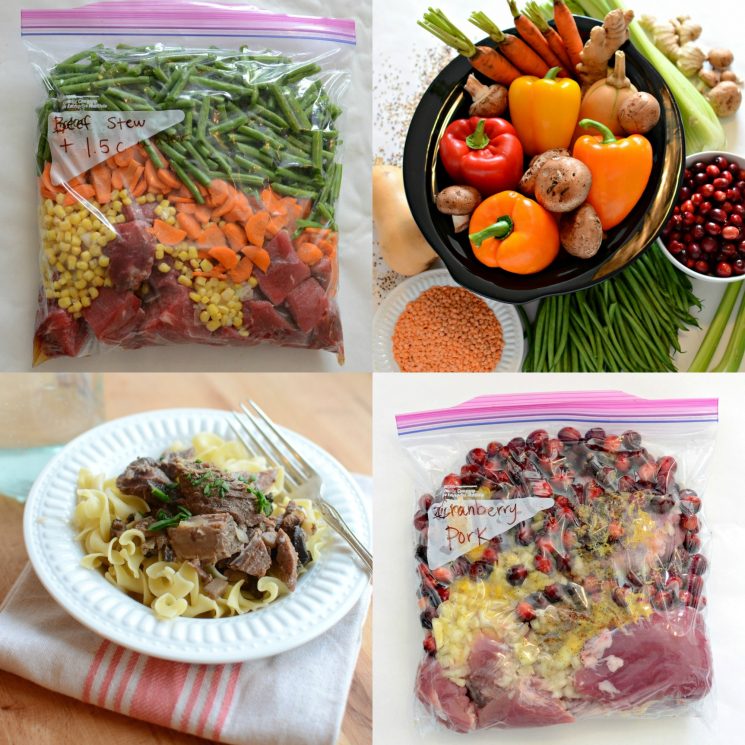 Vegetable beef stew from Super Healthy Kids.  Beef stew, packed with delicious vegetables, is another dish that screams that fall is here.  This is another recipe that is easily prepped and frozen to simply add to the slow cooker when needed.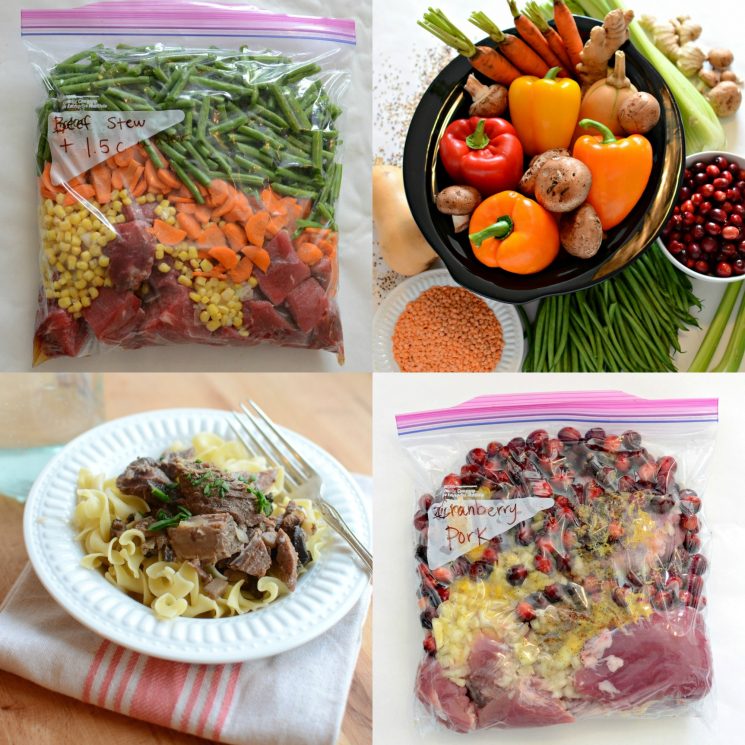 Skinny slow cooker pumpkin pasta sauce from Simple Nourished Living.  Pumpkin is to fall as watermelon is to summer-perfect partnerships for us to enjoy.
Ginger cranberry pork roast from 100 Days of Real Food.  This is another combination of pork roast and fresh cranberries, with the addition of ginger.  Plus, it's another recipe that you can prep and freeze to add to the crock pot when it's needed.
Slow cooker vegetarian chili from Super Healthy Kids.  This chili variation is loaded with lentils, beans, and flavor.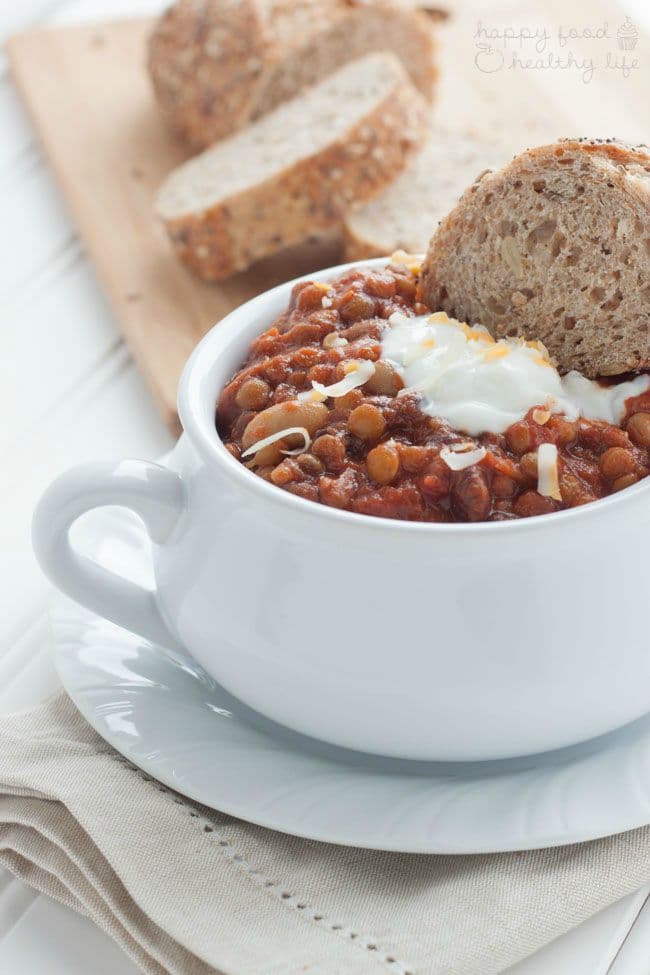 Crock pot pumpkin macaroni and cheese from Super Healthy Kids.  Mac and cheese in a crock pot? Yum!  With added pumpkin?  Yummier!
Sweet coconut butternut crock pot soup from Super Healthy Kids.  Butternut squash is in season and ready to make a delicious addition to this creamy autumn soup.
Brussels sprout and chicken sausage soup from The Realistic Nutritionist.  Brussels sprouts are in season and make a great addition to this soup. Just make sure you adjust the crushed red pepper amount to your family's desire for heat.
Vegetarian sweet potato chili from Cookie + Kate.  This is the third chili version in this list, but it's the only one with sweet potato added to the veggie line-up.
Slow cooker white bean soup from Budget Bytes.
Crock pot cauliflower cheddar soup from Running in a Skirt.  Cauliflower is in season and ready to make an appearance in your next slow cooker soup.
Gluten free slow cooker Hungarian goulash with quinoa from This Mama Cooks!
Slow cooker creamy pumpkin soup from Cafe Johnsonia.  If you roasted some pumpkin seeds after you carved your Halloween pumpkins, they would be a fantastic garnish for this creamy pumpkin soup made with coconut milk.
Balsamic pot roast in the crock pot from Little B Cooks.
Crock pot butternut squash, chicken and quinoa soup from Chelsea's Messy Apron.  Soup is a welcome treat on a cool day.  Now add butternut squash, which is a fall favorite, with chicken, quinoa, and beans to make a hearty and welcome weeknight dinner.
Slow cooker beef barley soup from Laughing Spatula.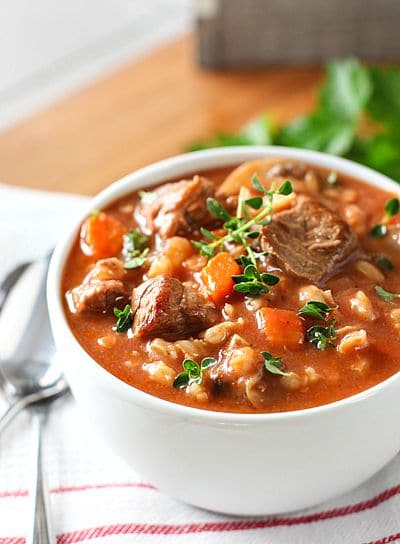 Broccoli and chicken crock pot meal from Super Healthy Kids.  Broccoli and mushrooms are in season and pair well with Italian dressing seasoning mix and chicken to make a crock pot dinner that's ready when you need it, eliminating the temptation for quick a quick take out meal.
Slow cooker three bean turkey chili from Skinny Taste.  There is a chili for everyone, and this chili featuring turkey.
Mushroom barley stew from Super Healthy Kids.
Slow cooker beef and broccoli from Super Healthy Kids.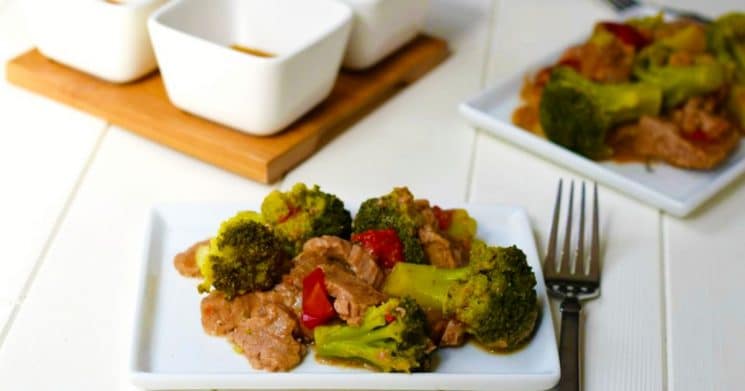 Slow cooker curried chicken thighs with acorn squash from America's Test Kitchen.  The complex, aromatic and delicious spices and herbs that make up curry are delicious with acorn squash and chicken.
Slow cooker beef and parsnip stew from Slow Cooker Gourmet.  This is a twist on beef stew with the addition of parsnips.
Slow cooker vegetable stew with chicken from Super Healthy Kids.
Healthier cheddar broccoli soup from Slender Kitchen.
Slow cooker quinoa and vegetable soup from Super Healthy Kids.  Butternut squash, kale, tomatoes, black beans, and quinoa come together for a comforting and nourishing soup.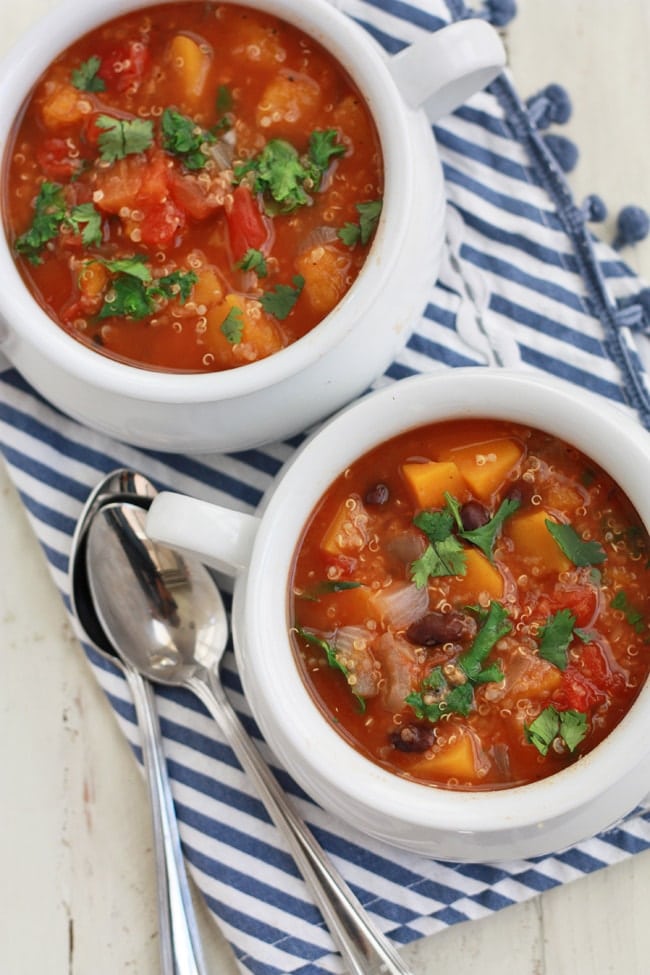 Warm-me-up chicken chili from Midwest Living.
Crock pot red lentil chickpea squash soup from Rice and Bread.  Let this soup, with a combination of lentils, chickpeas, butternut squash, and fresh ginger, warm up your cool autumn day.
Skinny slow cooker white bean chicken chili from Six Sister Stuff.  This is the only white chili on the list, and it's one of our family's favorites.
---
Do you ever wonder what to serve with your slow cooker meals? Here are some ideas if you feel that you need a "go with."
Sandwich. For some of these wonderful slow cooker dishes, you may want to include a side sandwich (for instance, with soups), such as a grilled cheese sandwich. Some fantastic sandwich combinations can be found here, but feel free to be creative and use what you have, such as using ham slices as the outside of a "wrap" and filling it with a slice of cheese, spinach, dill pickle slices, and roasted red bell peppers. This wrap is a favorite it our home.
Side salad. Perhaps an easy cucumber avocado salad or one of these kid friendly pasta salads would compliment your slow cooker meal. Or maybe a simple green salad, with romaine, spinach, tomatoes, cucumbers, carrots, and dressing would satisfy your salad craving.
Vegetable. Keep frozen vegetables on hand so that they are ready to quickly microwave and use as a side dish. We always have canned black eyed peas, field peas, and other canned beans and peas ready for a quick side also. If we are in a big hurry, rather than sauteing onions to use in the vegetables, we'll use onion and/or garlic powder.
Fruit. A fresh, seasonal fruit is always welcome as a side. Or you could serve a fruit salad, such as this apple cinnamon Waldorf salad. We also keep an assortment of frozen fruit on hand in case we run out of fresh.
Leftovers. Another idea is to serve a leftover, such as leftover chicken, along with a slow cooker dish, such as the pumpkin macaroni and cheese.
Once you do your prep work and throw everything into the crock pot, sit back a spell, enjoy the fall weather, and relax if you have a moment to yourself. If not, at least you can work on your other adult duties with the knowledge that a healthy dinner awaits.