Turkey Chili Potatoes Recipe
Wondering what to make with all those potatoes in the pantry? Here's a great recipe for a filling, healthy potato dinner. These turkey chili potatoes are one of our most popular member meals (fondly called turkey chili 'taters) – and now we're letting you in on the secret! They're simple, healthy, and a crowd pleaser. You're welcome.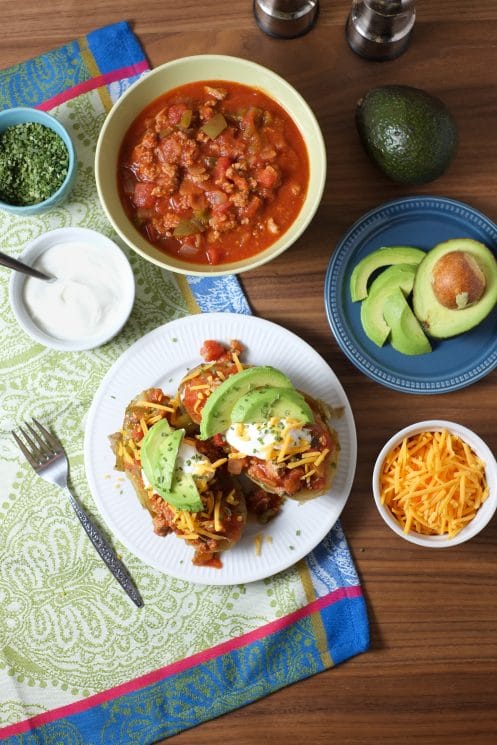 These hearty turkey chili potatoes are sure to become a family staple! They are one of the most popular recipes among our members, so we thought we'd share with the rest of you. Developed by our dietitian, you can rest assured that this dinner will give you what you need.
What's so great about these turkey chili potatoes?
At first, I was surprised that this recipe is so popular – it seems so simple. But then I made it and I became a believer. Not only is it a slow cooker meal (so nice to have dinner ready ahead of time!), but it's also got great flavor and really filled me up.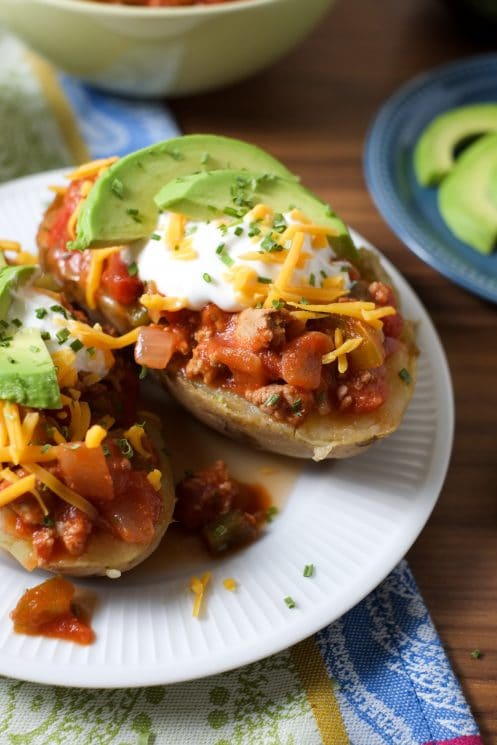 These turkey chili 'taters can easily become a good go-to meal for your family. They've got relatively simple and inexpensive ingredients that are easy to keep on hand, and most of which keep for long periods of time. An alternative to spaghetti, here we come! They also pack really well as leftovers for lunch.
Plus, these are on point nutritionally. These 'taters give you some lean protein, veggies, carbs, and dairy. All you need is some fruit on the side and you've fit in every food group without even having to think about it.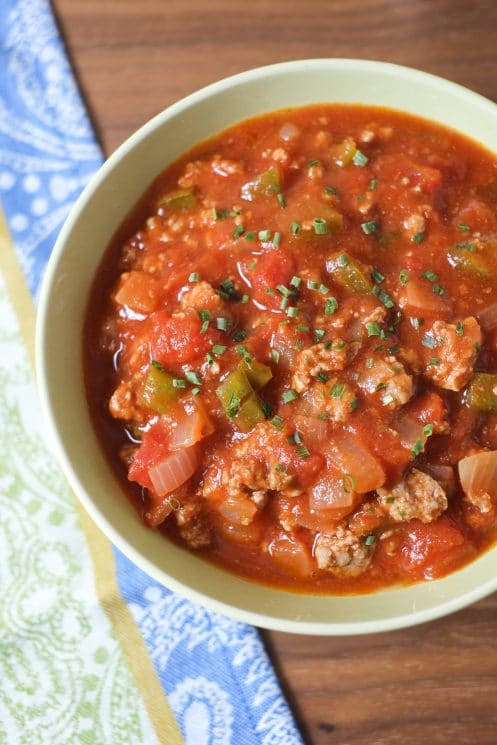 An easy dinner, coming right up!
All the work for this meal comes up front. Chop up your onion and sauté it in oil for 4-5 minutes, then add the ground turkey and cook until no longer pink.
Meanwhile, chop the green pepper and throw it into a crockpot. Add all the other ingredients except potatoes. Add the turkey and onion mixture as well once it's done cooking. Turn your slow cooker on low for 6 hours and walk away.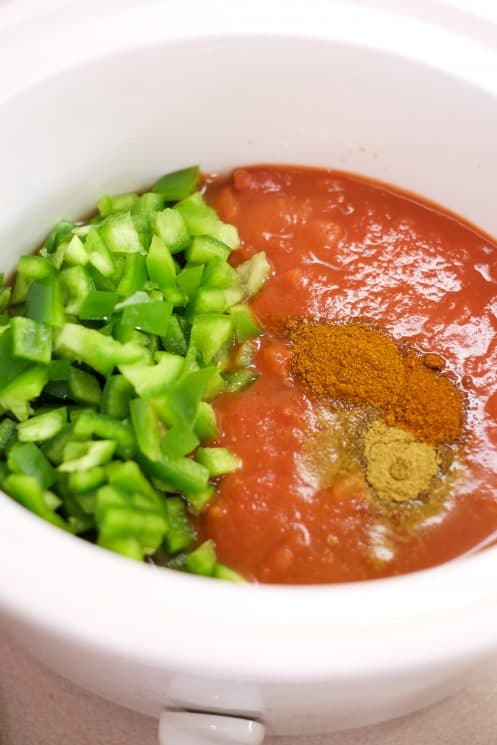 Just about an hour before dinner, wash your potatoes, poke with a fork, wrap in foil and bake. They'll bake for 45-60 minutes at 425*.
Serve generous ladles of chili on top of halved potatoes, garnished with Greek yogurt, avocado, cheese, and chives. What a beautiful array of colors and flavors! Even though it seems simple – just a potato and chili – I couldn't even finish mine, it was so filling!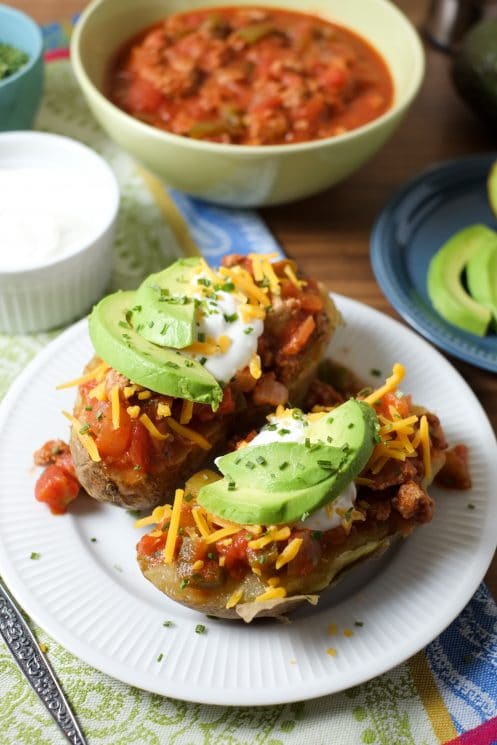 If you love this recipe, check out our meal plan subscriptions. Delicious, healthy, easy meals planned for you EVERY DAY by our dietitian! No more wondering what to cook for dinner, no more fumbling through shopping lists. It's pretty great.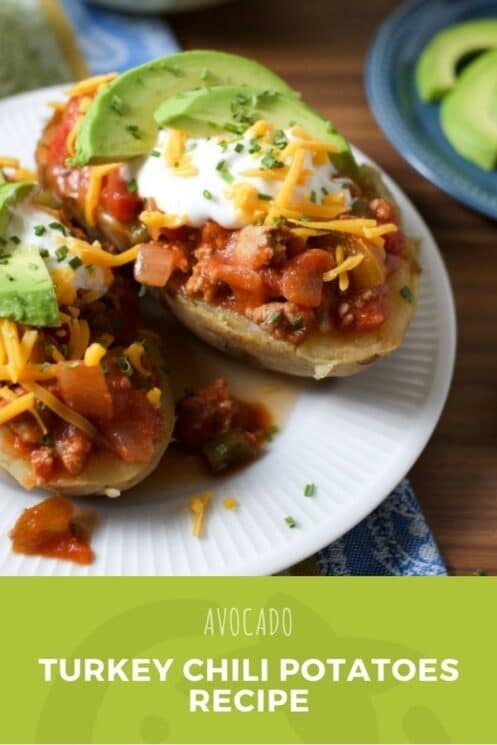 Ingredients
1

medium

onion

1

tablespoon

olive oil

1

pound

turkey, ground

1

medium

bell pepper, green

14 1/2

ounce

diced tomatoes, canned

15

ounce

tomato sauce

1/4

cup

chicken broth, low-sodium

1

teaspoon

cumin, ground

1/2

tablespoon

chili powder

1/2

teaspoon

paprika

4

medium

russet potato
Toppings
1/2

cup

cheddar cheese, shredded

1

tablespoon

chives, dried

1/2

cup

Greek yogurt, plain

1

medium

avocado
Instructions
Chop onion; add oil to a large non-stick skillet and heat over medium.

Add onion to skillet and cook for 4-5 minutes. Add turkey and continue cooking until meat is no longer pink; stir frequently to crumble.

While turkey cooks, chop bell pepper and add it to a crockpot along with the remaining ingredients (except potatoes).

Add cooked turkey to the crockpot as well, then cover and cook on low for 6 hours (or on high for 4 hours).

About an hour before dinner, preheat oven to 425°F.

Wrap potatoes in foil, poke each with a fork several times, and bake for 45 minutes or until soft.

Slice open potatoes, then top with chili and extra toppings as desired.

Serve with peach slices on the side.