With the incredible health benefits of ripe bananas, we want our kids to eat more of them! Here are 19 ways to use those ripe bananas beyond banana bread!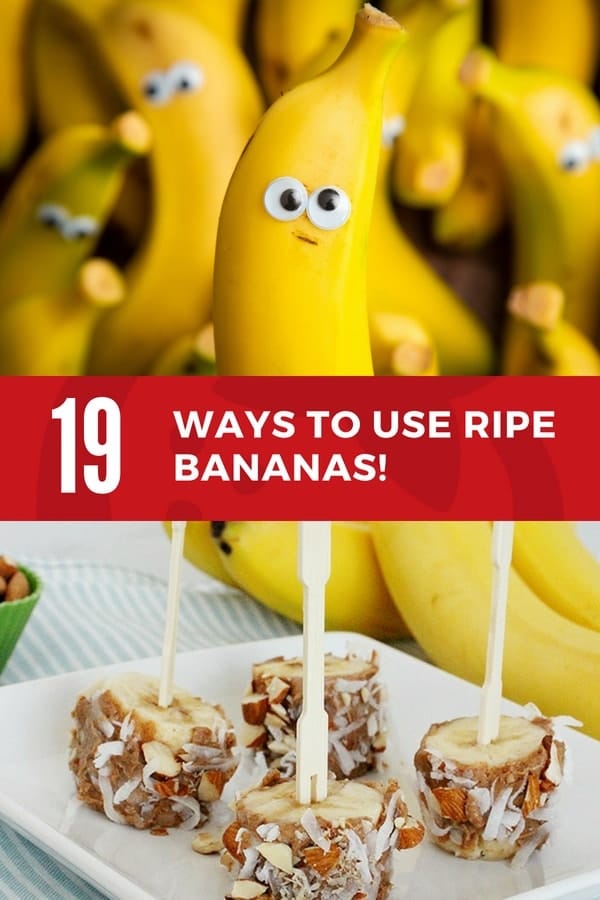 If you have bananas on your counter today, chances are, you already know they are a good food to include in your diet.  But perhaps you don't know how good they are!
What are the health benefits of eating ripe bananas?
1 medium ripe banana has less than 100 calories, but those calories are packed with vitamins and minerals!
Potassium- possibly the mineral that bananas are most popular for is their potassium! Potassium is essential in our diet to maintain fluid balance.  It's vital for muscle and nerve function.
Protein – yes! Even this fruit contains a small amount of protein. It's not much (1 gram) , but it adds up.
Carbs- healthy, natural sources of carbs are vital for kids and even adults.  The natural sugar in bananas give our brains energy for the day.
Fiber- with 3 grams of fiber per banana, this is a good source to keep kids full, and keep them regular!
Other minerals like magnesium, calcium, manganese, and iron.
Other vitamins like choline and a variety of B vitamins. (see chart)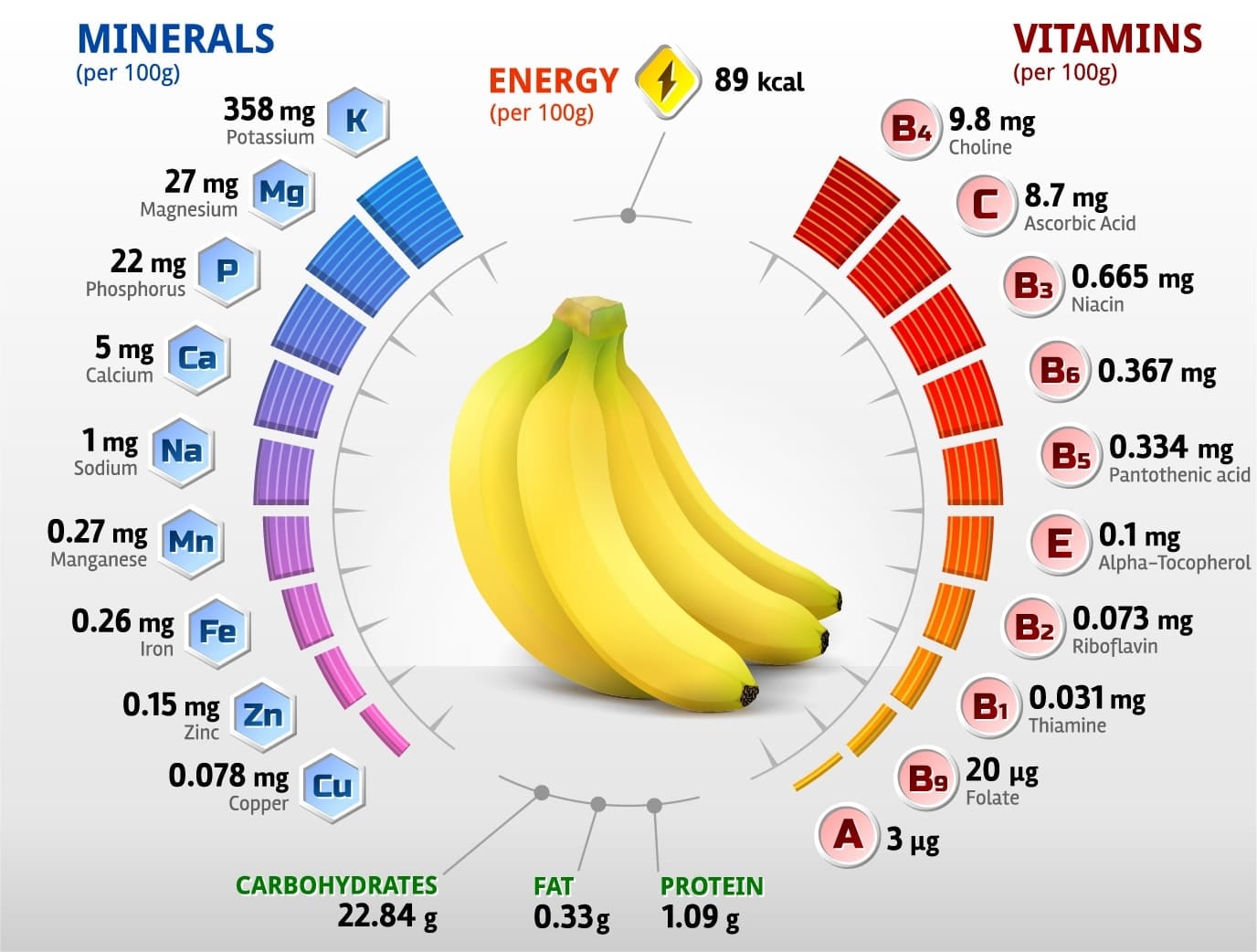 Ripe bananas are the first foods for a lot of us.  They are soft, naturally sweet, nutritious, and kids love them.   The one downside is that bananas don't go places very well. They can ripen quickly. They bruise easily. And once they are brown, kids aren't so keen on eating them. But we have so many recipes that incorporate bananas, you don't need to toss them!
Recipes for overripe, or just ripe bananas
1. Banana Muffins
Bananas are great in baked goods. They add texture and sweetness to muffins, and that's why banana muffins are so popular. We have a few recipes we like. Our favorite is this banana muffin recipe. But for something a little different, we also have Avocado banana muffins, and chocolate chip banana muffins.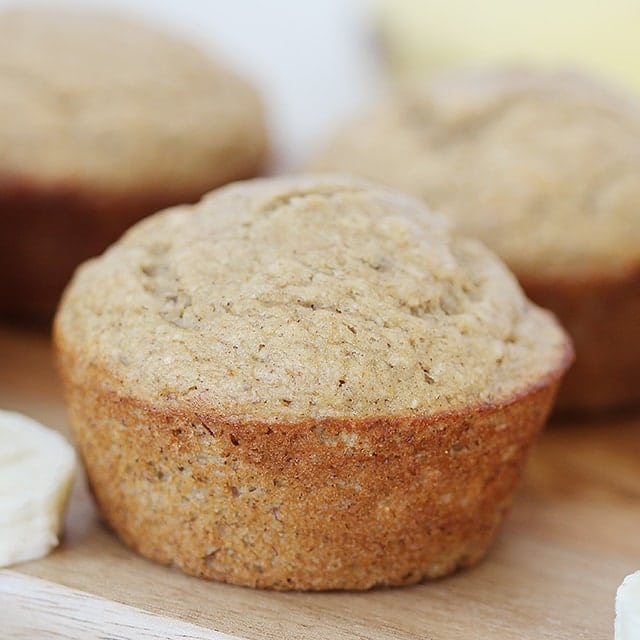 2. Banana Sushi Bites (recipe below!!)
Bananas with nut butter and other toppings are one of our kids favorite foods!  I started spreading peanut butter and almond butter on bananas when they were very young. It helps the banana (which is  mostly carbs) become a more balanced snack with the protein from the nut butter.  These banana bites we featured on a recent Prepear meal plan, and our members loved it! The recipe is below!
3. Banana smoothies
There are actually very few smoothies we don't add bananas to!  In fact, when our bananas are VERY RIPE (meaning brown bananas), we toss them in the freezer to add to fruit smoothies later on. Bananas in a smoothie give a creamy, milkshake feel to them, and everyone wants more!  This peanut butter banana smoothie however, is one of our favorites.
4. Banana Roll-ups
This snack (or dessert!) is served warm.  With a creamy center from the ripe banana, and a crispy outside from the grilled tortilla, it tastes like something you'd get at a fancy bakery.  Check out the warm banana roll ups here.
5. Banana Bread
The first thing that usually comes to mind when someone has overripe bananas on their counter, is that they need to make some banana bread. We agree! That's why we have three different recipes we've been using for banana bread.  This one is our classic banana bread.  This one is coconut banana bread. This one is a little crunchy and we call it "Tea party banana bread".
6. Chocolate Frozen Bananas
There was a time when I would make frozen bananas dipped in chocolate for my kids all summer long.  The trick to these is to freeze the bananas FIRST, and then dip them in chocolate.
7. Banana Overnight Oats
Overnight oats have become popular because we finally figured out that cold oats taste so good!  Plus, you can put it in the fridge the night before and have breakfast waiting for you. Try this banana bread overnight oats next time you have some ripe bananas.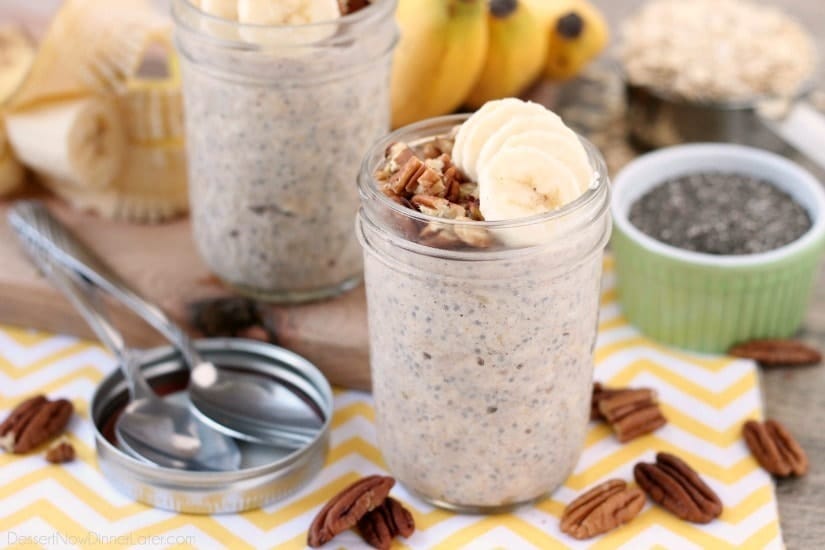 8. Banana Pancakes
Next time you are making pancakes, simply mash up a ripe banana and add it to the mix. You can also follow one of our pancake recipes. We have banana smoothie pancakes,  banana chia pancakes,  and classic banana pancakes
9. Banana Split
Although traditional banana splits are the popular dessert made with ice cream, my kids call any dish where we split a banana in half and add toppings to it as a "Banana split!"  This banana split is topped with berries, Greek yogurt, quinoa, and peanut butter. It really is a balanced breakfast to start the day.
10. Banana Ice Cream
Start with frozen ripe bananas, and add other fruit to it.  Blend it up and re-freeze. You have Banana ice cream!  Natural, delicious, and so good for you!  This ice cream has bananas, lemons, and strawberries.
11. Banana Cookies
Just like we talked about bananas being one of our babies first foods, banana cookies were something I made for my toddlers.  These cookies are kind of bland (because they are for toddlers), but little kids love them.  But these banana cookies are a bit sweeter and older kids like them better.
12. Snack Bars
Three ingredients are all you need for these banana snack bars, with one of them being bananas!  They are sweet and you can add any toppings you wish.
13. Banana French Toast
Ripe bananas are something we only recently started adding to our french toast!  WOW! You've got to try this.  The banana baked french toast is spectacular because you don't have to cook french toast one by one, and the bananas make it naturally sweet! So good!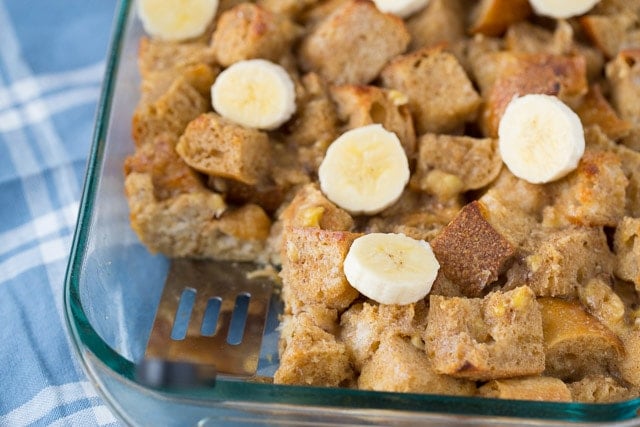 14. Banana Popsicles
Creamy banana, peanut butter and yogurt popsicles
15. Banana Waffles
These chocolate banana waffles are also gluten free!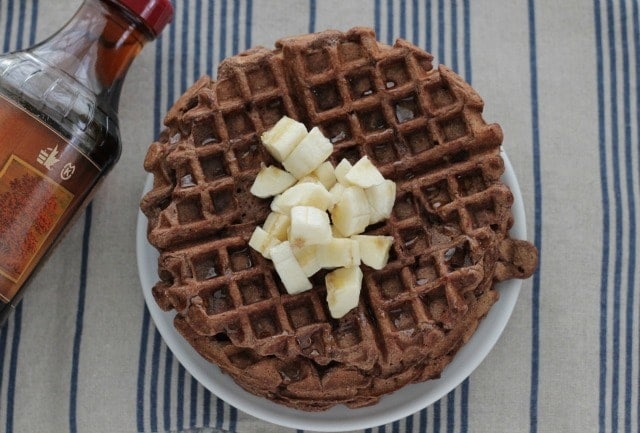 16. Chocolate Banana Cake
Doesn't this cake look so indulgent! Every time I see this picture I start to drool! This Double chocolate banana cake is definitely rich and worthy of trying at least once.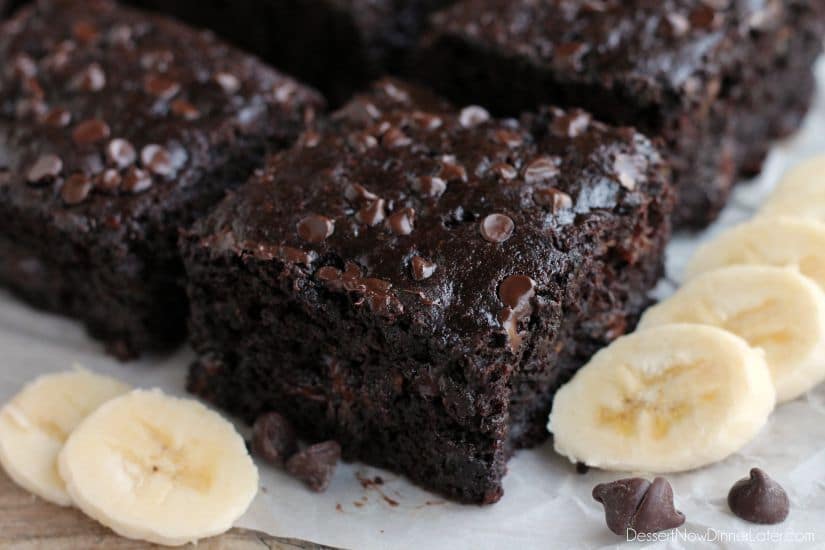 17. Frozen Bananas
Honestly, kids don't really need anything that fancy. This frozen banana that we put on a stick is pretty amazing without any chocolate or toppings. We do have this strawberry dip though that kids like to use when I make frozen bananas.
18. Banana Pudding
If you didn't think we could make banana pudding without adding sugar, you haven't seen this banana pudding!  The bananas are so sweet, that you don't need to add sugar!
19. Banana Chips
Unless you grow your own bananas, or you are about to toss your ripe bananas anyway, banana chips can be quite expensive to make. BUT, you CAN make them.  This method I used, banana chips without a dehydrator, worked great!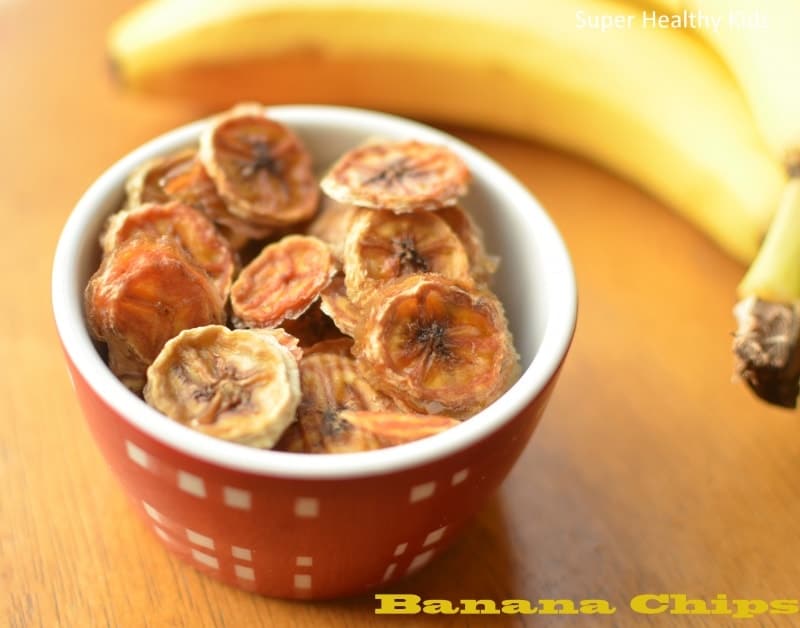 So, let me know in the comments…what do YOU like to do with your leftover, ripe bananas?