Chocolate Banana Smoothie
If you're trying to reduce sugar in your diet but you LOVE ALL THINGS CHOCOLATE, this creamy Chocolate Banana Smoothie offers the best of all worlds. Freeze a couple of bananas ahead of time and you'll be sipping on this sweet and creamy drink in minutes!
Healthy Chocolate Banana Smoothie
This smoothie might look and taste like a decadent dessert, but it's actually full of nourishing, whole food ingredients that you can feel confident serving your kids (even for breakfast! )
When you're striving to feed your kids right, it's easy to fall into a pattern of binary thinking. Almost without realizing it, you might find yourself assigning categories to foods, like this:
Broccoli: good. Candy: bad. Carrots: good. Cupcakes: bad.
It's natural to look for patterns that can help us make quick decisions about what to eat. But when we can think about food in a more nuanced way, we can enjoy a lot more foods without feeling bad about our choices.
Healthy food can taste absolutely delicious and indulgent… just like something we might think of as "off limits."
This Chocolate Banana Smoothie is the perfect example. It's super sweet, creamy, and full-to-the-brim with kid appeal. AND it's made from whole fruit, milk, and other nourishing ingredients.

Buzz up this smoothie today and share it with your kiddos. Embrace the delicious complexity of healthy food!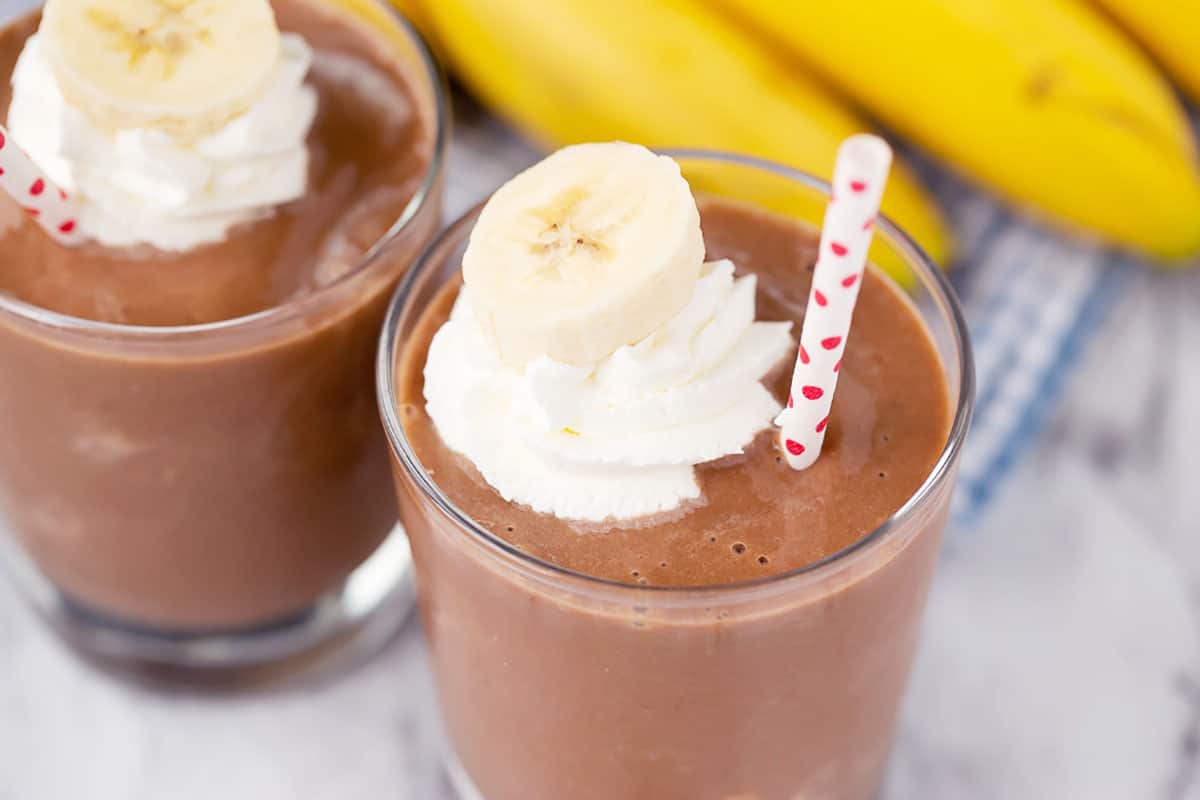 Ingredients in Chocolate Banana Smoothie
The ingredients list is short, simple and whole:
Bananas – the key to making a really creamy chocolate smoothie is using frozen bananas. Frozen bananas when blended are super creamy and you just can't replicate it any other way. It is worth freeze bananas ahead of time to use in your smoothie. The best way to freeze bananas is to peel them, cut them into thirds or fourths (makes it easier to blend) and freeze flat on a tray until solid. Then put in an airtight container to use in the future.
Milk – you can use whatever type of milk you prefer for this recipe.
Cocoa Powder – unsweetened cocoa powder is what is called for to make this smoothie. Cocoa powder has a surprising amount of nutrients. It contains iron, zinc, and selenium. Look for cocoa powder that is at least 72% cocoa.
Honey – adds a subtle sweetness to this chocolate smoothie. If you want to go totally free of added sugars in this smoothie, you can leave the honey out entirely. Really. It's still way sweet!
One serving of this smoothie provides six grams of protein, four grams of fiber, plus the goodness of whole fruit and antioxidant-rich cocoa.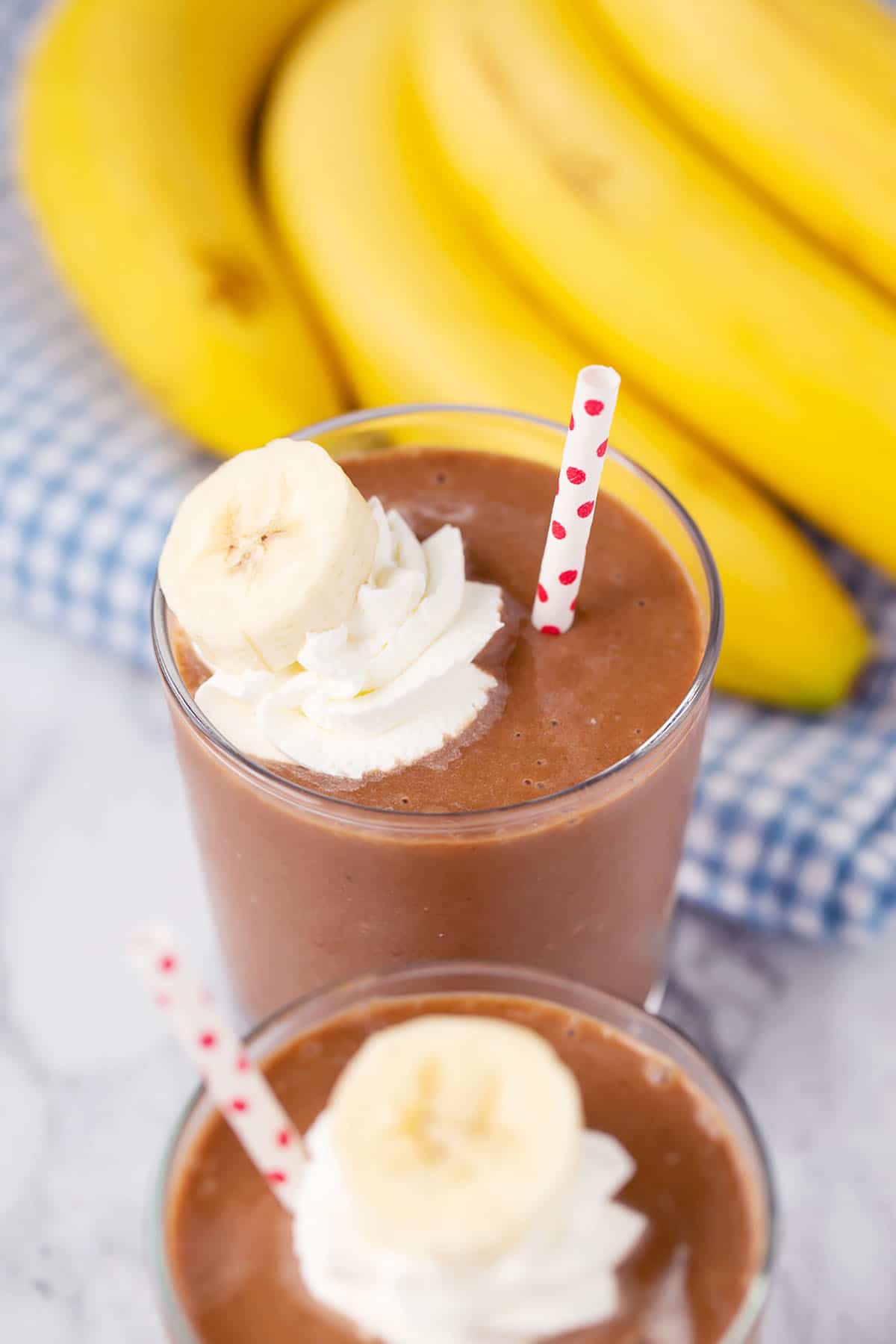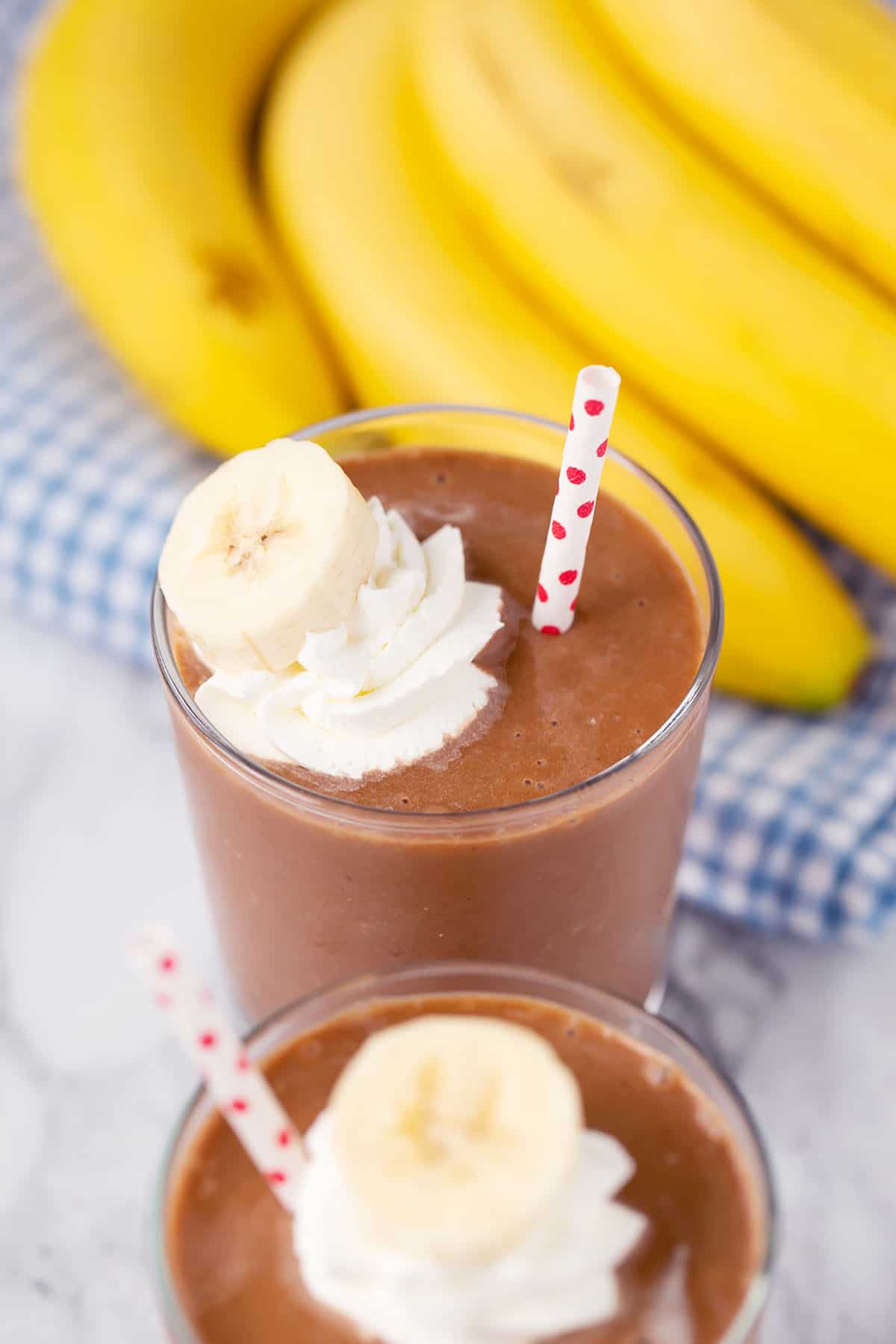 How to Make a Chocolate Banana Smoothie
Whipping up this chocolatey treat is quick and easy, and you'll be utterly famous with your kids when you make it. Here are a few tips for making it just right:
Freeze your bananas ahead of time. The next time there's a bunch of brown bananas staring you down on your counter, go ahead and peel a few, break them in thirds or fourths. Lay flat on a tray and freeze. Then move to an airtight container to use in the future!
Blend it well. Add all of your ingredients to the blender. I like to add my liquid first to help everything blend better. Frozen bananas have a tendency to escape the blades in even high-powered blenders. Let yours run for an extra 20 seconds or so, so the smoothie is ultra smooth.
Serve it right away. This smoothie shines when it's frosty cold and well-blended. Enjoy it straight away after making it for the best taste and texture.
Top it with whipped cream. This is totally optional, but oh so fun.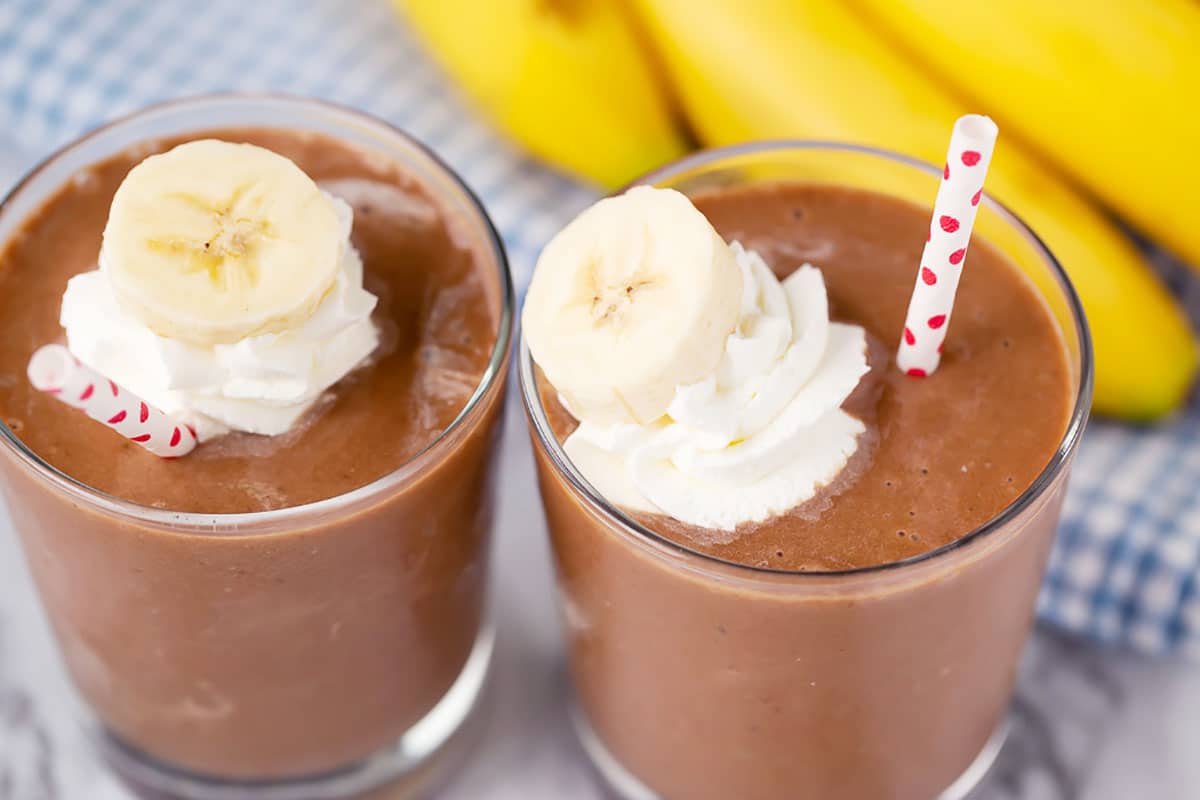 Frequently Asked Questions and Tips
What do I do with leftover smoothie? If you do have leftover smoothie, it'll keep in the fridge, but may separate after a few hours. A quick stir with a straw will restore a more even consistency. Our favorite way to use leftover chocolate banana smoothie is to pour into popsicle molds and freeze. Then you have creamy chocolatey popsicles for later!
Can I add peanut butter to this smoothie? Yes! Add 1-2 tablespoons of peanut butter for an even more creamy and delicious chocolate smoothie!
Should I add ice? If you use frozen bananas, you definitely don't need to add ice. But if you like it super cold and a bit more chilly and frothy texture you can definitely add a handful of ice.
Can I make this with fresh bananas instead of frozen? You can, but the texture won't be as creamy. You can add more ice to compensate for the texture, but the smoothie will be more slushy than creamy. Also, I have found that the flavor is different with fresh vs. frozen.
If we have a banana allergy, can we substitute something else? You can use frozen mango or avocado to give this smoothie the same creamy texture, it will just have a much different flavor.
How many calories are in this smoothie? The nutrition information is shown at the bottom of the recipe card. This recipe makes about 16 ounces (2 cups) of smoothie and is calculated based on 2 servings (so 1 cup) The calories are calculated based on using 1% milk. You can adjust if you are using a different type of milk.
Can I leave the honey out? Yes – a lot of readers have said that this smoothie is plenty sweet with just the frozen bananas. You can blend and taste it and add honey after if you think it needs to be sweeter.
Can I add yogurt to this smoothie? Absolutely! Adding plain or vanilla Greek yogurt makes this smoothie even more creamy and also gives a boost of
More of Our Favorite Smoothies
Chocolate Peanut Butter Protein Shake for Kids – This healthy whole food chocolate peanut butter protein shake offers a boost of protein for your kids without any protein powders! Great for kids who have a hard time eating other high protein foods.
Homemade Chocolate Milk – Kids love this creamy, fruit-sweetened remake of chocolate milk that tastes–magically!–just like the store-bought kind.
Dairy Free Peanut Butter Protein Shake – This thick and creamy Dairy Free Chocolate Peanut Butter Protein Shake is great to refuel your kids after a long day at school, sports game or even in addition to a meal for those kids who have a dairy sensitivity or allergy.
Chocolate Banana Smoothie
A creamy, chocolatey drink that makes a healthy snack or dessert
Instructions
Add all ingredients to a blender and blend until creamy and well-combined. Serve immediately topped with whipped cream if you like.
Nutrition
Serving:
2
g
|
Calories:
192
kcal
|
Carbohydrates:
43
g
|
Protein:
6
g
|
Fat:
2
g
|
Saturated Fat:
1
g
|
Polyunsaturated Fat:
1
g
|
Monounsaturated Fat:
1
g
|
Cholesterol:
6
mg
|
Sodium:
54
mg
|
Potassium:
643
mg
|
Fiber:
4
g
|
Sugar:
29
g
|
Vitamin A:
307
IU
|
Vitamin C:
10
mg
|
Calcium:
157
mg
|
Iron:
1
mg
www.superhealthykids.com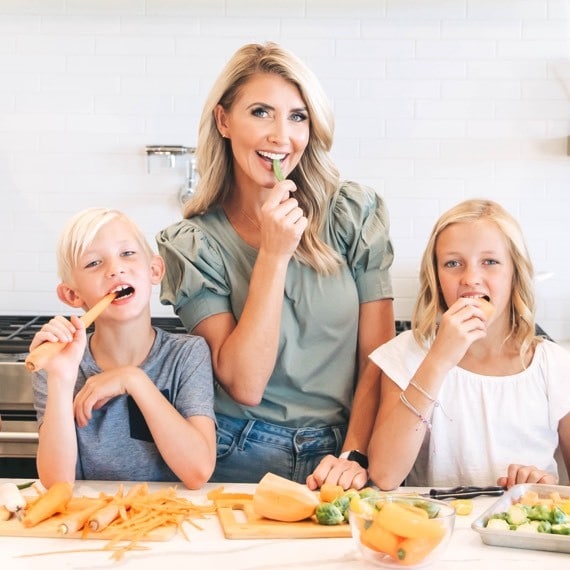 Natalie Monson
I'm a registered dietitian, mom of 4, avid lover of food and strong promoter of healthy habits. Here you will find lots of delicious recipes full of fruits and veggies, tips for getting your kids to eat better and become intuitive eaters and lots of resources for feeding your family.
Learn More about Natalie