All the kids in the neighborhood will be running to your house to play with this super quick strawberry banana sorbet you magically blend up in just 5 minutes! But shhhh…don't tell them there's no refined sugar!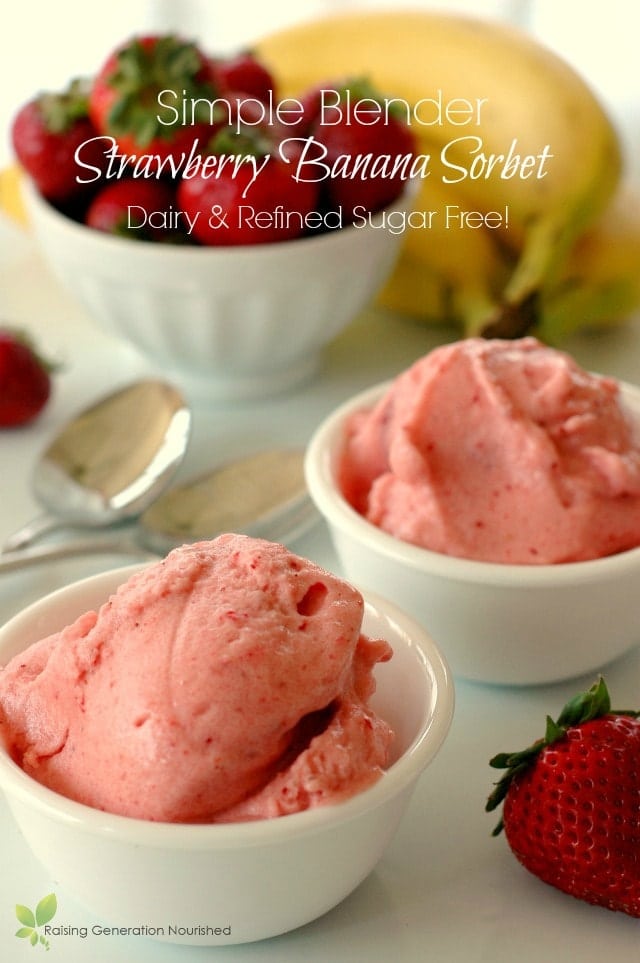 I have really fond memories of those clear plastic tubs full of neon orange and electric red sherbet that my mom used to pull out every once and a while when I was a kid. The colors were just fun, and man did it taste good!
Of course I know a little better now, and while I don't mind my kids having a special treat here and there during the year, I certainly don't think it needs to be a daily, weekly, or even monthly occurrence.
Unfortunately store bought ice creams, sherbets, and sorbets are loaded with high fructose corn syrup, or (at best, if it is organic) more cane sugar than any kid would need in one sitting. To be honest it really isn't fair to their bodies. That sugar punch to their immune system will run them down over time.
We are also seeing more and more that artificial food dyes really do affect kids, and it is just a better idea to keep them out of the diet. Artificial food dyes have a petroleum base (yes the same stuff in your car!), and they can affect our kids in everything from hyper behavior to skin conditions like rashes or hives.
But listen. I want my kids to have some fun 🙂 And food should be fun! And enjoyed! If my girls have friends over to play on a hot day, I want to be able to give them a scoop of something delicious to cool them down. I want them to enjoy food, socialize with their friends, and not feel left out by the real food police!
I can't think of any kid that doesn't like the flavor (and color!) of strawberries so this is a classic flavor that hits our bowls often along with this tropical version of this sorbet. I keep a few pint freezer bags of the cut fruit stashed away so I can just grab a bag out and blend it up quick!
If your kids are used to really sweet frozen treats, you can ease them into this homemade sorbet with a bit of raw honey added to the mixture. Our strawberries are from our summer strawberry picking so they are incredibly sweet, right at the height of the season.
Renee blogs at Raising Generation Nourished, and with 3 girls ages 5 and under, she is passionate about raising the next generation of kids with a better understanding where their food comes from and how food affects their bodies.