28 Ideas for a High Protein Breakfast
Getting protein at breakfast is important to keep kids fueled and attentive during the day. Sometimes figuring out what protein to serve with breakfast can be hard! We have 28 ideas for a high protein breakfast for you!
When protein is included with breakfast, it helps to rev up the metabolism, keep blood sugar levels steady and give the kids the energy they need. Unfortunately, the typical breakfast kids gravitate towards don't include very much protein.
A lot of the typical breakfast foods kids gravitate towards are high in sugar and simple carbs, which can give kids a quick burst of energy, but then lead to a drop in blood sugar. This can make kids feel lethargic, irritable and not able to concentrate. Adding carbs that have higher fiber combined with protein is a great choice to give kids the right balance for breakfast that will keep them feeling great.
How much protein do kids need in a day?
Protein is the building block of our muscles. The latest recommendations are 1/2 gram of protein per pound of body weight. So, if your child is 50 lbs, 25 grams of protein per day is sufficient for all his needs! A 100 pound child would need 50 grams of protein.
So, here are our top 28 ideas for a high protein breakfast for your kids. They will love these!
1) Hard Boiled Eggs on Toast
Each egg has 6 grams of protein, bread has about 2 grams (but some has more) and then avocado's have 4, giving this piece of toast, 12 grams of protein! This is a quick and easy high protein breakfast!
Combining eggs and ground turkey in this breakfast burrito, we've packed 20 grams of protein in each one!
We love this smoothie. The milk has 8 grams of protein, peanut butter has 8 grams, chia seeds have 2, and 4 in the tofu, giving this shake, 22 grams of protein!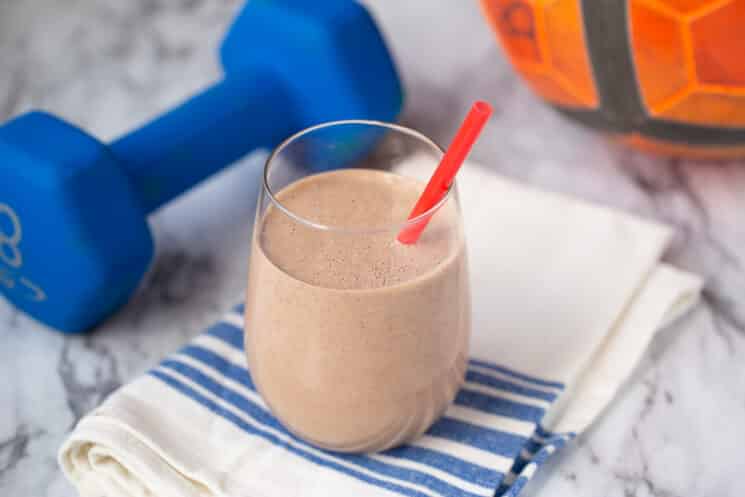 This high protein breakfast frittata includes asparagus, eggs, and ham, giving us 18 grams!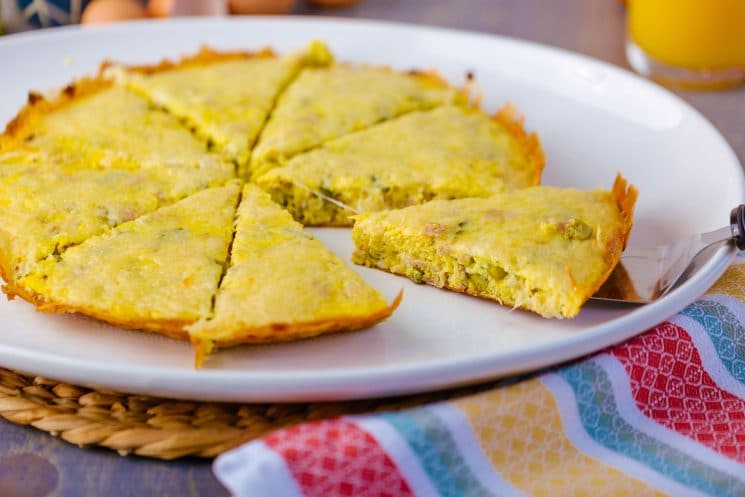 Even spinach has protein! Combine that with the cheese, and milk, and per cup, these little egg cups have 6 grams of protein.
We love homemade pancakes! (see our list of the best, nutrient dense, homemade pancake recipes here!) If you haven't heard of Kodiak cakes yet, you're missing out! We get these at Costco, but you can also get it on Amazon. Kodiak cakes is a pancake mix that has 14 grams of protein per half cup. Use these to make our pancake pizza! Kodiak cakes make a much more high protein breakfast than regular pancakes.
7) Cottage Cheese with Fruit
Did you know, cottage cheese has 25 grams of protein in 1 cup! That's as much as a chicken breast!
8) Greek Yogurt with Fruit
Depending on your brand, Greek yogurt is a fabulous source of protein. 1 cup contains 17-24 grams of protein. You can buy it, (just look for no added sugars) but you can also make homemade greek yogurt here!
Quinoa! Tastes like a grain, but it's a seed- therefore a good source of protein! This high protein breakfast has 10 grams of protein per serving.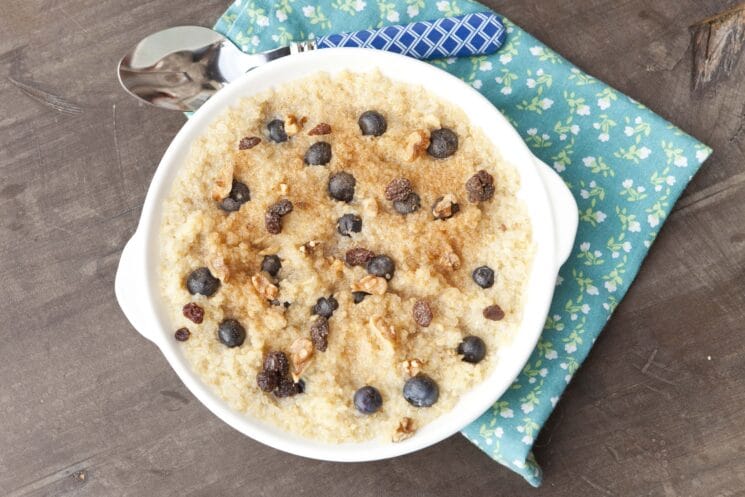 10) Oatmeal with Peanut Butter
Both oatmeal and peanut butter have protein, but you can also include milk when making your hot cereal for even more protein! (11 grams for this one below)
Quinoa + eggs + cottage cheese + cheese, means these little quiche cups can pack 7 grams of protein per cup, with 99 calories each!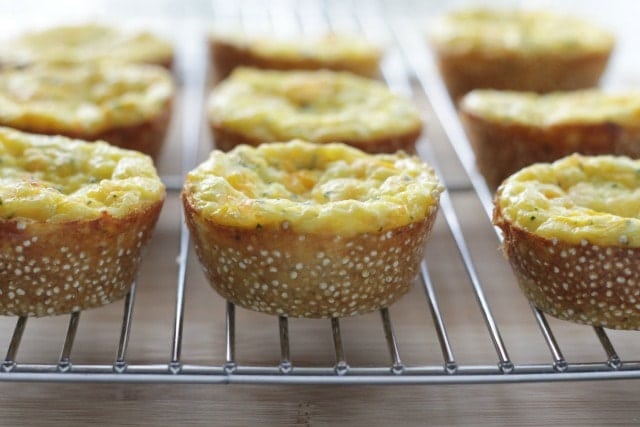 12) Toast with Peanut Butter
We love this bear toast, and your kids will too! For 1 tablespoon, enough to fit on this toast, Peanut butter has 4 grams of protein. But the bread has 2, so 6 grams for this!
We love french toast, because even kids who don't like eggs, like it! The baked banana french toast below has 12 grams of protein per serving (when dividing this recipe by 12)
While chia seeds can be high in calories, 1 ounce has 5 grams of protein! Soak them in liquid for a pudding, or add them to smoothies!
15) Greek Yogurt with Granola, Seeds, and Nuts
Granola is a great place to pack in some protein. Try adding nuts (6 grams protein per ounce), seeds (9 grams of protein per ounce), and then combine with greek yogurt (20 grams per cup), and this parfait suddenly becomes a great high protein breakfast.
You must give these a try! 17 grams of protein for 2 small pancakes- YUM!
Made with soy milk and chia seeds, this smoothie bowl has 10 grams of protein per serving. And let's face it, who couldn't eat two servings!
Thanks to the peanut butter, one of these muffins has 15 grams of protein!
Chia seeds and peanut butter boost the protein of this breakfast idea! But you could also add nuts and seeds for even more!
Simple and delicious! 15 grams of protein in one, homemade, "egg mc muffin"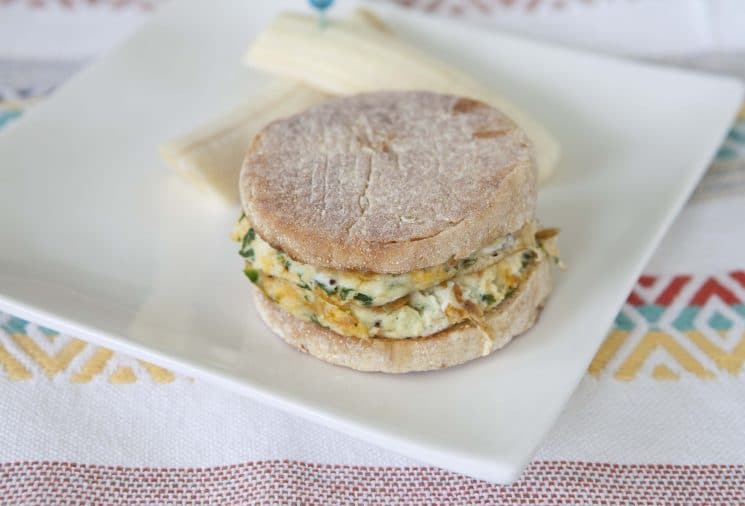 Every family has their own names for this kid favorite, ours has always been, the one eyed monster! (8 grams of protein!)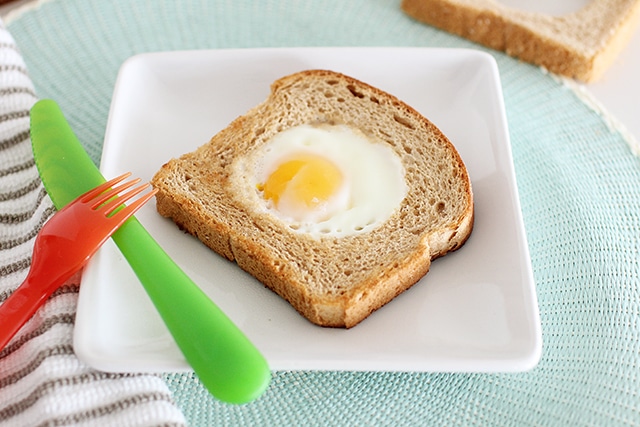 23) Power Packed Green Smoothie
Any green smoothie can pack in the protein if you include milk as your liquid, (8 grams of protein) and flax seeds (2 grams per tablespoon)!
Pumpkin has protein, but these pumpkin pancakes are also made with Greek yogurt, for 5 grams of protein per 100 calories!
The secret protein ingredient in these breakfast bars- BEANS! Plus, they also have flax seeds, quinoa flour, and hemp seeds. One small bar gives you 4 grams of protein, but I know you'll eat at least 3!
For kids who don't like eggs, but you want them to eat them, French toast is perfect. These french toast sticks are even better as we've packed the nuts on! (9 grams per slice of french toast)
The perfect omelet for us has 2 eggs ( 12 grams of protein), cheese  7 grams per slice, and veggies (1 gram of protein) for 20 grams of protein per omelette!)
If you need to save some time, and make a whole pan of omelettes at once, try baking them! This baked omelette has 7 grams of protein, if you get 12 servings from the pan.
More Healthy Eats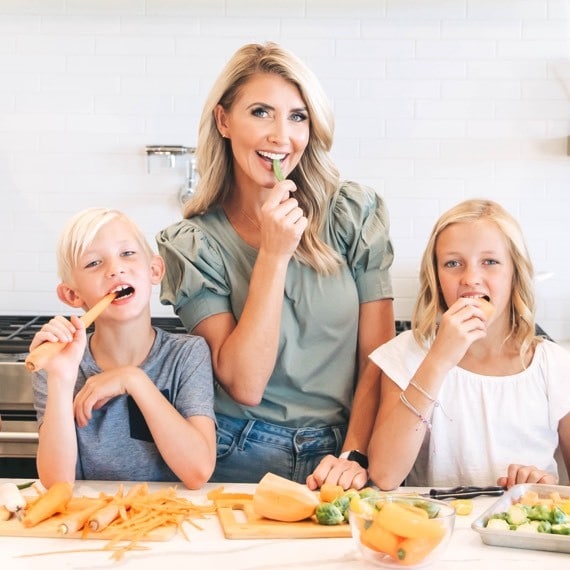 Natalie Monson
I'm a registered dietitian, mom of 4, avid lover of food and strong promoter of healthy habits. Here you will find lots of delicious recipes full of fruits and veggies, tips for getting your kids to eat better and become intuitive eaters and lots of resources for feeding your family.
Learn More about Natalie