Start your kids' morning off with healthy protein and hearty whole grain toast with a fast, fun Egg in a Basket.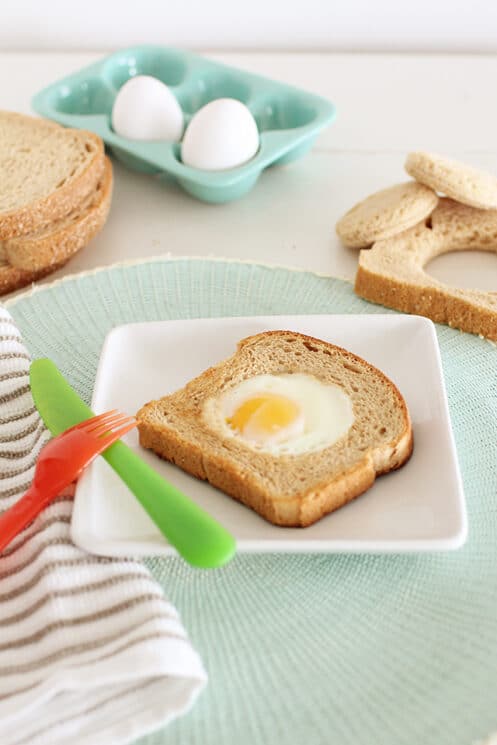 Just like everybody needs good take-along breakfast ideas, everybody needs a handful of healthy, high-protein breakfast ideas in their wheelhouse. An Egg in the Basket is a cute, quick, and balanced recipe that gets your kids out the door on time with good food in their bellies.
Serve it with fresh fruit on the side, some yogurt, or even a veggie (because veggies for breakfast are awesome and we're huge proponents of getting this important food group in first thing in the morning!)
How to make an Egg in the Basket
If you've got three ingredients, a pan, and a drinking glass, you can make an Egg in the Basket in five minutes flat.
Use the drinking glass to cut a hole out of the middle of a slice of whole wheat bread, then drop the bread into a hot buttered skillet. You can toss the round cut-out piece of bread into the toaster here, if you like. (It's good for dipping in the yolk, and besides, you know how kids are with pieces of crust-less bread…)
Crack the egg directly into the hole in the bread, and let it sizzle.
At this point you have a choice. You can continue to cook the Egg in the Basket until the whites have set and the yolk is still runny (like a sunny-side up egg) or you can gently flip the bread and egg to cook both sides of the egg.
A note about food safety when cooking for kids: around 1 in 20,000 raw eggs contains salmonella bacteria. It's a very low number, but you still may not be comfortable serving runny eggs to your kids. That's OK! Just flip that puppy. If your kids like a runny egg now and then, go ahead and slide it onto the plate without flipping, and dip your extra toast into that gooey goodness.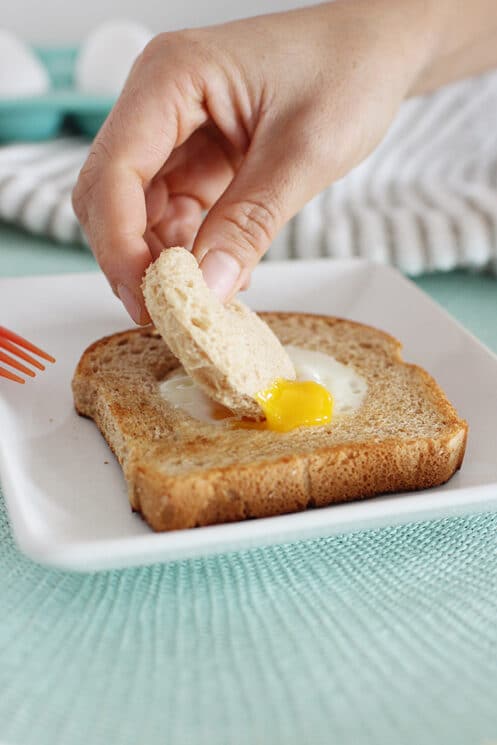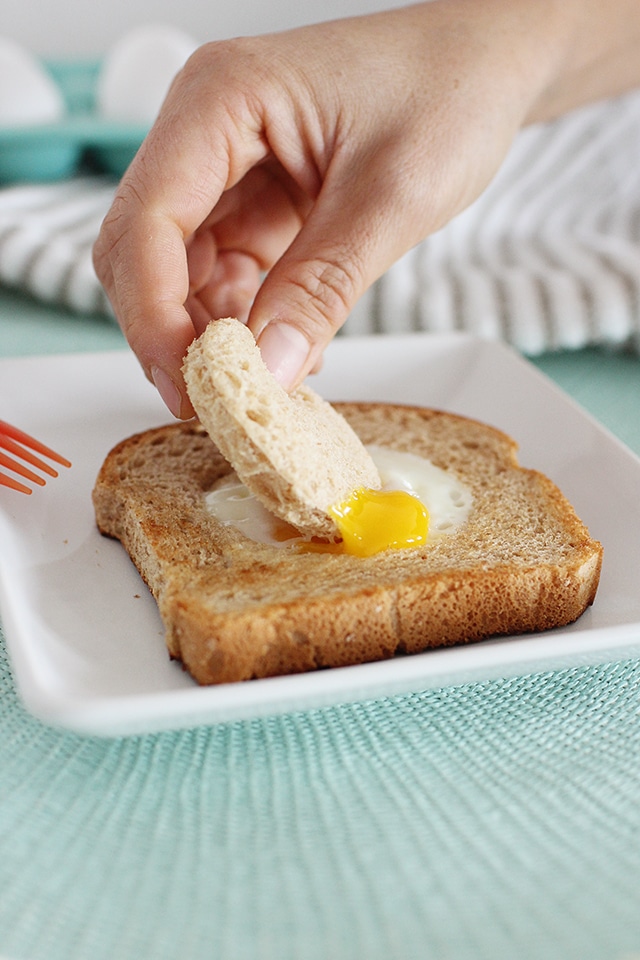 Win Over Your Kids with an Egg in the Basket
Maybe you've got a kid who makes a "yucky" face at eggs. Some just do. But this recipe could help change their mind and their taste buds. It's got a playful look, a fun name, and a taste and texture that's different from ordinary eggs, scrambled or fried.
Yes, it can be hard to take the plunge and offer your kids something they openly dislike. But remember that kids' only chance to like new foods comes from exposure. So even if you're not sure whether or not your kids will love it, try it anyway! Serve up an Egg in the Basket this week and let us in on their reactions in the comments.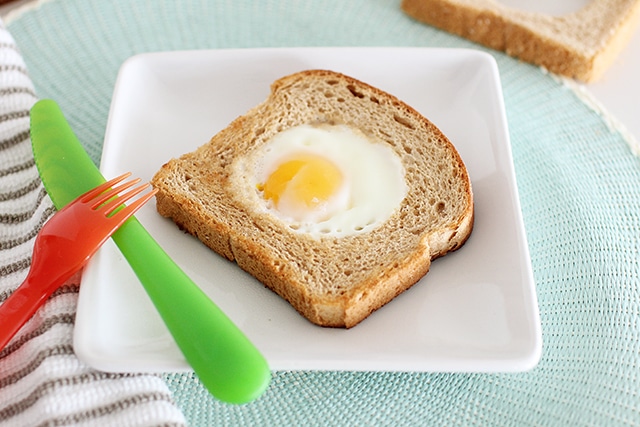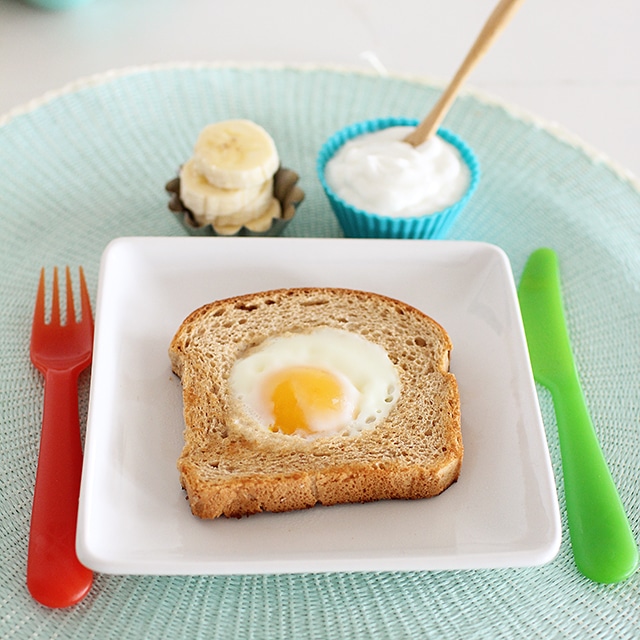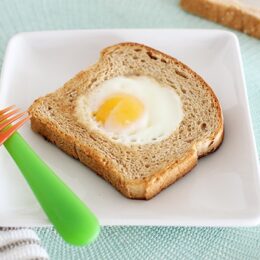 Egg in the Basket
Start your kids' morning off with healthy protein and hearty whole grain toast with a fast, fun Egg in a Basket.
Print
Pin
Rate
Servings:
4
1 egg, 1 slice of bread
Ingredients
4

slice

bread, whole wheat

4

large

egg

1

tablespoon

butter, unsalted
Instructions
Using a drinking glass, cut a hole out of the center of the bread slices.

Place the butter in a large skillet and heat over medium until the butter begins to foam. Place bread slices into skillet, however many will fit. Break open an egg into each hole in the slices. Cook for 3-4 minutes or until the egg whites have fully set.

Carefully remove from skillet with a large spatula. Continue until all have been cooked. Cook the remaining bread circles in hot skillet to toast up and use for dipping.
Nutrition
Calories:
178
kcal
|
Carbohydrates:
14
g
|
Protein:
10
g
|
Fat:
9
g
|
Saturated Fat:
4
g
|
Cholesterol:
194
mg
|
Sodium:
239
mg
|
Fiber:
2
g
|
Sugar:
2
g