Healthy Pumpkin Protein Pancakes made with greek yogurt! The perfect breakfast for fall and Halloween–get ready pumpkin lovers!
Got pumpkin? Or just love all things pumpkin? You HAVE to try our Pumpkin Spice Cake!
Do your kids have their Halloween costumes picked out? I'm fairly obsessed with this holiday because I love getting to turn into a princess, a lion or Pippi Longstocking for a day. My husband and I already decided what to be this year and I'm working on the costumes this week!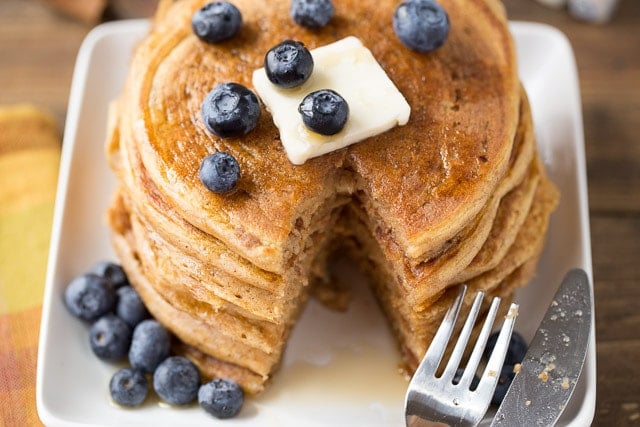 Why will your Kids eat these Pumpkin Protein Pancakes?
Kids love pancakes! So you might as well try to make them as heathy as you can without them noticing! Kids also love anything festive and the pumpkin spice in these pancakes just scream fall! If they love pumpkin muffins or pumpkin cookies then you know you'll be hitting a home run with these pancakes! Now, are they the healthiest breakfast around? That depends on what you serve them with. If you hand your kids a bottle of syrup and let them drown their pancakes, then they'll be getting a lot of sugar. But if you serve them with fruit and pour the syrup for them, it will make for a perfect festive morning.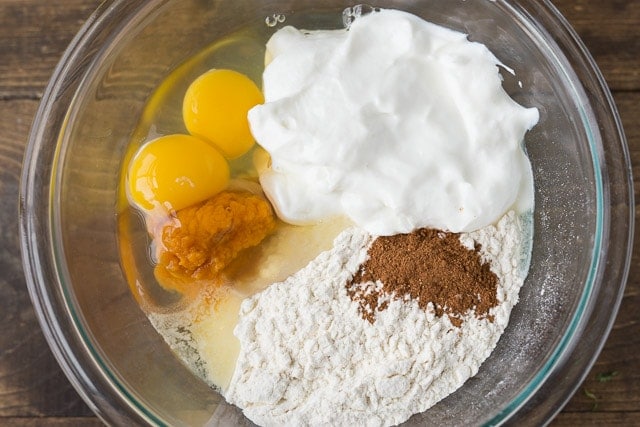 Ingredient Swaps:
This recipe calls for vanilla greek yogurt, flour, pumpkin pie spice and pumpkin puree (plus a few other ingredients). You can swap out the vanilla greek yogurt for plain but I suggest using the vanilla. Since there's no sugar in the recipe using vanilla greek yogurt keeps the pancakes from getting too tangy. Most pancake recipes include sugar in their recipes and most pumpkin pancakes call triple the amount sugar! If you make a pancake and wish it was sweeter, you can always stream in a little honey to the batter. But keep in mind that you'll be serving these with syrup!
You always swap out the flour for whole wheat flour but I wanted to keep my pancakes as light and fluffy as possible, so I kept the AP flour.
Pumpkin pie spice is made up of cinnamon, nutmeg, allspice, ginger and cloves. If you don't have pumpkin pie spice you can mix up some of your own!
Pumpkin puree is not as crucial as you would think. When people think of pumpkin, they actually are thinking of pumpkin pie spice! Most of the famous pumpkin drinks out there include no pumpkin puree! So if you happen to have no pumpkin puree, give these Pumpkin Protein Pancakes a shot anyway! On the other end… if you add too much pumpkin these will take a long time to cook, so be careful if you go off recipe!
Don't panic, this is not one serving size! Each pancake I made used about 1/4 cup of batter and the batch made about 8 pancakes. You can make them as tiny pancakes or big ones that are the perfect single serving size for your kiddos!
Blueberries, raspberries and strawberries are my favorite berries to eat with any type of pancakes, including these Pumpkin Protein Pancakes. If you're looking for another fun pancakes recipe try our Banana Smoothie Pancakes!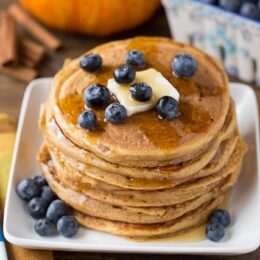 Pumpkin Protein Pancakes
Healthy Pumpkin Protein Pancakes made with greek yogurt! The perfect breakfast for fall and Halloween–get ready pumpkin lovers! 
Print
Pin
Rate
Ingredients
1

cup

flour, all-purpose

1 1/4

cup (8 fl oz)

Greek yogurt, vanilla

2

large

egg

2

teaspoon

baking soda

1 1/2

ounce

pumpkin, canned

1

dash

salt

1

tsp

vanilla extract

3

teaspoon

pumpkin pie spice
Instructions
Using a whisk, combine all ingredients in a bowl.  (1.5 oz of pumpkin is equivalent to 3 Tablespoons!) Stir just until combined.  The batter will be thick, if you prefer a thinner batter, add a little water or milk.

Heat a pan or your griddle to medium to low heat.  Spray or butter your pan and use a 1/4 measuring cup so spoon batter onto pan.  I use my measuring cut to also spread out the batter after I poured it, my batter was thick.  Let cook until the edges begin to look done and then flip.  Pumpkin pancakes take longer to cook because of the pumpkin puree, so make sure you cook them all the way through! Lower the temperature of your griddle if needed!

Serve with berries, whipped cream, butter, syrup… whatever you're in the mood for!