50 Low Sugar Snacks for Kids
Isn't it crazy how the more sugar you eat, the more sugar you WANT to eat! This happened to me recently. It started innocent enough. I had a treat one day, "because I deserve it". Then, the next day it turned into two. Until a few days later, I found myself scouring my cupboard for sugar! So, one day- I decided to try sugar free for a day. After a day, that mad craving had weakened significantly! Finding low sugar snacks for kids can be easy and still be delicious. If you keep this list (print it here), you'll always have something ready to feed your little ones.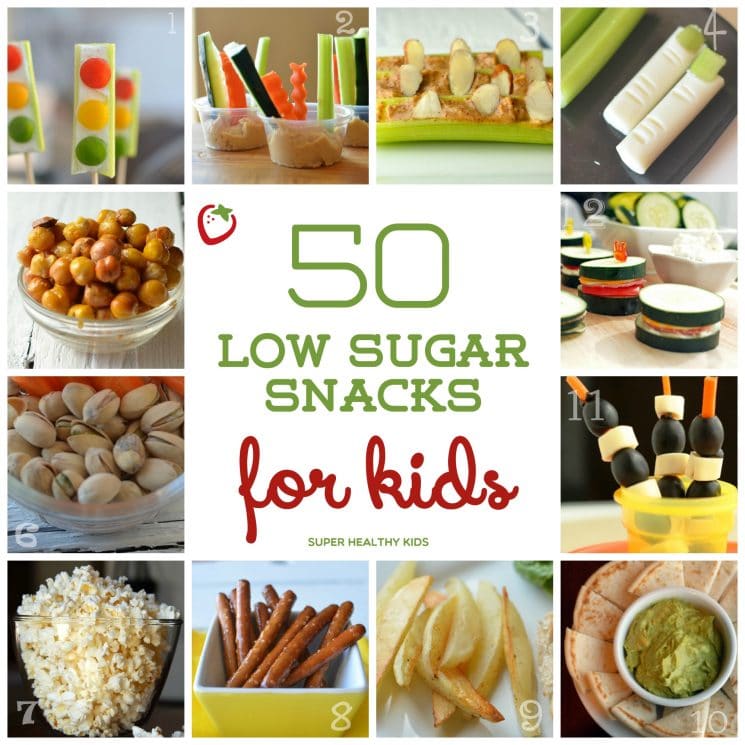 Most of the pictures & ideas for these snacks I got from our meal plans and old blog posts. With proper kitchen tools, kids can help make these snacks! Right now we have over 866 snack recipes (and over 3000 total recipes) for healthy meal ideas.
I gathered together all the snacks that my kids like to eat, and even added the grams of sugar next to them! This is for an average serving of course, and some may be dependent on the brand you use. For example, my bread is 1 gram of sugar per slice, but if you purchase a brand with 3 grams of sugar, obviously your total will be a bit different.
So, here you go! Our best list of sugar free and low sugar snack ideas!
Celery and Cheese = 1 gram
Hummus and Veggies = 0 grams
Almond butter and Celery = 1 gram
String Cheese = 0 grams
Chickpeas = 0 grams
Pistachios = 2 grams for one ounce
Popcorn= 0 grams
Pretzels = 0 grams
Potato Wedges = 2 grams (half a potato)
Guacamole and Pita wedges
Olive, Cheese & Carrot Tiger sticks = 1 gram (one ounce)
Cucumber Sandwiches = 1 gram
Carrots and Ranch = 1 gram (2 TBL of ranch)
Finger Salad = 0 g
Deviled Eggs 1 gram
Zucchini Chips = 3 grams (per zucchini)
Quesadilla = 1 gram
Snow Peas = 2 gram (per raw cup)
Trail mix = 3 grams per 1/2 cup (qualifier- nuts and seeds only, not dried fruit and chocolate)
Avocado Hummus = 0 grams sugar
Kale chips = 0 gram
Spiced pumpkin seeds <1 gram sugar
Cauliflower popcorn = 2 grams (1 cup)
Toast with egg and avocado = 1 gram (per slice)
Pepper poppers= 4 grams sugar
Salad skewers <1 gram (qualifier- the veggie skewers only
Edamame = 3 grams (1 cup)
Caprese bite sized snack = 3 grams
Cauliflower dipper = 2 grams
Arugula pesto 2 grams
Jicama fries 2 grams (1 cup)
Tomato avocado cups 1 gram
Yogurt cheese and cucumbers Ummm.. this one is a mistake- when I calculated it, it ended up being 9 grams of sugar per serving. So, I added an extra one at the end, so you still have 50!!
Cheesy broccoli bites 1 gram sugar
Cucumber cups here : 1 gram Zucchini sticks 3 grams
Zucchini sticks 3 grams
Parmesan fries 2 grams
Baked onion rings 2.5grms or half an onions worth
Guacamole cones 0 grams (sugar free)
Carrots and laughing cow 3 grams
Tomato Parmesan Bake 1 gram
Grape Tomato & Pretzel Tree = 1 gram
Pepper nachos 0 grams
Cherry Tomato bugs 2 grams
Pea hummus = 2 grams
Sweet potato chips 2.5 (for half a sweet potato worth)
Peppers and goat cheese 0 grams
Sail boat (or hard boiled egg) 0 grams
Turkey roll up = 0 grams (turkey, mustard, and carrot sticks)
Sugar snap pea boats

2 grams
Pretty good list- you can have a new snack every day for the next 6 weeks.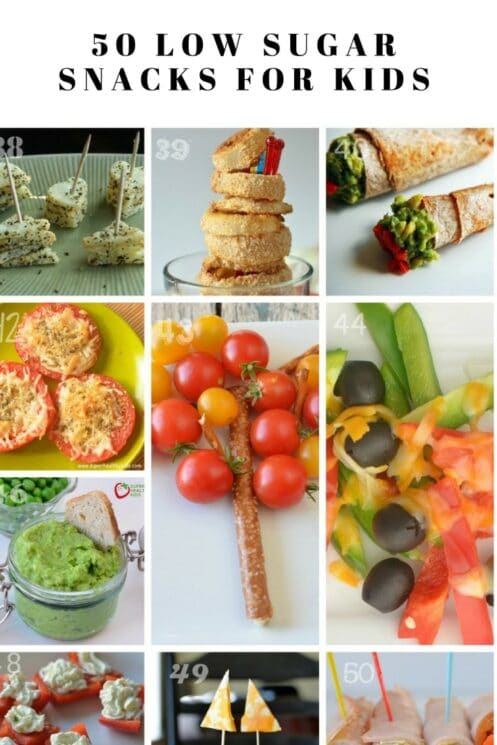 Would you add any? What low-sugar snacks do your kids like?