Cottage Cheese Protein Pancakes for Kids
Cottage Cheese Protein Pancakes made with whole wheat flour and topped with fresh fruit! A great way to pack in protein early in the day and send your kids off with a power breakfast.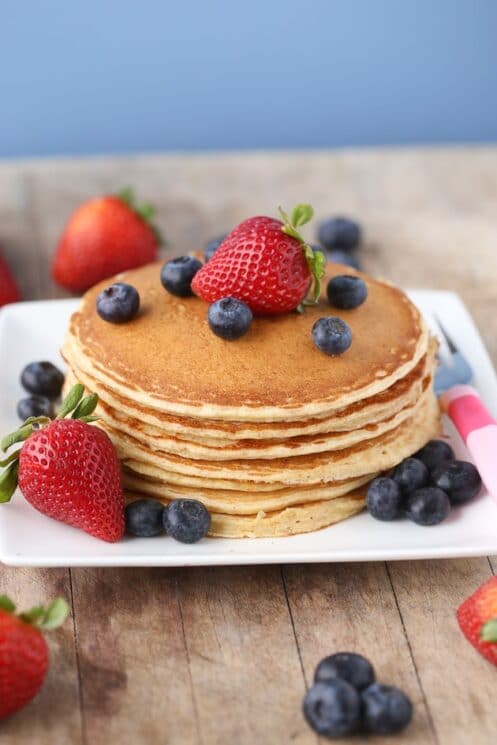 Cottage Cheese Protein Pancakes for Kids
Kids love pancakes! Now you can make them pancakes packed with protein… Cottage Cheese Pancakes! These have cottage cheese and eggs which are both high in protein and we swapped out the all-purpose flour for whole wheat flour to add more vitamins and fiber. These have our stamp of approval for a healthy breakfast that will keep the kids full until lunch.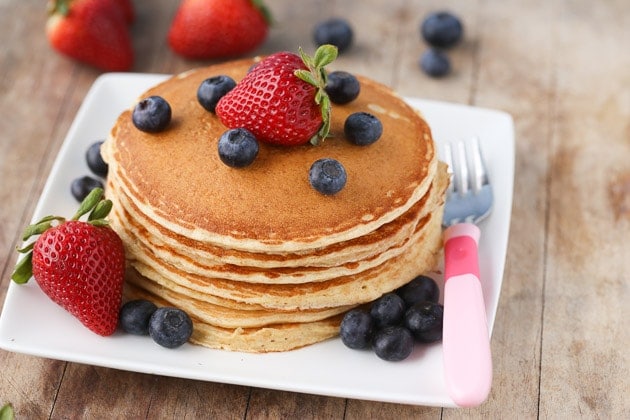 Are Pancakes a Good Breakfast?
The big issue with pancakes and waffles is the syrup. You can find the best healthy pancake recipe but if your kids drown them in syrup, it can feel a lot less healthy because of all the added sugar. Here are some tips with pancake toppings:
1. If you're going to stay traditional with syrup, make sure you're using real maple syrup as opposed to pancake syrup. It has less artificial ingredients, and also has some important antioxidants and minerals.
2. Make a berry syrup instead. Summer is just around the corner, puree up some strawberries and make your own. We have some delicious recipes for berry syrup that are easy to make: Blueberry Syrup, or Creamy Orange Syrup
3. Top with fruit and yogurt. There are so many different types of fruit that are delicious with pancakes. Strawberries, blueberries, bananas, and peaches to name a few.
How to Make Protein Pancakes for Kids
You'll notice the ingredient list is very simple and that's because these are simple to make and whole food ingredients provide all the nutrition you need a lot of the time. The protein in these pancakes comes from the cottage cheese and the protein in the egg whites. A lot of protein pancakes call for protein powder, but kids don't typically need as much protein and the amount coming from these whole foods is just the right amount. Some pancake batters recommend letting the batter rise but since this batter doesn't need any leavening agent (baking soda or baking powder) there's no wait time! Because let's be honest, who has extra time in the morning to wait around watching a bowl of pancake batter?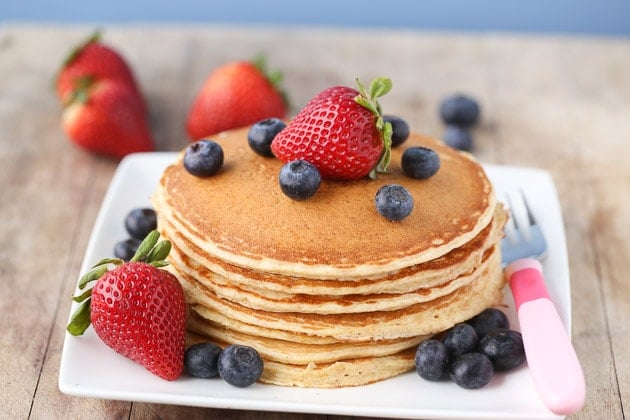 If your family loves pancakes as much as mine, we have lots of recipes to pick from! I love our Sheet Pan Pancakes because I can feed my entire family at the same time and everyone gets a hot pancake! Next time you want to make a power breakfast for your kids, make these pa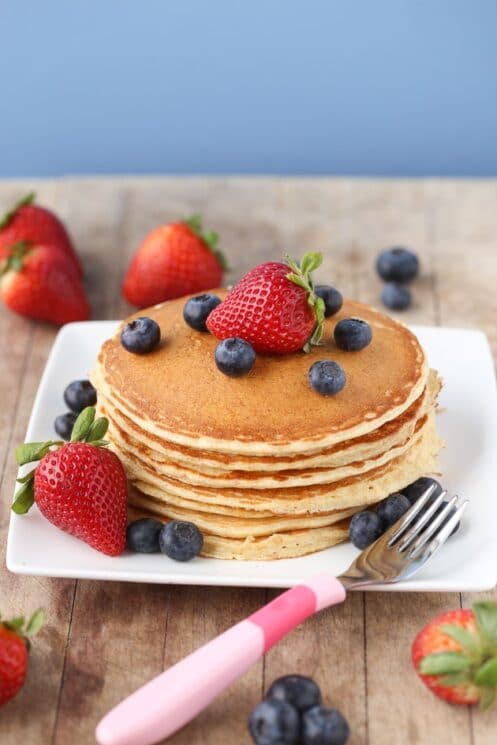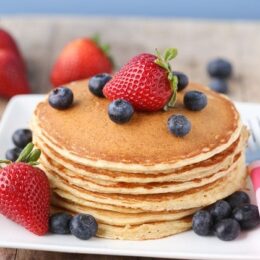 Cottage Cheese Pancakes
Print
Pin
Rate
Servings:
3
2 small pancakes
Ingredients
1

cup

cottage cheese

3

large

egg

1/3

cup

flour, whole wheat

2

tablespoon

butter, unsalted
Instructions
In a blender, combine cottage cheese and eggs.  Pulse until the mixture is smooth.

Combine cottage cheese, eggs, flour and melted butter and mix with a spoon until combined.

Heat a frying pan or skillet over medium heat. Pour out a small amount of batter (I used about 1/4 cup) and let the pancakes cook for 2-3 minutes on each side.

Serve warm with fresh fruit and maple syrup!