Inside Out Cucumber Sandwiches
The longer our family maintains the goal of making half our diet fruits and vegetables, the more I'm convinced it's the perfect way to eat. It's not complicated, it doesn't restrict our other dietary choices and I know that my kids are getting a great balance of protein, fat, carbs, fiber, sugars, vitamins, minerals, enzymes, phytochemicals, antioxidants, and whatever else science discovers next. We can know we are already eating it!
Today, we decided to use cucumbers to make this snack 50% fruits and vegetables! Cucumbers are a great food to include in your kids diet. Cucumbers can usually be found very inexpensively, and they have such a sweet mild flavor, most kids will accept them.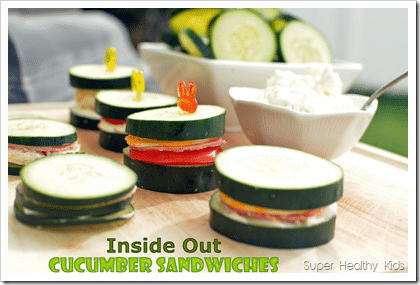 So we sliced up some cucumbers and then assembled our sandwiches using:
Spreadable cheese, like laughing cow Cheese or cream cheese
Slices of cheddar Cheese
Slices of deli meat
Circles of toasted bread
Slices of Tomatoes
Best part about this snack: total prep time: under 4 minutes!