Super Crunchy Pumpkin Spice Seeds Recipe
Pumpkin carving has commenced! Each year in October, kids everywhere are honing their crafting and cutting skills, in order to make the perfect Jack-O-Lantern to light up on the doorstep. But, how often are you dumping the guts of the pumpkin in the compost?
This year, try roasting your pumpkin seeds. They provide kid with zinc, as well as a variety of forms of vitamin E.
If you've tried roasting pumpkin seeds in the past, and your kids didn't go for it, try again! Just like veggies, we don't stop offering our kids a healthy snack just because one time, three years ago, they wouldn't eat it. The trick to making roasted pumpkin seeds taste amazing is to make sure they have some extra flavor (we use pumpkin pie spices), and to make sure they are crunchy (not chewy)
The steps for making roasted pumpkin seeds:
First, cut the top off. You can do this in any shape, as long as the top is big enough to get your hands into.
Second, scoop out the insides, the stringy inside, as well as the seeds. If I'm doing this step for my kids, I continue to scrape the walls of the pumpkin until the wall is thin enough for them to cut through when carving. Leaving pumpkin flesh around the walls can be super hard to carve through, so since you are in there anyway, thin it out for them.
Third, separate the stringy "guts" from your seeds. I do a quick rise in a colander, but then it's good old fashioned elbow grease to separate the two.
Give the seeds another rinse to finish getting the orange guts away from your seeds.
Next, we boil our seeds in salt water for 10 minutes (4 cups water for 4 tablespoons salt). I read this on several different sites, but every site declared a different purpose for the boiling step. Some said the inside seed gets cooked more quickly, so soaking it first allows it to slow the roasting of the inside seed. Another said it infuses the whole seed with salt, rather than just the shell. Another said it makes them crispier. Who knows?! All I know is, we do it anyway.
Then, drain again and pat dry.
Season your seeds. First drizzle with olive oil. Then sprinkle with pumpkin pie spices. You can purchase pumpkin pie spice already mixed up for you, or you can make your own using these four ingredients:
4 tablespoons cinnamon
4 teaspoons nutmeg
4 teaspoons ground ginger
3 teaspoons ground allspice
Then, making sure your seeds are in a single layer on a cookie sheet, roast at 325 degrees Fahrenheit for 25-30 minutes. Test for doneness by taking a seed out and trying to bite into it. This is really how I do it. If it feels crispy, I'll take them out. If they still feel soft and pliable, I leave them in.
As long as they are completely dry, they will last quite awhile in your pantry. We store them for about 2-3 weeks in a jar.
Pumpkin seeds are great to eat straight out of the jar as a snack.
To send to school.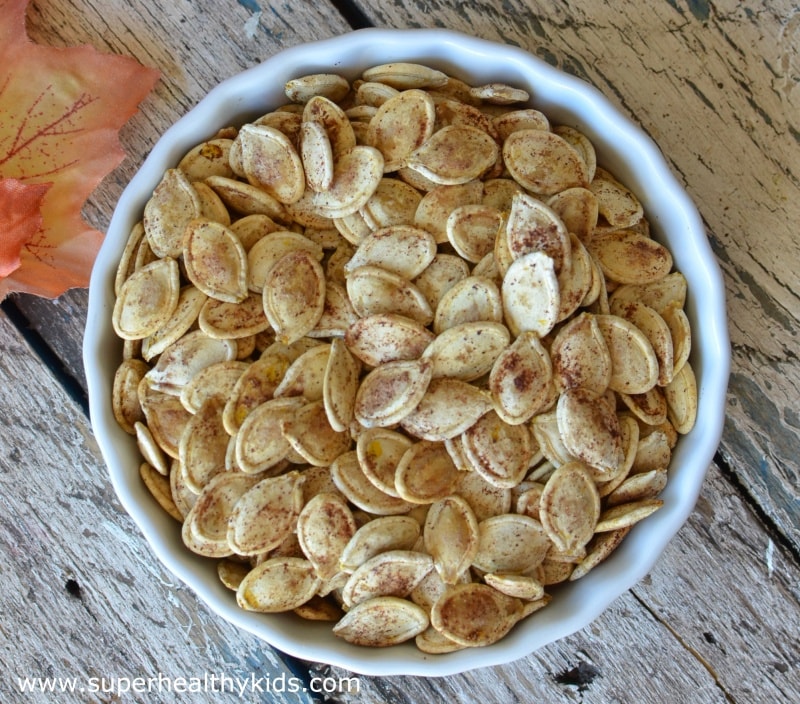 To add to trail mix:
Or to top yogurt! This yogurt is
1 cup of plain yogurt
1 tablespoon of pureed pumpkin
1 tablespoon of honey
Topped with 1 tablespoon of pumpkin seeds!
Give it a try this year!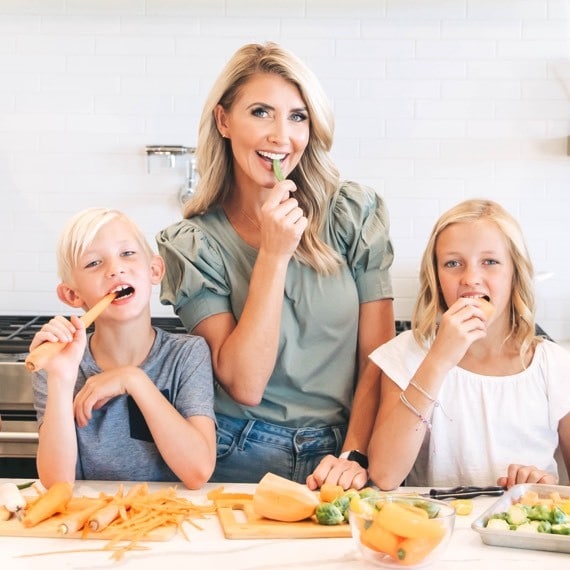 Natalie Monson
I'm a registered dietitian, mom of 4, avid lover of food and strong promoter of healthy habits. Here you will find lots of delicious recipes full of fruits and veggies, tips for getting your kids to eat better and become intuitive eaters and lots of resources for feeding your family.
Learn More about Natalie