This yummy, little, high protein snack caused my little house guests to stand over me, waiting to eat them. These kids (my niece and nephew that are visiting for a few days) apparently love both hard boiled eggs, and cheese!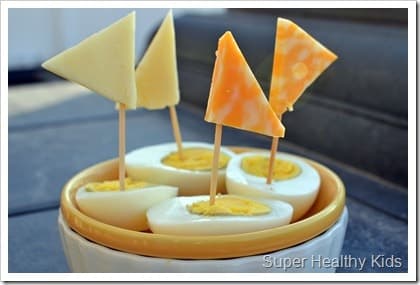 I've been a big fan of kids eating eggs for a long time. Eggs are an inexpensive source of protein that also contains:
Choline: Vital for brain development
Lutein: Which protects eyes
Vitamin B12, which is important for energy
Naturally occurring Vitamin D- important for regulating calcium levels and enhancing absorption of calcium.
Keeping those little hands off this snack before I got a picture of them was almost impossible! But as soon as we were done, they dived in and got a great source of nutrients for their snack! (This could also be a quick breakfast too!)