50 Low Sugar Snacks for Kids
In today's sweets-filled world, limiting your kids' sugar intake can feel like an uphill battle! Get a leg up with this list of 50 simple snack ideas with low-to-no sugar. Keep it on hand (print it here) to always have something healthy ready to feed your little ones.
Thanks for checking out our low-sugar snack ideas! Most of the pictures & ideas for these snacks come from our meal plans. With proper kitchen tools, kids can help make these snacks! Right now we have over 866 snack recipes (and over 3000 total recipes) for healthy meal ideas.
In the list below, you'll see that we added the grams of sugar next to each food. But keep in mind that some sugars occur naturally. So the 2 grams of sugar in your kids' snow pea snack doesn't count toward their suggested 25-gram daily limit. Only added sugars count toward the recommended limit, and many labels now differentiate between added sugars and naturally-occuring ones.
Our calculations represent an average serving, and some may depend on the brand you buy. For example, our bread has 1 gram of sugar per slice, but if you purchase a brand with 3 grams of sugar, obviously your total will be a bit different.
50 Low Sugar Snacks for Kids
Celery and Cheese = 1 gram
Hummus and Veggies = 0 grams
Almond butter and Celery = 1 gram
String Cheese = 0 grams
Chickpeas = 0 grams
Pistachios = 2 grams for one ounce
Popcorn= 0 grams
Pretzels = 0 grams
Potato Wedges = 2 grams (half a potato)
Guacamole and Pita wedges
Olive, Cheese & Carrot Tiger sticks = 1 gram (one ounce)
Cucumber Sandwiches = 1 gram
Carrots and Ranch = 1 gram (2 TBL of ranch)
Finger Salad = 0 g
Deviled Eggs 1 gram
Zucchini Chips = 3 grams (per zucchini)
Quesadilla = 1 gram
Trail mix = 3 grams per 1/2 cup (qualifier- nuts and seeds only, not dried fruit and chocolate)
Avocado Hummus = 0 grams sugar
Kale chips = 0 gram
Spiced pumpkin seeds <1 gram sugar
Cauliflower popcorn = 2 grams (1 cup)
Toast with egg and avocado = 1 gram (per slice)
Pepper poppers= 4 grams sugar
Salad skewers <1 gram (qualifier- the veggie skewers only
Edamame = 3 grams (1 cup)
Caprese bite sized snack = 3 grams
Cauliflower dipper = 2 grams
Arugula pesto 2 grams
Jicama fries 2 grams (1 cup)
Tomato avocado cups 1 gram
Yogurt cheese and cucumbers Ummm.. this one is a mistake- when I calculated it, it ended up being 9 grams of sugar per serving. So, I added an extra one at the end, so you still have 50!!
Cheesy broccoli bites 1 gram sugar
Cucumber cups here : 1 gram Zucchini sticks 3 grams
Zucchini sticks 3 grams
Parmesan fries 2 grams
Baked onion rings 2.5grms or half an onions worth
Guacamole cones 0 grams (sugar free)
Carrots and laughing cow 3 grams
Tomato Parmesan Bake 1 gram
Grape Tomato & Pretzel Tree = 1 gram
Pepper nachos 0 grams
Cherry Tomato bugs 2 grams
Pea hummus = 2 grams
Sweet potato chips 2.5 (for half a sweet potato worth)
Peppers and goat cheese 0 grams
Sail boat (or hard boiled egg) 0 grams
Turkey roll up = 0 grams (turkey, mustard, and carrot sticks)
Sugar snap pea boats

2 grams
Enjoy! Have a NEW snack every day for the next 6 weeks.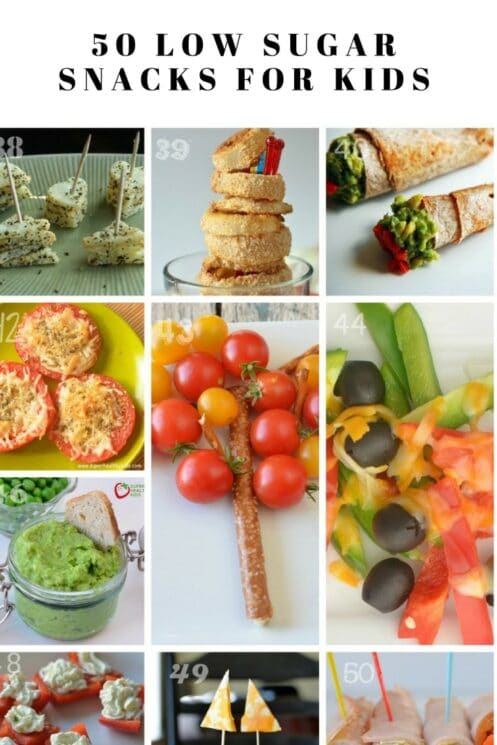 Would you add any? What low-sugar snacks do your kids like?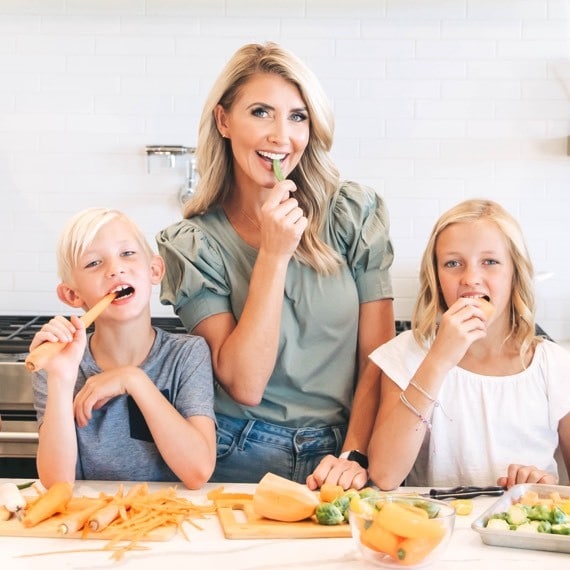 Natalie Monson
I'm a registered dietitian, mom of 4, avid lover of food and strong promoter of healthy habits. Here you will find lots of delicious recipes full of fruits and veggies, tips for getting your kids to eat better and become intuitive eaters and lots of resources for feeding your family.
Learn More about Natalie