Looking for a little finger food for breakfast, look no further than our French Toast Pumpkin Fritters!
These little "fritters" can be finger food, on the go breakfast, or eaten traditionally.  We combined our love for French toast with our love for pumpkin, and came up with these little jewels.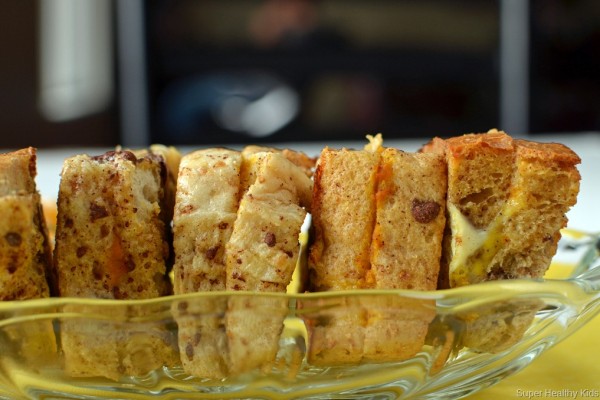 We made sandwiches with whole wheat bread, and some pumpkin puree spread in the middle.
Then, we cut the sandwich into four sections
Then we dipped each small square sandwich the egg batter.
Then we arranged the dipped sandwiches into a baking sheet or cake pan and baked (full recipe below)
Author:
Ingredients
4 slices whole wheat bread
2 tablespoons pumpkin puree
2 eggs
2 tablespoons low fat milk
1 teaspoon pumpkin pie spice
1 teaspoon vanilla extract
1/2 teaspoon of brown sugar (optional)
Instructions
Grease a baking dish!
Spread one tablespoon pumpkin puree on two slices of bread.
Top each pumpkin spread slice of bread with a slice of plain bread, so you have two "sandwiches".
Cut each sandwich into four sections.
Combine remaining ingredients.
Dunk each square of sandwich in egg mixture, on both sides.
Place in a cake pan or cookie sheet.
Bake at 400 degrees for 20 minutes, flipping after ten.
MMMM… the little breakfast squares got a thumbs up from my husband as well (who tends to hyper honest when he doesn't think something tastes good )