Freezable French Toast Sticks
Make ahead breakfast to the rescue on busy mornings. Freezable French Toast sticks are filling, delicious and easy for kids to eat!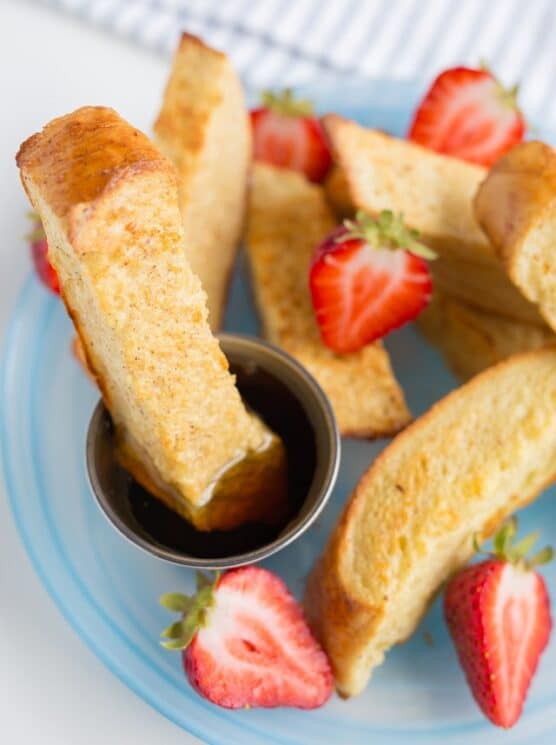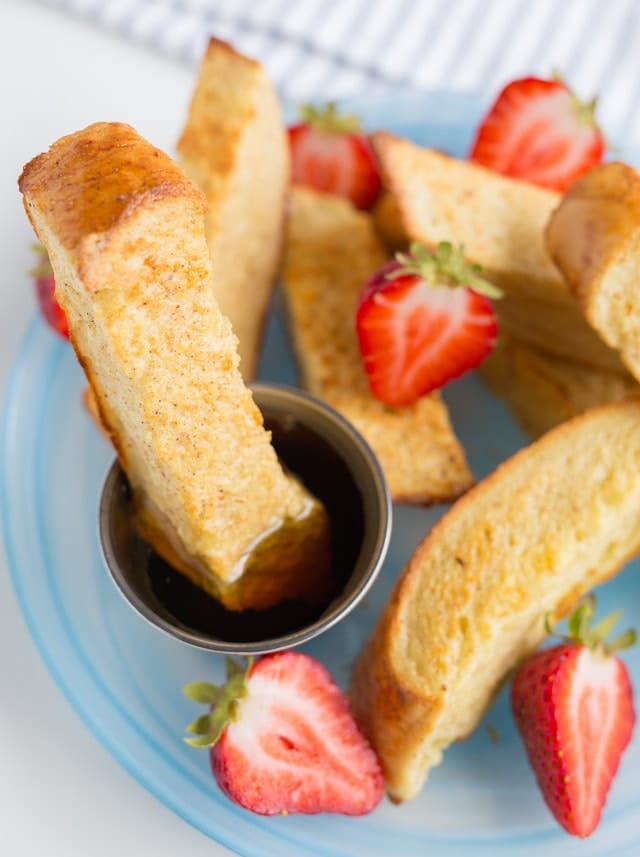 Who else loves BFD? Breakfast for Dinner? I do love it for dinner, but really I just love breakfast foods. For my birthday last week, I went to breakfast with my sister-in-laws and we all ordered french toast! Yum. Of all the breakfast foods, I think french toast is definitely my favorite. As my kids have gotten older and started to have places they need to be to in the morning, I have realized that making a hot breakfast every morning isn't always doable. But that doesn't mean you can't make things ahead, and then pull them out of your freezer for a quick and healthy breakfast right?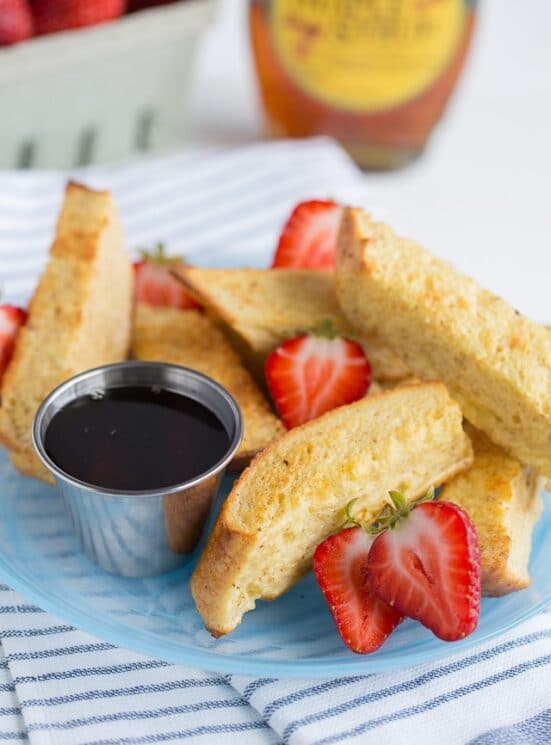 I just moved my girls in the same room together which has been great for the most part……….their sleeping schedules are a bit off. My 2 year old likes to wake up REALLY early and thinks that she needs to wake the 4 year old up. My 4 year old doesn't take naps anymore and so she really needs that sleep in the morning. She usually will fall back asleep, and so I have been letting her sleep in until the last possible minute we need to get ready to go. This makes for a rushed breakfast. These french toast sticks are perfect, because once you have made them, you just pop them out of the freezer and into the microwave for 30 seconds or so, and you have a hot breakfast ready for a champion.
I asked if there were any requests for a french toast recipe, and we had a lot of requests for egg-free. I have both egg-free and regular french toast recipes included.
Egg-Free French Toast Sticks
To make your batter combine 1 banana, milk of your choice, cinnamon and vanilla in a blender. To make the regular batter combine eggs, milk, cinnamon and vanilla. Next slice up your bread. I found that a thicker bread works best for these. We used some whole wheat french bread and some white. Slice it into slices, and then cut those into 'sticks'.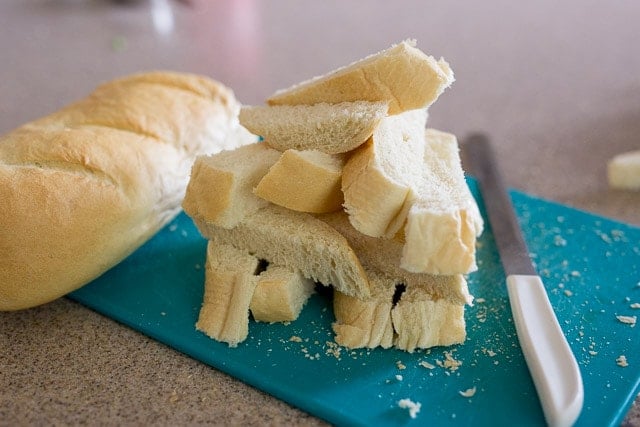 Next dip your bread into your batter. I used tongs so that my hands didn't get gross.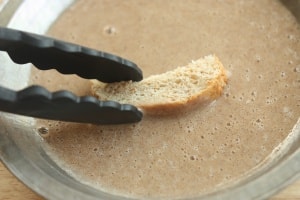 Now this next step is totally up to you. There are a few ways to do it.
1) Baking. SPRAY a baking sheet with cooking spray and lay your french toast sticks on the tray. Bake at 375 for about 20 minutes, or until they are golden. Flip the sticks half way through.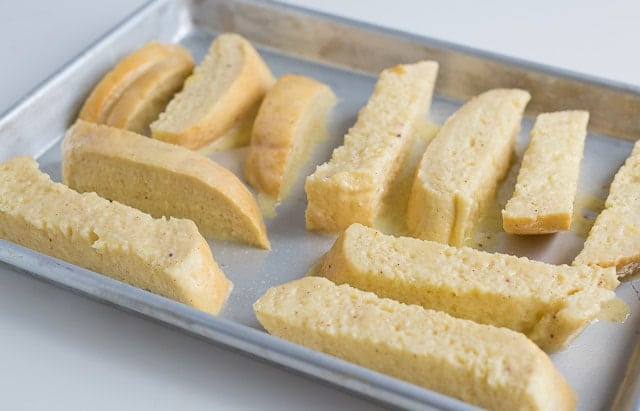 I baked mine on a cooling rack on a baking sheet because I thought it would prevent me from having to flip them. Wrong. I had to flip them anyway and then it created an extra dish to wash. Boo. The reason I like baking though is because you just stick them in the oven and then you can clean up your mess while they are baking. Oh wait – I didn't do that either. But I could have cleaned up my kitchen. Anyway – you aren't standing over your griddle flipping all your french toast.
2) Griddle. You can definitely cook your french toast on a griddle or large pan. If you do it this way, wait to slice your bread into 'sticks' otherwise you will be flipping those things all day long. Cook your whole bread slices, and then cut them into sticks after you have cooked them. The texture is different when you bake them, and some people prefer the griddle method texture.
With either method, after you are done cooking them, let them cool on a cooling rack. Then they won't get soggy in the cooling process.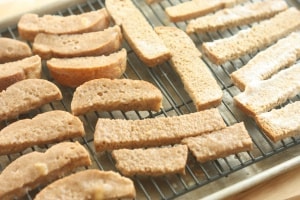 To Freeze:
Once your sticks have cooled, you can stick the entire cooling rack in the freezer, or if you baked them, put them back on the pan you baked them on. Just make sure they aren't touching! This is called flash freezing. Once they are mostly frozen, put them in a freezer safe container.
To Reheat: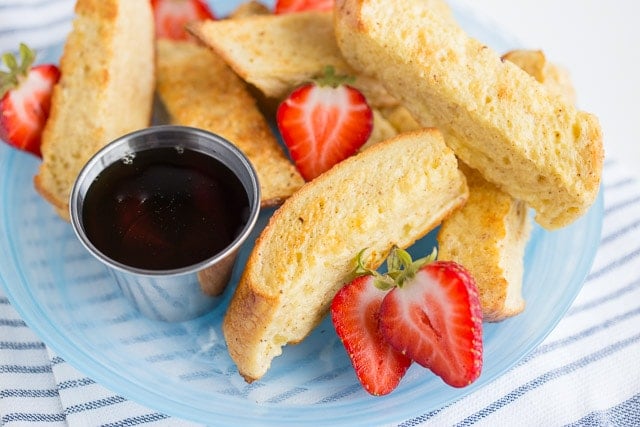 Place sticks on a plate and microwave for about 1 minute until they are warmed through. You can also reheat them in the oven at 350 degrees F for 5 minutes.
Serve with pure maple syrup, berries, yogurt, fruit syrup (we make ours by crushing berries in a pot and then adding a little maple syrup to it), or anything else your little heart desires.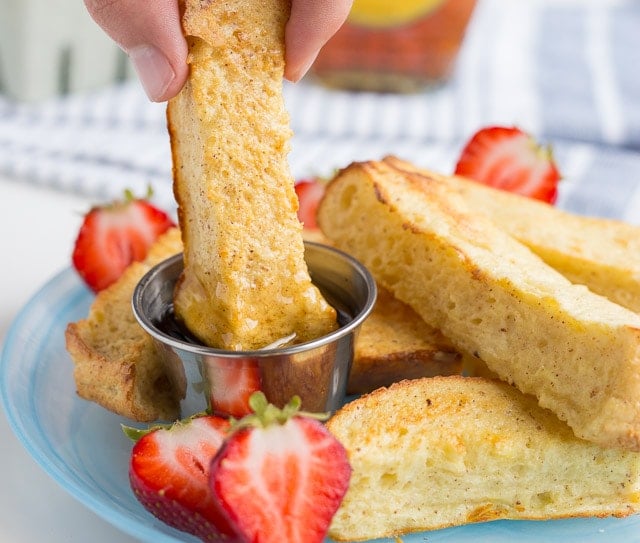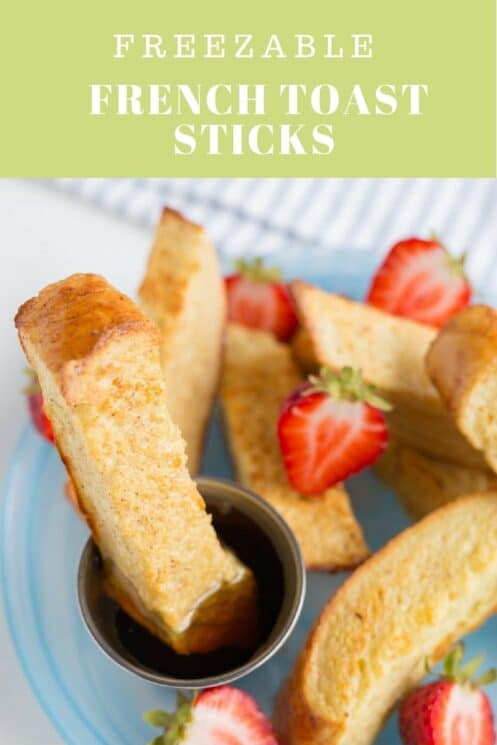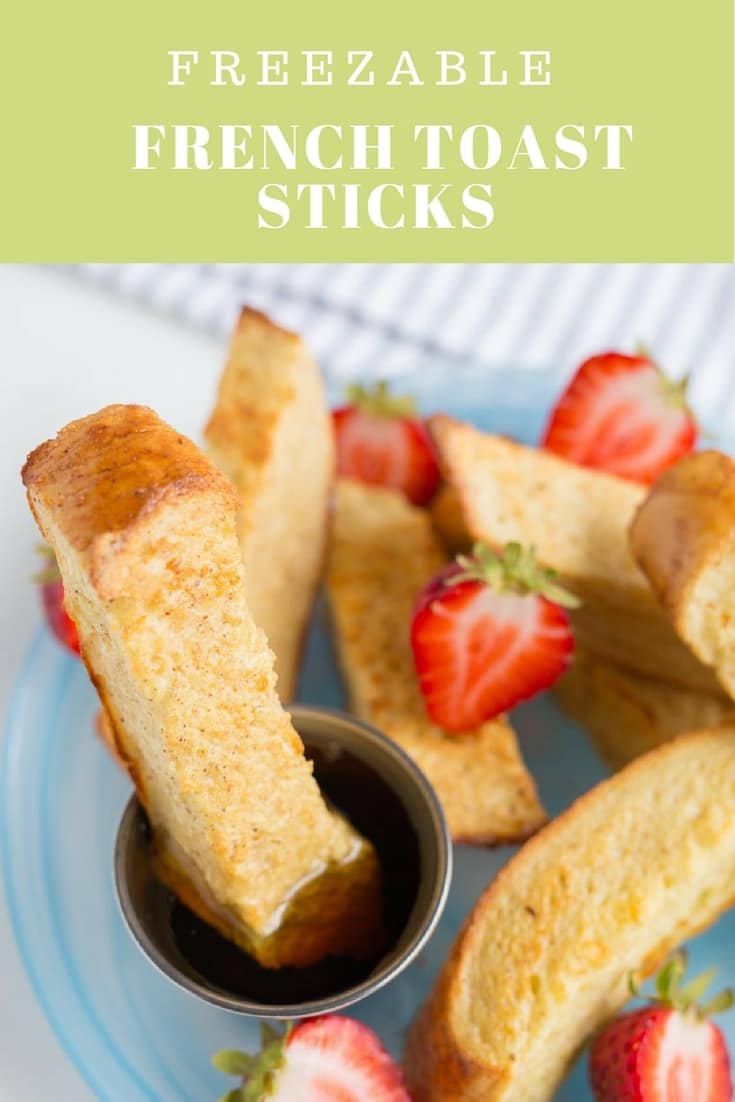 The Verdict:
Everyone in my family tasted these and it was unanimous we all like the Egg-free version the best! They were creamy and sweet. I actually think they should be called Banana Bread French Toast Sticks. Yum. I did find that they required a little longer cooking time than the regular french toast, because the batter is a bit thicker. Give them a try and let us know what you think!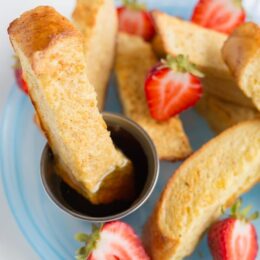 Ingredients
Egg-Free French Toast
1

banana

1/2

cup

milk of your choice

1

tsp

cinnamon

1

tsp

vanilla

1/2

loaf

of bread
Regular French Toast
3

eggs

1/2

cup

milk of your choice

1

tsp

vanilla

1

loaf

of bread
Instructions
Egg-Free French Toast
Blend all ingredients together and pour into a pie plate or other shallow dish.

Dip bread into batter and cook until golden brown.
Regular French Toast
Wisk all ingredients together and pour into a pie plate or other shallow dish.

Dip bread into batter and cook until golden brown.
Baking Method
Preheat oven to 375 degrees F.

Place dipped bread onto a sprayed baking sheet.

Bake for 20 minutes or until golden, flipping pieces half way through baking time.