Carrot Cake French Toast Sticks Recipe
Start the day off right with one of our favorite kid friendly breakfasts — which also includes a veggie! Carrot cake french toast strips are a fun, easy, and healthy family breakfast.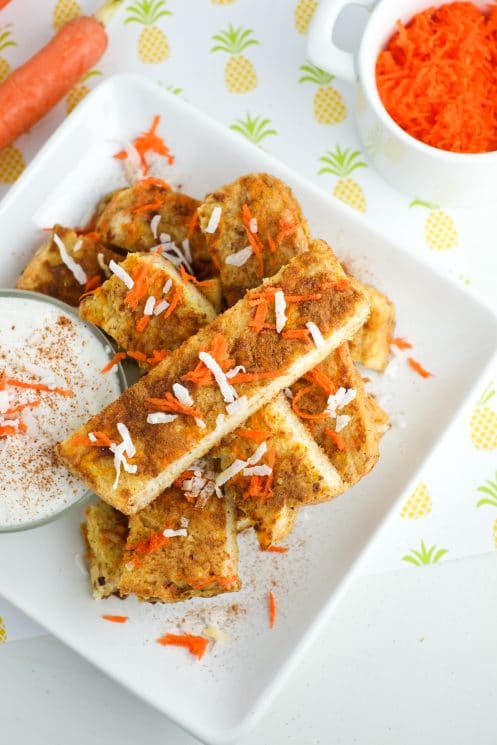 Healthy breakfast that includes vegetables
Good morning! I don't know about your house, but in my house, it's not easy finding ways to put veggies into breakfast.
My husband doesn't have this problem. Every day for breakfast he eats: two big carrots, a glass of milk, and two pieces of whole wheat toast. It doesn't seem super appetizing to me; I'm more of a grapefruit and eggs girl.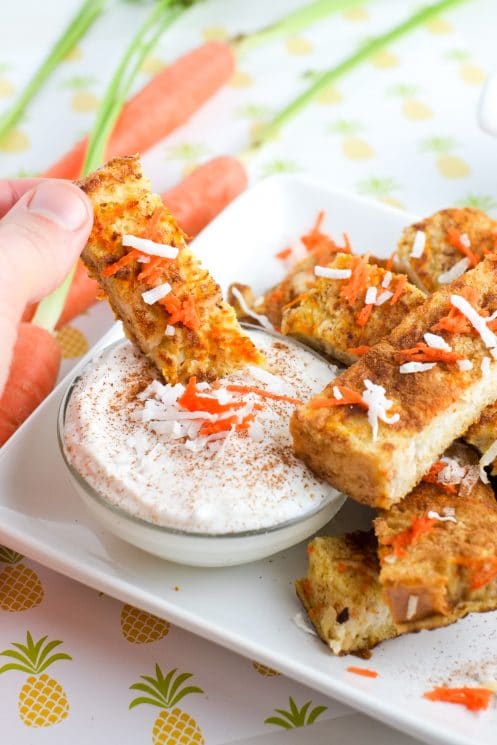 But this breakfast somewhat combines all the things my husband eats each morning, but in a way the whole family enjoys!
We all know vegetables are important, but we don't traditionally have them first thing in the day. We're on a mission to change that, and here's one way to do it!
Breakfast food with carrots
Including vegetables for breakfast helps your kids learn healthy habits. Pretty soon they will see that it can be normal to have veggies in the morning! And including them doesn't mean you have to give up the breakfast foods you love.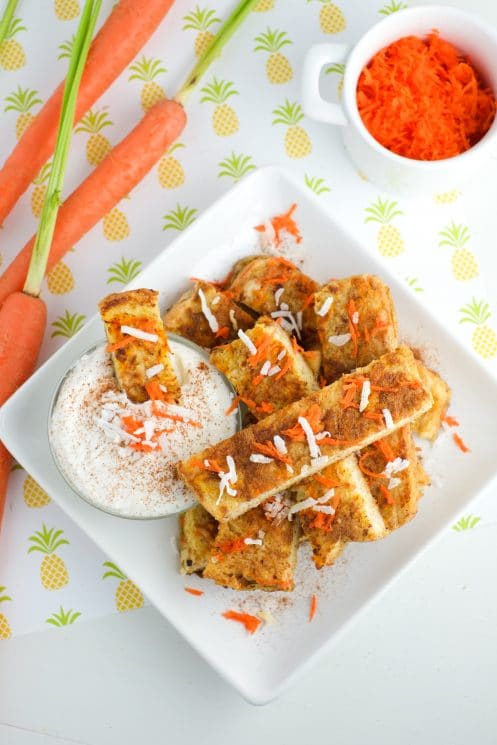 We love this french toast because it includes carrots! They're not only vibrant and beautiful, they're great for you and your growing kids. Even a little at a time makes a difference! Carrots are an important food to include in your kids' diet.
Carrots and other yellow or orange produce contains vitamin A which keeps their:
Eyes
Skin
Teeth
and Bones HEALTHY!!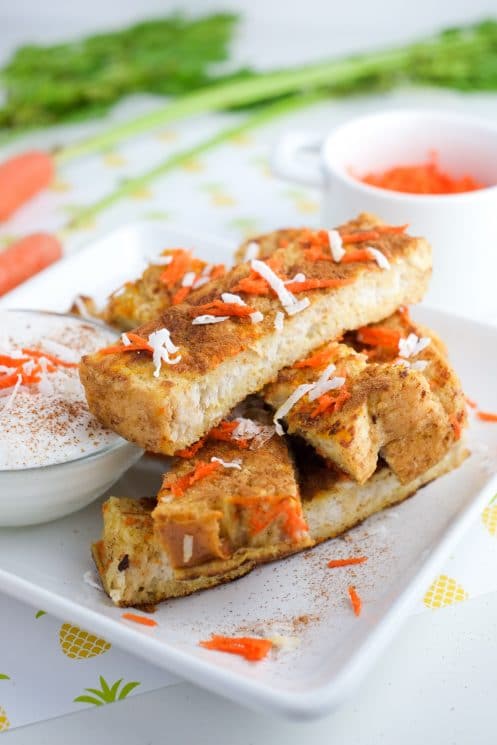 Plus carrots are always a great price, and almost always in season! Carrots are a staple around here.
Carrot Cake French Toast Sticks Recipe
This is your basic French toast recipe, but you add shredded carrots and top it off with coconut! You can also mix orange juice with the eggs instead of milk, which gives a little natural sweetness.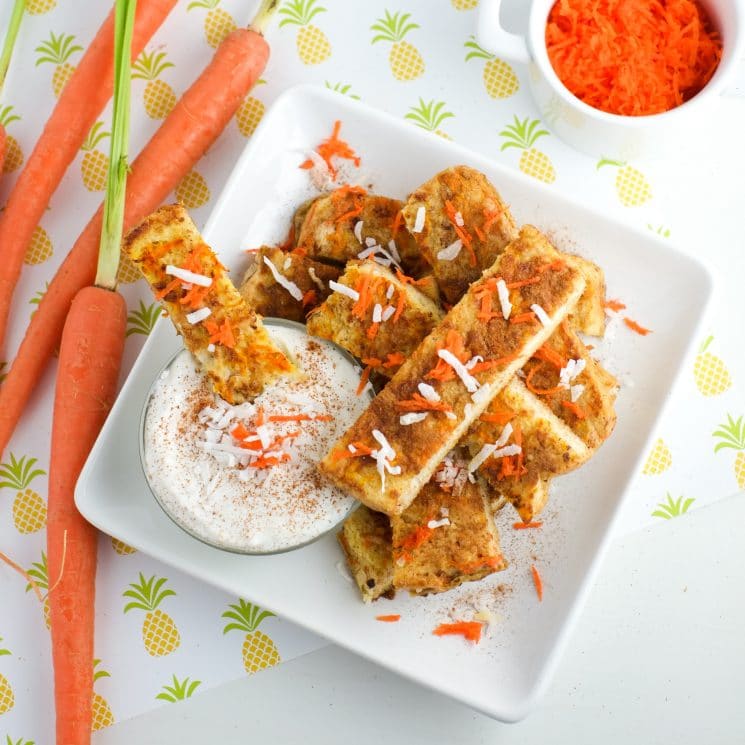 Here's what you need:
4 Large Eggs
1/4 cup milk (or OJ if you have milk allergies)
1 tsp. cinnamon
1 tsp. vanilla extract
1/4 cup shredded carrots
5 slices whole wheat bread
1 TBL coconut (optional)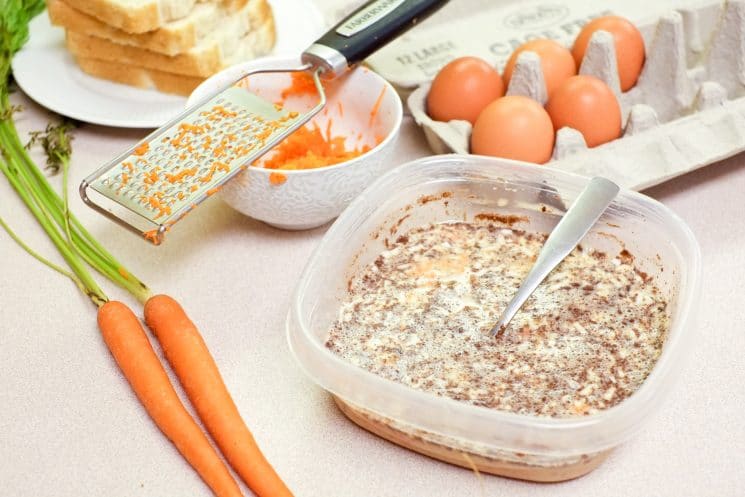 Mix eggs, milk, cinnamon, vanilla, and carrots in a shallow dish. Dip whole wheat bread one at a time in egg mixture. Thick-sliced whole wheat bread works best. It doesn't have to be homemade, though it is delicious!
Place coated bread on a skillet and cook both sides until egg is set and cooked. Slice into strips – using a pizza cutter works well.
Sprinkle with coconut. Top with yogurt, honey, bananas or pineapple! Even some walnuts are great, and follow the carrot cake theme.
Healthy carrot cake for breakfast, plus actual veggies – it doesn't get much better than that!
How do you include veggies in your breakfast? If you're looking for more ways to include veggies in breakfast, check out our list!

Ingredients
1

medium

carrot

4

large

egg

1/4

cup

milk

1

teaspoon

cinnamon

1

teaspoon

vanilla extract

5

slice

bread, whole wheat

1

tablespoon

coconut flakes

1

cup

yogurt, vanilla, low-fat

2

medium

banana

1/2

cup

walnuts, chopped
Instructions
Grate carrot; add to a shallow dish. Whisk in eggs, milk, cinnamon, and vanilla.

Dip bread one at a time in egg mixture. Place on a large skillet over medium heat; cook both sides until golden brown and the egg is set.

Slice into strips; top with nuts and additional coconut and grated carrots if desired. Serve with yogurt and bananas.