Delicious blend of fall flavors, pumpkin and apple muffins!
The apples are ready for picking!  I have a friend with an apple orchard (well, her parents have an apple orchard), and I've been pestering her for the last few weeks to find out when their orchard opens for picking.  She kept telling me, "After the first frost".  Well, this past weekend, we got our first frost!  So we are going to head up this weekend.  (My kids had a blast last time we went a few years back).
Last night my apple orchard friend said, "while they apples have been ripe for a few weeks, they turn extra sweet once the weather turns cold."  True? I don't know.  But she grew up growing apples, so I kind of believe her.
Apples are a great thing to add to your kids menu! An apple a day, really might keep the doctor away (although, I'm not sure that anyone has ever tried it!)
I found some tips for apples on Produce for Kids ( A GREAT resource for all things produce-with a ton of awesome recipes!)
Pick: Select apples that are firm to the touch and free of bruises.
Store: To maintain freshness, apples should be stored in the refrigerator in a plastic bag.
Prep: Thoroughly wash apples in water before using. Apples can be enjoyed in salads, smoothies, and breads.
We wanted to try some muffins using our apples, and found these Pumpkin Apple Muffins on Produce For Kids. You can use their search feature and just type "Pumpkin", or "Apple"  or any produce you have on hand to find some great recipes.  My Apple search actually came up with a ton of fun ideas: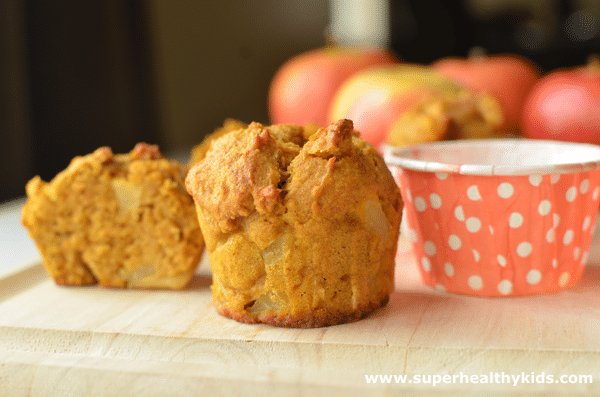 This recipe was simple, and I had everything on hand, even the pumpkin. Simply mix the ingredients, then line your muffin tin with baking cups, add the mixture and bake!
However, if you are so inclined- you can make your own pumpkin puree rather than buy it! Here is our post on how to make your own pumpkin puree in 3 Simple Steps!  We've got more pumpkin recipes for you next week, so come back!
OUR BEST PUMPKIN RECIPES: