Made with whole wheat flour, coconut oil, applesauce and maple syrup these Healthy Apple Muffins will be your new favorite apple recipe.  
If you love fruit in your muffins, try our amazing Banana Muffins!
Are Muffins Healthy?
Muffins are an interesting food.  Sometimes grocery stores like to masquerade cake without frosting as a muffin.  So you think you're getting something semi-healthy when really you're just eating dessert.  Muffins are supposed to have a different texture than cake!  And these healthy apple muffins are made with no refined sugar, but with maple syrup instead.  A delicious muffin doesn't need lots of sugar and fat.  This muffin really highlights the delicious taste of the apples instead of masking it with an overly sweet sugar flavor.   These apple muffins include fruit, but also nutrient dense ingredients like whole wheat flour, coconut oil, and walnuts.
Here are a few more tips for making a healthier muffin:
 Use fruit to decrease some of the oil.  Applesauce is a great substitute for oil and adds a lot of moisture and flavor.
Use whole wheat flour or half and half.  This adds fiber and lots of vitamins and minerals to your muffin.
Add healthy add-ins to boost nutrition.  Chopped fruit, shredded veggies (like carrots or zucchini), nuts and dark chocolate chips all add great nutrition to your muffins.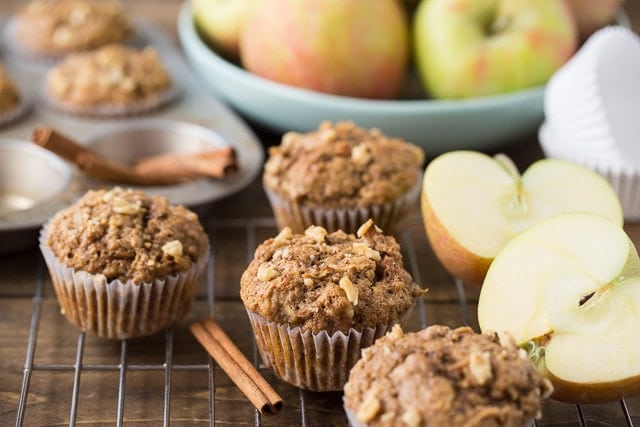 What Apple variety is best for baking?
Does it matter what types of apple you use in baked goods?  Yes!  It affects the texture and how sweet your baked good is.  In a recipe like this, most of the sweetness will be based off your apple and so you will want to use a sweet apple.   I used Honeycrisp because I like the way they bake and they're super sweet. Granny Smith is always a fine and safe option but they're more on the tangy side, that's why most people love to mix Granny Smith with sweeter apples in their pies.  There are plenty of great apple options, just find what your grocery store has available and these Healthy Apple Muffins will be a hit! You can also try our Healthier Caramel Apple Cake!
Here are a few more good apple varieties to use when baking:
Jonagold – deep red apples that are tart and tangy with a firm flesh.  These are related to Golden Delicious.
Honeycrisp – one of the sweetest apple varieties.  It won't cook down too much and so keeps its great texture and complements most other apple varieties.
Granny Smith – one of the most popular baking varieties.  It is tart and tangy with a firm flesh.  It is great combined with a sweet apple like honeycrisp.
Melrose – a cross between red delicious and jonathan it has a great tart apple taste full of flavor.
Braeburn  – this apple has a spicy sweet flavor.  It keeps its shape really well throughout cooking.
Golden Delicious – it has a naturally sweet flavor and so requires less added sugar in your baked goods.  The skin doesn't need to be peeled but the flesh won't stay as firm as a few other varieties.
Cortland – this apple is related to Mcintosh and has a snow-white flesh and has a touch of tartness that will give your baked good a kick.
Gala – has a crisp bite and a mellow sweetness and is another apple that you can use less sugar with.  The crispness helps gala's retain its shape through baking.

Nuts in Muffins
I used walnuts in this recipe because I love walnuts with all the warm fall flavors.  If you or your kids don't love them like I do, then leave them out, it won't affect the muffin recipe.  You can also swap the walnuts for a different type of nut.  I like to use nuts in muffins for the texture and the added protein.  It makes me feel fuller longer so I don't end up snacking on whatever I can find 30 minutes later.   You can always chop up the nuts super fine if your kids aren't wild about them.
What Can You Serve with Muffins for Breakfast?
You can serve these warm, cooled, with honey butter or jam.  We really like to serve our muffins with a side of eggs.  If you are in a hurry a boiled egg is a great choice.  But scrambled eggs pair well with these also.  If eggs aren't appealing to your kids, then a smoothie with ingredients that includes protein is also a good choice.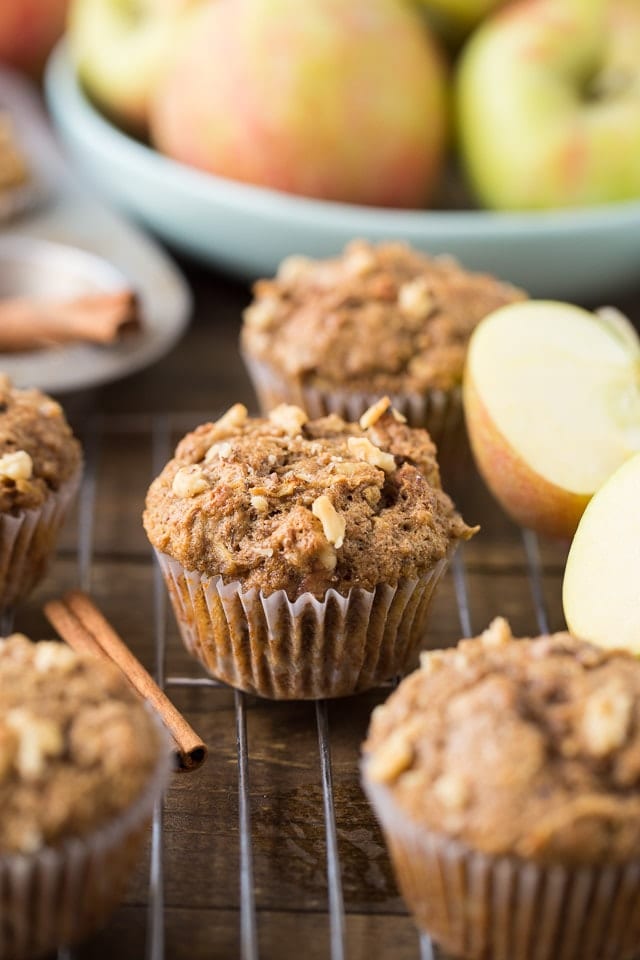 How to Make the Best Apple Muffins
The difference between an amazing muffin and an ok muffin isn't very many steps or time when you are making them.  If you follow some of these steps, your apple muffins will turn out amazing!
Choose the right variety of apple
If you want a full, rounded muffin then fill your muffin tin almost to the top.
If you are going to fill your tins full, make sure you batter is pretty thick.  A thin batter will rise and run all over.
Try to measure out the same amount of batter for each muffin so they will cook evenly.
Don't overmix your wet and dry ingredients!  If you overmix, then your muffin won't be light and fluffy.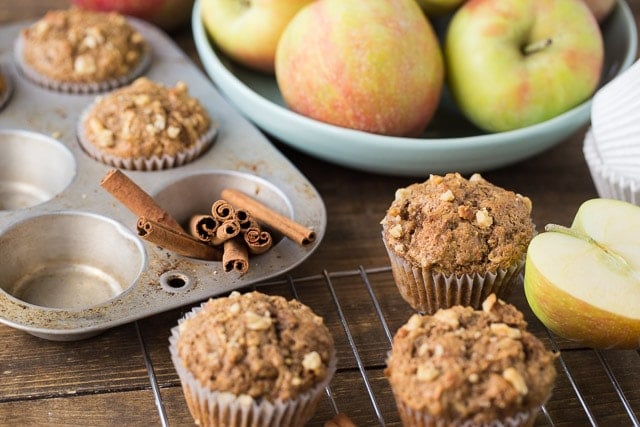 Can You Freeze Apple Muffins?
Muffins are one of our favorite foods to freeze.  It is so great to have a muffin on hand on a busy school morning with just 30 seconds of reheating.  These are tips we have found work really well to freeze and thaw muffins:
To Freeze:
Cool your muffins to room temperature.
Place muffins flat in your freezer for about an hour until they are mostly frozen before packing them in an airtight container.
Place your muffins in an airtight container like a ziploc bag or glass dish to keep air out.
Frozen muffins will stay good for up to 3 months.
To Thaw (a few different methods)
Let your muffin thaw at room temperature.  Take about 30 minutes.
Microwave for about 30 seconds.
Wrap your muffin in foil and heat in the oven at 350°F for 10 minutes.
Need more muffin recipes?  We got you!