Made with whole wheat flour, coconut oil, apple sauce and maple syrup these Healthy Apple Muffins will be your new favorite fall snack.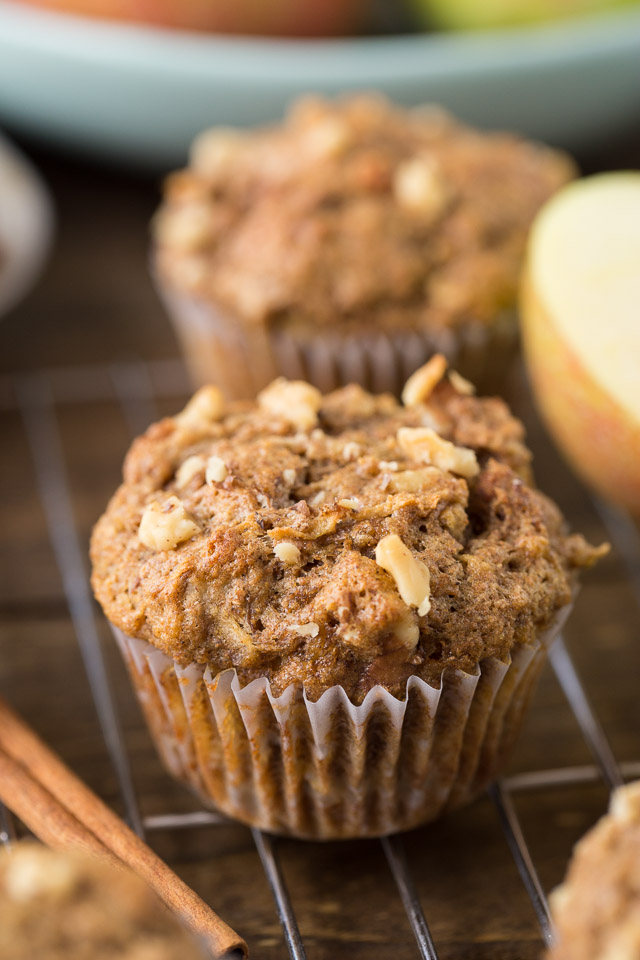 Don't be Fooled
Muffins are an interesting breed.  Sometimes grocery stores like to masquerade cake without frosting as a muffin.  So you think you're getting something semi-healthy when really you're just eating dessert.  Muffins are supposed to have a different texture than cake!  And these muffins are made with no sugar, I used pure maple syrup instead. I also used coconut oil and applesauce to replace any canola oil or butter.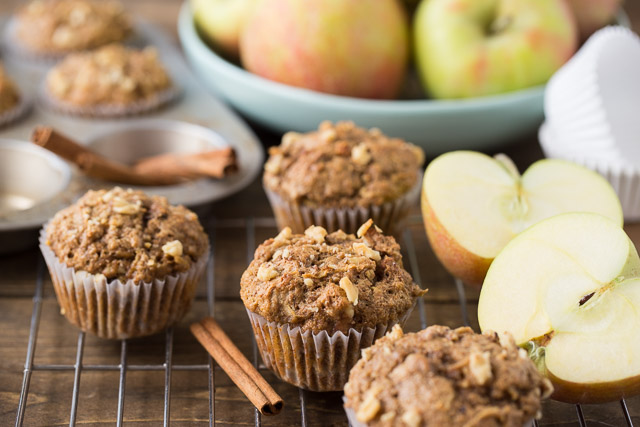 OUR LATEST VIDEOS
Apple Picking
Does it matter what types of apple you use in baked goods?  Yes!  It effects the texture and how sweet your treat is! In a recipe like this, most of the sweetness will be based off your apples.  So pick a sweet apple!  I used Honeycrisp because I like the way they bake and they're super sweet! Granny Smith is always a fine and safe option but they're more on the tangy side, that's why most people love to mix Granny Smith with sweeter apples in their pies.  There are plenty of great apple options, just find what your grocery store has available and these Healthy Apple Muffins will be a hit! You can also try our Healthier Caramel Apple Cake!

Not Nuts about Nuts?
I used walnuts in this recipe because I love walnuts with all the warm fall flavors.  If you or your kids don't love them like I do, then leave them out! Swap in some pecans or go nut-free!  I like to use them for the texture and the added protein.  It makes me feel fuller longer so I don't end up snacking on whatever I can find 30 minutes later.  We all know how that goes.  You can always chop up the nuts super fine if your kids aren't wild about them.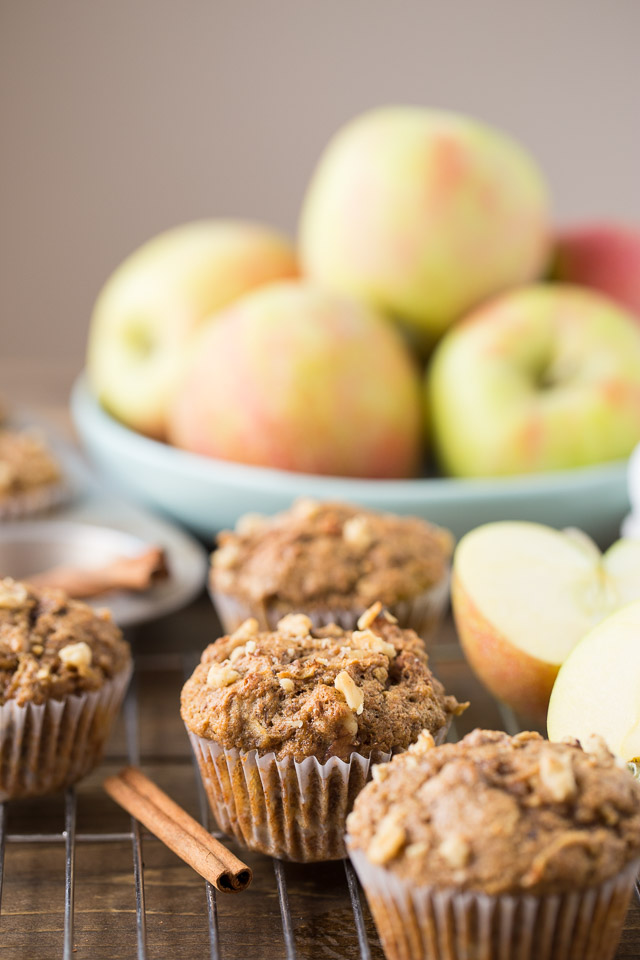 Matching Making Muffins
You can serve these warm, cooled, with honey butter, jam, or if you're really feeling crazy…a scoop of vanilla ice cream.  But they really don't need any additions, they can go stag into a lunch box or be served as an after school snack by themselves.  But if you are looking to dress them up a smidge for book club or a potluck, then I would suggest a vanilla glaze.  It adds just a touch of sweetness and a ton of glamour.
Overall, these muffins are a snap to make! The only major tip I would tell you is the same tip for any muffin recipe… don't over mix! If you do, you'll risk getting a tough muffin and no one wants that.