These kid-favorite Sweet Spinach Muffins are packed with spinach, creamy banana, cinnamon and honey and are so soft, fluffy and moist that they are perfect for babies, toddlers, kids and even adults!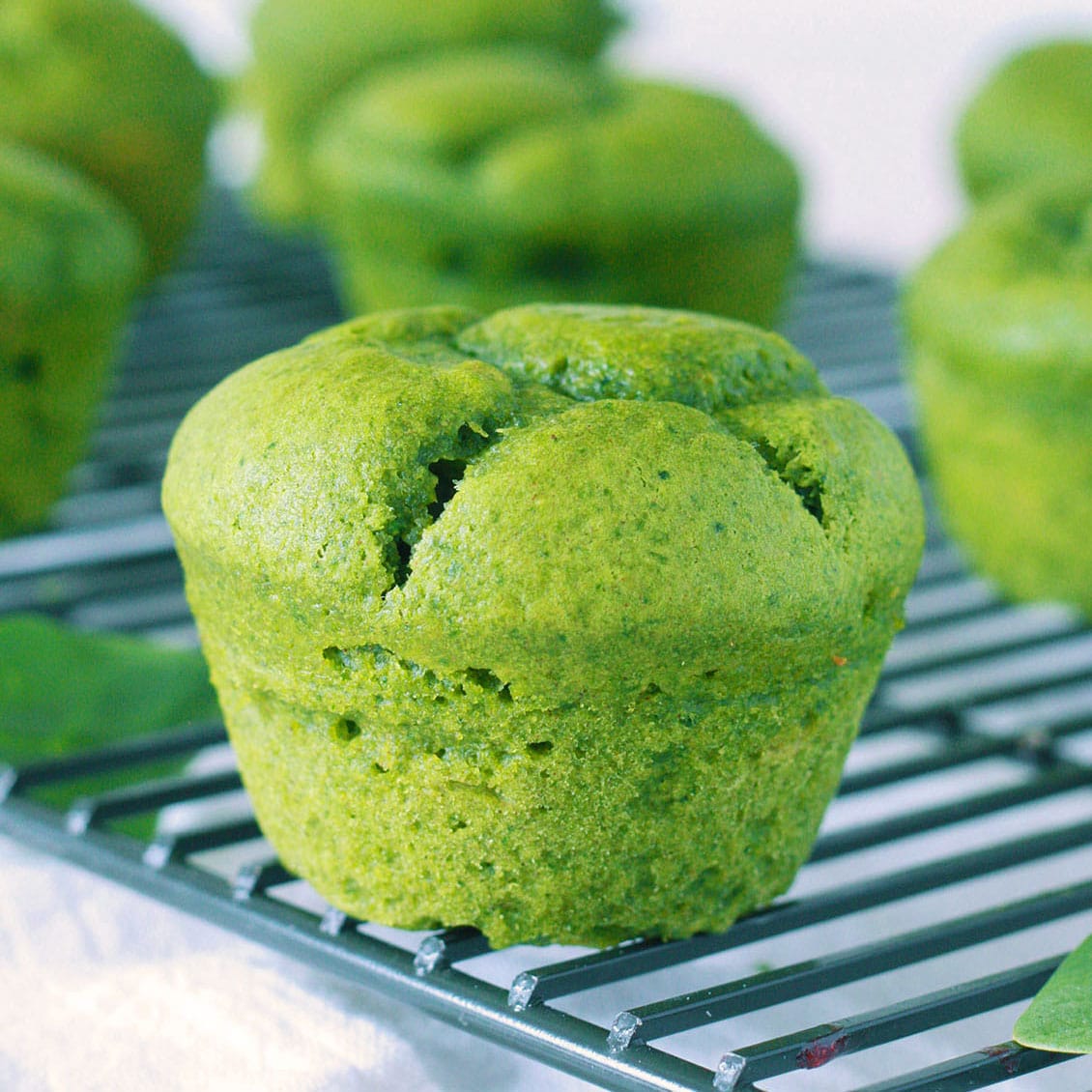 Spinach Muffins for Kids
These are one of my very favorite muffins I have ever made……and I've made a lot of muffins in my day. They are are not only super easy to make (made all in your blender!) but the flavor and texture are truly delicious. This may seem hard to believe, but the more spinach I add to these muffins, the better they turn out. You'll have to try it for yourself to see what I mean!
Some kids might shy away from the green color of these muffins; a lot of kids reject a food just by the look of it. That can be aggravating, of course, but it's a fact of life when feeding kids.
That doesn't mean you can't help them come around to new foods with a little help from branding. (Yup, that's right. Sometimes you gotta use the same tricks as the marketers!) Here are some of the nicknames my kids and I came up with to give these spinach muffins a little imaginative appeal:
Hulk Muffins
Green Goblins
Monster Muffins
Frog Muffins
Whatever you call them, be sure to tell your kids that these muffins are filled with spinach. There is no need to hide it! Tell your kids the spinach is what makes them so moist and colorful! That way they'll know they love spinach…… at least some of the time.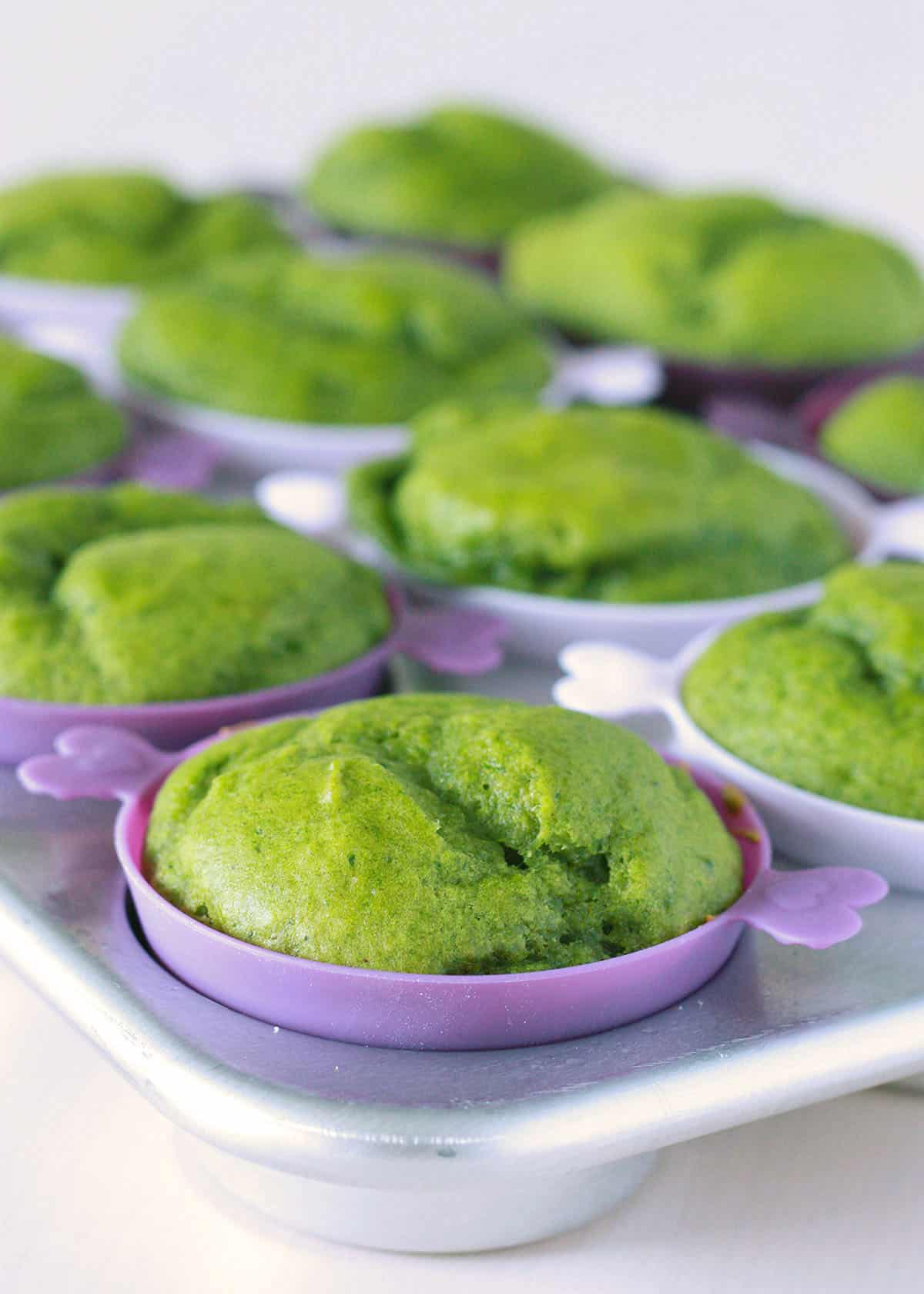 Ingredients for Sweet Spinach Muffins
These spinach muffins are filled with nutritious whole food ingredients that you most likely have on hand already.
Spinach – the star of the recipe! I have found that it is best to use fresh baby spinach for these muffins. It blends well, adds that beautiful vibrant green color and is packed with nutrition. Baby spinach is perfect for muffins and smoothies because it has a very mild flavor that blends with whatever else you are adding to your recipe.
Banana – make sure that your bananas are ripe for this recipe. Ripe bananas are sweet and creamy adding flavor and moisture to these muffins.
Honey – gives these muffins a natural sweetness and adds moisture to the recipe. You can add regular sugar if you don't have honey. I have also tried a ratio of 1:1 honey to sugar in this recipe (1/4 cup honey and 1/4 cup sugar) and had fantastic results.
Milk – you can use any type of milk. Whole milk will give you a more rich flavor. Buttermilk will give you a milk tangy flavor adding more depth to the flavor of the muffin. Non-dairy milk is also fine to use – they are typically lower in fat and sometimes can add an interesting flavor if you use almond or coconut milk.
Butter – adds a creamy rich flavor to these muffins. Also makes muffins softer and more tender.
Flour – You can use whole wheat flour, all-purpose, bread flour or white-whole wheat flour for these spinach muffins. The texture of the muffin will change depending on which type of flour you use. These are the results I have gotten from the different flours:

Whole Wheat: a bit more dense, with an almost nutty flavor. Using whole wheat flour will give you a muffin that feels more hearty and earthy.
All-purpose: this flour produces a typical muffin. Light and fluffy, but with structure.
Bread flour: produces the most light and fluffy muffin with a more delicate crumb. I have started using bread flour for most of my baked goods and have loved the results.
White-Whole Wheat: this flour will give you similar results to all-purpose flour. It has the nutrition of whole wheat flour, but the texture of all-purpose. It can be a little more tricky to find and a bit more expensive.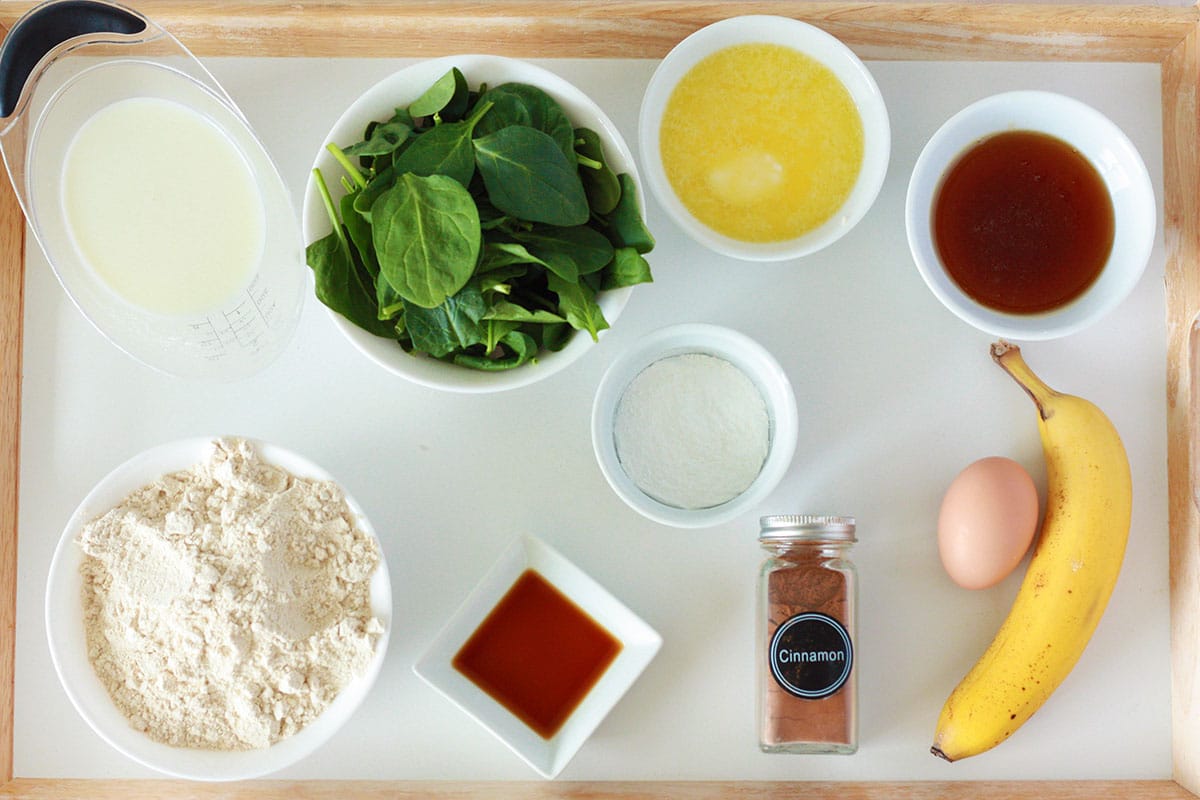 Ingredient Substitutions
Can I use frozen spinach? Yes, you can definitely use frozen spinach without changing anything else. The color of your baked muffins might not be as vibrant green as with fresh, but they will still taste delicious.
How can I make these gluten free? You can use oat flour in the same amounts as wheat flour.
What can I substitute the banana for? You can sub applesauce for the banana. 1/2 cup applesauce = 1 medium banana. You can also try avocado (1 medium for 1 banana) silken tofu (1/2 cup = 1 medium banana) or plain Greek yogurt (1/2 cup = 1 medium banana). These options won't be as sweet as the banana and so you may want to add more sweetener.
Can I make these Vegan? You can sub coconut oil for the butter, a flax egg or applesauce for the egg, almond or coconut milk for the milk, and maple syrup for the honey to make them vegan.
Can I use other greens besides spinach? You can try using baby kale, arugula, or swiss chard. These other greens have stronger flavors than spinach and so they might not have the same appeal or vibrant color as with spinach. There is a power greens mix that readers have used and said the muffins turn out great.
Can I use orange juice instead of milk? Yes! Using orange juice instead of milk will increase the absorption of iron from the spinach in these muffins. They will have a more tangy flavor, but still taste great!
Can I add chocolate to these? Definitely – I recommend adding mini chocolate chips to the batter instead of regular size for better distribution throughout the muffin.
What can I replace the egg with? You can use a 'flax egg' which is 1 tablespoon of ground flaxseed and 3 tablespoons of water. Let it sit for 5 minutes and then add it to the blender with the rest of the wet ingredients.
How to Make Sweet Spinach Muffins
These spinach muffins are SO easy to make because they are all made right in your blender. You don't have to worry about mashing the banana or whisking the egg separately.
Add milk, spinach, egg, banana, honey, vanilla and melted butter to your blender.
Blend until smooth to make sure that all of the spinach pieces are well blended.
Add your dry ingredients to the blender – flour, cinnamon, baking powder, baking soda, and salt.
Stir ingredients together just until combined. I don't recommend blending because it will overmix and the texture of the muffins won't turn out as good.
Grease or spray a muffin tin with cooking spray. You can also line with silicone baking cups (my preference) or regular paper muffin cups.
Scoop the muffin batter into the muffin cups filling them 3/4 full.
Bake for 17-20 minutes or until the top of the muffins bounce back after touching.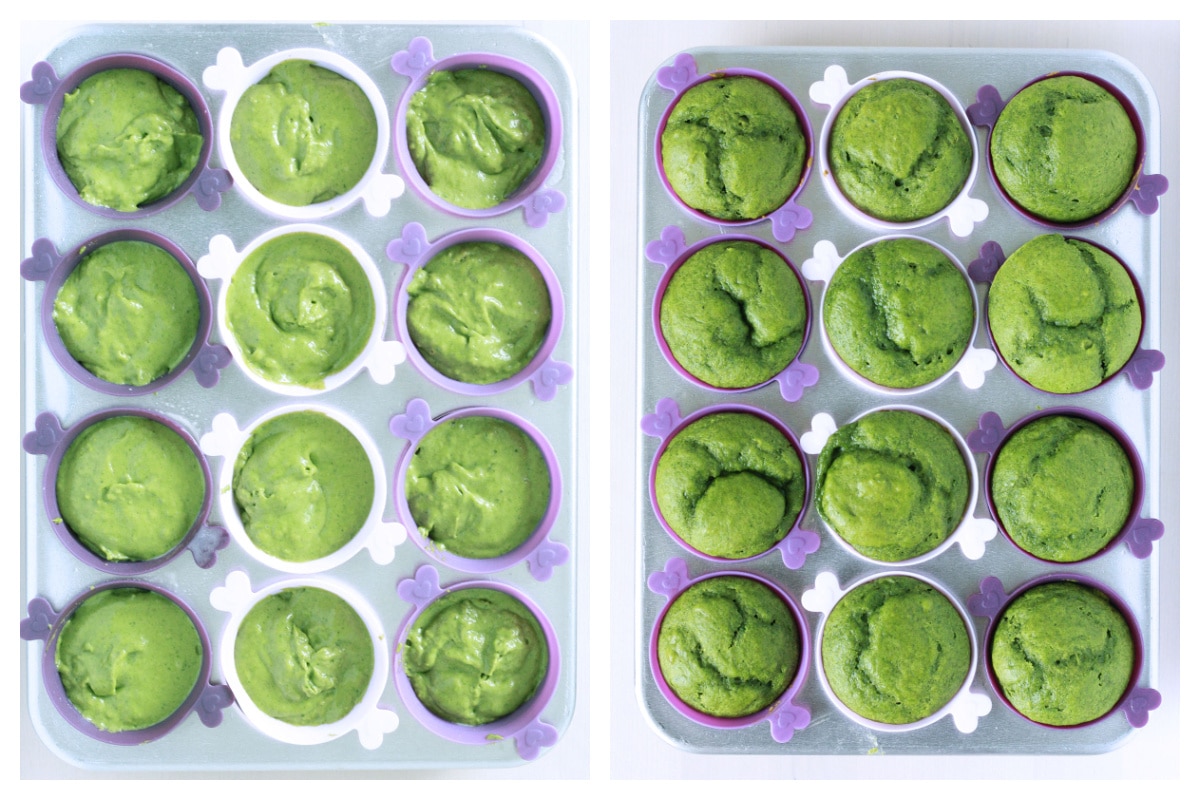 How Do I Store Spinach Muffins?
These muffins are the best the first day, in my opinion, but actually store really well! They will keep getting more moist the first couple of days. Cool the muffins completely on a cooling rack before storing.
You can store these muffins:
In an airtight container on the counter for up to 3 days
In the fridge for 1 week
In the freezer for up to 3 months
When you are ready to eat the muffins later, you can heat in the microwave for 10 seconds if stored on the counter, and 30 seconds if stored in the fridge or freezer. You can also transfer some to the refrigerator the night before you plan to serve and they'll be thawed by morning. We prefer them warm, but there is no need to heat them if you store on the counter or the fridge.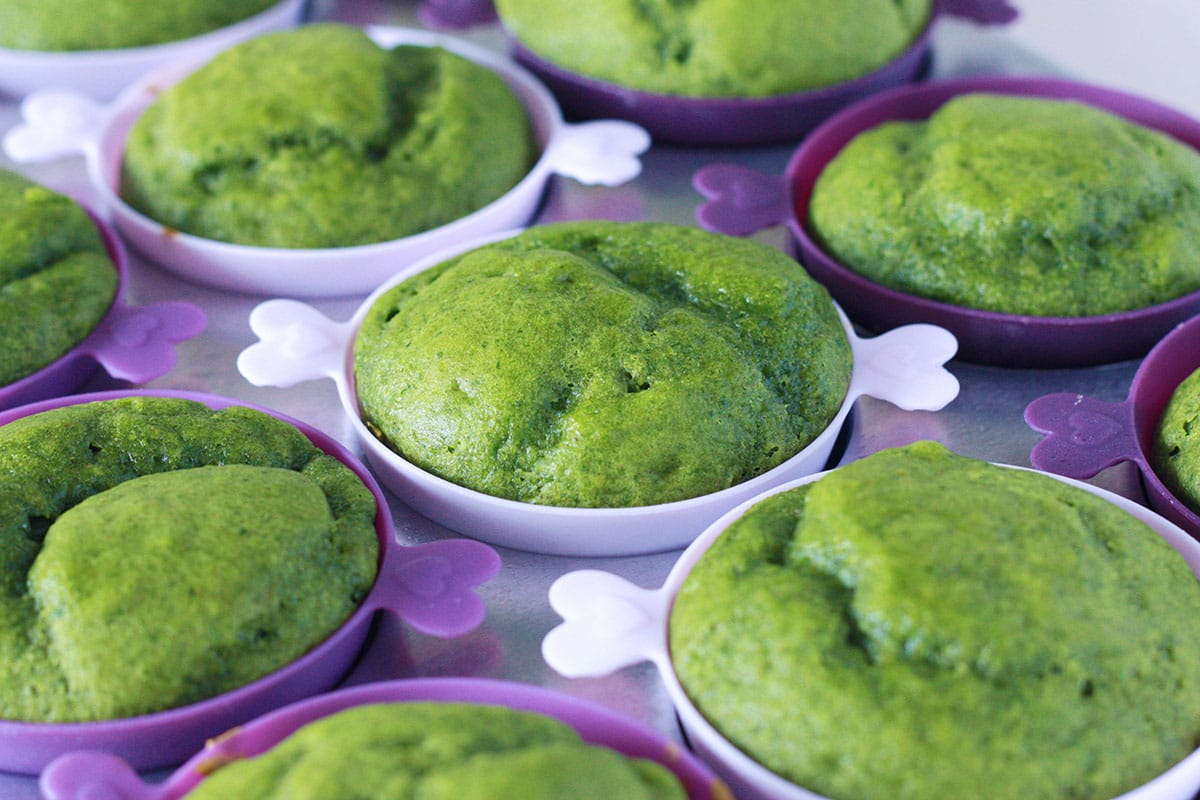 Tips for Making The Best Spinach Muffins (with Banana)
To get your muffins a vibrant green, make sure you use fresh raw spinach. No need to cook the spinach first. The more spinach you add the, brighter green then will be. I have added up to 8 cups of spinach and they still turned out great!
6 ounces of raw spinach is equivalent to 4 cups of spinach leaves. I like to add at least 4 cups of packed raw spinach leaves to this recipe.
Add your milk to the blender first before the rest of the ingredients. This will help make sure nothing gets stuck to the bottom and will blend smoother.
To make mini muffins, follow the recipe as written and decrease the baking time to 12-14 minutes.
Make sure your butter is melted when you add it with your wet ingredients.
If you use whole wheat flour, you will want to add extra moisture otherwise your muffins may turn out too dry. You can add one of these options in addition to what the recipe calls for : 1/2 banana, 1/4 cup milk, 1 egg, or 1/4 cup applesauce.
Are Spinach Muffins Healthy?
These muffins are incredibly healthy! They are made of whole food ingredients and are packed full of spinach. It is a great way to get your kids to eat spinach in a different way. Raw spinach is full of nutrients. It contains:
Fiber – helps prevent constipation and healthy digestion
Vitamin A – healthy eyes, vision
Vitamin C – antioxidant that helps with skin health and immune function
Iron – helps create hemoglobin that brings oxygen to all parts of your body
Calcium – needed for healthy bones
More Healthy Muffin Recipes
Sweet Spinach Muffins
These kid-favorite Sweet Spinach Muffins are packed with spinach, creamy banana, cinnamon and honey and are so soft, fluffy and moist that they are perfect for babies, toddlers and kids and even adults!
Instructions
Preheat oven to 350 F, and spray your muffin tin with cooking spray or use silicone muffin cups sprayed with cooking spray.

To a blender add, milk, raw spinach, banana, honey, egg, vanilla, and melted butter. Blend until completely pureed.

Combine all dry ingredients.

You can either add the dry ingredients into the blender with the spinach mixture, or pour the spinach mixture into the dry ingredient bowl. Fold the spinach mixture and dry ingredients together gently until just combined. (Do not over-mix.)

Scoop the batter into the muffin pan, and bake for 17-20 minutes, or until the muffins bounce back when you touch the top. They should not be browning.

Remove from the oven and cool on a cooling rack. If you use silicone muffin cups, remove from the cups and place on cooling rack to prevent sweating.
Nutrition
Serving:
1
muffin
|
Calories:
143
kcal
|
Carbohydrates:
21.4
g
|
Protein:
2.6
g
|
Fat:
5.7
g
|
Saturated Fat:
3.4
g
|
Cholesterol:
24
mg
|
Sodium:
155
mg
|
Potassium:
178
mg
|
Fiber:
0.9
g
|
Sugar:
9.3
g
|
Calcium:
54
mg
|
Iron:
1
mg
www.superhealthykids.com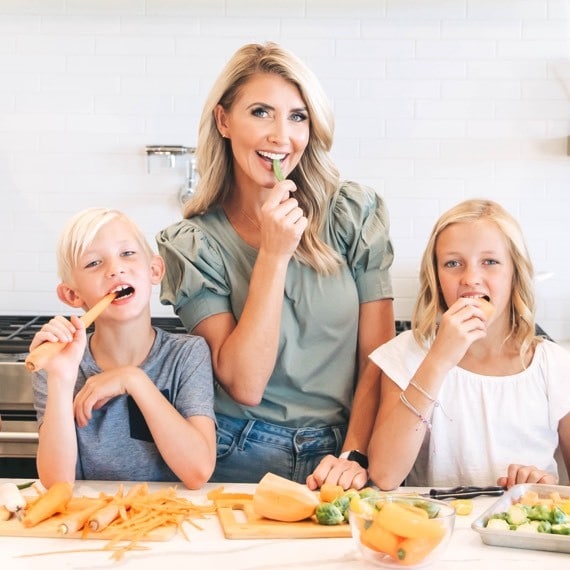 Natalie Monson
I'm a registered dietitian, mom of 4, avid lover of food and strong promoter of healthy habits. Here you will find lots of delicious recipes full of fruits and veggies, tips for getting your kids to eat better and become intuitive eaters and lots of resources for feeding your family.
Learn More about Natalie