It's no secret that I'm a huge [and I mean HUGE] fan of breakfast. It's certainly my favorite meal of the day. The problem is deciding what to eat everyday. That's a struggle I feel many of us have, I definitely can't be alone in that… right? I'm here today to solve a problem you may or may not have realized you have: what's for breakfast? With this handy breakfast rotation schedule, you won't even have to think about what to make. The best part about it, is each day is different. Most people have more time on the weekends and less time during the week, so the way I've laid this out for you is the quicker recipes (or ones that can be prepared ahead of time) are planned for Monday through Friday and the more time consuming recipes (or special recipes rather) I've saved for your weekend plans when most like to spend a little more time together as a family. If you're anything like me, you're running frantically during the week – so quick & easy is a must!
As a BONUS for each day of the week I've given you five options. That means that all month long you can have a different recipe every single day! The fifth recipe in each day is for those occurrences when you've got an extra week in the month.
Print it out and have your breakfast schedule ready every day of the week!
Mondays are for hot cereals or oatmeal. An excellent way to get your week started. The recipes I've given you are both filling and fueling, chock-full of nutritious power-packed ingredients.
Tuesdays are for granola. To save yourself some time prepare the granola the night before so that it's ready to go first thing in the morning. Pour overtop your favorite almond or coconut milk for a delicious cold cereal.
Wednesdays are for parfaits. If the recipe calls for granola you've already got that step out of the way from the previous days' breakfast. The great thing about parfaits is that they are so quick to throw together. In a mid-week slump they are the perfect pick-me-up breakfast!
Thursdays are for smoothies. Everyone loves a good smoothie and with only a handful of ingredients and a matter of minutes you can have a healthy on-the-go energy boost.
Fridays are for eggs. Think there's only one way to enjoy scrambled eggs in the morning? Think again! You can add grains, veggies and more to amp up the already good-for-you way to start your day!
Saturdays are for waffles or pancakes. There's nothing better than sitting down with the family on Saturday morning around the breakfast table enjoying quality time together. Waffles or pancakes are a meal I feel are best enjoyed when you've got a little extra time to savor.
Sundays are for breads or muffins. Like Saturday, most have a little bit more time on Sunday mornings and a slice of fresh bread or delicious hot muffin is a great way to kick off your Sunday.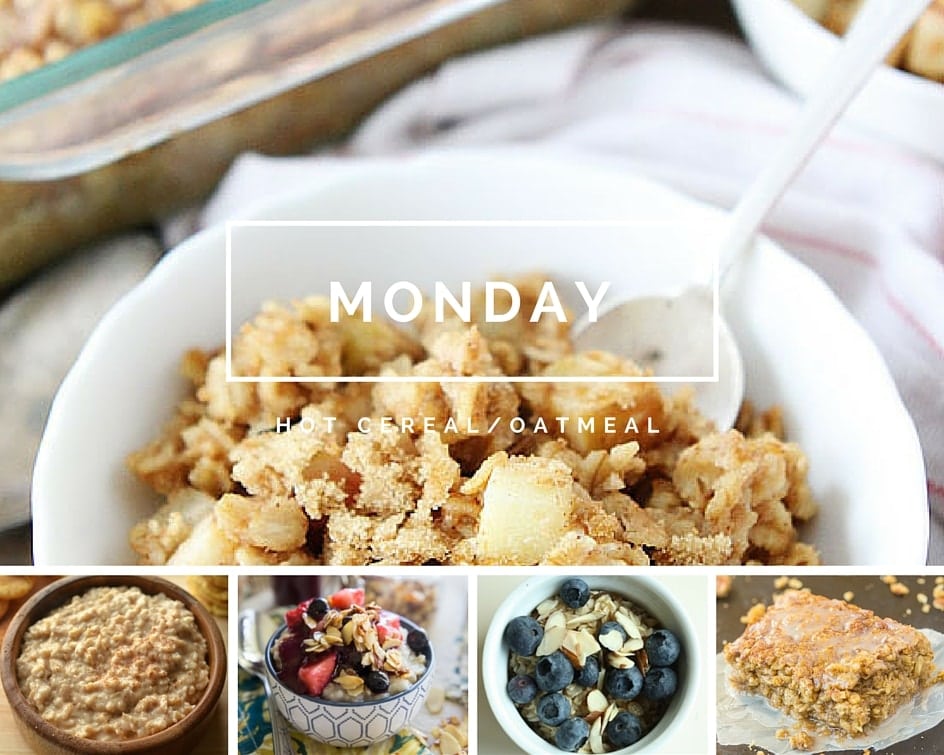 MONDAY Hot Cereal/Oatmeal:
Baked Peanut Butter Apple Oatmeal | Two Peas and Their Pod • Snickerdoodle Oatmeal Breakfast  | SHK
Berry Filled Oatmeal  | SHK • Nuts About Berries Oatmeal | Tried and Tasty
Healthy Sticky Cinnamon Roll Baked Oatmeal | The Big Mans World

TUESDAY Granola:
Toasted Coconut & Berry Grain Free Granola {Vegan, Paleo} | Cotter Crunch
Honey Almond Granola Recipe | Tried and Tasty  • Homemade Granola: 5 Ingredients | SHK
Honey Almond Flax Granola | Aggies Kitchen • Healthy Sugar Free Granola Recipe | SHK

WEDNESDAY Parfaits:
Tropical Fruit & Yogurt Parfait | Tried and Tasty
Blackberry & Nectarine Yogurt Parfait | Spoonful of Flavor • Crunchy Fruit & Yogurt Parfait Bites | SHK
Vegan Chocolate Chip Cookie Dough Breakfast Parfait | Simply Quinoa • Apple Pie Parfait | SHK

THURSDAY Smoothies:
Strawberry Banana Oatmeal Breakfast Smoothie | Know Your Produce
Chocolate Banana Smoothie | SHK • Raspberry Peach Smoothie | Like Mother Like Daughter
Avocado Red Berry Smoothie | Simple As That • Orange Banana Breakfast Smoothie | Tried and Tasty

FRIDAY Eggs:
Frittata Muffins | Aggies Kitchen • Healthy Veggie Stuffed Baked Egg Boats {Gluten Free} | Cotter Crunch
Quick & Easy Baked Egg Breakfast | Tried and Tasty • Pocket Scrambles | SHK
Very Veggie Stackable Omelets | SHK

SATURDAY Waffles/Pancakes:
Fluffy Paleo Pancakes | Lexi's Clean Kitchen
Whole Wheat Greet Yogurt Pancakes | Happy Food Healthy Life • Banana Nut Waffles  | SHK
100% Whole Wheat Pancakes | Tried and Tasty • Buckwheat Multigrain Waffles | SHK

SUNDAY Breads/Muffins:
Carrot Butternut Whole Grain Muffins | Peas & Crayons
100% Whole Grain Cinnamon Apple Muffins | Texanerin • Banana Pecan Bread | SHK
Healthy Chocolate Zucchini Muffins | Tried and Tasty • Raspberry Whole Wheat Sweet Rolls | SHK
---