Crunchy Fruit n' Yogurt Parfait Bites
LOVE YOUR HEART!! We are so excited to welcome February with a celebration of heart healthy food! Our heart healthy recipe with whole grains and berries are these delicious crunchy fruit n' yogurt parfait bites. These crunchy fruit n' yogurt parfait bites are the perfect size for a little tummy. They also have a variety of textures – crunchy shell and granola, smooth yogurt, soft fruit. It is great to expose your children to a variety of flavors and textures to help expand their palate.
As soon as berries come to my grocery store, I get excited about spring! Strawberries, blueberries, raspberries and blackberries are so much better when they are fresh and in season. We don't mind frozen berries, at all, but some things- like this crunchy parfait bite, fresh is best!
Are fresh berries better than frozen?
While fresh berries might taste better than frozen berries, nutritionally, they are similar. In fact, frozen might be a bit more nutrient rich if the berries are picked at the peak of ripeness and flash frozen. While cooking degrades the nutrients slightly, freezing actually preserves the fiber, vitamins, and minerals of the berries.
The Recipe
These were really easy to make. I whipped up a batch in less than 15 minutes!I used Wonton Wrappers. I just pressed them into a mini muffin tin and baked at 375 for about 8 minutes until they started to turn golden.
Then I filled each cup with:
Yogurt – We like plain Greek yogurt, but any type will work
Granola – This is our favorite homemade granola recipe
Fruit – I diced kiwi, blueberries, and strawberries
Voila!!My kids liked breaking off the edges and dipping it in the yogurt. If you have extra, you can put them in a tupperware, and store in the fridge for the next morning. The shell softens up and it is almost like eating a pastry!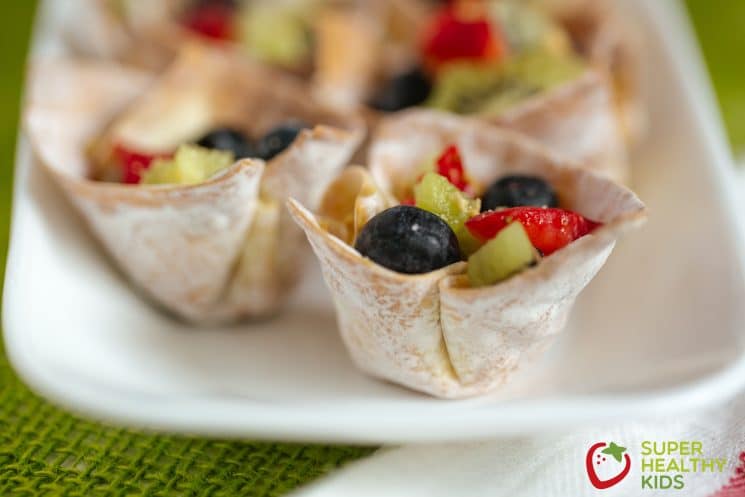 A few other heart healthy breakfast ideas that we love: