Summer Pool Snacks: 22 Healthy Ideas
Quick, healthy, and portable snack ideas that you can easily take to the pool this Summer! These snack ideas will give your kids sustainable energy and also keep them satiated while swimming.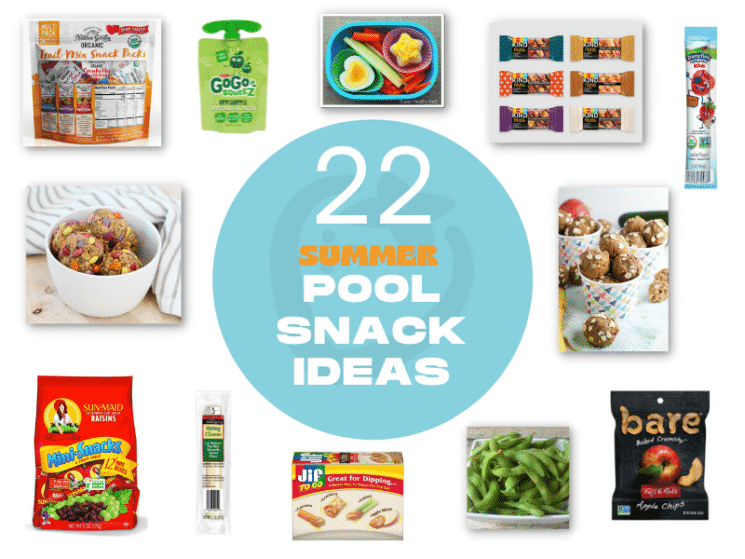 Swimming (and any water activity for that matter) always makes my kids super hungry!  Without fail, they swim for a while, and then come running in for snacks.  Today we're sharing our favorite summer pool snacks (some pre-packaged, some simple and homemade!) that are not only healthy, but filling enough to give your kids the energy they need to swim, run and play on a summer day! Are you looking for more great summer snack ideas?
Check out our Summer Snack Round-Up!
Our Favorite Summer Pool Snacks
What do we look for in our summer pool snacks?
Easy to pack
Not too messy
Handheld or utensil free
Kid-friendly
Nutritious and satisfying
These snacks fit that criteria and are sure to be your new pool day go-tos!
Apples + Peanut Butter
The combination of apples and peanut butter is both sweet and slightly salty, but also has a great balance of carbs and protein to give kids energy while also helping them feel satiated. Peanut butter can be messy to pack and so we will splurge on the individual to-go cups for outings to the pool! We also love celery and peanut butter!!
Boiled Eggs and Veggie Sticks
Packed full of protein, boiled eggs are easy to transport and filling. Veggie sticks are a given – by themselves, or great dipped in hummus for a little extra oomph!
Frozen Grapes
Sweet, refreshing, and delicious! Never tried frozen grapes before? It is so easy.
Muffin Bites
Who says muffins are just for breakfast?  Packed full of healthy carbohydrates, they are the perfect pool snack to give your kids lots of energy.  Make them ahead, freeze them and then pull a few out for your next trip to the pool.  Mini muffins are easy to eat and easy to pack. You have to try these Fruit and Veggie Muffin Bites!
Pinwheels are one of our favorite packable snacks. They are filling, flavorful, bite-sized, and can easily be made ahead of time! These Mexican Pinwheels are one of our very favorite versions. We also love these Sundried Tomato Basil Pinwheels!
These little bites of goodness are just the ticket for a quick and healthy snack! We like these Chia Seed Energy Bites, Peanut Butter Fudge Protein Energy Balls, and Key Lime Energy Bites.
Homemade Fruit Leather
Kids love fruit snacks – but they are packed full of sugar. Our homemade fruit leather is all-natural, no-added sugar, and so fast to whip up a batch!
Three Ingredient Peanut Butter Banana Bars
You only need three base ingredients to make these simple and delicious 3 Ingredient Peanut Butter Banana Bars! These sweet and chewy little bars are made from whole foods so your kids get a balanced and nourishing snack.
Hummus
We love hummus! And even better.. our kids love it too! Let's face it. Kids love to dip. So why not provide them with a dip that's packed with nutrients? It's super easy to whip up your own homemade hummus, like our Green Goddess version. But there are so many different varieties that are easily available in your local grocery store. Serve with pretzels, wheat crackers, and veggies!
Popcorn Trail Mix
Trail mix is a simple, easy, customizable snack idea! This popcorn version is very popular with kiddos- and we love it because it's good for them, too! Want some more homemade trail mix ideas? Here is a guide to make your own combinations- plus 7 of our favorite versions!
Organic Edamame
This simple and quick snack is packed full of protein and fiber. Make sure to look for organic and non-gmo edamame. You can find it in the freezer section of most grocery stores. Simply steam and sprinkle with salt for an easy, healthy, and portable snack.
Healthy Packed Pool Snack Ideas
Sometimes you are in a rush and just want to grab some packaged snacks to throw in your pool bag. These are some of our favorites:
Applesauce pouches
Frozen yogurt tubes
Whole wheat crackers
Pistachios
String cheese
Hummus Singles
Kind Bar Minis
Bare Dried Fruit
Trail mix individual packages
Beef Jerky
Raisin Packs
I would love to know what other snacks you take to the pool!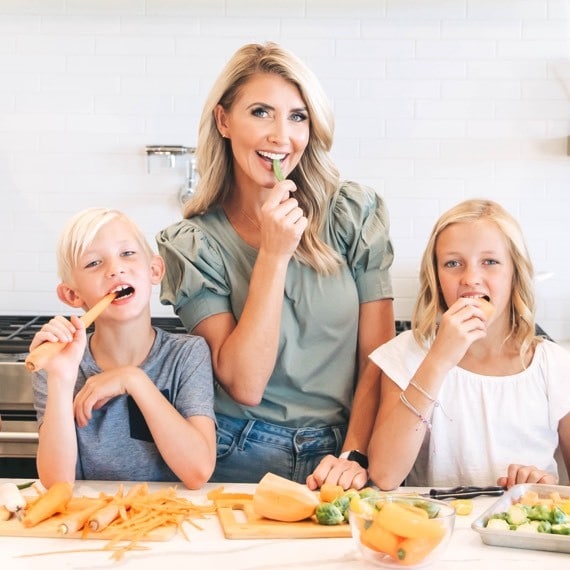 Natalie Monson
I'm a registered dietitian, mom of 4, avid lover of food and strong promoter of healthy habits. Here you will find lots of delicious recipes full of fruits and veggies, tips for getting your kids to eat better and become intuitive eaters and lots of resources for feeding your family.
Learn More about Natalie