Need a boost? These Key Lime Energy Bites are the yummy boost you and your kids need to get you through busy days!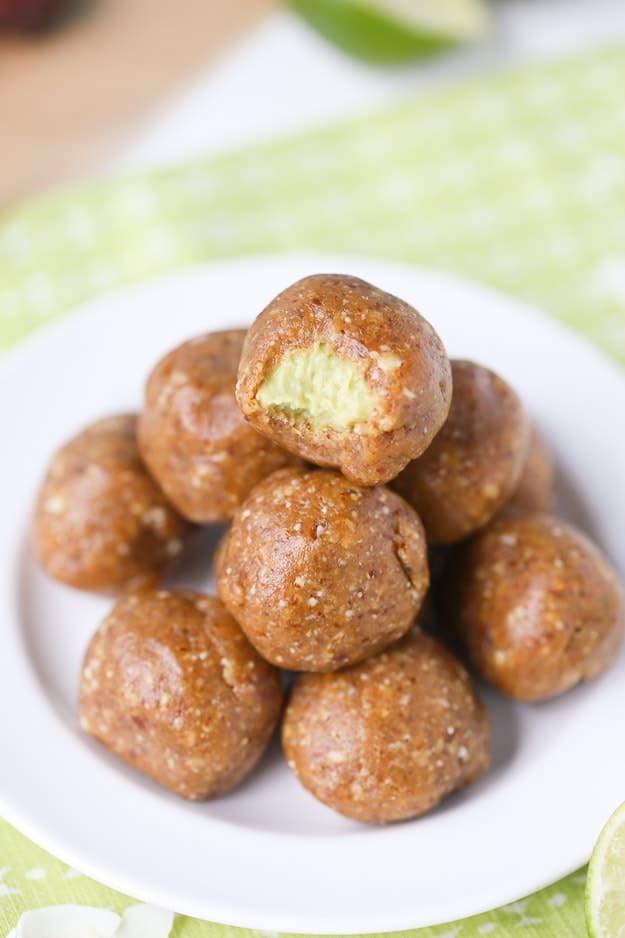 Key Lime Energy Bites
I always start to feel a little weary around 2 in the afternoon. I don't need a full meal but I need something nutritional to give me a boost.  These Key Lime Energy Bites are the perfect thing to reach for, especially in the summer! These energy bites have a cool key lime filling, so they're basically a popsicle when they come out of the freezer.  The filling is made with coconut cream, avocado, limes and banana.  I ate some of the filling after it was frozen and wow, it's like lime ice cream!  So yummy!  I'll be making these non-stop this summer!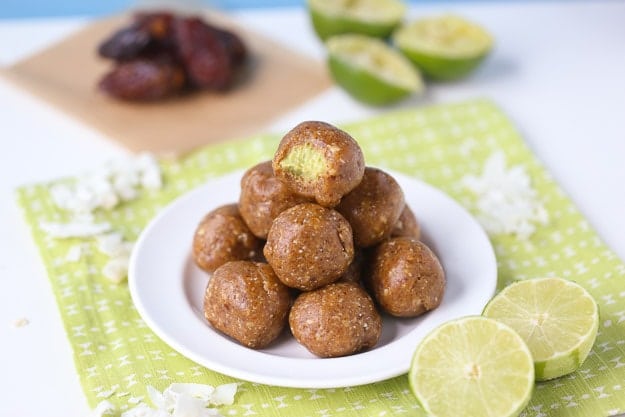 How to Make Key Lime Energy Bites
I made the outside and inside of these energy bites in my food processor in just a few minutes.  To get the fun effect of them being filled with key lime filling, you need to freeze the filling.  This is so fun for the kids to help with because it's sort of like a craft activity and snack time all rolled into one.  Freeze the filling and then scoop out little rounds and freeze them again.  Meanwhile, flatten out pieces of the outside layer and then place your key lime filling on top.  Wrap the outside layer around the filling until it's covered.  I trimmed off the excess to use for the next energy ball. Pop back into the freezer for another round and they're ready to eat!
How Long Will Energy Bites Last?
The great thing about energy bites is you can freeze them!  You can keep them in your freezer in an airtight container for up to 3 months.  (not that they will last that long before they are all eaten!)
Instead of reaching for candy or chips when you start to get a little tired in the day, keep some of these in your freezer so you always have something healthy to boost your energy! Enjoy our Key Lime Energy Bites! Or try our Chocolate Orange Energy Bites!