Peanut Butter Fudge Protein Energy Balls
Kids need a quick boost of whole food protein? Two of these fudgy energy balls provide 8 grams of plant protein with NO powders in sight.
When it comes to high-energy snacks for kids, we have demands. We want whole foods. We want protein. Not a crazy amount of sugar, please. Also healthy fats. And of course, great taste!
It might seem like a lot to ask of a snack you can pull out of the fridge and serve in the practical instant your kids say, "Can I have a snack?" But these peanut butter fudge energy balls are high-achievers like that.
Fudgy, chewy, and speckled with mini chocolate chips, these balls are a huge hit with kids from toddlers on up to… well at least middle-age. Stash them in your fridge for after-school snacks, or pack them to-go for park snacks or after-sports pick-me-ups.
We love them in lunchboxes, too, although they may not comply with your school's allergy requirements. To make these energy balls peanut free, you can substitute your favorite seed butter in place of the peanut butter.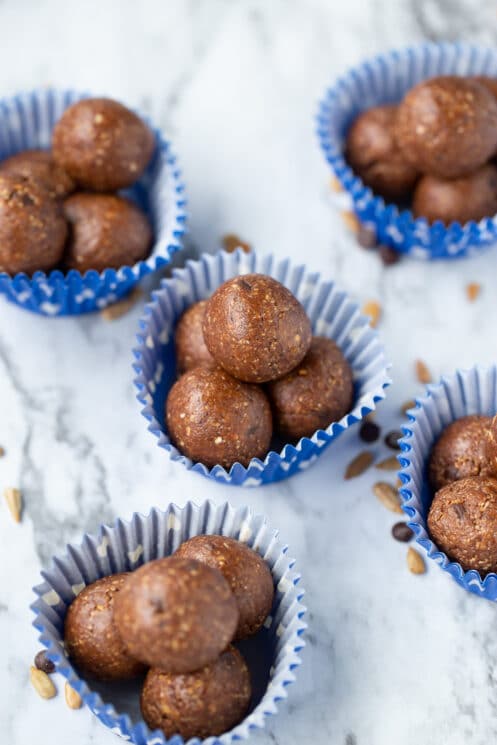 Plant-Powered, Whole Food Protein
These energy balls get their protein purely from nuts and seeds. Sure, we could have added a scoop of protein powder into this treat and checked off the "protein" box. But we like to focus on whole foods for our kids, because whole foods come with lots of added nutritional benefits like vitamins, minerals, fiber, and antioxidants.
Which is exactly what you get with the blend of natural peanut butter and raw sunflower seeds in these energy balls. Together, these powerhouse ingredients provide four grams of protein per little ball. (For the sake of comparison, an egg or an ounce of cheese contains about six grams of protein. So if your kids eat two balls, they'll get be getting more protein than they would from a serving of eggs or cheese. Pretty good, right?)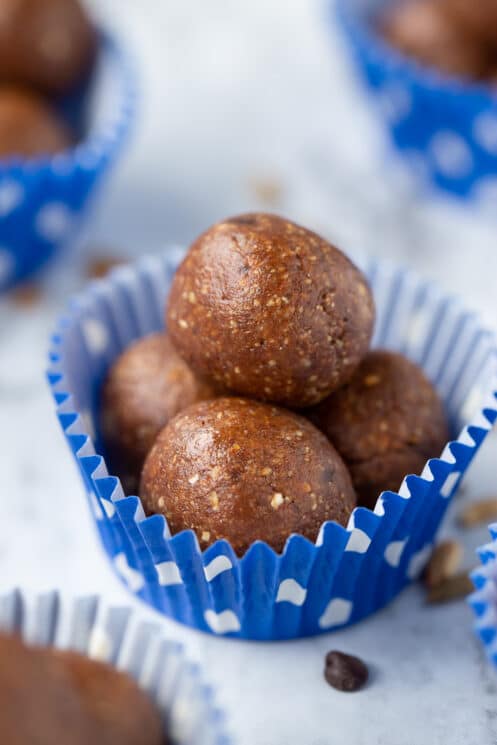 More Reasons We Like Protein Energy Balls for Kids
Protein is great. But the best snacks deliver a balance of nutrients at the same time. And these energy balls do just that.
Healthy fats and complex carbohydrates help kids stay satisfied, and give them the energy they need to play and learn.
Check out these special nutrition benefits from the whole food ingredients in this snack:
Whole grain rolled oats are rich in soluble and insoluble fiber.
Sunflower seeds have plenty of Vitamin E, selenium, and healthy fats.
Cocoa powder provides a boost of antioxidants for a healthy heart and immune system.
Medjool dates contain minerals like potassium and copper, and they sweeten without refined sugars.
Tips for Making Perfect Protein Energy Balls
You'll love how easy it is to make these sweet, chocolatey peanut-butter energy balls. It takes fewer than 10 minutes from start to finish!
To start, get out your trusty food processor. Add the oats and seeds and grind, grind grind. You'll want to leave the blades running for a couple minutes to get as fine a consistency as you can for these ingredients. This is key for getting a really fudgy consistency!
When the oats and seeds are finely-ground, dump them straight into a mixing bowl, and place the pitted dates into the food processor. Blend them up until you get a sticky ball of date paste. (Make sure you use Medjool dates, rather than another variety like delet noor. Deglet noor dates, while tasty, are too dry to form a sticky ball.)
Add the date ball to the mixing bowl along with all the rest of the ingredients. And now? Now you gotta roll up your sleeves.
Knead the ingredients all together until everything's really well incorporated. Don't be afraid to get in there with your fingers and really mash it.
Then grab a clump of dough that's roughly two tablespoons in volume, and roll it between your palms into you get a smooth ball. Repeat until all the dough is used up. And that's it!
You can eat these room temperature or store them in the fridge for up to two weeks. We like to eat them cold, right out of the fridge.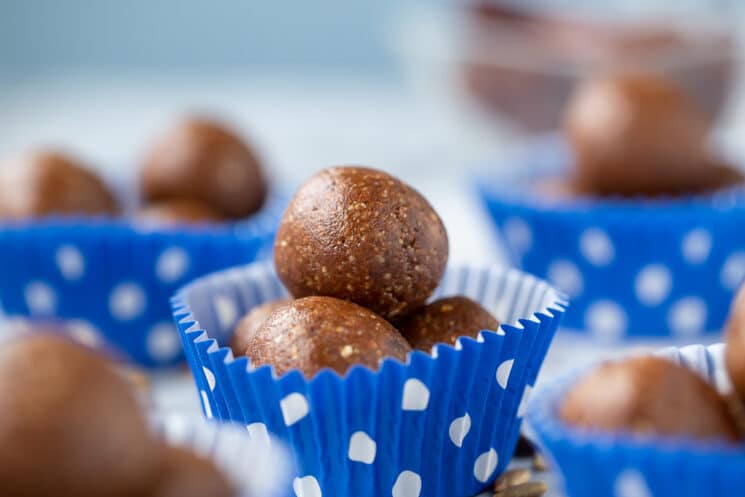 Energy Bites, Balls, and More, Galore
Yup, we looooove all kinds of energy balls and bites. And you can make them in so many different flavors to match your tastes. Try some of our other healthy high-energy treats. Rest assured, they are ALL ROUND. 😉
Peanut Butter Fudge Protein Cake Bites
Kids need a quick boost of whole food protein? Two of these fudgy energy balls provide 8 grams of plant protein with NO powders in sight.
Instructions
Place the oats and sunflower seeds in a food processor, and blend until you get a fine flour-like consistency (it may take a few minutes.) Transfer to a mixing bowl.

Place the dates (without pits) into the food processor and blend until a sticky paste forms. Add the sticky ball of date paste to the mixing bowl.

Add cocoa powder, peanut butter, vanilla, and mini chocolate chips to the mixing bowl. Use your hands to combine all the ingredients thoroughly.

Gently shape the dough into balls, using about two tablespoons of dough per ball.

Enjoy. Store leftovers in the fridge or freezer.
Nutrition
Calories:
279
kcal
|
Carbohydrates:
35
g
|
Protein:
8
g
|
Fat:
15
g
|
Saturated Fat:
3
g
|
Sodium:
71
mg
|
Fiber:
5
g
|
Sugar:
23
g
www.superhealthykids.com
Apple Cinnamon Energy Balls
Chia Seed Energy Bites
No Bake Carrot Cake Bites
Fruity Nut n' Honey Energy Bites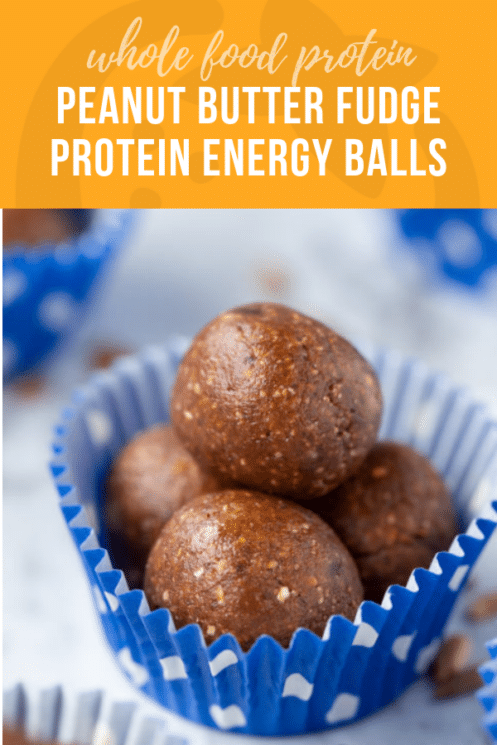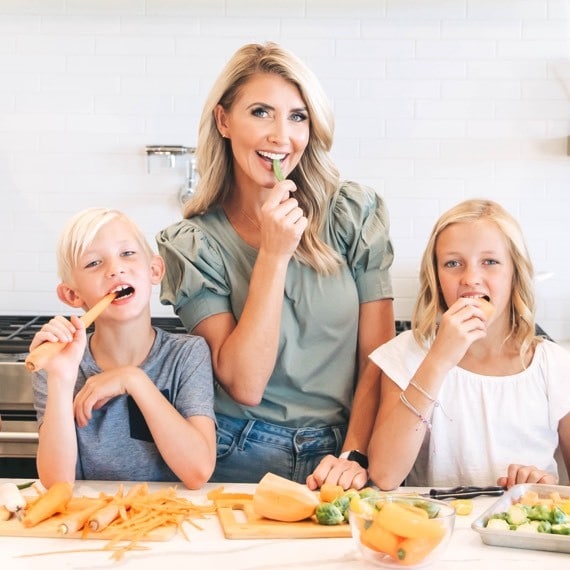 Natalie Monson
I'm a registered dietitian, mom of 4, avid lover of food and strong promoter of healthy habits. Here you will find lots of delicious recipes full of fruits and veggies, tips for getting your kids to eat better and become intuitive eaters and lots of resources for feeding your family.
Learn More about Natalie