10 Healthy Brown Bag Lunch Tips
Sack Lunches can be tough to pack when you are looking to keep it healthy. The older my kids get, the less they want to bring a lunch with containers or bags they need to bring home. Here are a few ways I've made the brown bag lunch work in our family.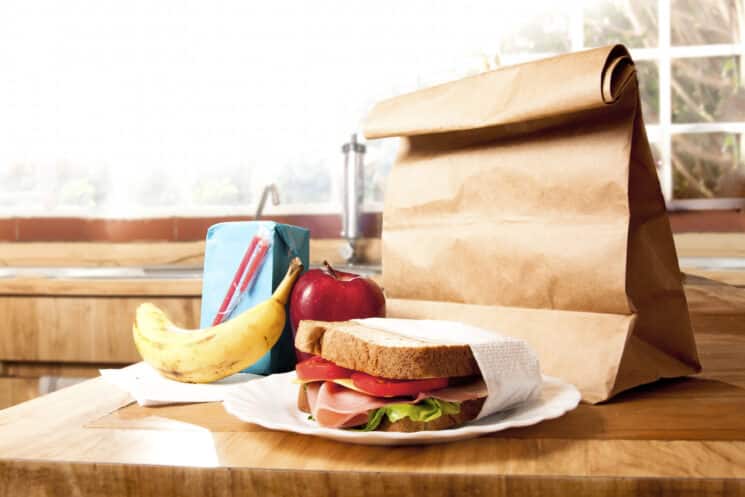 Here are 10 tips for creating a healthy brown bag lunch.. the first one will save you hundreds of headaches!
Let them pack it themselves

! Have I ever told the story of when my son traded his entire lunch for ONE candy corn? True story! From that day forward, I started making my kids pack their lunches, so they would want to keep what they brought, since they chose what they brought. They can do this as young as kindergarten, I promise!
Get clever with the

sandwich bread

: we've used:

Whole wheat pita pocket.
Whole wheat mini bagels
whole wheat wraps
tortillas
Whole wheat dinner rolls
We've never tried Panini bread, but that is an option.
A hoagie roll
A whole wheat English muffin
French bread

Then we get creative with

the spreads

:

Hummus (usually chickpeas)
avocado
veggie mayo, or light mayo
Refried beans (pinto beans puréed)
Light cream cheese (My personal favorite!!)
Nut butters
honey
All fruit jams

Then the fillings.

Here is where parents can lose the kids! Don't pack too much stuff in the sandwich. When you get a little ambitious and pack it with sprouts and lettuce so full they can't wrap their little mouths around it, it likely will end up in the school cafeteria garbage!

Sliver of lettuce and a small slice of mozzarella cheese
tomatoes
sprouts
In the case of the nut butters, add sliced bananas, apples or raisins.
Cheeses
olives
peppers
salsa
shredded lettuce
shredded carrots
sliced lean meats.
Just remember, keep the sandwich thin!

When you have

no bread for sandwiches

, I've sent a sandwich bag full of cereal, or muffins, or trail mix… the sandwich doesn't have to be the center of the lunch.
Keep snack foods in a single location that are

reserved just for lunches

. These can include homemade granola bars, single serving string cheese, single serving yogurt tubes.
Save

disposable containers

such as from sour cream, butter, yogurt cups etc. Use these to send dips or tender fruits to school, and your child can dispose of the container after lunch (or if you're lucky, they'll bring it home and you can reuse it, but you don't have to sweat if they forget).

Don't forget the veggies

. You can send cut up carrots, but they might get boring after awhile. Try dried veggies, broccoli salad in a container, vegetable juices, sliced peppers, celery with peanut butter, shredded cabbage salads, or just pile it on the sandwich.

Don't overpack

. If you haven't heard, kids don't have much time to eat. I witness most kids eat one or two things from their lunch bag and toss the rest. So, don't go overboard with several courses. It's overwhelming and wasteful.

Drinks!

A small water bottle (8 ounce size) is usually sufficient for my kids. A lot of times my kids will want to purchase a carton of milk from the cafeteria. You can also fill the 8 ounce water bottle with homemade juices!
Other posts on sack lunches:
Pack a Healthy School lunch.
Teenagers
Lunch Crunch
Sack Lunches
Do you have any lunch packing tips?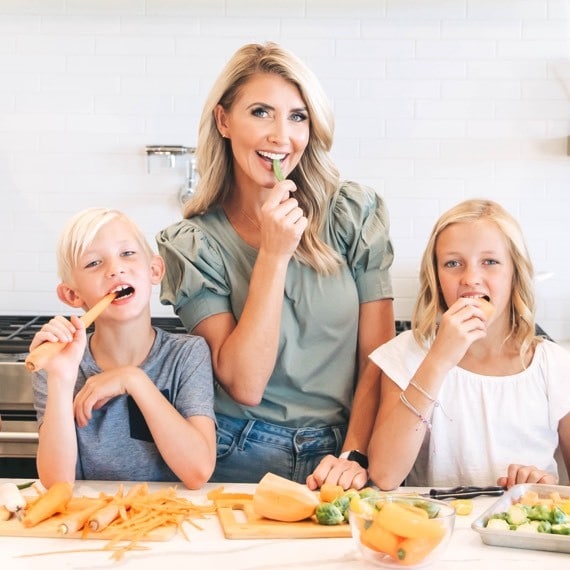 Natalie Monson
I'm a registered dietitian, mom of 4, avid lover of food and strong promoter of healthy habits. Here you will find lots of delicious recipes full of fruits and veggies, tips for getting your kids to eat better and become intuitive eaters and lots of resources for feeding your family.
Learn More about Natalie