Black Bean Brownies Recipe
Black beans are not only a great source of fiber and protein, but they also supply kids with much needed iron and folate! Children ages 4-8 should be getting 200mcg of folate per day, and 1 cup of black beans provides 256mcg! We call these Black Bean Brownies "Dessert with benefits!" Not only is it dessert, but it comes with nutritional benefits as well.
Whether you homeschool, or send kids to school (or even if they aren't old enough for school) kids like an after lunch treat. Heck, I like an afternoon treat! These black bean brownies make a great dessert for something a little sweet to finish off a healthy meal.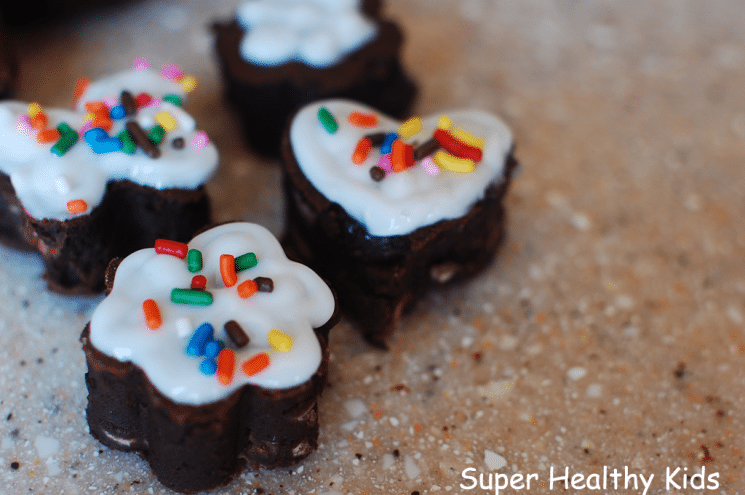 The reason I like these black bean brownies is you don't have to puree the beans before adding them to the mix. Who wants to spend all that time in the kitchen anyway, right? I promise you, the beans blend right in with the rich chocolate taste of the brownies, that no one will be complaining.
One Tip: If you are using canned beans, make sure to rinse them thoroughly! Hot water is ideal. Get all the sodium rinsed off that you can!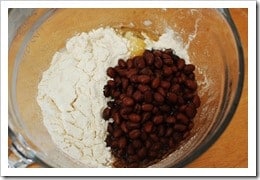 For lunch, try a chicken salad (shredded chicken, strawberries, chopped pecans, and salad greens), some rolled up flat bread, and a mini, bite sized brownie.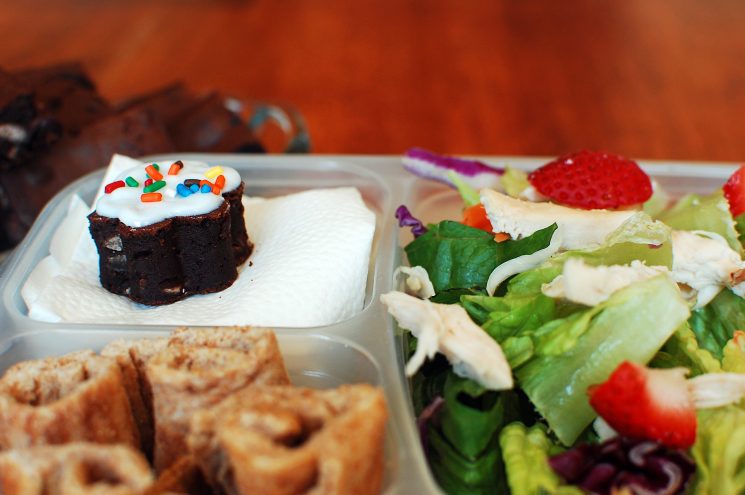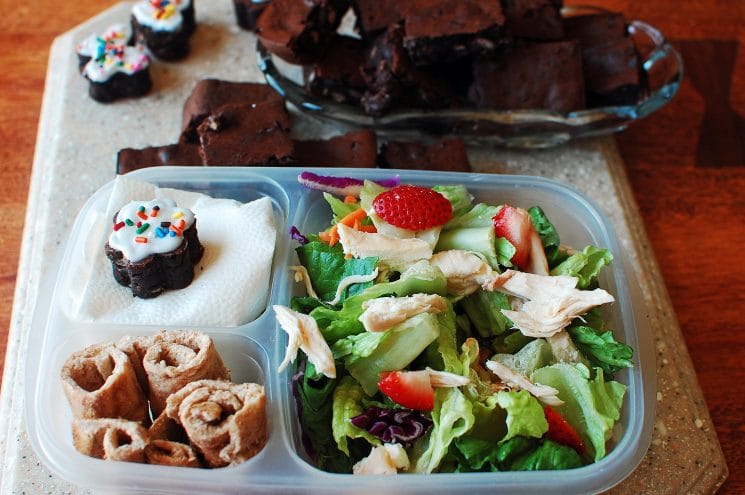 Black Bean Brownies Recipe:
1 15 ounce can of black beans, or 1 1/2 cups pre cooked black beans.
1/2 cup cocoa (100%)
1/4 cup coconut oil
1/2 cup honey
1 tsp. vanilla
3 eggs
1/2 cup flour
1/4 tsp. salt
Rinse beans! Mix all ingredients together. Pour into an 8X8 inch greased pan. Bake at 350 degrees for 40 minutes.
( a few notes- we don't mash the beans, but using an electric mixer till he batter is well mixed, breaks them down quite a bit.)
Also, these aren't very sweet! If your kids are used to traditional brownies, they may not love these. However, if you can keep them off of sweets for awhile, and THEN offer them, they'll love 'em 🙂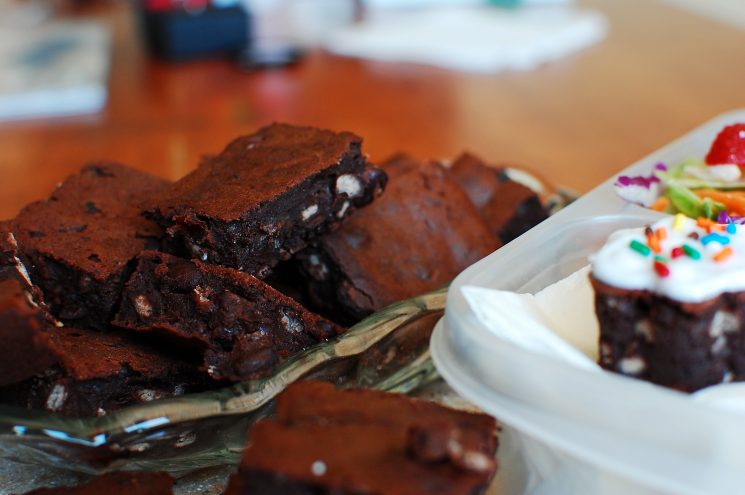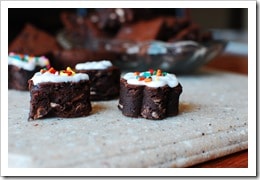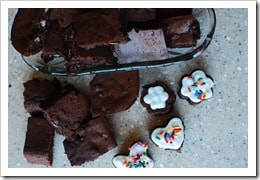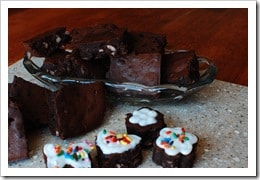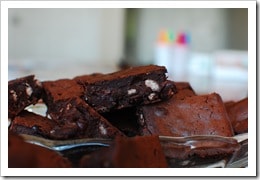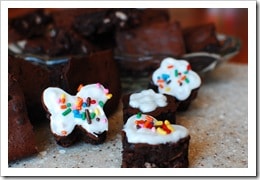 * this recipe was adapted from one of my very favorite cookbooks, The Real Food Diet Cookbook (tons of great recipes)
** For the decorative brownie bites, I used a little writing icing from the baking aisle at the grocery store. You could also whip up some of your own royal icing as well!
Why should cocoa be a part of a healthy diet?
Cocoa powder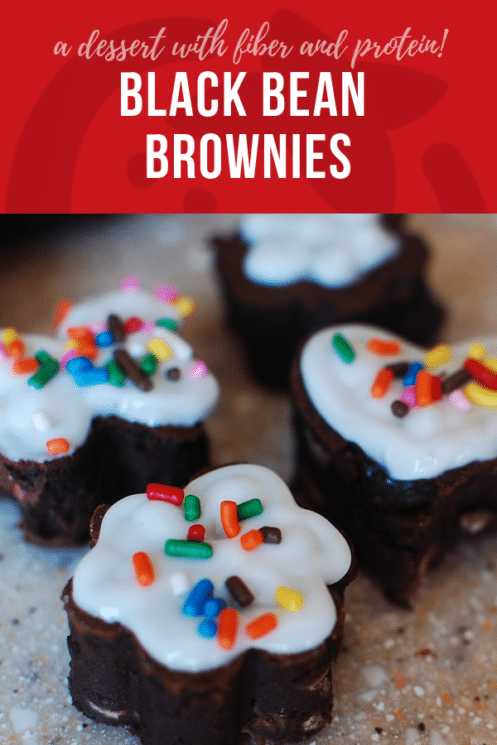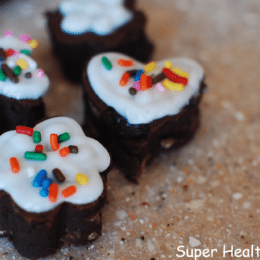 Ingredients
1 1/2

cup

black beans, canned

1/2

cup

cocoa powder, unsweetened

1/4

cup

coconut oil

1/2

cup

honey

1

teaspoon

vanilla extract

3

large

egg

1/2

cup

flour, all-purpose

1/4

teaspoon

salt
Instructions
Rinse beans!  Mix all ingredients together.  Pour into an 8X8 inch greased pan.  Bake at 350 degrees for 40 minutes.

( a few notes- we don't mash the beans, but using an electric mixer till he batter is well mixed, breaks them down quite a bit.)

These brownies are not sweet.  If you prefer a sweeter treat, add royal icing to the top. (or peanut butter is good also!)
Nutrition
Calories:
188
kcal
|
Carbohydrates:
28
g
|
Protein:
6
g
|
Fat:
8
g
|
Saturated Fat:
5
g
|
Cholesterol:
56
mg
|
Sodium:
219
mg
|
Fiber:
4
g
|
Sugar:
14
g