How Much Sugar Do Your Kids Eat?
I've had sugar on my mind lately. I was purchasing some foods with sugar in them for a nutrition class I was teaching yesterday, only to surprise myself how much sugar some of the common foods have that our kids are eating. (and my kids happened to be pretty excited when they saw my stash of junk food)
What I realize, is that being informed is the most important thing. Simple comparisons of food labels can save your kids from pounds and pounds of sugar each year. Swap one granola bar from another, and you can save 15 cups of sugar per year, if they are eating one every day.
To make these calculations on your own, simply use the total # of sugar grams from the label and divide by 4. That will give you the teaspoons of sugar in any given product. So if a product says 16 grams of sugar, there are 4 teaspoons of sugar in it.
Here are some of my shocking discoveries!
Cereal
| | |
| --- | --- |
| | |
| Cheerios has 1 gram of sugar per cup, or 1/4 tsp. | Honey Smacks has 15 grams of sugar per 3/4 cup! Remember when it used to be called "sugar" smacks.  That's probably why! |
Drinks
| | |
| --- | --- |
| | |
| | |
| This glass of water has 0 grams of sugar, 0 teaspoons of sugar, and it's free! | This 20 ounce orange soda has 74 grams of sugar! That is 18.5 tsp. of sugar! |
Yogurt
| | |
| --- | --- |
| | |
| Although this plain yogurt has 7 grams of sugar on the label, all the sugar is milk sugar, and not refined processed sugar.  You know this by reading the ingredients and there is only milk and no added sugar in the list of ingredients. Hooray for Chobani plain yogurt! | This yogurt has 26 grams of sugar!  If 7 of those are from milk sugars, there is at least 19 more grams of sugar that has been added.  Imagine pouring 5 teaspoons of sugar in 6 ounces of yogurt. |
Misc
| | |
| --- | --- |
| | |
| I wanted to throw in this store bought muffin with 32 grams of sugar, because it has more sugar than a TWINKIE! | |
Snacks
| | | |
| --- | --- | --- |
| | | |
| At 13 grams of sugar (3.25 tsp.), this snack is not going to give kids lasting energy. | 16 grams (4 tsp. of sugar), this may as well be a piece of candy. | Best Choice: This Quaker low sugar granola bar only has 5 grams (1 tsp) of sugar. |
So now you know! Always check your labels. If you are buying cereal, get cereal under 3 grams of sugar. If you are buying yogurt, don't purchase pre-sweetened yogurt. If you want to buy a muffin… make them yourself.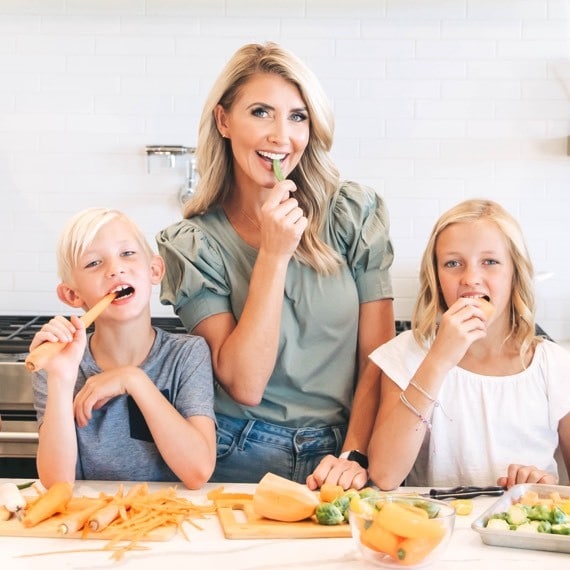 Natalie Monson
I'm a registered dietitian, mom of 4, avid lover of food and strong promoter of healthy habits. Here you will find lots of delicious recipes full of fruits and veggies, tips for getting your kids to eat better and become intuitive eaters and lots of resources for feeding your family.
Learn More about Natalie