Quinoa!  Have you tried it yet? Do your kids like it? Cooked Quinoa definitely has a distinct flavor, but have you ever added uncooked quinoa to things like your granola?  It may look like bird seed (according to my husband), but it adds a yummy- nutty flavor to your granola or granola bars!  And quinoa is one of our favorite SUPER FOODS!   We used our favorite granola bar recipe, and updated it a bit to include some quinoa.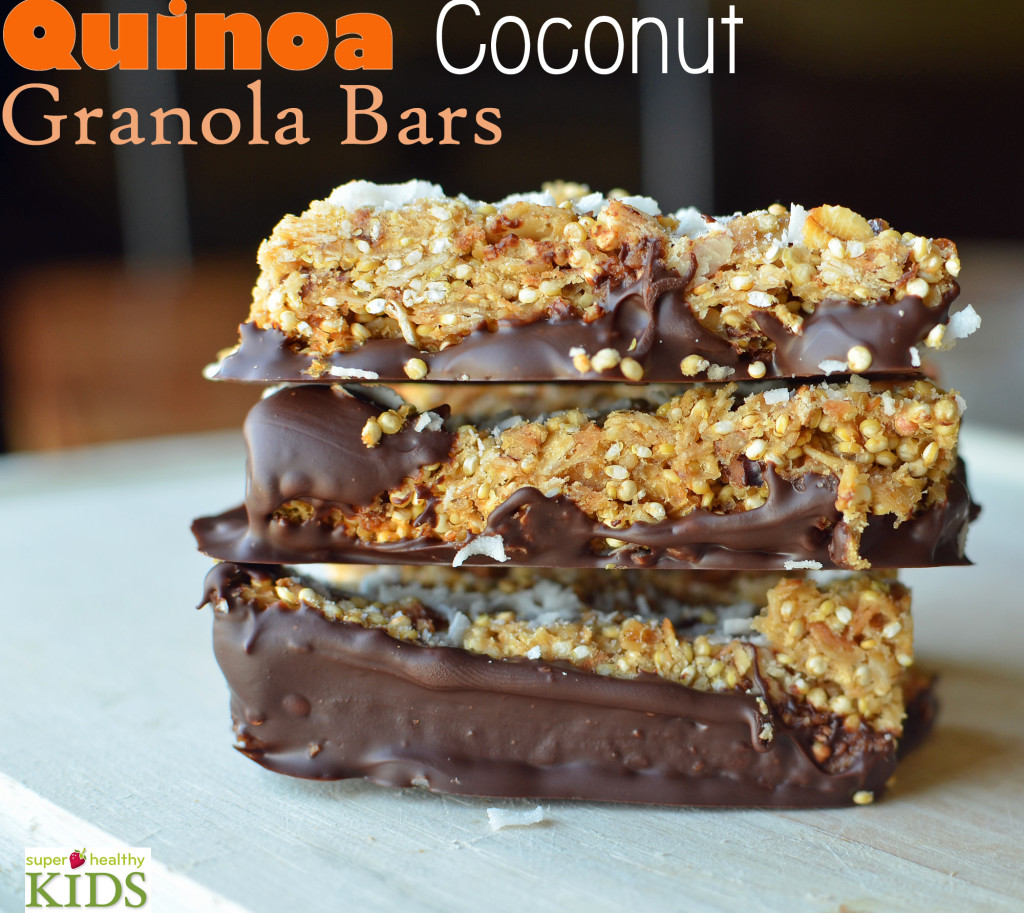 We started by roasting our oats and quinoa in the oven. Just for about ten minutes to make it nice and toasty. Then we added nuts and coconut.
A separate mixture of peanut butter and honey was warmed up to combine.  We then, mixed it altogether and baked it. It was super easy! (full Quinoa Coconut Granola Bar Recipe below)
Why should you even care about Quinoa?  Quinoa has loads of healthy benefits, including anti-inflammatory properties.  According to my favorite website (World's Healthiest Foods):
This unique combination of anti-inflammatory compounds in quinoa may be the key to understanding preliminary animal studies that show decreased risk of inflammation-related problems (including obesity) when animals are fed quinoa on a daily basis.
(also from WH Foods) In comparison to cereal grasses like wheat, quinoa is higher in fat content and can provide valuable amounts of heart-healthy fats like monounsaturated fat (in the form of oleic acid). Quinoa can also provide small amounts of the omega-3 fatty acid, alpha-linolenic acid (ALA).
For a tastier treat, we melted some semi-sweet chocolate and dipped the bottom of the granola bars in it!
So, start adding more quinoa to your families rotation.  We have more delicious Quinoa recipes, including:
For more ideas on getting fruits and vegetables in at every meal, check out our meal plan memberships!