Delicious and Chewy Homemade Granola Bars for Nut-Free Kids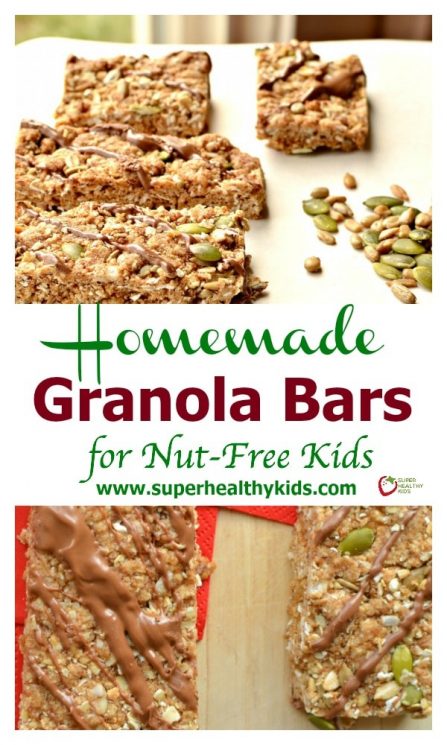 A Food allergy is an immune system response to a substance found in food that is normally harmless. Certain immune responses see the food substance and attacks it in the same way our immune system attacks bacteria and viruses. While it's a devastating diagnosis, there is promise for the future. New treatments are being studied, and do look promising for kids with peanut allergies, but there is still along way to go.
When Your Child Has a Nut Allergy
A child who is allergic to peanuts, does not necessarily have an allergy to tree-nuts (almonds, cashews, or walnuts). However about 25-40% of them are allergic to both, and many physicians will recommend avoiding both. The best practice as a parent you can be in is to read your labels. Checking labels for the allergen itself, as well as cross contamination of the allergen is vital for allergy management.
Then, if your child is in school, inform the teacher, as well as the front office about your child's allergy. From my experience, teachers are great about protecting your child and informing the rest of the parents that may bring food into the class about the allergy. This helps to control their environment for contamination they may not see or even ingest. Secondly, it's very important as well to teach your kids to be their own advocates and know what foods are safe for them. From a very young age, they can question the source of their food when other safety barriers have broken down.
For a complete list of what to check for on a label, whether you have a peanut or tree-nut allergy, print this document! from Food Allergy.org It's very simple and comprehensive, plus it contains helpful label reading information for other allergies.
So, to keep our schools safe, as well as for those kids who just love a delicious homemade granola bar- this recipe is for you! Our favorite granola bar recipe here has peanut butter to hold it together, so this is our alternative- and really, it's just as delicious! I PROMISE!! (full recipe below)

Resources
Related Blog Posts
Delicious and Chewy Homemade Granola Bars for Nut-Free Kids
Print
Pin
Rate
Ingredients
2

cup

oats, dry

2/3

cup

coconut sugar

1

cup

flour, whole wheat

1/2

teaspoon

baking soda

1/2

teaspoon

baking powder

1

teaspoon

cinnamon

1

teaspoon

salt

1

teaspoon

vanilla extract

1/2

cup

honey

2

tablespoon

coconut oil

1/4

cup

sunflower seeds

1/4

cup

pumpkin seed kernels
Instructions
Mix all ingredients and press into greased pan, 9X13. Dough will be VERY dry and crumbly. It's OK, it will still turn out.

Press until dough forms with pan.

Bake at 325 for 20 minutes or until edges are browned. Take out and let cool entirely.

Cut into strips and store in snack size bags.

Optional: Drizzle melted chocolate over the top.
Nutrition
Calories:
263
kcal
|
Carbohydrates:
48
g
|
Protein:
7
g
|
Fat:
6
g
|
Saturated Fat:
3
g
|
Sodium:
251
mg
|
Fiber:
4
g
|
Sugar:
22
g