Whole Wheat Applesauce Muffins
These Applesauce Muffins are sweet, moist, fluffy and full of flavor even with 100% whole wheat flour!
Check out our recipe for making your own homemade applesauce!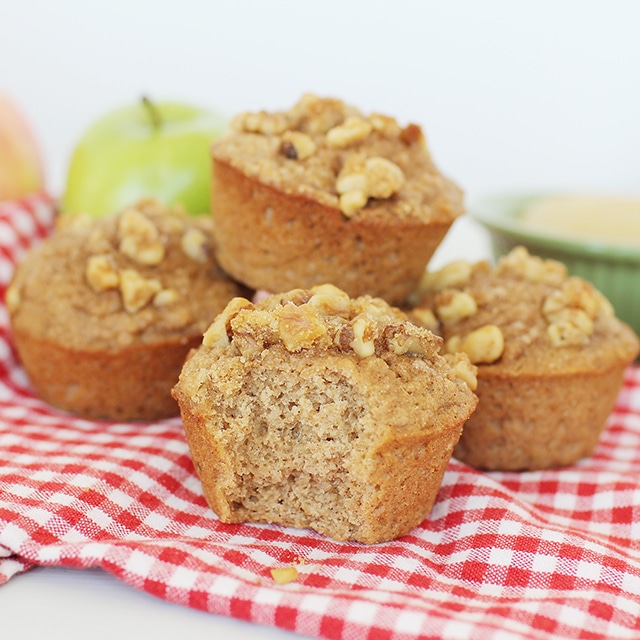 How to Make Whole Wheat Applesauce Muffins
Of all the muffins we have tried, these applesauce muffins are a good one to experiment with if you want to try 100% whole wheat. Whole wheat muffins have a tendency to be denser or heavier, because the gluten develops more slowly than it does with white flour. Whole wheat baked goods also taste a little grittier than the white flour, depending on the type of whole wheat flour you are using. White flour is popular in baked goods because it can create a light and airy product, rather than dense and heavy. But there are other facts that can help develop gluten and help baked goods to rise, even when you use 100% whole wheat.
How to substitute Whole Wheat Flour for White Flour in a recipe
I've always taught that you can start with a small amount of equally substituted flour until your family gets used to the taste and texture of whole wheat. Starting with 50% white flour and 50% whole wheat flour can have less impact on the finished product and give you a muffin very similar to one that you baked with all white flour. However, as you start to move on the scale to more whole wheat than white, you can actually use LESS whole wheat flour. One cup of all-purpose flour can be substituted for 3/4 cup whole wheat flour.
Because you are dealing with the whole grain, whole wheat flour doesn't absorb the liquid in your muffins the way white flour does. White flour acts more like a sponge and sops up all that liquid. So, with whole wheat flour, adding additional liquid can help make the muffins not too dry.
While not necessary in muffins, if cooking whole wheat bread, we will incorporate a small amount of gluten to help our whole wheat bread rise. This is easy to do with products like Vital Wheat gluten.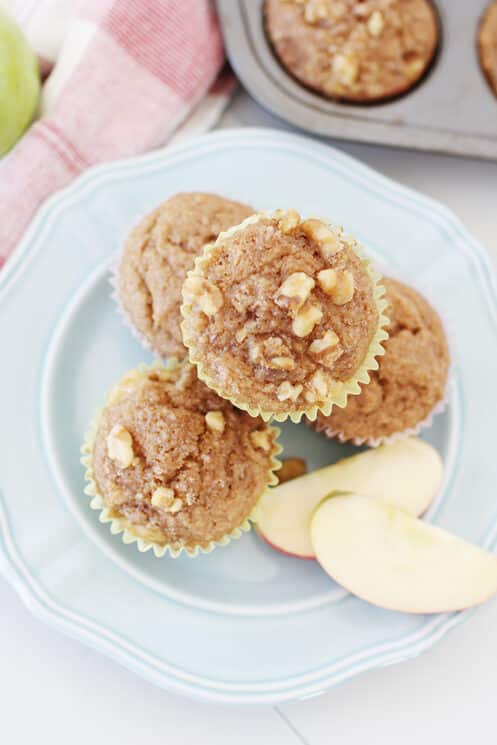 What types of whole wheat flour is good for muffins
It surprises me how many different types of flours there are on the market now. In fact, some whole wheat flours are as soft and smooth as white flour, and my kids are less likely to complain that something might taste "grittier".
There are different types of wheat kernels that create different textures and tastes of whole wheat. Here are a few of them:
White whole wheat flour– One type of wheat kernel that can be milled is called hard white wheat. This is still 100% whole wheat, but the color is lighter, and the flour a little sweeter.
Whole wheat pastry flour– Whole wheat pastry flour is made from soft white wheat kernels, and creates a lighter flour, with less protein, which is good for baking.
Whole wheat self rising flour– This flour (whether from a white or red kernel) incorporates baking powder sifted into it to assist with baking.
100% whole wheat flour– This term simply means that 100% of the kernel is present in the flour. The germ and endosperm are completely milled to create the flour.
Whole grain whole wheat flour 100% of the kernel– Again, the full kernel is milled, generally using the hard red wheat kernel.
Whole wheat flour – While sometimes it means the full kernel is milled, only 95% of the kernel is required to label the flour "whole wheat flour".
(source)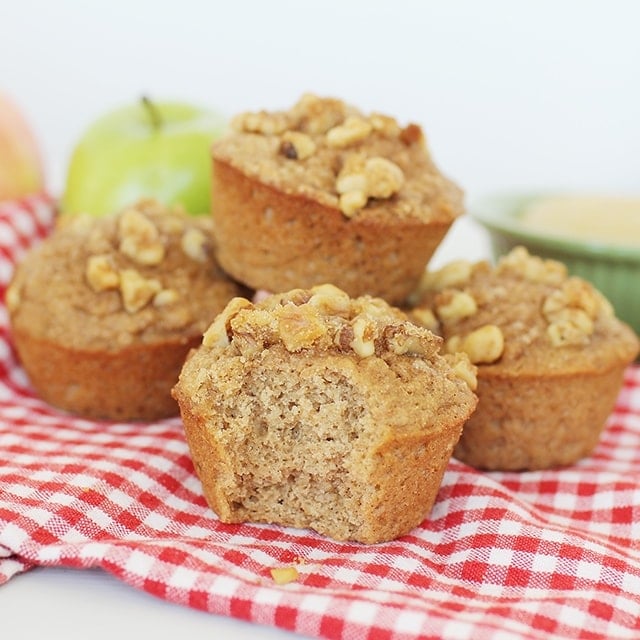 Health Benefits Whole Wheat Flour
If it can be tricky to create whole wheat muffins, you might be asking why do it at all? Absolutely! When using the entire grain for your flour, instead of milling off the healthiest portions in favor of texture, it is healthier. The three components of a whole wheat kernel include:
The bran- the most important part (which is taken away during milling of white flour). This contains the B-vitamins, the fiber, and important antioxidants!
The germ- this contains the protein, and even healthy fats!
The endosperm- contains the carbohydrate, the majority of the calories, and important minerals.
(SOURCE)
So, if you are ready to start incorporating more whole wheat into your muffins, start with these Applesauce Muffins! Your kids will love them!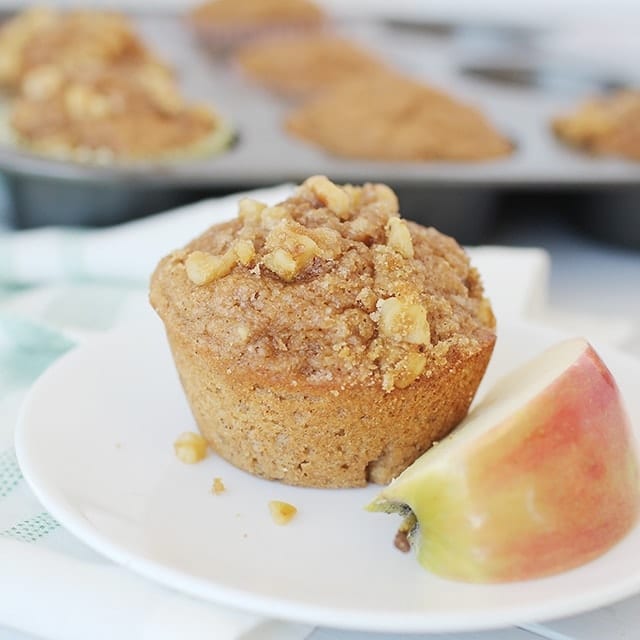 For more whole wheat muffins, check out these recipes:
Applesauce Muffins
Substitute white flour for whole wheat in these applesauce muffins to increase the fiber and vitamins!


Instructions
Preheat oven to 400° F.

Mix dry ingredients together in a bowl (flour through salt).

In a separate bowl, whisk together eggs, applesauce, and brown sugar.

Melt butter; add to wet ingredients and stir to combine.

Fold wet ingredients into dry ingredients just until moist.

In a separate, small bowl, mix together walnuts and brown sugar for the topping.

Divide batter equally among muffin cups, then sprinkle on topping, pressing down lightly so it sticks.

Bake for 13-15 minutes or until a toothpick inserted into the center of a muffin comes out clean.

Cool for 5-6 minutes before serving.
Nutrition
Calories:
203
kcal
|
Carbohydrates:
29
g
|
Protein:
4
g
|
Fat:
9
g
|
Saturated Fat:
4
g
|
Cholesterol:
44
mg
|
Sodium:
120
mg
|
Fiber:
2
g
|
Sugar:
16
g
www.superhealthykids.com
And to make your own applesauce, check out this canning applesauce post!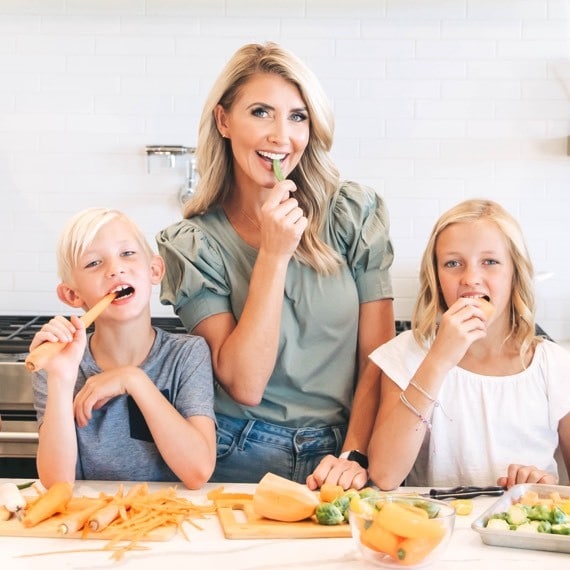 Natalie Monson
I'm a registered dietitian, mom of 4, avid lover of food and strong promoter of healthy habits. Here you will find lots of delicious recipes full of fruits and veggies, tips for getting your kids to eat better and become intuitive eaters and lots of resources for feeding your family.
Learn More about Natalie