Got a picky eater? These kid-favorite Spinach Muffins are 100% whole wheat, refined-sugar-free, and packed with fresh spinach!
Try our other super "hidden veggie" muffins, these Power-Packed Fruit and Veggie Muffins.
Why Are Spinach Muffins Healthy?
"I like all the muffins you make, but these ones are my favorite." My kind (and diplomatic) kindergartner told me this last week, after I served him a warm, buttered Sweet Spinach Muffin.
And I must say, that boy has good taste. These muffins are addictively delicious. And they also have a secret superpower: they're chock full of an entire bag of fresh spinach!
Don't be fooled by the vibrant hue of these muffins; the fresh spinach leaves don't make waves, flavor-wise. Instead, the taste is sweet, cinnamony and moist, like a treat you'd serve with a cup of tea. This is true even though we only use half the sweetener you'd find in most muffin recipes.
You'll find even more goodness besides greens packed into these muffins: 100% whole grains, creamy banana, eggs and whole milk.
Plus they're portable, freezable, and easy to eat with your fingers… I'm not trying to gush here, but did we just discover the world's most perfect kid food?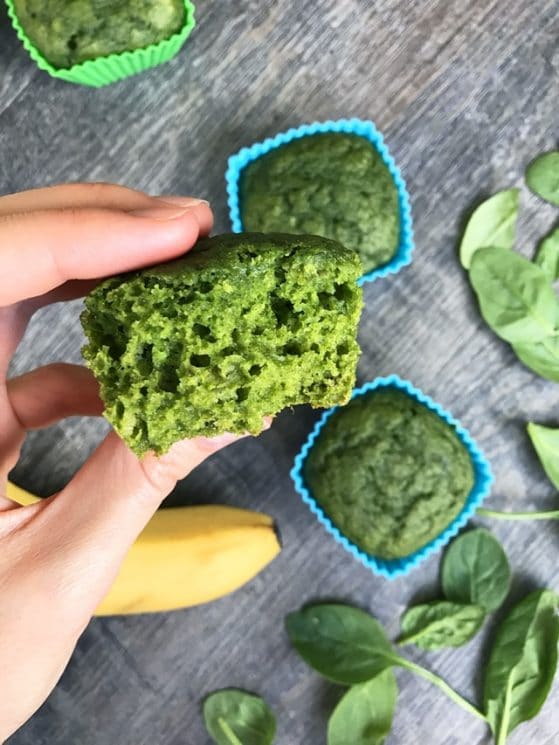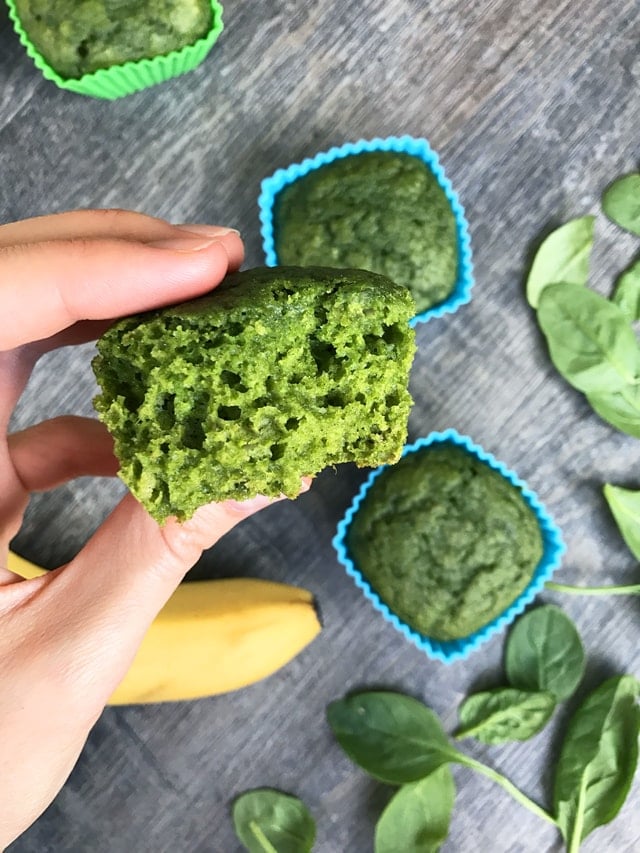 Spinach Muffins aka Hulk Muffins and Monster Muffins
Some kids might shy away from the green color of these muffins; my daughter is one to reject a food just by the look of it. That can be aggravating, of course, but it's a fact of life when feeding kids.
That doesn't mean you can't help them come around to new foods with a little help from branding. (Yup, that's right. Sometimes you gotta use the same tricks as the marketers!) Here are some of the nicknames my kids and I came up with to give these muffins a little imaginative appeal:
Hulk Muffins
Green Goblins
Monster Muffins
Frog Muffins
Whatever you call them, be sure to tell your kids that these muffins are filled with spinach–tell them the spinach is what makes them so moist and colorful! That way they'll know they love spinach, at least some of the time.
Oh, and my picky daughter? She's obsessed with these muffins.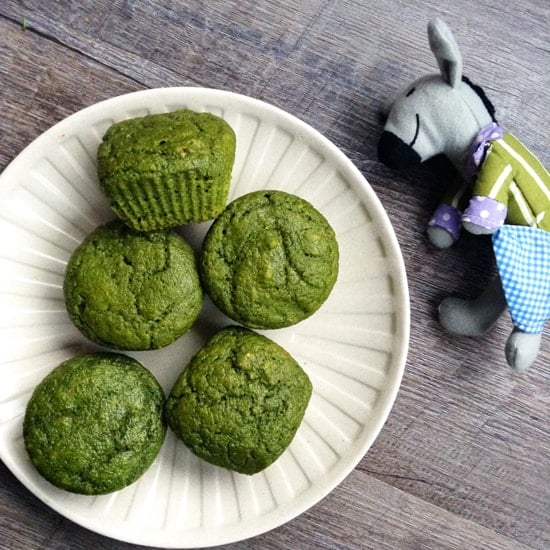 How to Make Sweet Spinach Muffins
When you're ready to whip up these gems, have your blender ready. All the wet ingredients get pureed together, so you don't have to worry about mashing the banana or whisking the egg separately.
Then just pour the wet ingredients into a bowl of the dry ingredients, and fold them together gently. It's super quick and easy!
Storing Spinach Muffins
We like the flavor best when the muffins have had some time to cool. We store the leftovers in the refrigerator, where they have never lasted more than a couple of days!
If you're interested in freezing some for later (smart!) you can just toss the cooled muffins into a zip-top bag and stash them in the freezer. Transfer some to the refrigerator the night before you plan to serve and they'll be thawed by morning.
I hope you love these muffins as much as my family does. Here's to your health, and happy baking!
Love these muffins? Pin it for later!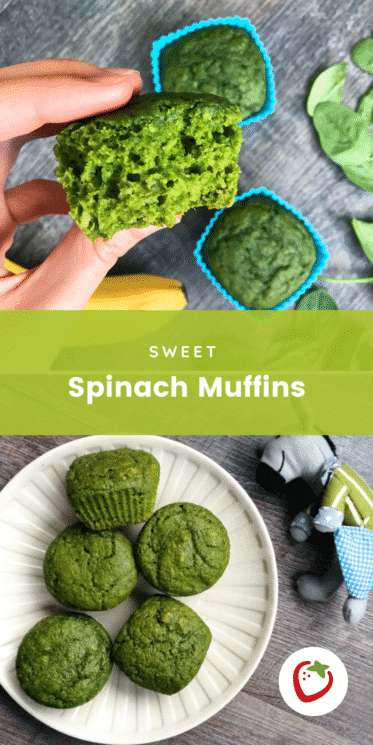 More Healthy Muffins for Picky Eaters
Zucchini Oat Muffins
Power-Packed Fruit and Veggie Muffins
Whole Wheat Blueberry Muffins
Sweet Spinach Muffins
Got a
picky eater? These kid-favorite muffins are 100% whole wheat, refined-sugar-free, and packed with fresh spinach!
Print
Pin
Rate
Ingredients
18

standard

cupcake liners

2

cup

flour, whole wheat

1 1/2

teaspoon

cinnamon

2

teaspoon

baking powder

1/2

teaspoon

baking soda

1/4

teaspoon

salt

1/2

cup

butter, unsalted

3/4

cup

milk

1/2

cup

honey

1

large

banana

6

ounce

raw baby spinach

(by weight)

1

large

egg

1

teaspoon

vanilla extract
Instructions
Preheat oven to 350 F, and line a muffin pan with paper liners (or use silicone muffin cups sprayed with cooking spray).

Combine all dry ingredients in a large mixing bowl.

Heat the butter until just melted. Using a blender or food processor, blend the raw spinach, banana, honey, milk, egg, vanilla, and melted butter until completely pureed.

Pour the puree into the dry ingredient bowl, and fold together gently until just combined. (Do not over-mix.)

Spoon the batter into the muffin pan, and bake for 18-22 minutes, or until the muffins are firm to the touch on top, but not quite browning.

Cool most or all of the way before serving.
Nutrition
Calories:
139
kcal
|
Carbohydrates:
20
g
|
Protein:
3
g
|
Fat:
6
g
|
Saturated Fat:
4
g
|
Cholesterol:
25
mg
|
Sodium:
85
mg
|
Fiber:
2
g
|
Sugar:
9
g