School Lunch Versus Packed Lunch-Interesting Research and Tips
School lunch or packed lunch? Which do your children ask for? While the National School Lunch Program must meet nutrition standards based on the latest Dietary Guidelines for Americans, when your child opts for school lunch, what is he eating and what is he tossing into the garbage? In a study published in 2013 in Public Health Nutrition, researchers evaluated wasted food among 899 lunch trays of elementary and middle school students in Colorado and found that elementary aged students wasted more than a third of grain, vegetable and fruit menu items and only 45% selected a vegetable in the lunch line. Middle schoolers left almost 50% of fresh fruit, nearly a third of vegetables, and 37% of canned fruit. Only 34% of middle schoolers selected a vegetable in the lunch line.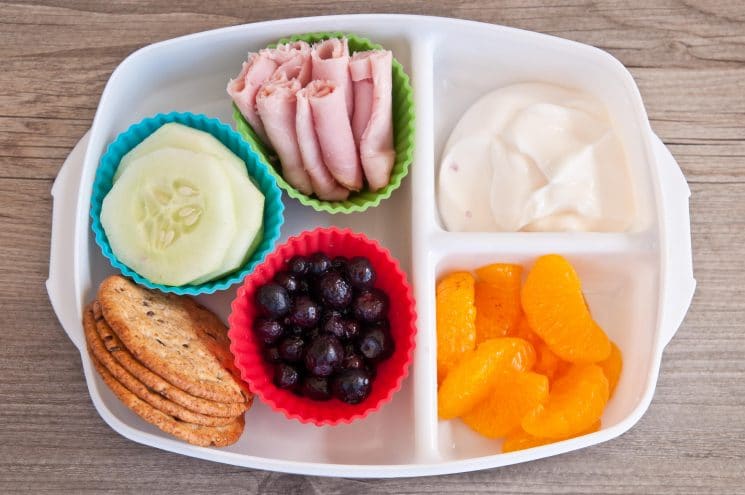 If your child is throwing away much of the food on his school lunch plate, maybe you are considering sending a packed lunch? But what are kids and/or their families packing? In a study published in the Journal of Nutrition Education and Behavior in 2014, researchers collected information on 1,314 packed and school lunches from pre-kindergarten and kindergarten children in Virginia for 5 days. They found that fat, saturated fat, sugar, and energy were significantly higher and protein, fiber, vitamin A and calcium were significantly lower for packed lunches than school lunches. Likewise, the Journal of the Academy of Nutrition and Dietetics published research in November 2015 showing that among 607 preschool children in Texas, more than 80% did not provide or consume the recommended amount of vegetables, about 70% did not pack or eat enough whole grain, seafood and plant proteins, and 60% to 70% of the packed and consumed meals included higher than the recommended amounts of refined grains, sodium, and saturated fats. Fifty percent of packed and consumed lunches included the recommended amounts of dairy and protein, and 70% of packed meals included the recommended amounts of total and whole fruits. Amazingly, almost half of the packed meals did not include any whole grains or vegetables.
So, if you and your child are opting for a packed lunch, what is the answer to how to pack a lunch that is high in nutritional quality that will be eaten?
Involve your child. Whether he is helping to come up with lunch ideas and/or actually putting the lunch together, having your child involved in the process is important so that he will want to eat what he brings to school. If you know that your child will absolutely not touch a carrot, then you know not to waste your efforts in a packed lunch by including carrots (unless you want to throw one in every once in a while to see if your child's tastes have changed). I have a child that will eat almost any vegetable, but raw carrots, even with dip, will not be eaten. Ask your child for healthy ideas so that the two of you can come up with school lunch menus together. Which fruits will she eat? Vegetables? Whole grains? Et cetera. Through talking, you may find out that he prefers sliced apples to whole, cooked broccoli to raw, and more.
Plan. With ideas that you and your child have generated, plan a shopping trip to have school lunch items on hand for the week. Here is a great guide to what should be in your child's power packed lunch. And using MyPlate as a guide for how you put together food for a packed lunch can help you know what and how much to include. The MyPlate goal of having half of the plate made up of fruits and vegetables, having half of grains come from whole grains, including low fat or fat free milk/dairy, and including varied sources of protein is a great way to visualize healthy eating (and a healthy lunch box). Also, have staples ready at all times. Nut butters, nuts, hard cooked eggs, et cetera can all be used as healthy time savers.
Vary the foods that go into the lunch. This ultimate guide to packing a packed lunch gives so many options for important lunch box foods. Another great resource is this 10 healthy brown bag lunch tips Get creative in your lunch offerings. It can get boring having the same old raw vegetables over and over. Try whole grain pasta salads with fresh vegetables and chickpeas to pack in nutrition. You can make this on Sunday and use it several times during the week. Instead of grapes every day, surprise the kids with a mix of frozen mango and pineapple or include a yogurt dipping sauce with your fresh fruit.
Make time. Don't feel that your packed lunch has to be made during the morning rush for it to be fresh. Doing some of the prep the day before can save precious morning time. We have variations of egg muffins with or without a whole grain English muffin at least once per week, and it can be made the day or two before (or before that and frozen) for a quick and healthy lunch. And remember to use your freezer to save things like leftover cooked chicken that could be used later in a packed lunch quesadilla. Make and freeze whole grain muffins to throw in as a sweet and healthy treat.
Since research has shown that eating habits and food preferences during the preschool years have a significant impact on diet quality in adulthood, it's imperative to provide nutritious foods at lunch time that will be eaten. Whether the nutritious foods are coming from a school lunch or packed lunch is not important. What is important is your child receiving all that he or she needs for good health. Please share your successful school lunch ideas, so that other readers can learn from you.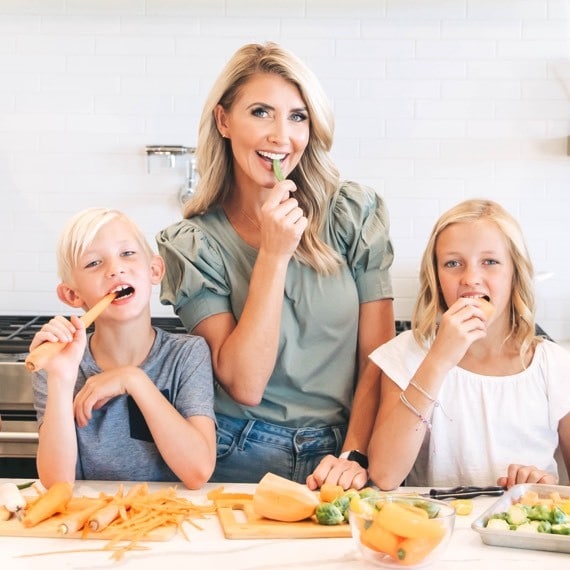 Natalie Monson
I'm a registered dietitian, mom of 4, avid lover of food and strong promoter of healthy habits. Here you will find lots of delicious recipes full of fruits and veggies, tips for getting your kids to eat better and become intuitive eaters and lots of resources for feeding your family.
Learn More about Natalie