50 Packable School Lunch Ideas
Don't sweat school lunch! Get fresh ideas from our huge list of healthy, simple, and packable lunches.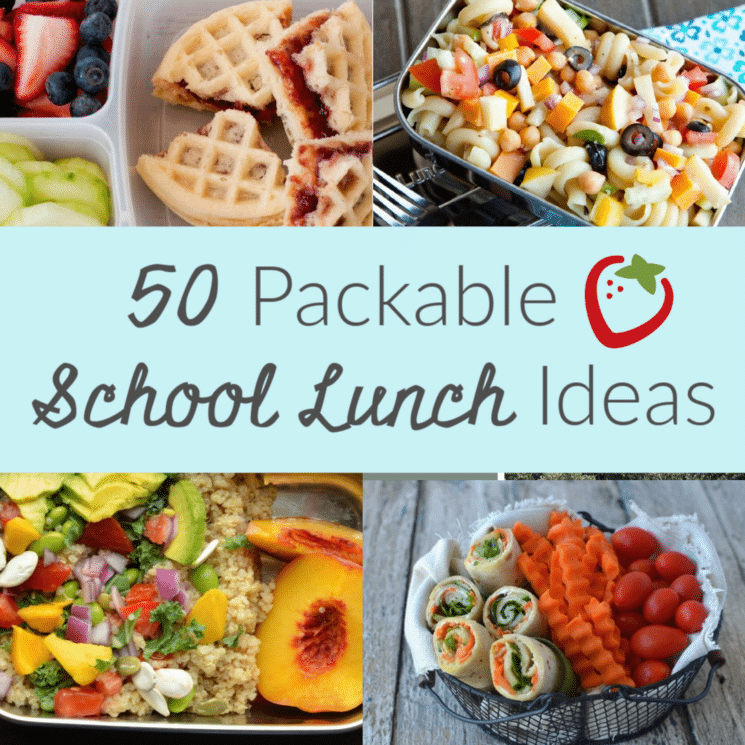 Packing a school lunch: how hard can it be? Slap together a sandwich, add a piece of fruit and some baby carrots, and you're done. Easy, right? At least in September, it's that easy.
But a month or two into the school year, packing lunches starts to feel like a slog. The food starts to come back uneaten. Your kids are complaining about their umpteenth turkey sandwich on wheat. And most troubling of all, there's no end in sight.
Don't sweat it. And avoid the lunch-packing burnout with our huge list of packable school lunch ideas to keep you ticking all year long.
Before we get to the list, we've got two tips for packing lunches:
First, we recommend including a fruit and a veggie with every packed lunch.
Second, try packing lunches the night before school
Now, to the lunches!
50 Packable School Lunch Ideas
Cream cheese and deli meat pinwheels.
Tomato soup in a thermos with grilled cheese
Kid-friendly green salad topped with chopped eggs and/or deli meat
Muffins with a cheese stick
Waffle sandwiches with cream cheese and raisins, or PB and J
"Finger Food" lunch: trail mix, cheese cubes, and raw veggies
Egg salad sandwich
Bean and cheese burritos
Tuna and crackers
Homemade "Luncheables" with crackers, meat, cheese, a fruit, and veggie
Quick pita pizza
Egg and cheese sandwich on a whole wheat roll
Pasta salad
Peanut butter and jelly on leftover pancakes
Egg cups
Cold bean salad with vinaigrette and tortilla chips
Pasta and meat sauce in a thermos
Leftover Butternut Squash Soup in a thermos.
Almond butter and honey sandwich
Cheese quesadillas with guacamole
Pizza kebabs
Ham and cheese inside leftover crepes
Meatballs on toothpicks
Cold sesame noodles and veggies
Chicken salad wrap
Veggie Lunch Wrap
Yogurt and granola
Turkey, cheese, and spinach on a bagel
Banana bread with a hard-boiled egg
Quick Mac and Cheese in a thermos
Pita filled with hummus and shredded cheese
Rice cakes with nut or seed butter
Spring rolls
BLT
A thermos of chili
"Bistro Box" with fruit, veggies, cheese, crackers, and hummus
English muffin pizzas
A thermos of Homemade Spaghettios
Apple and cheddar grilled cheese
Tuna salad in a whole wheat hot dog bun
Cucumber and cream cheese sandwiches
The easiest packed lunch of all: leftovers from dinner