Healthy Theme Dinner Rotation Schedule and Free Meal Plan
Alright, you've probably seen our Healthy Breakfast Rotation Schedule, my Healthy Lunch Rotation Schedule and now I give you my Healthy Dinner Rotation Schedule for more dinner ideas! After today you are officially set with over 100 recipes to get your through an entire month of all the key meals: breakfast, lunch and dinner. Can you believe that? All of the guess work has been taken out for you and recipes have been collected and nicely packaged all in one convenient spot! Keep them organized in a meal planner notebook so that you're always good to go.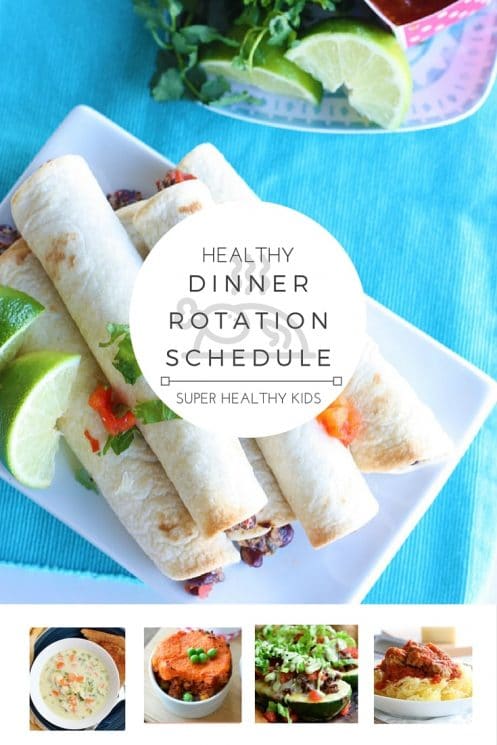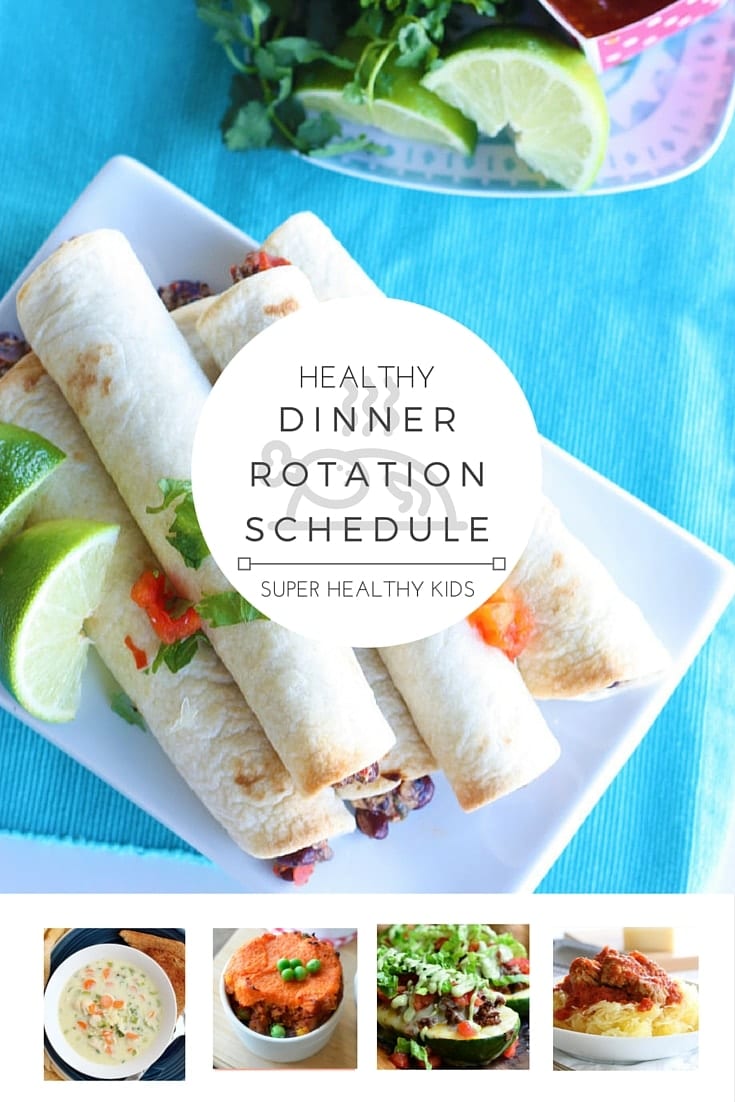 Dinnertime as I'm sure most experience, can be just as tough to plan as the other two important meals in the day. I know that without a plan for dinner, I'll come home from work like a scavenger, eating any and everything in sight. With a plan however, I'm able to eat healthy and filling meals every night of the week. As a BONUS for reading this post, we want to give you our FREE FAMILY DINNERTIME RULES PRINTABLE. It is SUPER cute and is just the thing to add to your kitchen decor. Just click to download. We believe that part of a positive dinner time experience is having some boundaries that will create that great dinner experience we wall want. And when you create a positive atmosphere, your kids a much more likely to eat the healthy delicious food you have prepared!

For each day of the week I've given you five options. That means that all month long you can have a different recipe every single day! The fifth recipe in each day is for those occurrences when you've got an extra week in the month.
Monday's are for going meat-free. Meatless Monday is an excellent trend that I'm happy to jump on board with. Go vegetarian for just a night with great options that will have you not even missing the meat! The recipes I've given you are both filling and fueling, chock-full of nutritious power-packed ingredients.
Tuesday's are for tacos. Taco Tuesday is all the rage and one I hope never goes away.
Wednesday's are for being wacky. Have a little fun midway through the week to spice things up!
Thursday's are for pizza parties. Everyone loves pizza right? These healthy variations will be a great addition to your week.
Friday's are for favorites. These recipes are sure to quickly become a favorite in your household.
Saturday's soup. No matter the time of year, these soup recipes will fill your belly and warm your soul!
Sunday's are for slow cooker meals. Everyone loves being able to throw a bunch of ingredients into the crockpot – then set it and forget it! What better day than Sunday!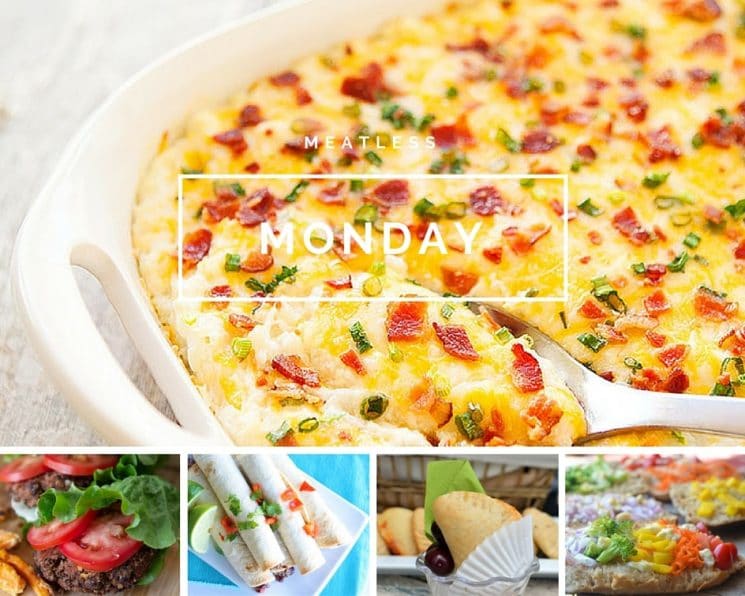 Meatless Monday
1. Cheesy Cauliflower Bake / Simple As That
2. Black Bean Veggie Burger / Tried and Tasty
3. Crunchy Vegetarian Taquitos / SHK
4. Whole Wheat Veggie Calzones / SHK
Taco Tuesday
1.Taco Ring / Tried and Tasty
2. One Pot Taco Casserole / SHK
3. Mason Jar Healthy Taco Salad / Food Faith Fitness
4. Taco Stuffed Zucchini Boats / Will Cook For Smiles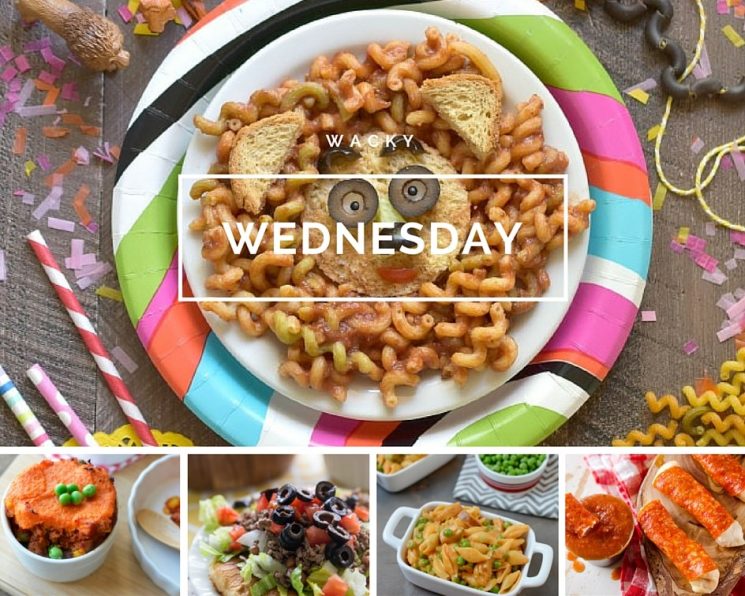 Wacky Wednesday
1. Pasta Party / Fork & Beans
2. Southwest Shepherd's Pie / SHK
3. Navajo Tacos / Tried and Tasty
4. Stovetop Mac & Cheese with Sausage & Peas / The Lean Green Bean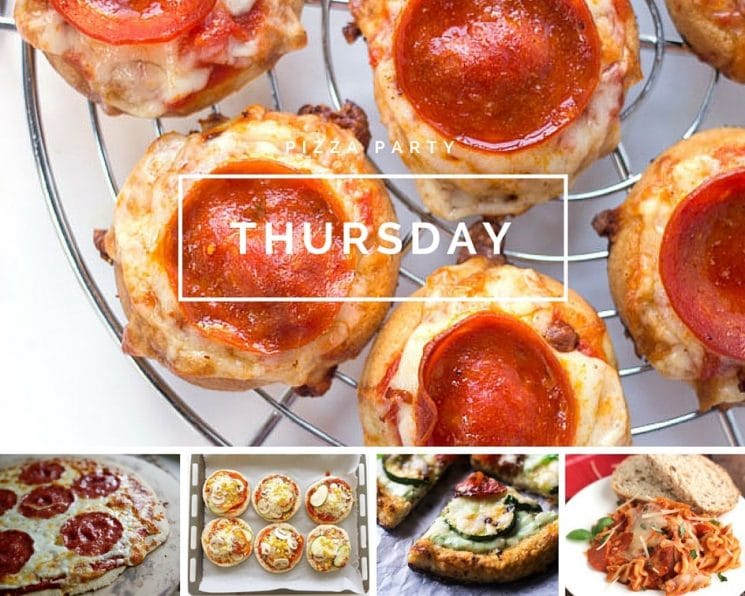 Pizza Party Thursday
1. Mini Quinoa Pizza Bites / SHK
2. Whole Wheat Pizza Crust / Tried and Tasty
3. Pita Pizza / SHK
4. Cauliflower Pizza with Greek Yogurt Pesto / Food Faith Fitness
Easy Cheesy 5 Ingredient Pizza Pasta Bake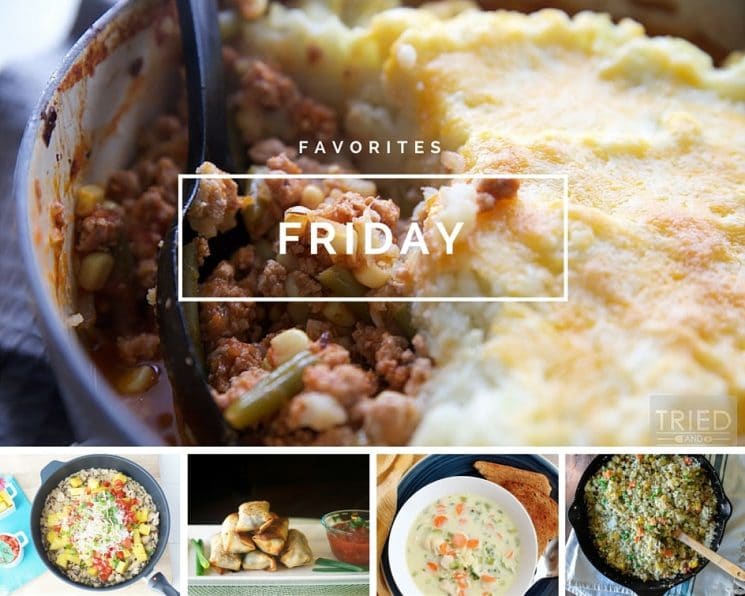 Favorites Friday
1. Mashed Cauliflower Shepherds Pie / Tried and Tasty
2. Healthy Hawaiian Haystack Skillet / SHK
3. Baked Southwestern Eggrolls / Cupcake Diaries
4. Chicken Orzo Soup / Dessert Now Dinner Later
One Skillet Fried Cauliflower Rice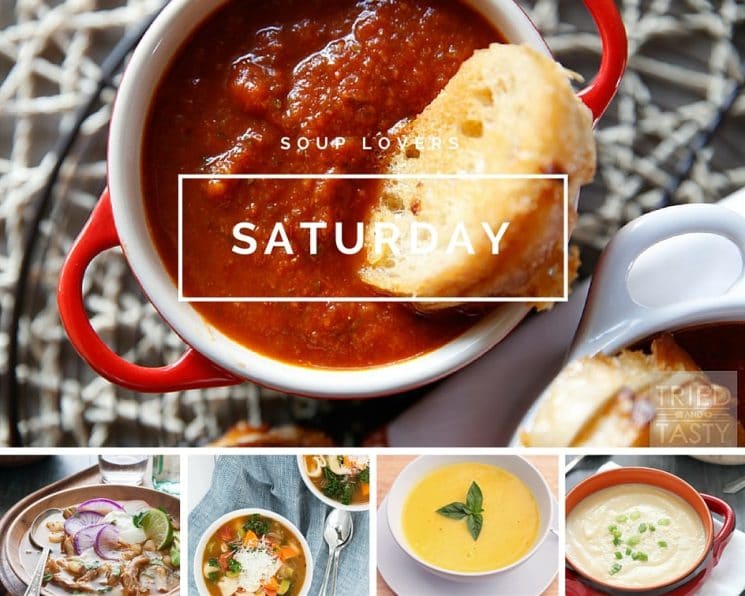 Soup Saturday
1. Creamless Tomato Soup / Tried and Tasty
2. Slow Cooker Pork Pozole / The Kitchen McCabe
3. Easy Vegetable Tortellini Soup / SHK
4. Creamy Yellow Squash Soup / SHK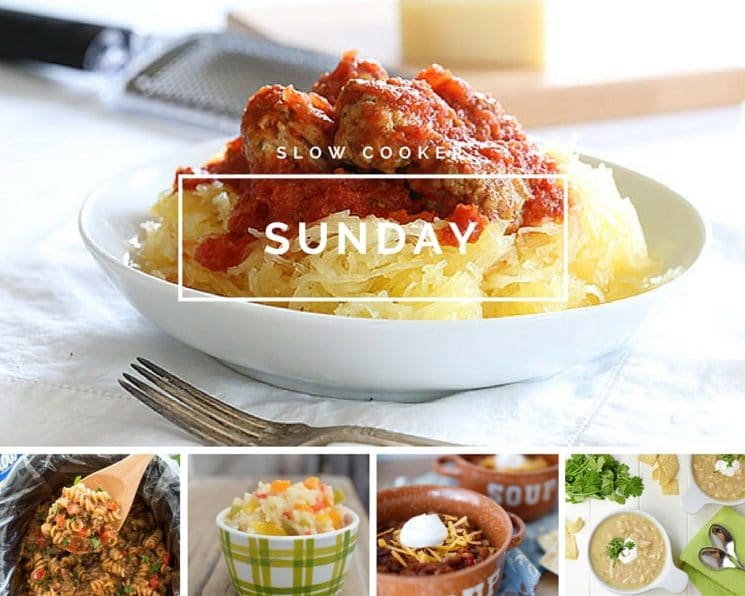 Slow Cooker Sunday
1. Slow Cooker Spaghetti Squash & Meatballs / All Day I Dream About Food
2. Slow Cooker Hamburger Helper / The Recipe Rebel
3. Crockpot Rainbow Risotto / SHK
4. Slow Cooker Vegetarian Chili / Tried and Tasty
Slow Cooker White Chicken Chili