Creamy Yellow Squash Soup Recipe
If you follow our blog at all then you know that I am an avid gardener. And by avid I mean crazy, wreckless and basically an addict. The reality is that every year by the end of August I feel so overwhelmed that I don't even want to go out and pick my garden, but by the next Spring I have forgotten about all my woes and am dumping seeds into the ground like a crazy person. I guess it is sort of like having a baby. If you ask a woman who is 9 months pregnant how many more children she wants, she might slap you. But then after that sweet, fuzzy little baby is born she is already talking about having another. Maybe that is just me………
Anyway, my point is I always have plenty of produce to try new recipes during the summer. This year I had a TON of yellow squash. I grew a few different varieties and some had gotten big and 'warty' (ew) and I wasn't quite sure what do to with them.
My friend started telling me about a yellow squash soup recipe that she had that was delicious. My interest was peaked. I still wasn't quite sure how it would turn out with all the warts (ew) and such though. Then I got the brilliant idea of just peeling the squash! Wow……..you would think that this wouldn't be such a revelation to me. But it was. Anyway, the soup turned out to be creamy, full of flavor and basically super delicious! And the best part is you can make a huge batch and freeze it! And it comes out just as delicious when you reheat.
Creamy Yellow Squash Soup Recipe
First step is to peel and cut up your yellow squash, potatoes, and onions. You can see that I didn't peel all of my yellow squash. The ones that were smaller and had a smooth more thin skin I just cut up and threw them in.
Saute until soft.
Next puree in batches in your blender. If you use a high powered blender like a Blendtec it will seriously be so smooth and creamy you will want to drink it straight from the blender. (Do you like how you can see the reflection of my checkered apron on the Blendtec jar?)
This step really wasn't necessary after using my Blendtec, but I ran it through a fine mesh sieve. There literally were no chunks, but it made me feel like an overachiever and so I did it.
At this point is where you will add your buttermilk. If you are going to eat it right away, serve it up in bowls. It is delicious topped with a sprinkling of fresh herbs, a little Parmesan, or a dollop of sour cream. If you don't plan on eating it all – then freeze it! I placed in gallon size freezer bags and laid them flat. I removed as much of the air as I could and then froze them flat. To reheat, just thaw in your fridge and then pour into a stockpot and heat on medium-low until hot and bubbly.
This yellow squash soup is creamy and surprisingly full of flavor. I was surprised how much flavor it has considering it has only a few ingredients. The smooth texture is a winner with kids and adults and so it has become one of the meals we like to include in our meal plan. We serve this with some yummy homemade bread and it is a delicious meals for those cold and rainy 'soup' days. Here are some of our favorite homemade bread recipes: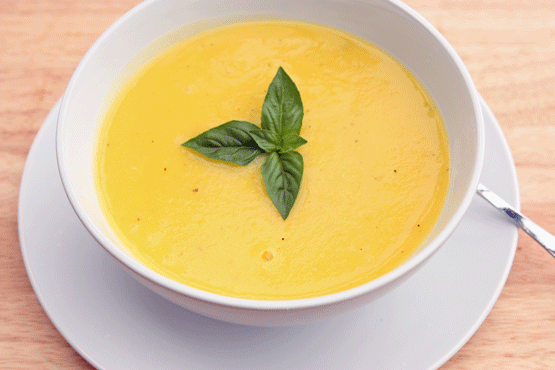 Ingredients
1

tablespoon

butter, unsalted

2

medium

squash, summer

1

medium

onion

1

medium

russet potato

3

clove

garlic

3 1/2

cup

vegetable broth

1/2

cup

buttermilk

1

tsp

salt

more to taste

1/2

tsp

fresh ground pepper

more to taste
Toppings
2

tablespoon

chives, fresh, chopped
Instructions
Peel and cut up your yellow squash, potatoes, and onions. Mince garlic.

Melt butter in a stockpot over medium heat. Add onion, garlic, squash; cook, stirring often, until vegetables begin to soften, about 5 minutes. Add 3 cups of the broth and bring to a boil.

Meanwhile, place potato on a covered plate or bowl and microwave for 4-5 minutes. Add to your pot. Reduce the heat and simmer, stirring occasionally until all the vegetables are soft; 10-15 minutes.

Let cool slightly. Transfer to a blender and puree until smooth. Pour through a fine sieve into a large pot (optional)

Place pan over medium-low heat. Stir in remaining 1/2 cup broth; while stirring, slowly pour in buttermilk. Heat until warm, about 5 minutes.

Serve with fresh herbs.
Nutrition
Calories:
80
kcal
|
Carbohydrates:
13
g
|
Protein:
3
g
|
Fat:
3
g
|
Saturated Fat:
1
g
|
Cholesterol:
6
mg
|
Sodium:
425
mg
|
Fiber:
2
g
|
Sugar:
4
g