10 Minute Veggie Pizza Recipe
10 Minute Dinner Idea- Veggie Pizza Recipe!
Every household needs some 10 minute dinner ideas! And this veggie pizza is our 10 minute meal. I think I want a category for all our dinner ideas that are less than 15 minutes! Don't you agree? I can't even count how many times we get home at 5:00 and I need to get something on the table before my family starts snacking instead. I do have a lot of ideas, we just need them all in one spot! We love this veggie pizza recipe because it has all the veggies that are perfect for a pizza. We used bell peppers, broccoli, and tomatoes, all with a pizza sauce and some mozzarella cheese!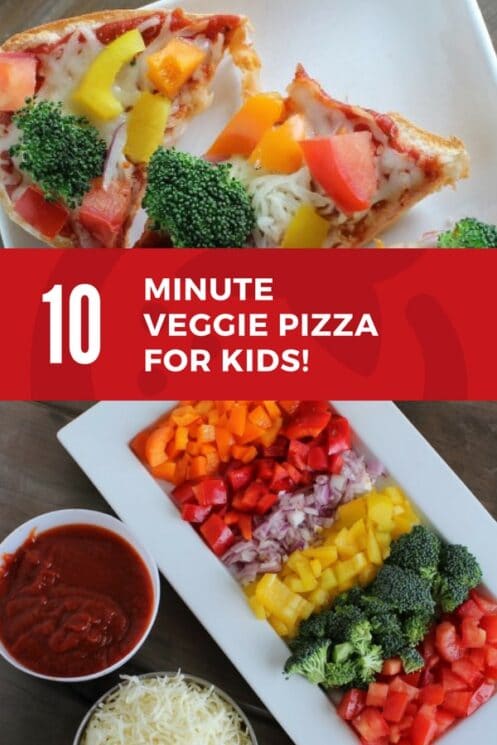 Our intention for this dinner was to put these veggie pizzas on the grill, because we decided we wanted to have a week full of grilling ideas for you- and I'd seen folks grill pizza before. So, I thought- why not? Well, I'll tell you why not. Because I am not good around a grill. The first one I tried burned after only a few minutes (scroll to the bottom to see). So, rather than ruining all our pizzas, I scrapped the idea quickly, and used the oven instead. I'm MUCH more comfortable around an oven!
Also, for us, Monday is grocery shopping day. So Sunday has been the day we try to eat up our leftover veggies from the week. We will usually throw them all in a pasta, stir fry, or make pizza! But without the time (or desire) to prepare the dough, we pulled out some ciabatta rolls I had bought last week and never used. They were perfect for some "french bread" or flat bread pizzas.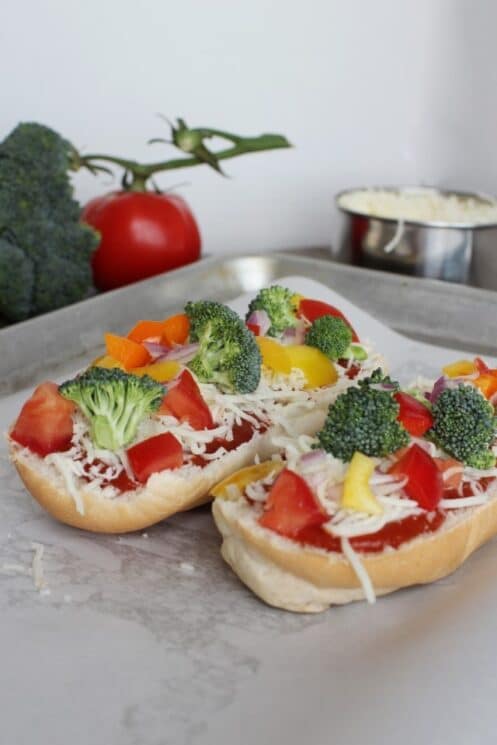 The way we make this veggie pizza in under 10 minutes is by using some hoagie rolls. We've also used french bread, pita bread, English muffins, or any other open faced bread for the bottom. Then, we chopped all our veggies. For veggie pizza, you can get your veggies prepped ahead of time for an even quicker meal. To keep the cook time short, we didn't roast or grill our veggies separately, but you could do that. In fact, doing that really brings out the flavor of the vegetables. So for taste, roasting veggies for your pizza is a great idea, but not a necessity!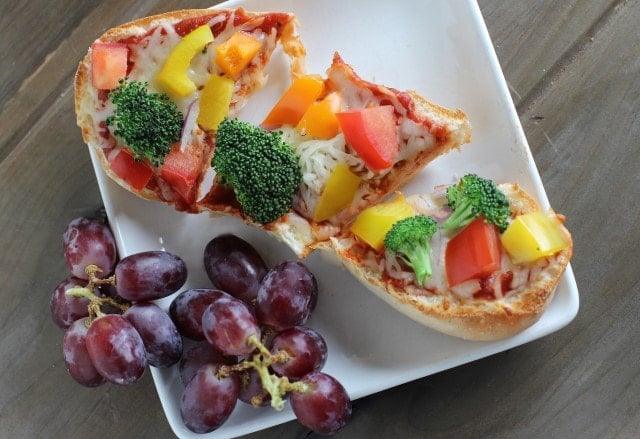 Because a lot of kids aren't going to like every single veggie on their pizza, we decided to let them make their own. We had all the veggies chopped and set out for them. Then, they had the option to assemble their own pizza; but we made them choose 2 veggies! This is a great way to offer, 1 veggie they already know they like, and 1 new veggie to try. Since kids like pizza anyway, and the cheese helps the veggie pizza to be more acceptable to picky eaters, this is the perfect meal for introducing new veggies.
Toppings for Veggie Pizza
cherry tomatoes
shredded carrots
yellow bell pepper
broccoli
red onion
And remember, since this was a "clean out the fridge" type of meal, we also found some Parmesan cheese, but just enough for two of the pizzas.
Once we arranged the pizzas, we put them on a cookie sheet to bake in a 375 degree oven for about 10 minutes (full details below).
Our final result: DELICIOUS! And perfect for summer nights when you don't want to heat up the whole house with an oven on for an hour. They also tasted great with our watermelon! A delicious meal that even picky eaters will love!
The outtake:
(this is what you get when you don't know how to use a charcoal grill)
Other healthy pizza recipes your kids will love!
And our dessert pizza recipes are to die for!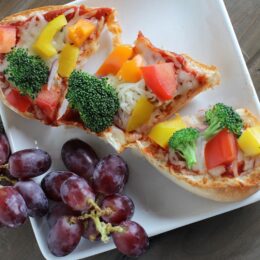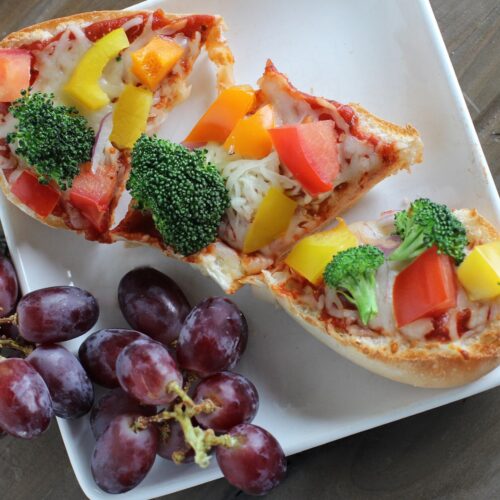 Ingredients
1

medium

tomato, red

1

medium

bell pepper, orange

1

medium

bell pepper, yellow

1

cup

broccoli, florets

1/2

medium

onion, red

4

regular

hoagie roll

1 1/2

cup

pizza sauce

6

ounce

mozzarella cheese
Instructions
Preheat oven to 400 degrees F.

Dice tomatoes, peppers, broccoli, and red onion; set aside.

Slice bread in half lengthwise and place on baking sheet.

Spread sauce on each half. Sprinkle with cheese and add veggies.

Bake for 10 minutes or until cheese has melted.

Serve with grapes.