5 Tips for Perfect Brown Bag Air Popped Popcorn
Top tips for making your own air popped popcorn, in a brown paper bag!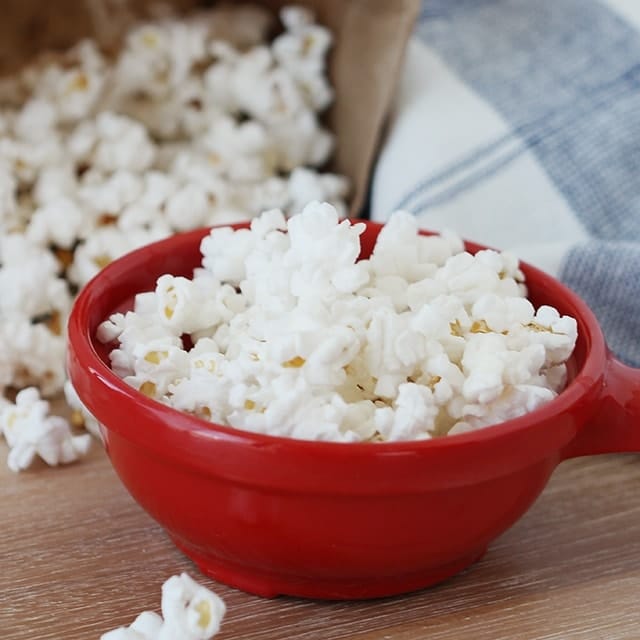 I remember the day I read in my local newspaper that you didn't need commercially produced "Microwave popcorn" to make microwave popcorn. It was 2007, my kids were small, and I didn't have an air popper to make air popped popcorn. I remember the ah-ha moment as if it were yesterday!
I already wasn't buying microwave popcorn. Not because I was too concerned about all the chemicals that were in it, although it didn't help, I just thought it was a rip-off! I knew I could buy a lot of kernels for a lot less money than a box of popcorn. Plus, I loved the taste of real butter on popcorn, and not the chemical version of popcorn.
I couldn't believe I had never tried making microwave popcorn in a paper bag on my own before! It's as if I thought the commercial makers of the microwave popcorn had some special popcorn popping ingredients to make it happen. Since microwaving air popped popcorn in my own brown paper bag, I've learned a lot about how to make popcorn perfectly, without burning a single kernel!
To make the microwave
Pour 1/3 cup popcorn into one brown paper lunch sack. Fold the top of the bag over twice to seal in the ingredients.
Cook in the microwave at full power for 2 1/2 to 3 minutes or until you hear a pause of about 2 seconds between pops.
3 Tips for the perfect air popped popcorn in a brown paper bag: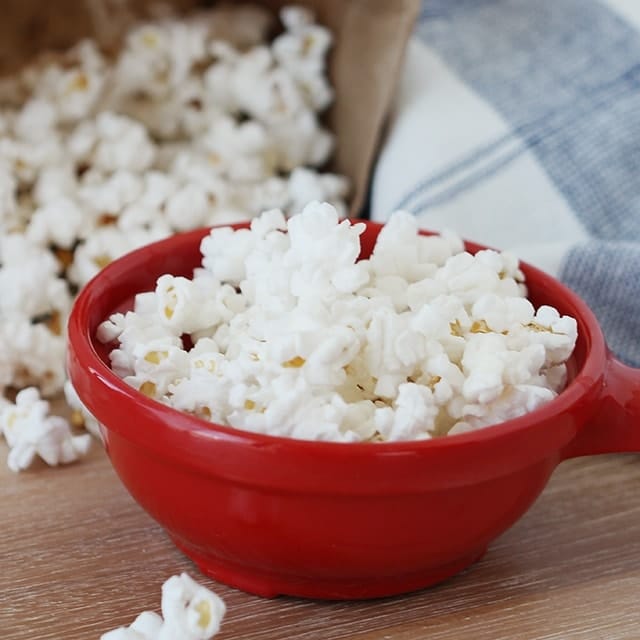 Tip 1: The right type of kernels
I can't say that I've tried all the popcorn kernels on the market, but I can say I've tried some terrible ones! Commercially sold kernels, depending on the type of seed they start with, really can vary on their ability to pop all the kernels and the taste the way you like it. So, experiment with different kernels before you settle on your family's favorite. Also, if your kernels are old or stale, it's ability to get successful air popped popcorn will be compromised!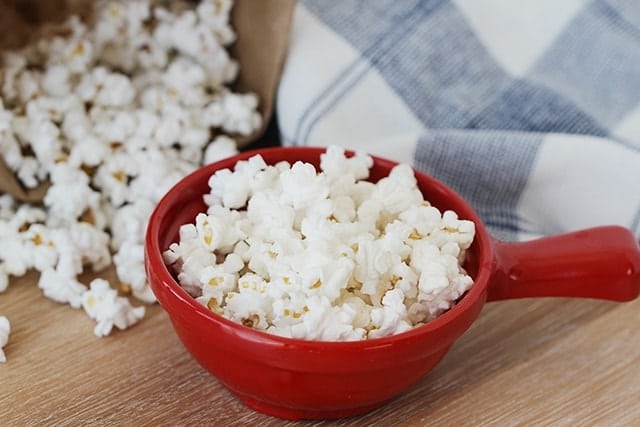 Tip 2: The right amount of kernels
The great thing about the paper bag method over an air popper is the amount! You don't need that much popcorn, so the brown bag is great for 1 serving. Tip #2 though, is don't overfill the bag. It will lead to burned kernels or kernels that are stuck too close to each other and can't pop properly. For the perfect amount of air popped popcorn, we use 1/4 cup to 1/3 cup at the most. No more than 1/2 cup of kernels.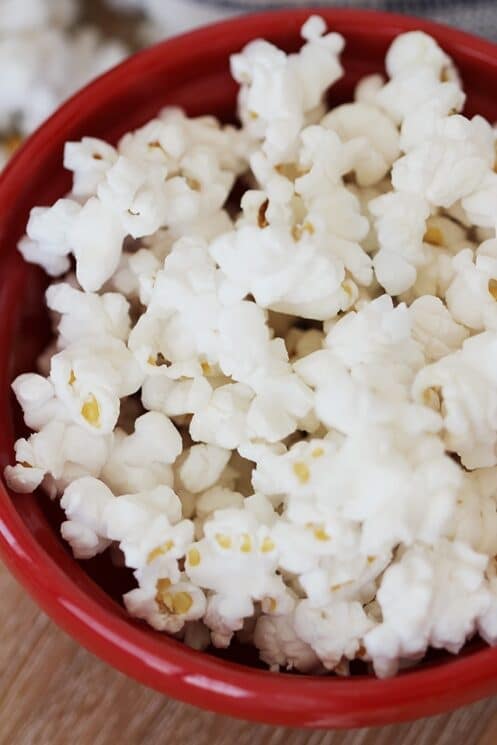 Tip 3: The right time to cook
This is different for different microwaves and amounts, so you'll have to test your own. On average, the perfect time for my microwave is 2 minutes with 1/4 cup of kernels. Don't trust the microwave setting for popcorn. Instead, listen to the slowing down of the air popped popcorn popping. Once there is 2-3 seconds between pops, it's a good time to take it out.
Tip 4: The right toppings!
The best part about the natural, nothing added air popped popcorn, is that then you can add the perfect toppings without competing with the pre-seasoned and pre-flavored commercial popcorn. You can create savory or sweet, and add your own fresh ingredients like real butter! We even enjoy popcorn included in our trail mix or granola.
Tip 5: Share with your kids!
At this point, it's tempting to keep all the popcorn for yourself! Get yourself a huge package of brown paper bags, and a large container of popcorn kernels and let your kids have their own bags. Popcorn is a great snack for kids! Popcorn is a whole grain, which means you get fiber and vitamins in each kernel! It's satisfying and delicious.
Some benefits of popcorn you may not be aware of is 3 TBL of unpopped popcorn has:
4 grams of protein
120 calories
1.5 grams of the good fat
6 grams of fiber!!! BONUS
It is rich in vitamins and minerals such as vitamin B
If your kids love popcorn, also check out:
Air-Popped Popcorn
Ingredients
2/3

cup

popcorn, unpopped kernels
Instructions
Pour 1/3 cup popcorn into one brown paper lunch sack. Fold the top of the bag over twice to seal in the ingredients.

Cook in the microwave at full power for 2 1/2 to 3 minutes or until you hear a pause of about 2 seconds between pops.

Repeat with the remaining popcorn kernels.

Carefully open the bag to avoid steam, pour into a serving bowl, and enjoy.
Nutrition
Calories:
133
kcal
|
Carbohydrates:
26
g
|
Protein:
4
g
|
Fat:
2
g
|
Fiber:
5
g
www.superhealthykids.com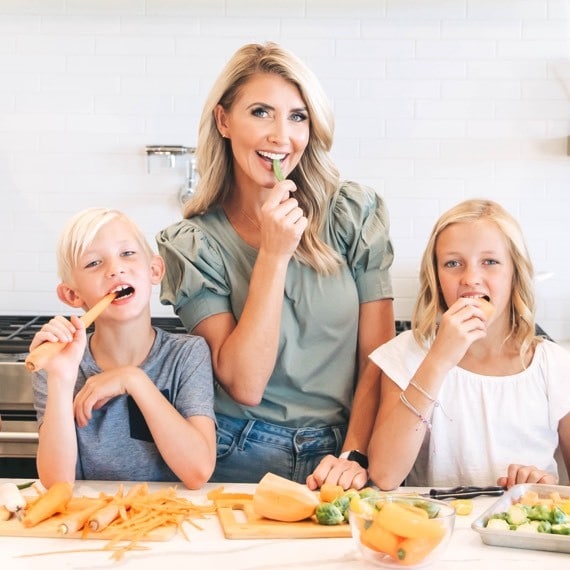 Natalie Monson
I'm a registered dietitian, mom of 4, avid lover of food and strong promoter of healthy habits. Here you will find lots of delicious recipes full of fruits and veggies, tips for getting your kids to eat better and become intuitive eaters and lots of resources for feeding your family.
Learn More about Natalie