Almond Joy Popcorn (Plus the Best Popcorn Popper)
We love popcorn. We probably make it for a snack 3-4 times a week. Some days it is literally the only snack my 6 year old will eat. She tells me all of the time – 'Mom, the only good snack we have at our house right now is popcorn'. Ha ha! It is such a great snack because it is naturally high in fiber, low in calories and also contains iron, manganese and zinc. When you make popcorn in an air popper at home, you control everything that goes on the popcorn to keep it a healthy snack for your kids. We love to mix it up and include different add-ins to our popcorn since with make it so often. This recipe for Almond Joy Popcorn is incredibly simple, but a yummy sweet treat that the entire family will love.
Because we make popcorn so much, I feel like it is important to have a really good air popper. We have tried a lot of different types, but our absolute favorite is the Stir Crazy 2. We love this popper for lots of reasons!
1. All of the kernels stay in the popper. I have had air poppers that the kernels fly out as they are popping – we have had little toes burned not to mention a mess!
2. The lid turns into the bowl! Once the popcorn is finished popping, you flip it over and the bowl is the lid! Less mess – ingenious!
3. Almost all of the kernels get popped. I hate when you finish popping your popcorn and there are lots of unpopped kernels at the bottom. Not only is it a waste but it is the worst when you accidentally chomp down on an unpopped kernel!
4. The Stir Crazy makes the best tasting popcorn. It is super crunchy and has a really yummy flavor after it is popped.
To make Almond Joy popcorn, combine your coconut oil and popcorn kernels and turn on the popper. While that is popping, toast your coconut. Make sure to stir it often because it can go from brown to black really quick!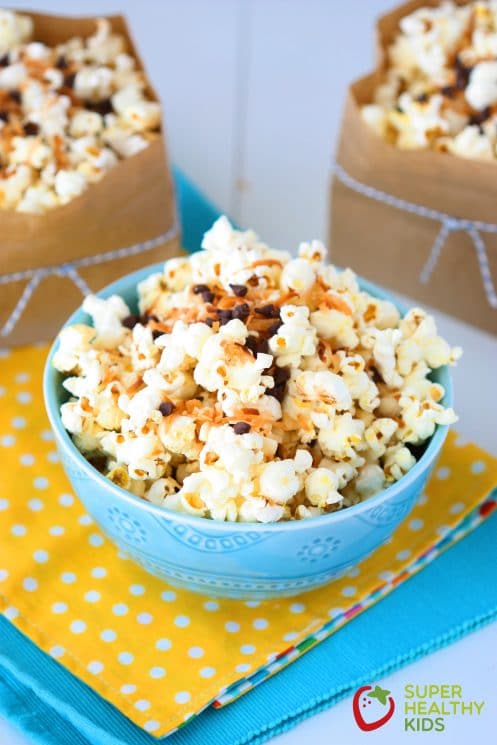 Ingredients
2/3

cup

popcorn, unpopped kernels

2

tablespoon

coconut oil

1

cup

coconut flakes

3/4

cup mini chips

chocolate chips, semisweet

3/4

cup

almonds, sliced
Instructions
Place coconut oil and popcorn kernels in the

Stir Crazy

.  Turn on machine and let popcorn pop.

Preheat oven to broil.

Place coconut flakes on a baking sheet and bake while stirring frequently (every 30 seconds to 1 minutes) until golden brown.

Divide popcorn into bowls.  Sprinkle each both with toasted coconut, sliced almonds and mini chocolate chips.  Enjoy!