Zucchini Lasagna may be the perfect late summer meal. We're sharing a tasty, beefy zucchini lasagna recipe with you, along with all the tips and tricks we learned for reducing moisture and getting a casserole with a firm, hearty, and deliciously cheesy consistency.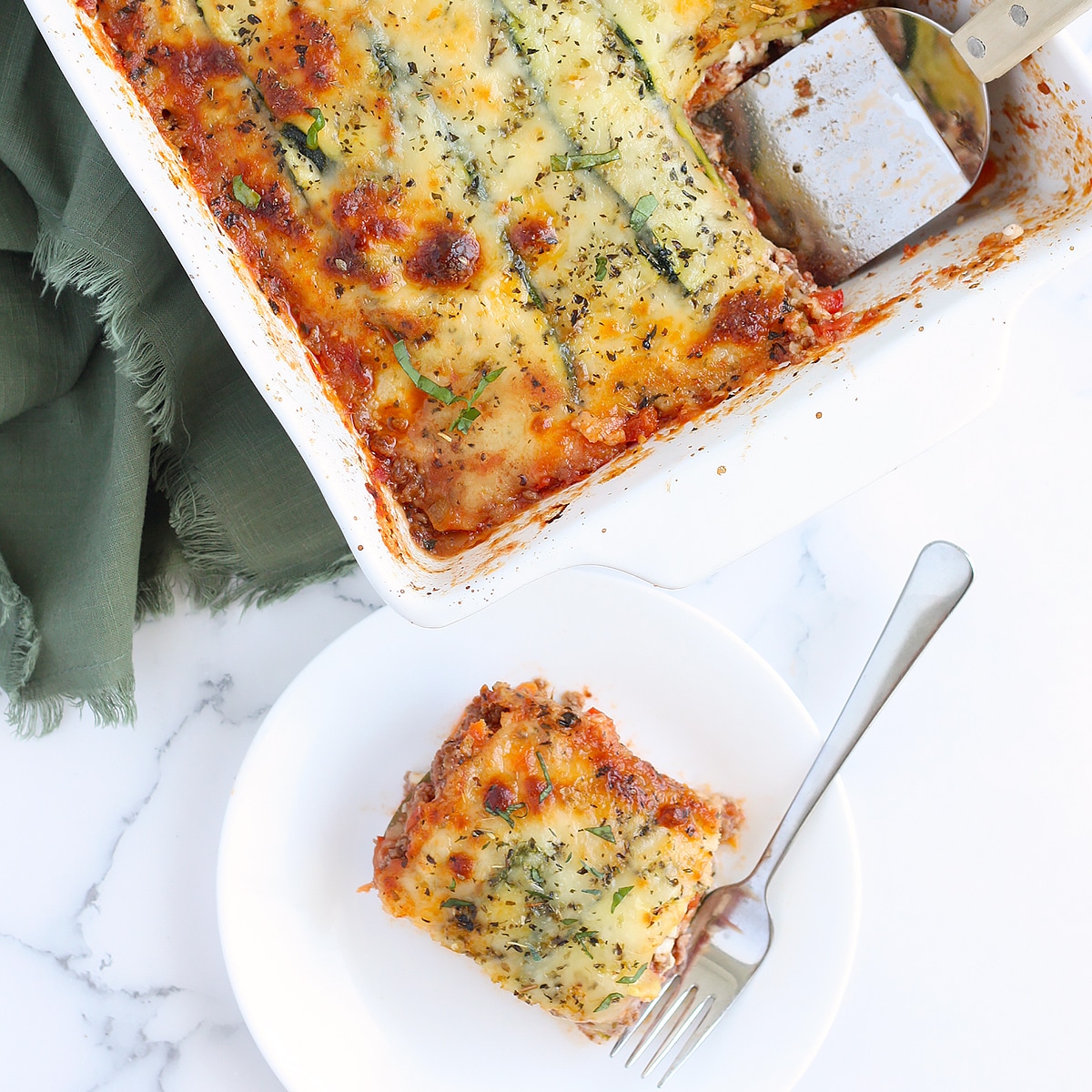 The Very Best Meaty Cheesy Zucchini Lasagna
I remember my first attempts at creating Zucchini Lasagna. Let's just say that the end result put me off from attempting one again for a long time. It was soupy, bland, and was unrecognizable as lasagna. However, I love zucchini.. and I am no quitter. So armed with more experience and some new ideas, I went back to the drawing board.
The final lasagna was hearty and delicious, made with ground beef and a super flavorful homemade sauce (that packs in even more veggies!) It held up beautifully and can definitely hold it's own against any traditional lasagna. And the whole pan is topped with bubbly toasted cheese that'll entice your picky eaters to try a bite… or two, or three.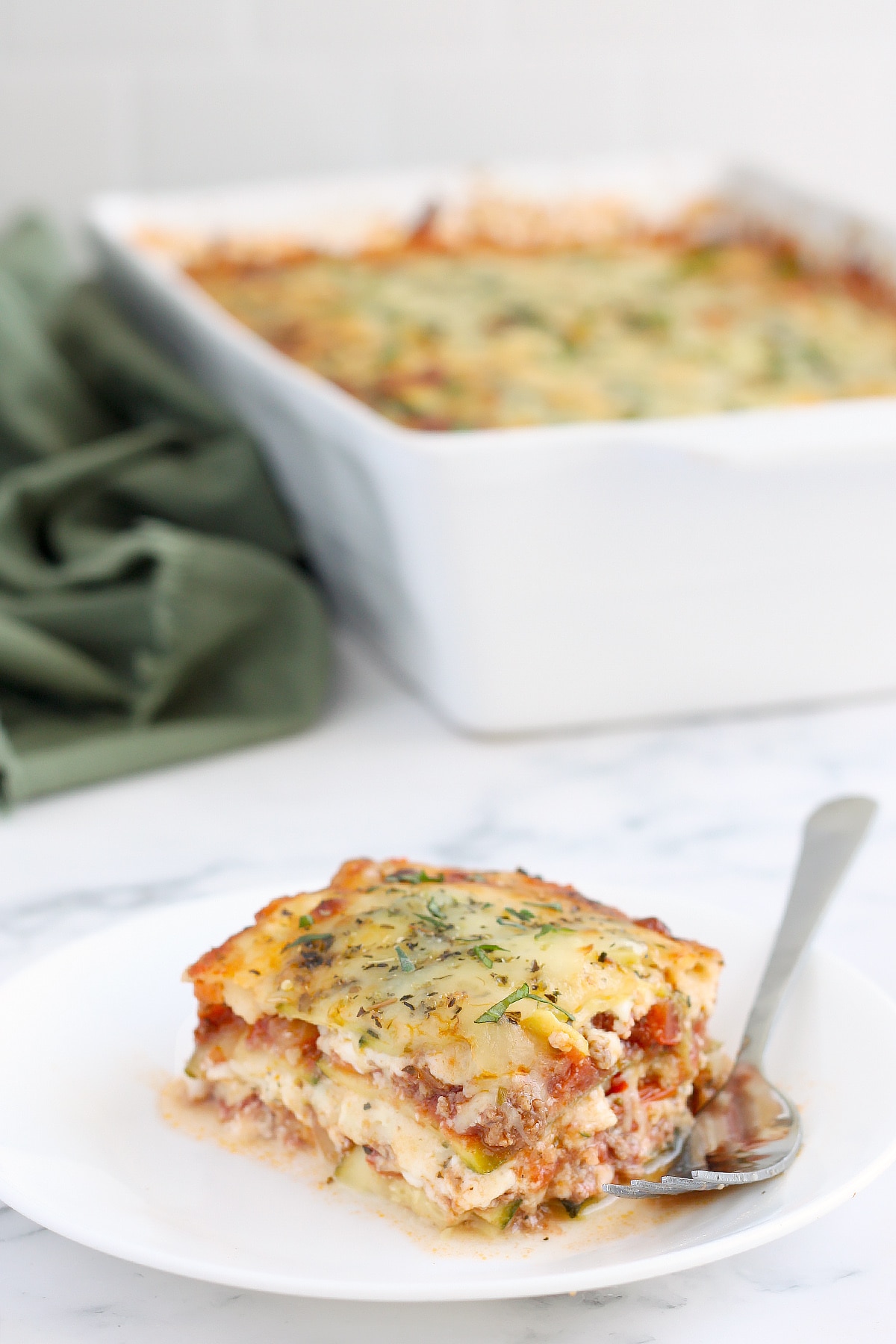 Ingredients You'll Need To Make Zucchini Lasagna:
Zucchini
Ground Beef
Onion
Bell Pepper
Carrot
Garlic
Crushed Italian Tomatoes
Dried Oregano and Basil
Salt & Pepper
Cottage Cheese
Parmesan Cheese
Egg
Mozzarella Cheese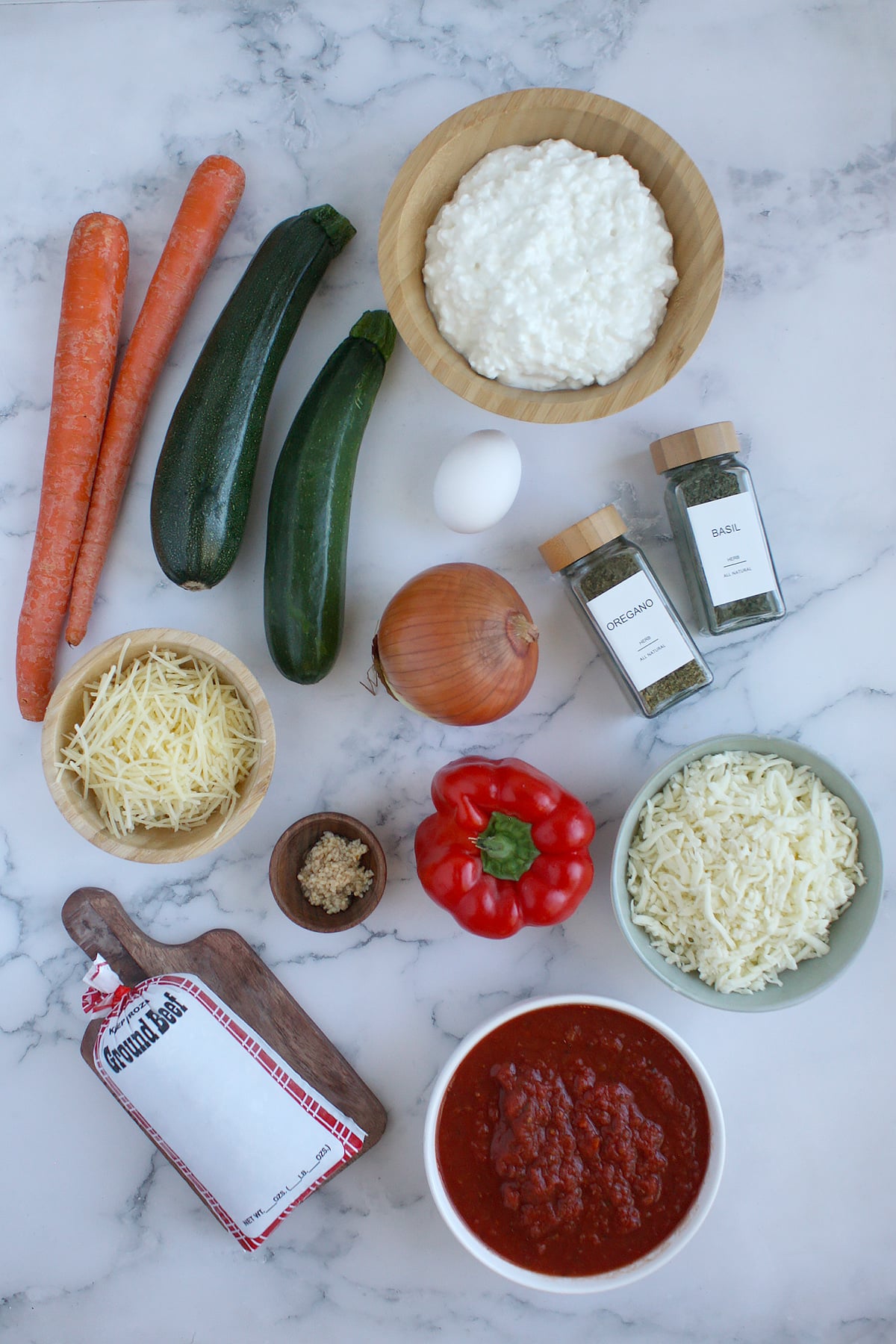 How to Make The Best Zucchini Lasagna:
Prep your zucchini. Thinly slice your zucchini. They don't have to be perfectly uniform! Place a colander in the sink and line it with paper towels. Add your zucchini slices and salt generously. Allow the zucchini slices to sit and sweat for 30 minutes. After it has set, pat the zucchini down with paper towels to remove all the moisture.
Cook the meat. Brown the ground beef in a large skillet over medium-high heat, breaking it up as you go. When it's completely cooked, remove to paper towel lined plate.
Make the sauce. In the same skillet, cook the diced onions, bell peppers, carrots, and garlic. Cook for a few minutes until the onion is translucent. Then, add the crushed tomatoes, seasonings, and cooked ground beef. Bring to a simmer and allow to cook for 10-15 minutes.
Mix the filling. In a small bowl, combine the cottage cheese, egg and parmesan. Stir well to combine.
Assemble the lasagna. In a 9×13″ baking dish, start by adding a thin layer of sauce. Add a layer of zucchini, 1/3 of the sauce, 1/3 of the filling, and a layer of shredded mozzarella. Repeat the layers two more times. Top with a final layer of zucchini, a layer of mozzarella cheese, and sprinkle with a bit of oregano and basil.
Bake. Bake in a 350 degree oven, uncovered, for 40-45 minutes or until nice and bubbly. Turn the oven to broil to allow the top to brown up a bit. This should only take a minute or two, so watch it closely!
Enjoy! Allow the zucchini to rest for about 15 minutes to allow it to cool and set up a bit before serving. Top with fresh basil if desired. Enjoy!
Tips for Zucchini Lasagna That isn't Watery:
Here are a few tips on making zucchini lasagna that isn't too soupy.
Slice your zucchini strips very thin. I've used knives, cheese cutters, and peelers and found success with all. Your noodles don't have to look uniform so don't stress if they come off imperfectly.
"Sweat" your zucchini noodles for 30 minutes before using them. To do this, place some paper towels at the bottom of a colander and set your slices on top. Sprinkle liberally with salt and allow to sit for 30 minutes. The salt helps pull moisture out of the zucchini. When your time is up, wipe your slices off really well with a clean towel to remove any excess moisture and too much salt.

OR – If you don't feel like using the sweat method, broil your strips in the oven for a few minutes, until slightly brown. This should dry them out nicely.

Reduce liquid in sauces. Use a tomato sauce that is thick rather than runny. Try to spoon any excess liquid out of your cottage or ricotta cheese before mixing with the egg and parmesan.
Once the lasagna has cooked for 20 minutes, turn the oven to broil and open the door so that it's just cracked. Allow the zucchini to cook until bubbly and brown, maybe 2 minutes. Watch carefully to make sure it does not burn.
Allow the lasagna to cool for 20-30 minutes once it's out of the oven before cutting into it. This gives it time to set and let some of the liquid evaporate.
Using these techniques I have found success at making zucchini lasagna that holds together and has just the right amount of moisture. And the next day, it's even better!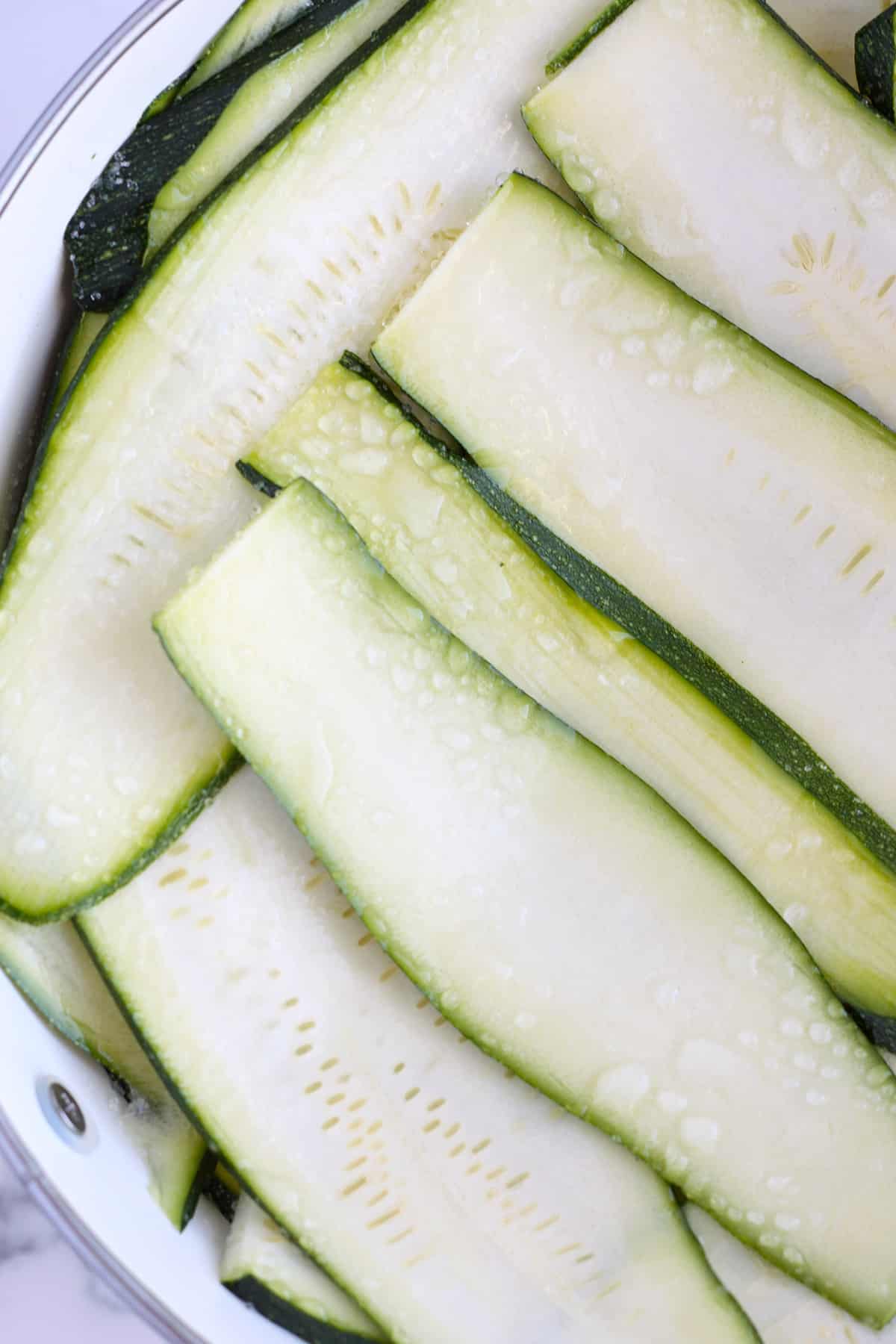 The Perfect Make-Ahead Meal
Traditional lasagna can start to get dry after the first day. But zucchini lasagna can handle a second heating marvelously well. In fact, a day in the fridge helps all those Italian flavors blend for an even tastier lasagna!
To prep this meal ahead, you can go ahead and make it in its entirety. Then COOL it all the way, or nearly all the way, before you refrigerate.
Reheat up to two days later in a 375 degree oven, for 25-30 minutes.
What Should I Serve with Zucchini Lasagna?
Here are some of our go-to sides to serve with Zucchini Lasagna:
More Amazing Zucchini Recipes:
Zucchini Lasagna
This tasty, beefy Zucchini Lasagna is firm, hearty, meaty, cheesy and layered with a super flavorful homemade veggie-packed sauce!
Instructions
Wash and cut zucchini into very thin strips. Line a colander with paper towels and place it in the sink. Place zucchini into the colander and salt generously. Allow zucchini strips to sweat for 30 minutes.

Dice onion and red bell pepper, grate carrots, and mince garlic.

Pre-heat oven to 350℉ and grease a 9×13 inch pan.

In a large skillet over medium-high heat, brown ground beef until cooked completely, making sure to chop into small pieces as you go. Remove beef onto a paper towel-lined plate and set aside.

In the same skillet, saute the onion, pepper, carrot, and garlic until the onion is translucent.

Add crushed tomatoes, oregano, basil, salt and pepper, and the cooked ground beef back into the skillet. Bring to a simmer, and allow to simmer for 10 minutes.

Meanwhile, mix cottage cheese, egg, and parmesan in a small bowl.

Once the zucchini has sweat for 30 minutes, pat dry with a clean cloth or paper towel.

Spread 1 cup of the bolognese sauce onto the bottom of the 9×13 pan.

Layer zucchini slices on top of the sauce, overlapping slightly. Spread 1/3 of the bolognese sauce on top of the zucchini slices and then spread 1/3 of the cottage cheese mixture on top of that. Sprinkle with mozzarella cheese. Repeat these layers two more times.

Top with a final layer of zucchini slices and the rest of the mozzarella cheese. Sprinkle with a bit of oregano and basil.

Place in the oven uncovered and bake for 40-45 minutes. Turn oven to broil and let the top of the lasagna turn golden brown. Watch it carefully – it should only take 2 minutes or less.

Remove from the oven and allow to set for 15-20 minutes before serving. Slice and enjoy!
Nutrition
Calories:
281
kcal
|
Carbohydrates:
13
g
|
Protein:
30
g
|
Fat:
12
g
|
Saturated Fat:
7
g
|
Polyunsaturated Fat:
1
g
|
Monounsaturated Fat:
4
g
|
Trans Fat:
0.2
g
|
Cholesterol:
81
mg
|
Sodium:
964
mg
|
Potassium:
714
mg
|
Fiber:
3
g
|
Sugar:
8
g
|
Vitamin A:
2275
IU
|
Vitamin C:
37
mg
|
Calcium:
349
mg
|
Iron:
3
mg
www.superhealthykids.com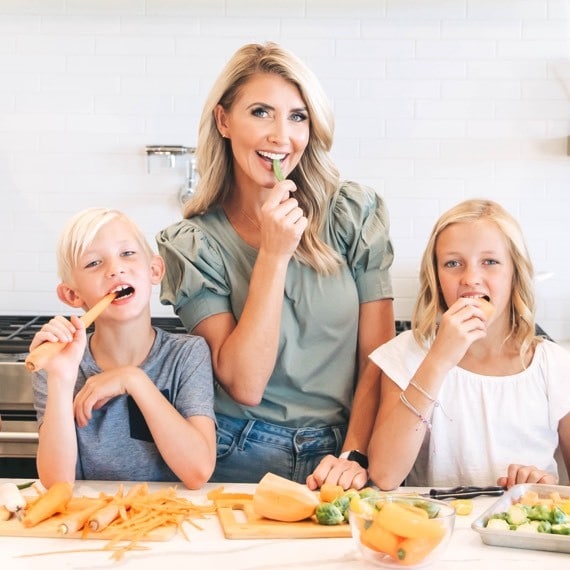 Natalie Monson
I'm a registered dietitian, mom of 4, avid lover of food and strong promoter of healthy habits. Here you will find lots of delicious recipes full of fruits and veggies, tips for getting your kids to eat better and become intuitive eaters and lots of resources for feeding your family.
Learn More about Natalie