Cheesy Baked Zucchini Casserole is made with fresh zucchini, melty cheese and a surprise ingredient that gives it a crunch on top!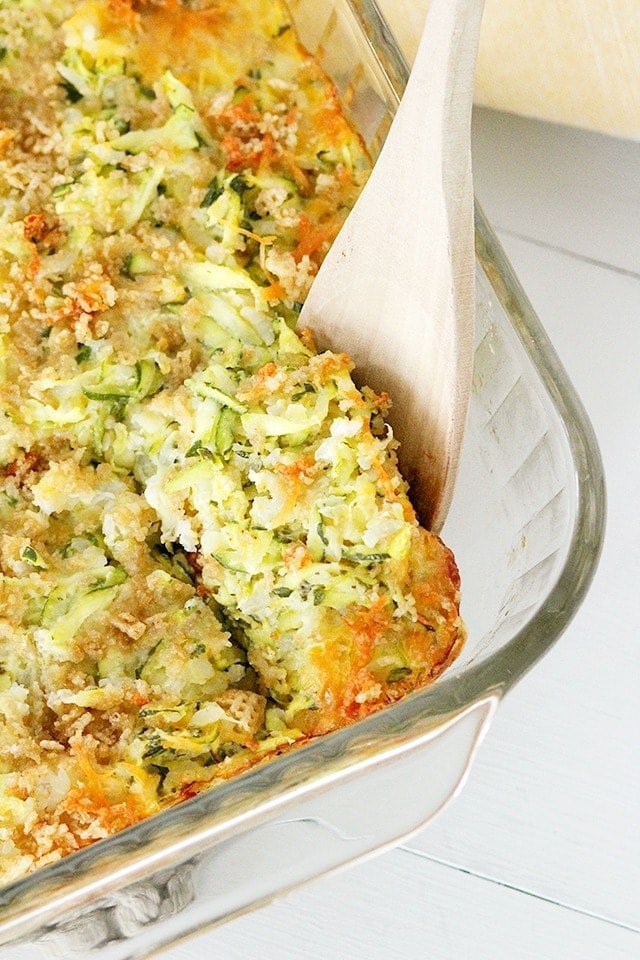 What You Need to Make Baked Zucchini Casserole
This delicious dinner recipe is great to serve all summer long when zucchini is plentiful and you need to use it up.  Especially those big zucchini you forgot about and have grown to the size of a truck!  When you grate them up, no one will ever know about the zucchini neglect.
The basic ingredients for this casserole include:
Zucchini:  This veggie is super versatile, has great flavor with lots of other ingredients, is lower in calories and high in nutrients.
Cheese: This recipe calls for Colby Jack cheese.  We like the mild flavor with a bit of tang and color appeal in this cheese.  It is really great for melting in dishes and is creamy and buttery white texture.
Plain Yogurt: We use this in zucchini casserole instead of heavy cream to give the same thickened sauce.   We also love the tangy taste combined with the mild zucchini in this dinner.
Italian Seasoning: This is a blend of herbs that typically include oregano, basil, rosemary, thyme and marjoram.   We love the blend of herbs because you get the sweetness of the rosemary with the piney earthy flavors of oregano and thyme and the minty hint of the marjoram.  Yum!
Rice Chex:  This is a great gluten-free topping in place of panko or breadcrumbs to give you dish a crunch!
Zucchini – The Best Veggie Of All
It really is incredible how many different ways you can prepare zucchini!
Stuffed Zucchini
Baked Zucchini
Zucchini Bread
Zoodles
Zucchini Salad
Zucchini Soup
Zucchini Cake
Zucchini Fries
Grilled Zucchini
The list could seriously go on and on and on.  What is it about zucchini that makes it so versatile and delicious is so many different types of recipes?  Its flavor!  Zucchini has a very mild taste which makes it so perfect to use in combinations of endless types of food.
Zucchini is considered a 'summer squash' because it is available earlier in the growing season compared to most squash, and also because it can't be stored for long periods of time like some of the hearty winter squash.
Fresh zucchini will keep in an airtight container for about a week.  You can also freeze zucchini.  It usually holds up better if you blanch it really quickly before freezing.  The texture won't be the same as fresh, but it is still great in recipes!
All Recipes Zucchini
If you like this dinner, you will definitely want to check these out:
23 Spiralized Zucchini Recipes