Top 10 Immune System Boosting Foods For Kids (with ideas and recipes!)
Use these immune system boosting foods for kids to keep your children healthy all year long!
Does Your Child Have A Cold? Check out our 10 Natural Cold Remedies for Your Child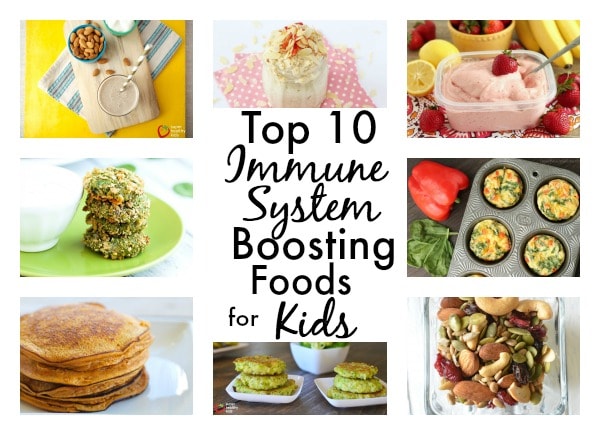 It's that time of year. Where ever you go, you see sick people. You watch your kids, participating in their activities, along side other kids with runny noses and coughs. You watch helplessly as your child puts his fingers in his mouth or rubs his eyes, and you have to wonder if getting sick is just the inevitable outcome of the season.
I can't promise you that you can totally shield your kids from getting sick. That doesn't mean you have to cross your fingers and hope for the best, either. You can build up your children's immune systems with nutrient-dense foods. Certain foods have the exact nutrients that can help your kids' immune systems be as strong as possible, so when they are exposed to the inevitable germs, they are ready to fight.
These are the foods and recipes you want to be serving your kids all year long so they are constantly building their immune systems.
1) Almonds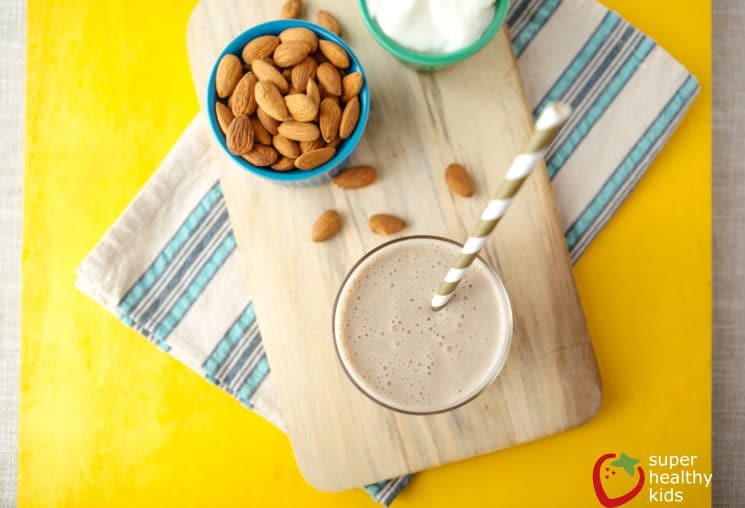 Why they Help:
Almonds are packed with vitamin E and manganese, a strong immune-boosting duo that both enhance natural killer cell activity.
Ideas for Eating:
My kids both love to eat almonds by themselves as a snack, but there are a lot of different ways to incorporate them into your kids' diets. Check out this Maple Almond Breakfast Smoothie (pictured above) or Berrylicious Oatmeal.
2) Berries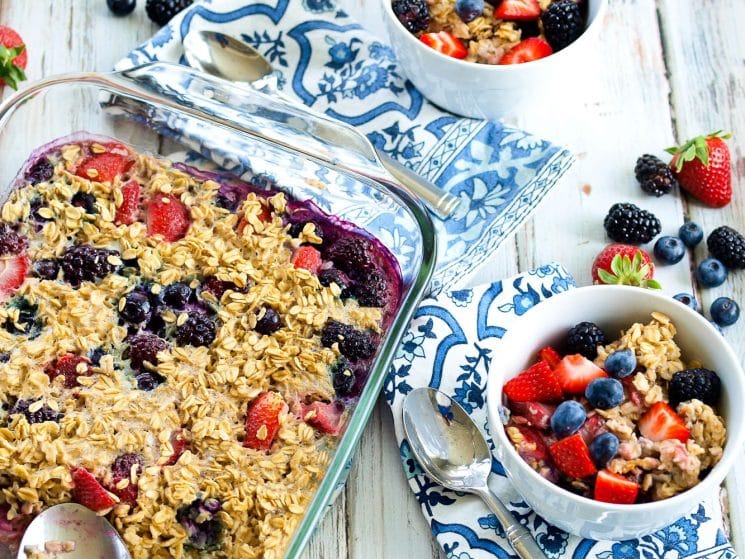 Why they Help:
Berries are full of antioxidants, which help your body fight oxidative stress caused by free radicals. This helps keep our immune system fighting! There are many different berries you should try to include in your children's diet: strawberries, blueberries, raspberries, cranberries, and blackberries, to name a few. Don't worry; when berries aren't in season frozen berries are just as nutritious.
Ideas for Eating:
Your kids will be sure to love this Triple Berry Baked Oatmeal (pictured above). More great ways to eat berries include this Berries N Cream Chia Pudding or these Frozen Yogurt Raspberries.
3) Yogurt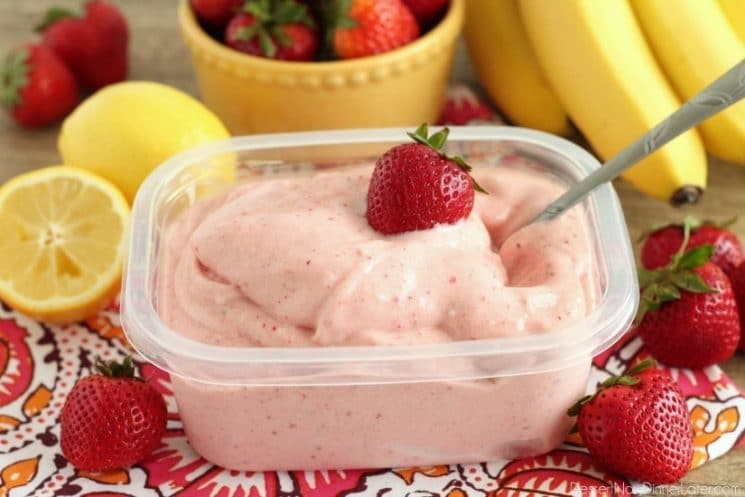 Why it Helps:
The probiotics in yogurt stimulate your immune system. Just be sure you are using a low-sugar or no-added sugar yogurt, as sugar has the opposite effect on our immune systems!
Ideas for Eating:
For a lower sugar yogurt, try mixing plain yogurt with a small amount of maple syrup and vanilla extract. My kids love this and it has much lower sugar than the vanilla yogurt you buy in stores. For a fun treat, try this Healthy Instant Strawberry Banana Frozen Yogurt (pictured above). If your kids love to dip their veggies, try this Yogurt Ranch Dip, too!
4) Salmon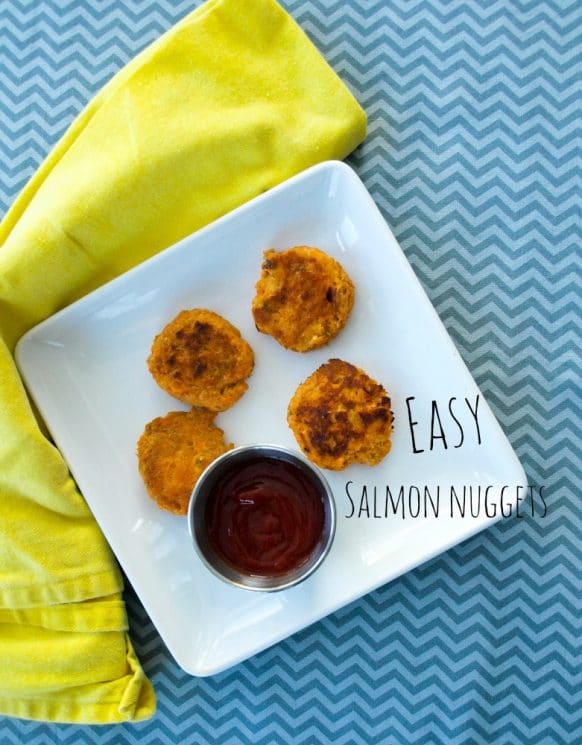 Why it Helps:
Salmon is rich in omega 3 fats. Not only are these fats essential for developing brains, they also reduce inflammation, which increases airflow and protects the lungs from colds and respiratory infections. The latest research also indicates that these fatty acids may boost your immune system by enhancing the function of immune cells.
Ideas for Eating:
My daughter's favorite way to eat salmon is Salmon Cakes or Nuggets (pictured above). Kids seem to love salmon with a sweet twist, like this Maple Apple Caramelized Salmon. These Salmon Melts are also great because they make a fast and easy lunch.
5) Eggs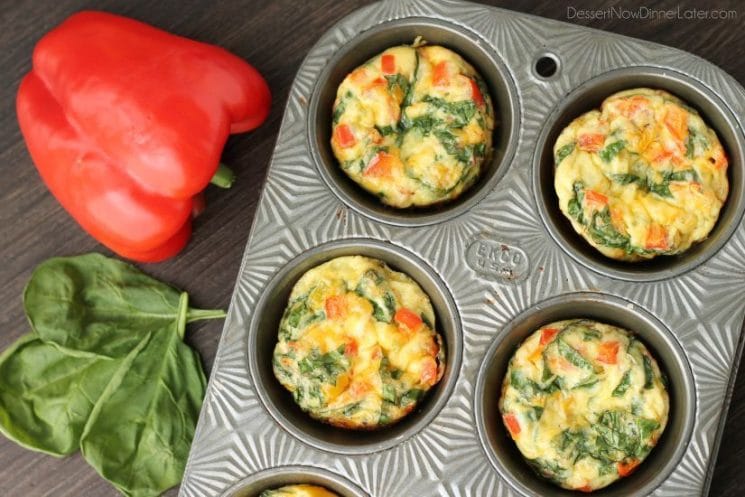 Why they Help:
Research has shown that when a person is low in vitamin D, they are more susceptible to illness. Eggs are one of the only foods with naturally occurring vitamin D. They also include a number of other immune-boosting nutrients, such as B vitamins and selenium.
Ideas for Eating:
Hard boiled eggs make an easy and quick lunch or snack, which both of my kids like. Breakfast Egg Cups (pictured above) are a great make-ahead breakfast. For something different, try this Breakfast Macaroni and Cheese with eggs!
6) Broccoli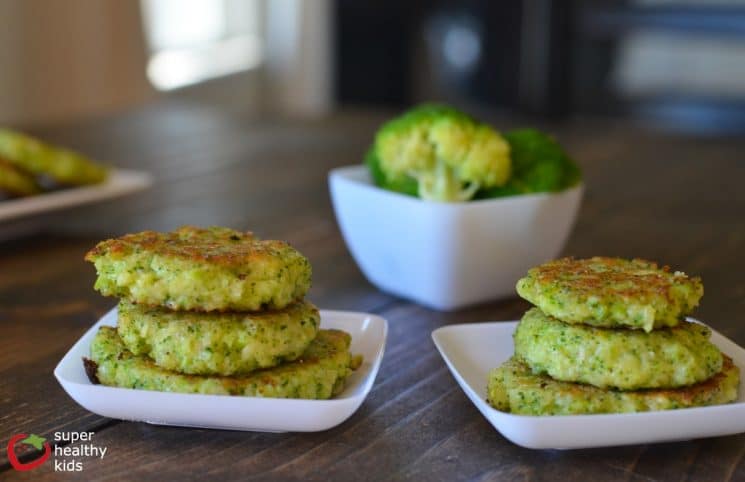 Why it Helps:
It's no secret that broccoli is a nutritional powerhouse. It's got a number of immune system boosters, including vitamins C, A, and E and a number of antioxidants.
Ideas for Eating:
Broccoli is most nutritious when it's raw, so if your kids won't eat it alone, have them try it with their favorite dip. These Cheesy Broccoli Bites (pictured above) are sure to be a hit or try these Broccoli Poppers.
7) Spinach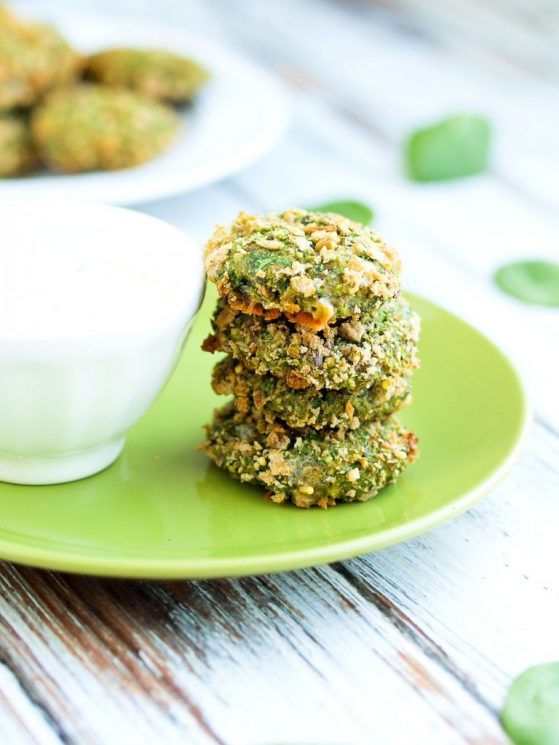 Why it Helps:
Spinach is full of many of the vitamins and minerals that boost our immune systems. It has vitamin A, E, C, and K, folate, manganese, zinc, selenium, and iron. All of these nutrients work in different ways to enhance immune system function. Spinach gives you a great bang for its buck!
Ideas for Eating:
Spinach is a mild green that works well in smoothies. Check out this template for the perfect green smoothie. These spinach nuggets (pictured above) are another way to get your kids eating greens!
8) Sweet Potatoes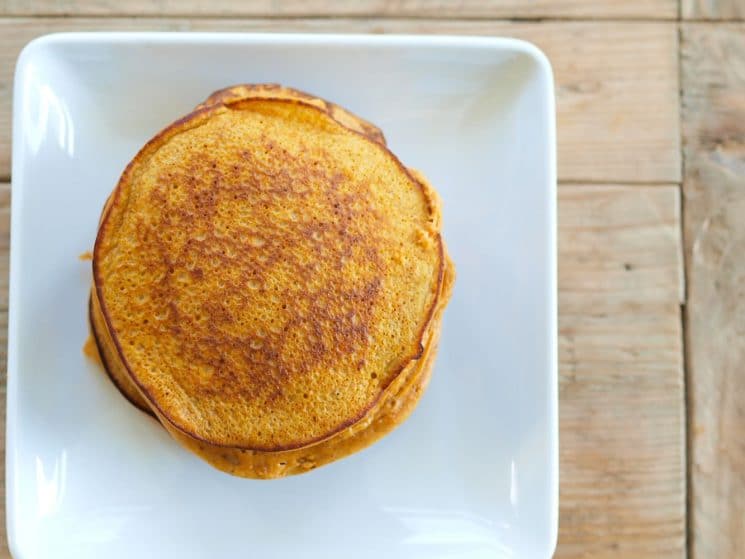 Why they Help:
Sweet potatoes are high in beta-carotene, which studies have shown to increase the number of white blood cells and increase the activity of killer cells. Sweet potatoes are also a great source of vitamin C, which is another immune system enhancer.
Ideas for Eating:
We love these 2-ingredient Sweet Potato Pancakes as a great way to get both eggs and sweet potatoes in our diets regularly. Try a Sweet Potato Bar as a way to let your kids add their favorite toppings to a nutritious sweet potato! More great ideas include these Flourless Sweet Potato Blender Muffins or this Sweet Potato and Apple Soup.
9) Seeds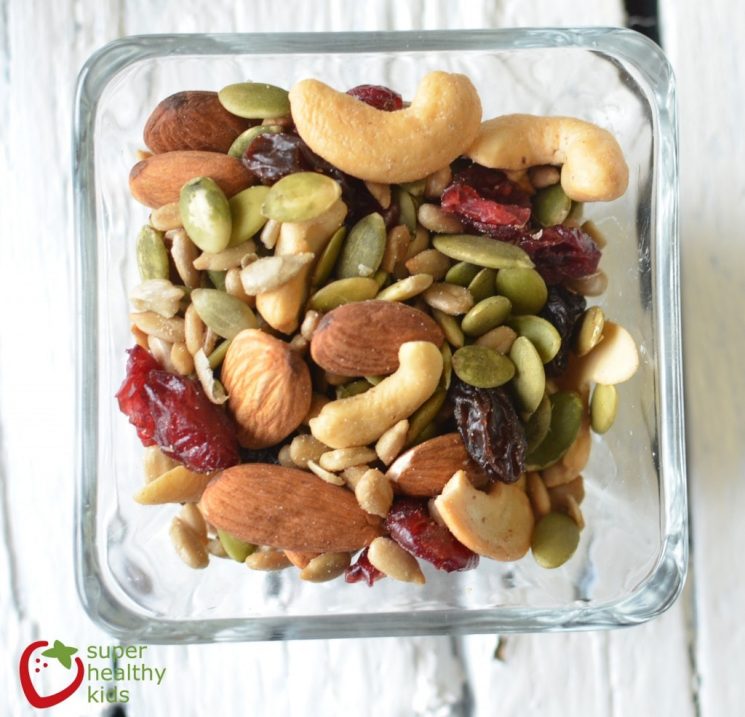 Why they Help:
Serve your kids a variety of seeds, such as pumpkin, sunflower, and flax seeds, to boost their immune systems. By eating a wide variety of seeds, you'll be getting vitamin E, zinc, and omega 3 fatty acids, all of which help your immune system.
Ideas for Eating: Trail mix is always a great snack that includes seeds. Check out these 7 Trail Mix Recipes and find a new favorite! You can also sprinkle seeds on salads, use ground flaxseed meal in smoothies, or try these Sweet and Salty Pumpkin Seed Bites.
10) Oats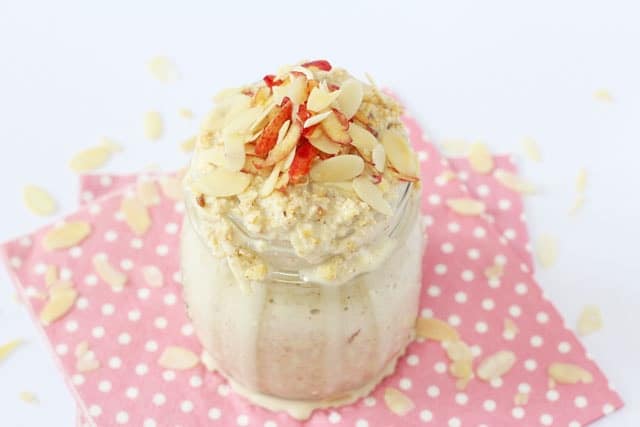 Why they Help:
Oats contain beta glucans, a component of fiber that activates killer cells. These are the cells that fight bacteria, viruses, and other intruders in our bodies.
Ideas for Eating:
Add oats to your kids' diet by serving them Apple and Almond Butter Overnight Oats (pictured above). You can also try these Blueberry Oat Breakfast Bars, Berry Coconut Steel Cut Oats, or Apple Cinnamon Baked Oatmeal Cups.
Variety is key in keeping our immune systems strong as many different nutrients work to strengthen our immunity. These are top foods for keeping your kids' immune systems strong. I hope these ideas help you find ways to include these immune system boosting foods for kids in their diets as much as possible!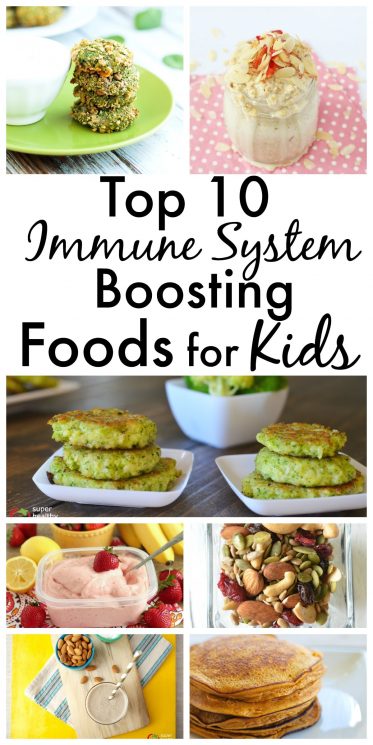 Maryea is the mama behind the healthy lifestyle blog, Happy Healthy Mama, where she shares simple, real food recipes and inspiration for raising healthy kids in a natural home. You can follow her by signing up for her newsletter here.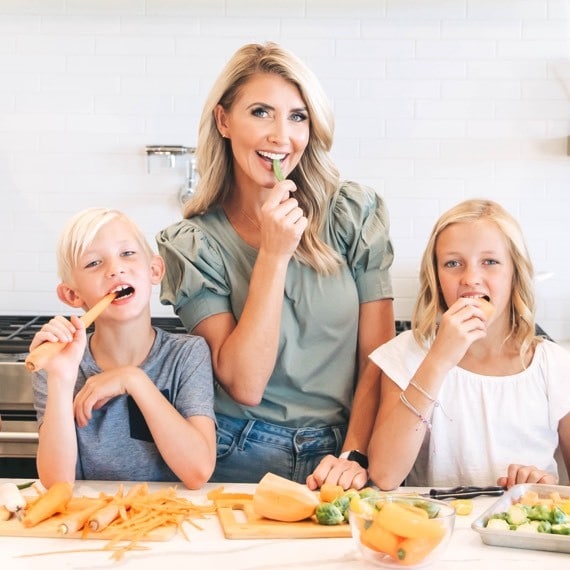 Natalie Monson
I'm a registered dietitian, mom of 4, avid lover of food and strong promoter of healthy habits. Here you will find lots of delicious recipes full of fruits and veggies, tips for getting your kids to eat better and become intuitive eaters and lots of resources for feeding your family.
Learn More about Natalie