Naturally green Sweet Spinach Pancakes are quick and easy to make using whole grain flour, fresh baby greens, and other wholesome ingredients! Whip the batter up in your blender for a fun and colorful kid breakfast.
Check out our Sweet Spinach Muffins for more green goodness that picky eaters love!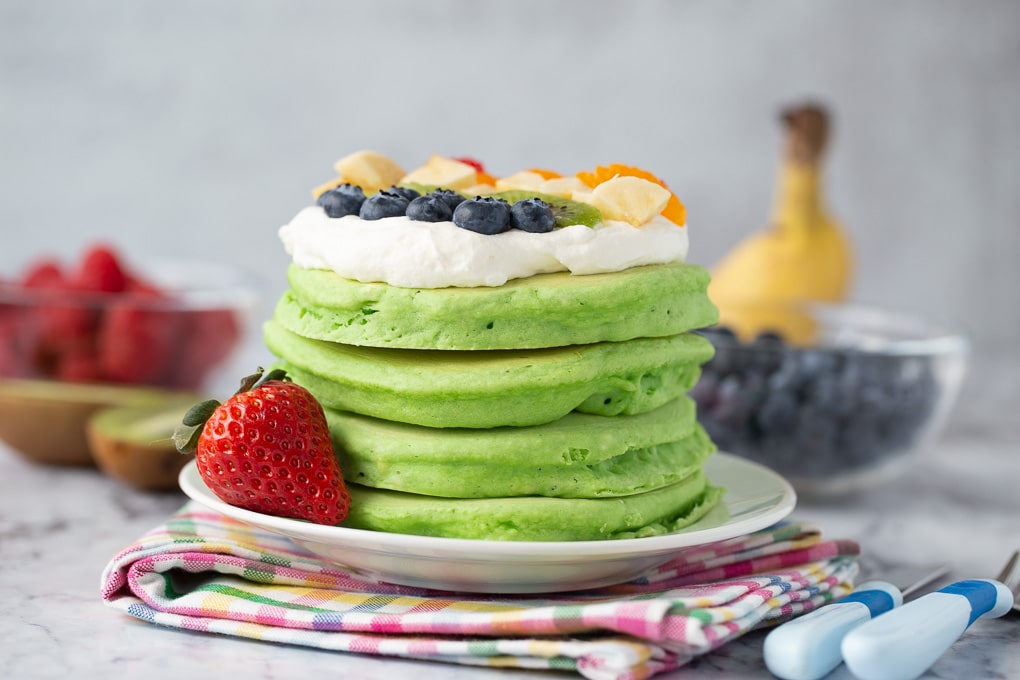 Raise your hand if your kids LOVE spinach for breakfast?

Wait. Before you answer, mix up a batch of these Sweet Spinach Pancakes.

Because these deliciously fluffy, totally dye-free and whole grain pancakes can make a spinach-lover out of just about anyone!
Get your picky eaters on board with greens for breakfast with this fun and secretly nutritious recipe that's easy to enjoy.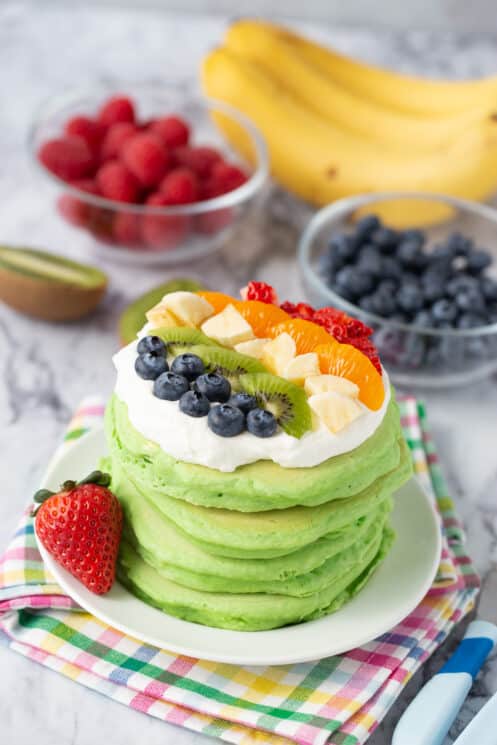 Why We Love Sweet Spinach Pancakes
These delicious pancakes have a LOT going for them! They are…
Made with super-nutritious ingredients like 100% whole wheat flour, whole milk, and fresh spinach
Super light, fluffy, and delicious. Your kids won't detect the veggies inside (but you should tell them!)
They are FUN and colorful with no artificial dyes! Call them Froggy Pancakes, Hulk Pancakes, Grinch Pancakes, or Leprechaun Pancakes.
Easy to make. Your blender helps you whip up the batter in less than ten minutes.
Perfect for freezing. What's better than having a ready-to-eat stash of yummy pancakes in your freezer?
How to Make Sweet Spinach Pancakes
These pancakes are so easy to make, thanks to the help of your blender! Just blend up the spinach with all the wet ingredients. Then combine the wet with the dry ingredients in a mixing bowl. And voila! Your batter is ready.
From there, you'll just cook them like ordinary pancakes.
There are a couple special considerations if you're hoping to absolutely maximize the green color of your pancakes…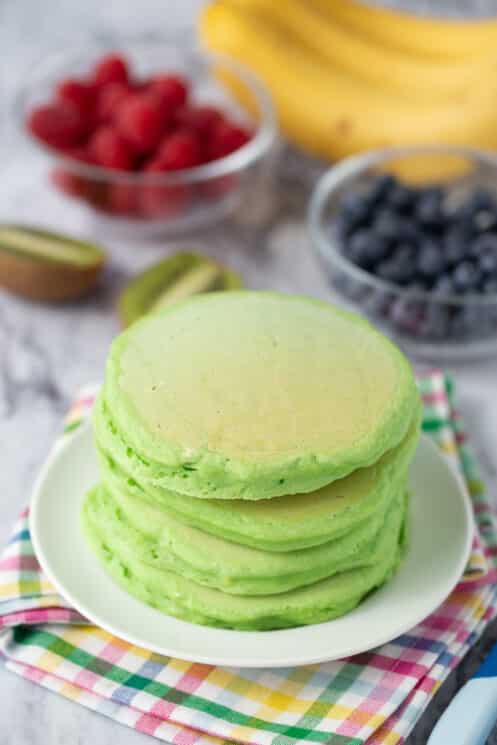 Tips for Getting SUPER Green Pancakes
Use WHITE whole wheat flour. This is still a 100% whole grain flour, but it has a softer texture and a lighter color than standard whole wheat flour. The light color lets the color of the spinach shine through.
Blend wet ingredients thoroughly. To get a nice uniform green color, make sure the blend of spinach and wet ingredients is super smooth. This helps the color really pop.
Cook the pancakes at a medium-low temperature. If your skillet is too hot, the outside of the pancakes will brown and you'll lose that vibrant green color (they'll still be green on the inside!) Keep the temperature low so they cook through while staying green.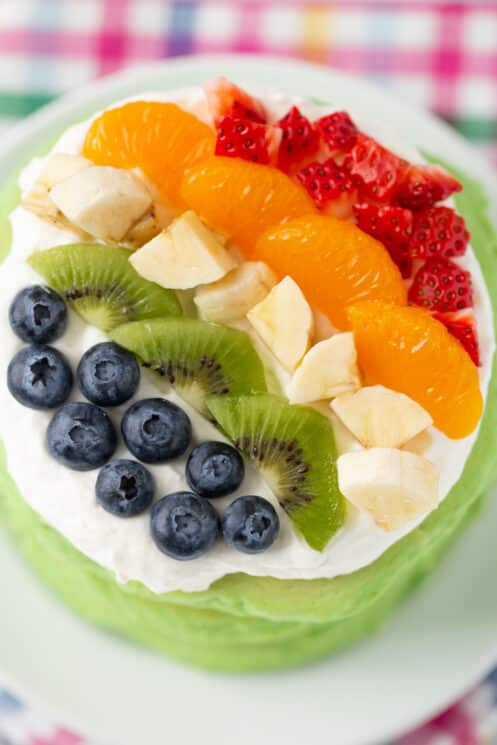 Pancake Topping Ideas
We topped our pancakes with fresh whipped cream and a rainbow of fresh fruits for St. Paddy's Day! You can use whatever you like to dress up these pancakes. Here are a few ideas:
Fresh fruit
Peanut butter or almond butter
Honey or real maple syrup
Vanilla yogurt
Nothing at all! (We call them "hand pancakes" because they're very portable this way.)
Storing Leftovers
Leftover Sweet Spinach Pancakes stay fresh in the fridge for about two days. You can also freeze them in a zip-top bag to be reheated another day. Just make sure to cool them completely before freezing so they don't stick together.
Reheat them in the microwave for a few seconds, or the toaster oven for a few minutes.
More Sweet Recipes Featuring Veggies
Power-Packed Fruit and Veggie Muffins for Picky Eaters
Homemade Pink Pancakes (with Beets!)
Healthy Zucchini Oat Muffins
Sweet Spinach Pancakes
These bright green pancakes are made with whole wheat flour and fresh spinach! Get your kids loving greens at breakfast with no fuss.
Instructions
Add the spinach and all liquid ingredients to a blender and blend thoroughly, until smooth with little or no flecks of spinach visible.

In a separate mixing bowl, combine the remaining (dry) ingredients, and stir to combine.

Pour blended ingredients into the mixing bowl and stir until the batter is just combined. A lump or two is OK– don't overmix.

Heat a skillet over medium-low heat and melt a bit of butter in the bottom. Add small scoops of batter to the skillet (2-3 tablespoons of batter per pancake works well) and cook 2 minutes.

Flip the pancakes and cook a minute or two longer until the pancakes are fluffy and cooked through.

Repeat until all the batter is used up.
Notes
to get the GREENEST pancakes, use white whole wheat flour and cook at a lower temperature to prevent browning on the ouside. 
www.superhealthykids.com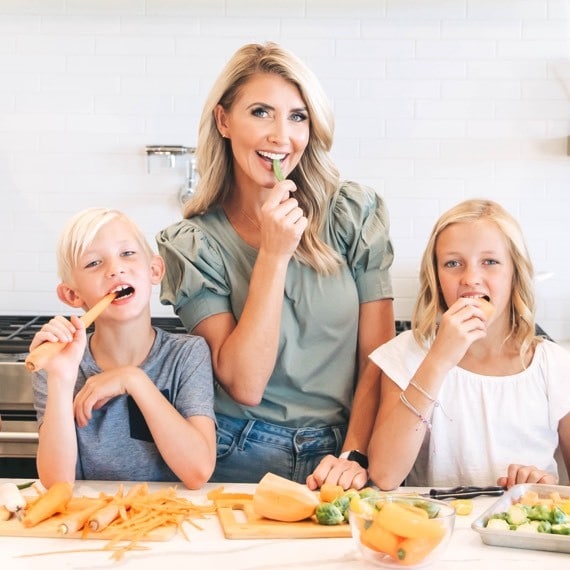 Natalie Monson
I'm a registered dietitian, mom of 4, avid lover of food and strong promoter of healthy habits. Here you will find lots of delicious recipes full of fruits and veggies, tips for getting your kids to eat better and become intuitive eaters and lots of resources for feeding your family.
Learn More about Natalie