Sugar Free Cookies (Sweetened with Fruit!)
You can give your kids these soft, sweet, Sugar Free Cookies just about any time. Serve them for breakfast, tuck them in your big kids' lunchboxes, or add one to your busy toddler's snack plate.
Get tons more ideas for low-sugar snacks on our page of 50 Low Sugar Snacks for Kids.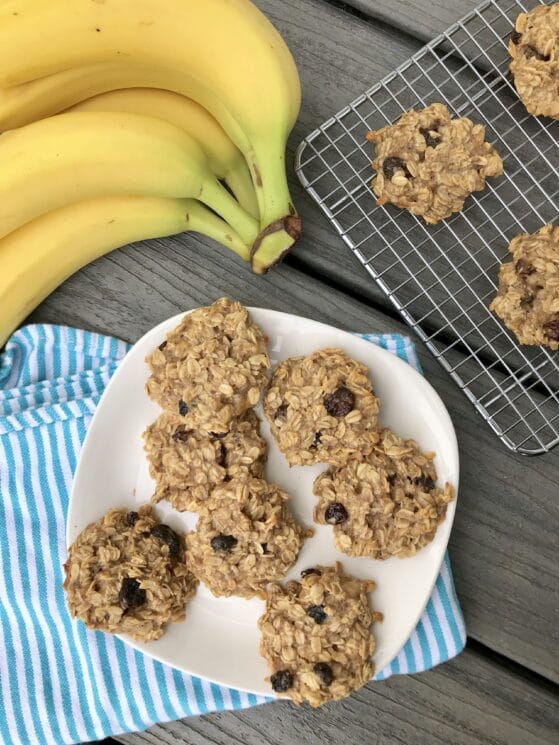 Sugar, and sugary treats, are all around us. It can be exhausting trying to limit the amount of sugar your kids come in contact with. But there are surprisingly delicious and creative ways to enjoy sweet treats with your kids without adding any refined sugars at all!
Here's one to try today: delicious, easy, "anytime" cookies that are 100% sugar free, sweetened only with whole fruits, and studded with whole grain oats.
These cookies have been a staple in our home for years. They're a feel-good choice for snacking toddlers, and a smart addition to lunchboxes. If you're the kind of person who likes to enjoy the best of both worlds (those worlds would be "healthy" and "indulgent" and we are all that kind of person) then it's time to get baking!
Sugar Free Cookies: How Do They Taste?
When you bite into these cookies, the first thing you notice is that they're just plain delicious: gently sweet and flavorful, with soft chewy oats and raisins. If you're skeptical they won't have enough flavor without sugar, you're in for a pleasant surprise.
The cookies boast a slightly crispy, caramelized taste at the edges, and an interior that's moist and cinnamony. You and your kids will want to have two or three at once. And you can.
The secret to a delicious, nourishing sugar free cookie lies in the fruit. Some fruits can stand in for sugar in baked good recipes, like dates, mangoes, and applesauce–anything with a high sugar content. In this recipe, we use bananas. Bananas are naturally high in sugar, and they also help keep the texture of the cookies moist and fluffy.
How to Make and Store Sugar Free Cookies
These cookies are ever-so-simple to make. The dough may look a bit more wet than your typical cookie dough, but don't worry–it'll turn nicely golden brown in the oven.
Because the cookies don't change shape dramatically in the oven (unlike typical cookies,) it's wise to flatten the dough/batter into the size and shape you want your cookies to be before you bake.
You can store them in the refrigerator to help them keep their color (banana-based baked goods can turn gray-ish left out on the countertop.) Let them come to room temperature before eating, or warm them up in the toaster oven for a few minutes.
Leftovers do freeze well, if you can restrain yourself long enough to freeze them.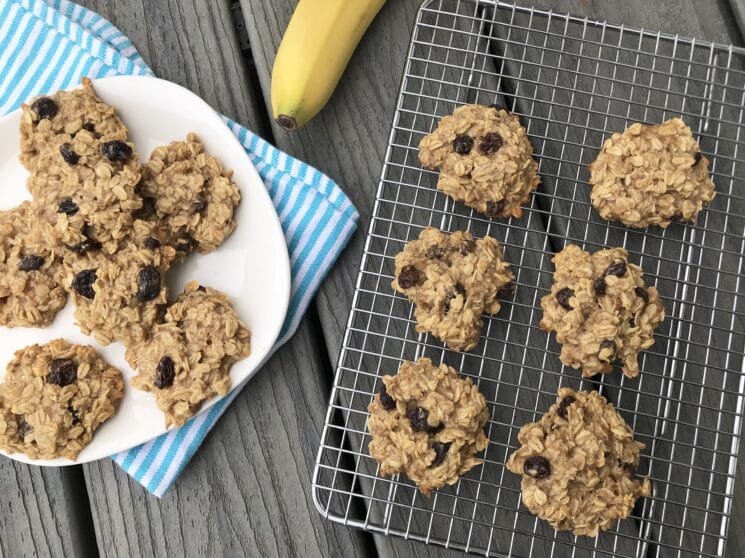 Enjoy, and try some more low-sugar treats here:
Healthy Carrot & Apple Breakfast Cookies
Ingredients
1/4

cup

coconut oil

2

medium

banana

1

large

egg

1

teaspoon

vanilla extract

1/4

teaspoon

cinnamon

1 3/4

cup

oats, dry

1/4

cup

raisins, seedless
Instructions
Preheat oven to 350 degrees F. Lightly grease baking sheets and set aside.

If coconut oil is in a solid state, heat gently until just melted. Mash bananas; add to coconut oil and mix well. Fork-whisk in the egg and vanilla.

Stir in the oats, cinnamon, and raisins until combined.

Spoon the dough onto the baking sheets (you'll make 12-14 cookies.) Bake for 15-18 minutes or until slightly golden. Serve warm, or room temperature. Refrigerate or freeze leftovers.
Nutrition
Calories:
163
kcal
|
Carbohydrates:
22
g
|
Protein:
5
g
|
Fat:
7
g
|
Saturated Fat:
4
g
|
Cholesterol:
16
mg
|
Sodium:
7
mg
|
Fiber:
3
g
|
Sugar:
4
g