Instant Pot One-Minute Quinoa and Veggies
You knew you could make 1-minute quinoa in your Instant Pot, but did you know you could add veggies? One-minute quinoa and veggies is a complete meal with just one minute in the pressure cooker!
One of my favorite things about the Instant Pot is cooking grains like brown rice and quinoa. One minute quinoa always turns out perfectly for me — so I wondered if I could add veggies. Wouldn't it be a dream to cook everything at once?
Why we love quinoa and veggies
I'm here to tell you dreams come true. This meal is going to be a new go-to for my family for meatless Mondays or any other day we don't feel the need for meat. After all, quinoa is a complete protein all on its own!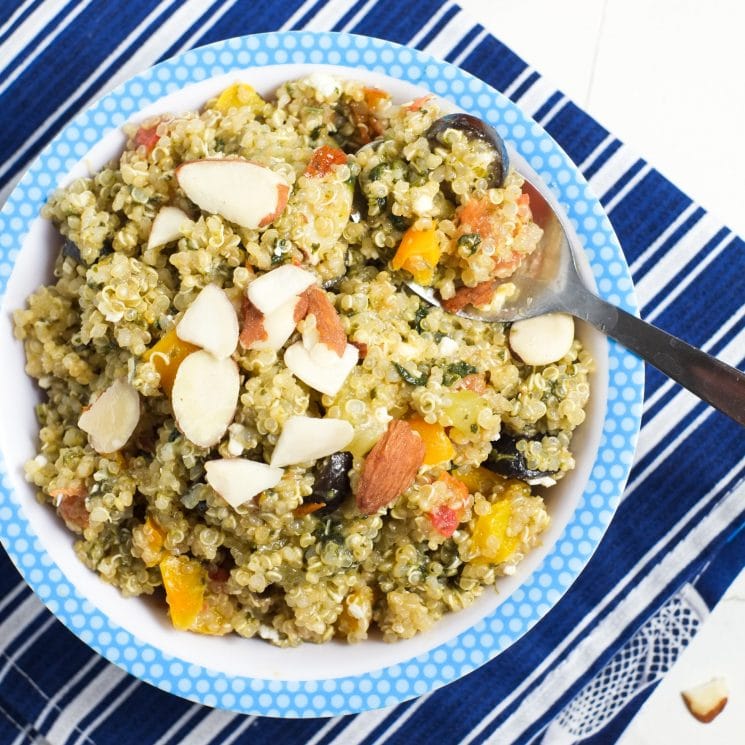 Along with being a complete protein, quinoa contains heart-healthy fats, a good amount of fiber, and folic acid. Quinoa is also a great source of several minerals, including manganese, copper, and phosphorus. What does this mean for us? Healthier bones, skin, and more even levels of energy, just to name a few benefits.
The veggies we used are also great sources of fiber, vitamins, and minerals. Bell peppers and tomatoes are great sources of vitamin C, and tomatoes are also one of the best sources of biotin, which helps with blood sugar regulation. Celery is high in vitamin K, spinach is a wonderful source of folate, and olives contain vitamin E.
One minute quinoa and veggies in the Instant Pot
First, let's get prep work out of the way. Dice your bell pepper into small pieces. I used an orange pepper, but you can use any color you like. Slice three celery ribs into fairly thin pieces. Chop two tomatoes and slice olives (this can also be done later if you're in a rush because they don't have to go in the pot to cook).
Next, rinse and drain the quinoa – this helps the quinoa taste better. Once drained, dump the quinoa into the Instant Pot. Next, add diced bell pepper and sliced celery. Finally, pile on four really packed cups of spinach – about half a bag of baby spinach.
Fasten the Instant Pot lid and make sure the vent is closed. I've forgotten to do this before and it's always a bummer! Push the "Manual" button and then make sure pressure is set to HIGH. Next, decrease the time to 1 minute.
The pot should take about 10 minutes or so to reach pressure and then only one minute to cook from there. Once it finishes it will beep loudly. From here, you can either let the pot be for about 15 minutes while pressure releases naturally, or you can manually release. I prefer manual release because it's quicker! To do this, carefully switch the vent to open, being careful to keep hands away from the steam.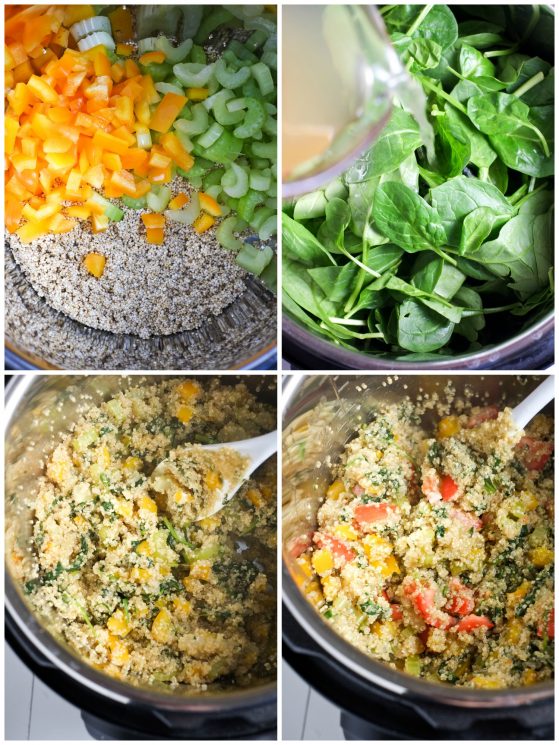 Once pressure has released, the pin next to the vent will drop down and you know it's safe to open. Stir up the cooked quinoa and veggies, then stir in chopped tomatoes, sliced olives, and pesto. Stir again.
Serve topped with slivered almonds for crunch and feta cheese for zesty flavor. You can also try other nuts or different cheeses. I love goat cheese, but whatever your family loves will do the trick.
Fun variations for this dish include adding cooked chicken at the end or switching out the veggies. Just make sure to use veggies that cook quickly so that they finish in the same amount of time as quinoa. Mushrooms or zucchini shreds would work nicely!
Flavoring can be switched up as well. Pesto is delicious, but you can also use other dressings or seasonings of your choice if you want to try something different. I love using this citrus dressing on quinoa, personally.
Enjoy using your Instant Pot for a virtually instant meal with this recipe!
Ingredients
3

stalk

celery

1

medium

bell pepper, red

1 1/2

cup

quinoa, uncooked

1/4

teaspoon

salt

4

cup

spinach

1 1/2

cup

chicken broth, low-sodium

2

medium

tomato, red

1/2

cup

black olives, canned

1/3

cup

pesto

1/2

cup, crumbled

feta cheese crumbles

1/4

cup

almonds, sliced
Instructions
Chop celery and bell pepper into small pieces. Rinse and drain quinoa.

Dump quinoa into Instant Pot, then bell pepper and celery. Add 1/4 teaspoon of salt. Measure 4 well-packed cups of spinach (about half a bag) and dump into Instant Pot. Pour chicken (or any other) broth into pot.

Close the lid and make sure the vent is set to closed. Push the manual button, make sure pressure is on HIGH and reduce time to 1 minute.

While the pot comes to pressure and cooks, chop tomatoes and olives.

When the pot beeps several times it has finished cooking. Release pressure in one of two ways: 1) manually release pressure by carefully opening steam valve. Make sure to keep hands clear of steam as it will be hot. This takes a couple of minutes. Or 2) do nothing and allow the pressure to release naturally over about 15 minutes. You will know you can open the pot when the pin to the side of the pressure valve drops.

Add tomatoes, olives, and pesto to the pot. Mix well.

Serve warm or cold topped with feta cheese and almond slices.