Pizza rolls but better! Packed with veggies for picky eaters.
Savory, cheesy warm pizza rolls.  But these rolls don't stop there!  They are packed, literally with veggies.  For those of you with picky eaters or kids who have a hard time with all of the textures and flavors of veggies, these pizza rolls are the perfect way to provide a variety of veggie flavors without overwhelming them.  We believe it is important to serve your kids veggies in different forms, a variety of cooking methods and with other foods.  These pizza rolls are yet another form of serving veggies to your kids.  There are 9 different veggies in these delicious Veggie Packed Pizza Roll Recipe and your kids will love every bite!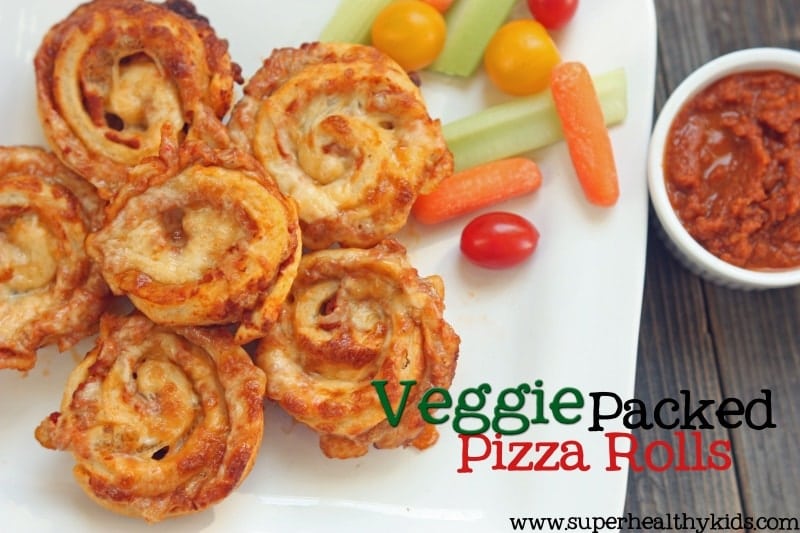 I am a big fan of making larger batches of food at a time, and then freezing and pulling it out when you need a quick meal or snack.  This recipe makes a lot of sauce which you can freeze and use later for pizza, lasagna, dipping sauce for bread sticks, or spaghetti.   You can really use any veggies you would like.  We used:
You will need about 1 1/2 – 2 cups of chopped veggies and then combine with your favorite marinara sauce.   I really like Classico because of the quality ingredients. Saute your veggies before you blend together.
The dough only rises for 30 minutes and so these are quick to make, delicious to eat, and a nutrition power house for your kids. We used a muffin pan to bake the rolls. Perfect for a snack, or a meal.  We had these for dinner and served with watermelon, and sliced cucumbers with vinegar dipping sauce.   All 3 of my kids and my husband loved them – winner!  We will definitely be putting these on our regular menu.   If you have leftovers, freeze them and then reheat later for a super quick meal!
If your kids like veggies blended into food like this, you might also want to try our