Coconut Mango Chia Pop Recipe
I feel like coconut and mango go together like peas and carrots. It is just right. And then you throw in some chia seeds, and Bam! You have created perfection. I have never appreciated the goodness of chia until recently. They are the most unique little seed – and I still think its crazy how they can expand and turn into something totally different.
Benefits of Chia Seeds
Chia seeds come from the desert plant Salvia hispanica, a member of the mint family
1 tablespoon of chia seeds contains 5 grams of fiber, 3 grams of protein, 2282 mg of Omega 3 and 752 mg of Omega 6 fatty acids (This makes them a really great source of both fiber and Omegas)
A significant concentration of fiber combined with their ability to absorb 10 times their weight in water also makes chia seeds excellent for maintaining regularity and also contributing to satiety
Contain iron, calcium, magnesium and zinc
Emerging research suggests that including chia seeds as part of a healthy diet may help improve cardiovascular risk factors such as lowering cholesterol, triglycerides and blood pressure
I love making my own pops for my kids because I can pack them with fruit, and other nutritious foods but they still love them like a treat. Sometimes they even ask for a popsicle for breakfast, and when it is one that I made I feel good about letting them have it any time of day! These pops are creamy, naturally sweet and packed with nutrients.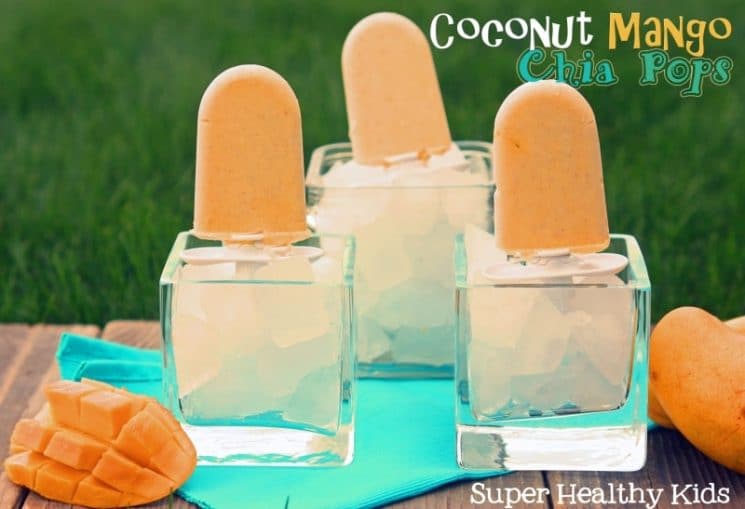 Coconut Mango Chia Pop Recipe
To make these you will need 3 ingredients. Yep just 3! Mango (frozen or fresh), soaked chia seeds, and coconut milk. That is it! For coconut milk, I like the Thai Kitchen lite. I let my chia seeds soak in water over night, so when I'm ready to make these I don't have to wait. Blend ingredients together, pour into your molds, freeze and enjoy! I love my Zoku because you can make popsicles in 7 minutes. But you can definitely use any type of pop mold.
These are creamy and dreamy, but more than just your regular popsicle. They have healthy fat, protein, vitamins, and minerals and fiber! When your kids ask for a second, you will gladly give them one!
Ingredients
1

cup

coconut milk

3

cup

mango cubes, frozen

1/2

cup

water

2

tablespoon

chia seeds
Instructions
Soak chia seeds in water over night.

Blend together until smooth. Pour into pop molds, and freeze.
Nutrition
Calories:
210
kcal
|
Carbohydrates:
22
g
|
Protein:
3
g
|
Fat:
14
g
|
Saturated Fat:
11
g
|
Sodium:
11
mg
|
Fiber:
4
g
|
Sugar:
17
g