The fun thing about restaurant dining is everyone in your family can get something different! The very thing we avoid when we are cooking for our family at home.  If you've ever said before "I'm only making one meal tonight, you eat it or you don't", you know what I'm talking about!
But this is also the reason we love a good old home style buffet- The potato bar, the oatmeal bar, the salad bar, pasta bar, taco bar, etc.  Today we're offering "The Sandwich Bar"- Subway style!
To make our sandwich bar just like Subway's, we had two things in mind. One, to make our hoagie rolls. And second, to find as many veggie toppings as we could come up with.
Our bread, we adapted this recipe from Copycat Recipe Guide (and replaced the regular flour with whole wheat flour and the soybean oil with Grape Seed Oil)- Our full recipe is below.
We then baked our bread in a mini loaf pan– because we like small things!  You don't need a loaf pan. You can also divide your bread into 8 logs and bake it on a cookie sheet.
After baking, we took out our veggies for the sandwiches and put them in a muffin tin.  We used (from top to bottom):
Green peppers, chopped
Shredded carrots
Avocado
Jalapenos
Spinach
Roasted Red peppers
Pickles
Banana Peppers
Lettuce, shredded
Tomatoes, chopped
Cucumbers, thinly sliced
and Olives, chopped (sliced would work too)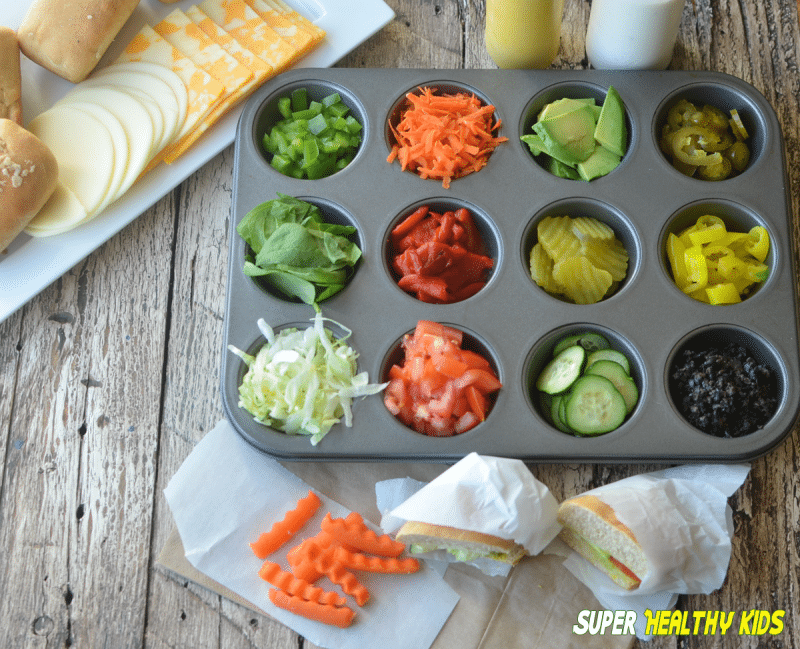 Our condiments, we used mustard or homemade ranch dressing.
We wrap up the sandwich, add some carrot "fries" and take it with us! (we wrapped with parchment paper)
And there you have it! The kids can assemble their sandwiches to their liking!