Grilled Apple and Peanut Butter Sandwich
Apple and Peanut Butter Sandwich brings the melted goodness of peanut butter with tangy and crisp apples together in one bite.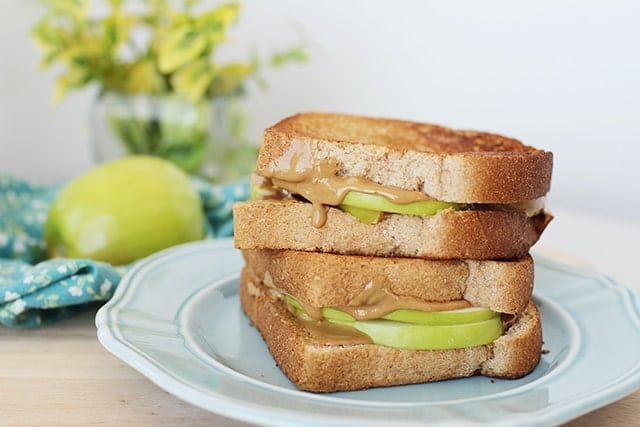 Peanut Butter Sandwich – The Classic Lunch
When you say peanut butter sandwich, it is almost like something is missing. Jelly? Peanut butter and jelly sandwich just kind of rolls off the tongue. I bet many of you can say you have literally had hundreds of peanut butter sandwiches for lunch. It is easy, delicious and adds protein to your lunch without having to refrigerate anything. Why do we love peanut butter sandwiches SO much? It's sweet and salty with a variety of textures from the different elements. For a lot of adults it can be nostalgic because it's a simple sandwich often made by parents when they're low on time to cook. Even with its delicious flavors and nostalgia, it can definitely get boring if you eat the same old peanut butter sandwich every day.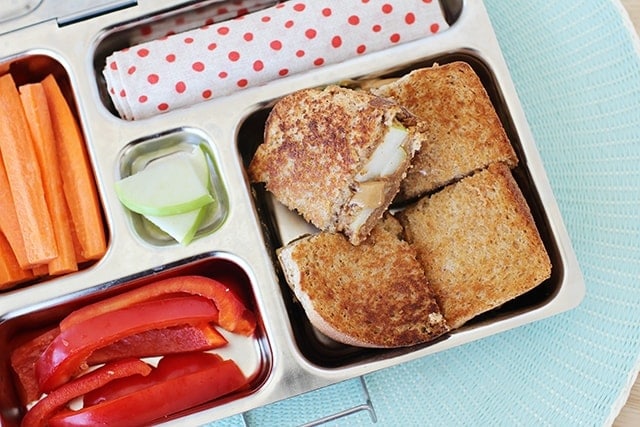 Peanut Butter Sandwich Variations
Peanut butter is a lot more versatile than you may even realize. It really goes well with a lot of different foods. Combine peanut butter with another delicious food on bread and you have yourself a unique peanut butter sandwich and delicious lunch. Some foods go together really well. Sweet and salty. Ying and yang. Creamy and tangy. It is true that opposites attract! Here are some of our favorites:
Peanut Butter +
Apples (This recipe is all about the creamy, sweet and salty peanut butter with crispy, tangy fresh apples)
Banana
Cinnamon + Raisins
Granola
Dried Fruit + Nuts
Nutella + Strawberries
Chia Seed Jam
Greek Yogurt + Jam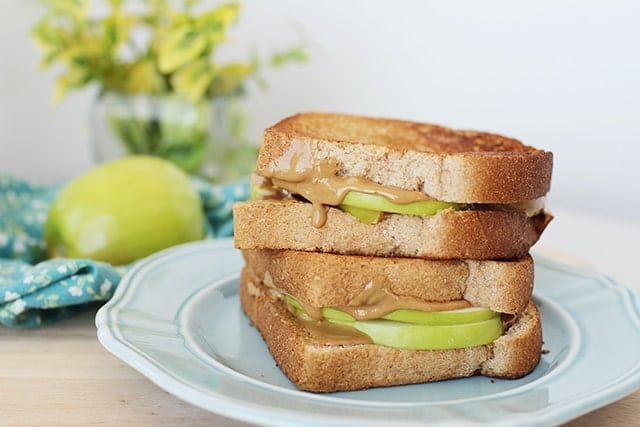 Natural Peanut Butter Vs. Regular
If you walk down the peanut butter aisle at any grocery store you'll see a variety of choices—from peanut butters made with only peanuts to peanut butters in exciting flavors. Which peanut butter should you buy? There are basically two main types of peanut butter: Natural and Regular or Conventional peanut butter. In order for a product to be labeled as peanut butter, it must contain at least 90 percent peanuts.
Natural peanut butter usually contains just two ingredients, peanuts and salt. Conventional peanut butter typically includes sugar and hydrogenated vegetable oil to ensure that its consistency is not affected by time or temperature.
Natural peanut butter usually needs to be stirred in order to achieve the right consistency. The oil found in natural peanut butter separates from the solids and has to be stirred together before eating. Natural peanut butter also tends to be a bit grainier than conventional—even if it's "creamy." The natural separation is more likely to occur if you store peanut butter at room temperature. However, if you refrigerate it, natural peanut butter becomes much more difficult to work with. Conventional peanut butter doesn't separate and stays together no matter what temperature you store it at.
As far as nutrition differences go this is how they stack up against each other:
Regular peanut butter (from USDA Nutrient Database):
Serving size: 2 tablespoons
Total fat: 16g
Sat Fat: 3g
Sodium: 5mg
Sugar: 3g
Protein: 7g
Natural peanut butter (Top selling brand):
Serving size: 2 tablespoons
Total fat: 16g
Sat fat: 2g
Sodium: 0mg
Sugar: 1g
Protein: 8g
Surprisingly they are very similar nutritionally speaking. When you are trying to decide which peanut butter to buy, it really comes down to texture, cost, and if you prefer your peanut butter without any additives.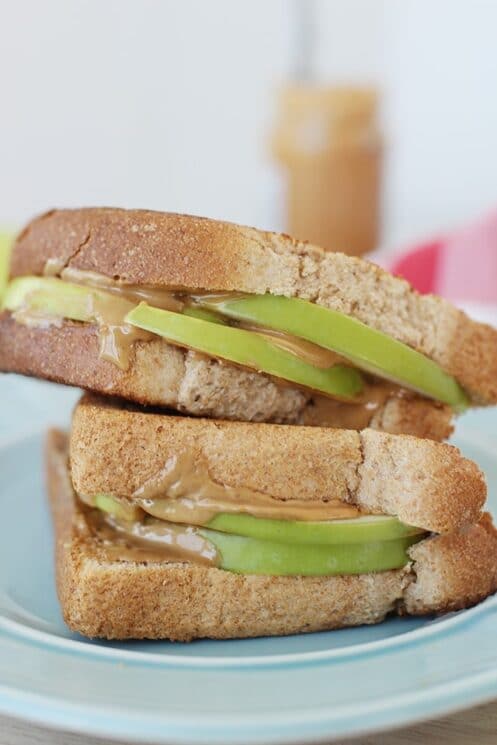 More Peanut Butter Recipes:
Grilled Peanut Butter and Apple
Apple and Peanut Butter Sandwich brings the melted goodness of peanut butter with tangy and crisp apples together in one bite.
Ingredients
Serve With
4

medium

carrot

1

medium

bell pepper, red
Instructions
Core and slice an apple. (Gala if you have it).  Spread one tablespoon of peanut butter onto one side of 8 slices of bread.

Arrange apple slices on 4 slices of bread. Sprinkle the cinnamon evenly over the apples. Top with the remaining 4 slices of bread, peanut butter face down.

Spray a large skillet with cooking spray and pre-heat to medium heat. Cook sandwiches until browned, about 1 to 2 minutes on each side.

Serve with carrot sticks.
Nutrition
Calories:
413
kcal
|
Carbohydrates:
49
g
|
Protein:
16
g
|
Fat:
19
g
|
Saturated Fat:
4
g
|
Sodium:
473
mg
|
Fiber:
9
g
|
Sugar:
15
g
www.superhealthykids.com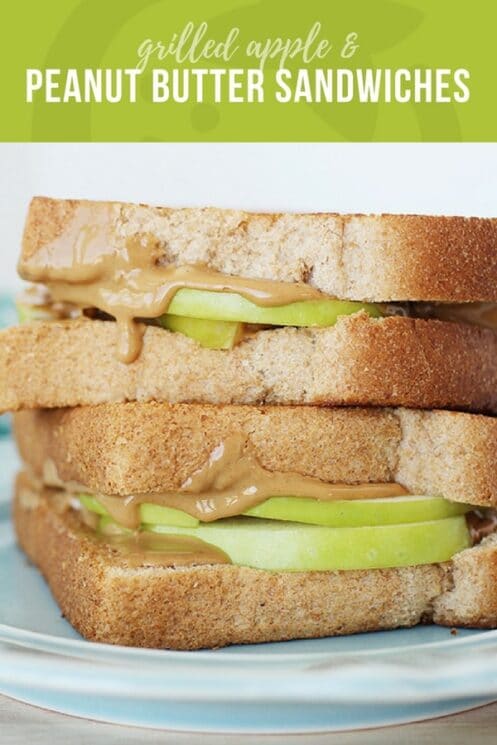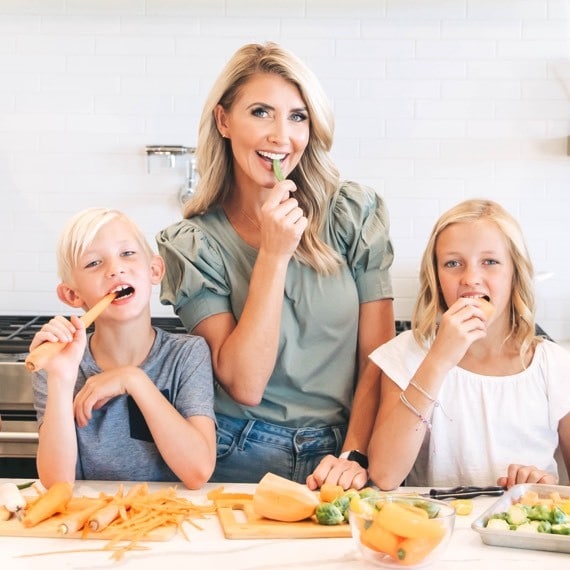 Natalie Monson
I'm a registered dietitian, mom of 4, avid lover of food and strong promoter of healthy habits. Here you will find lots of delicious recipes full of fruits and veggies, tips for getting your kids to eat better and become intuitive eaters and lots of resources for feeding your family.
Learn More about Natalie