Give Friday pizza night a healthy makeover with our recipe for whole wheat dough, simply-seasoned sauce, and loads of fresh toppings you can customize for your picky eaters. Our tips and tricks teach you how to be a homemade pizza pro!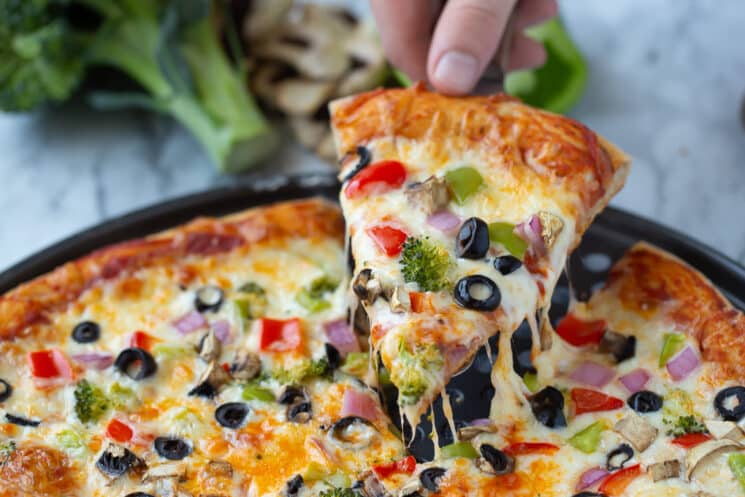 Make way for pizza! It's the meal that almost everyone of every age loves to eat. And with a few simple ingredients and a little bit of know-how, you can make this ultimate kid-friendly dinner at home… and feel proud to serve it!
Our post teaches you all the steps (they're not hard, promise) to making homemade pizza that's crispy, cheesy, healthy, and delicious. Be a homemade pizza pro with our base recipe that you can customize infinitely to suit your mood and your kids' tastes.
The first step to being an all-in lover of homemade pizza is to acknowledge the truth that this dietitian spoke out about recently: pizza is actually pretty healthy for you.
What Makes Homemade Pizza Healthy?
Despite its party-food reputation, pizza can provide a lot of good nutrition. That's especially true when you make it yourself at home. Homemade pizza made our way is healthy because it's…
Made with 100% whole grains
Spread with lycopene-rich tomato sauce (Did you know that tomato sauce has more of this powerful antioxidant than fresh tomatoes?)
Topped with protein-rich whole cheeses
Sprinkled with fresh veggies
All together, homemade pizza is, believe it or not, a balanced meal! You're hitting all the food groups in a package that your kids will absolutely love.
Tips for Getting a Crispy, Chewy Whole Grain Crust
Working with whole grain flour to make pizza dough is slightly trickier than using all purpose flour. But it is absolutely possible to get a marvelously stretchy, light, and savory dough with 100% whole wheat flour. Here are some tips that help:
Be willing to work with slightly wet dough. Drier dough may be easier to handle, but it'll have less oomph during the rising stages, and it'll break more easily when you're trying to stretch it out to fit your pan.
Use white whole wheat flour, or a blend of white and hard red wheat. White whole wheat flour is still a whole grain, but the finer texture makes it easier to work with, and a closer approximation to all purpose flour.
Add a tablespoon of gluten. Don't be afraid of it! Gluten is already present in your whole wheat flour. Adding an extra tablespoon gives your dough a lot more stretch. You can find gluten in the baking aisle.
Let it rise twice. A double rise also helps you get a thin, stretchy crust.
Add a thin olive oil barrier to your crust before you add toppings. This prevents the crust from getting soggy underneath your sauce and cheese.
How to Make Super Simple Homemade Pizza Sauce
If you imaged that making homemade pizza sauce involved hours of tending to a pot of splattering tomatoes on the stove, you're in for a treat. In reality, it could NOT be easier to make a flavorful, homemade pizza sauce. You only need three things to do it (and a stove isn't one of them.) Gather up these items:
A can of plain tomato sauce
One or two pinches of dried oregano
A clove of garlic, grated, OR a dash of garlic powder
Just stir together these three ingredients in a small mixing bowl, and you have a totally solid, not-lacking-anything pizza sauce.
Keep in mind, if you're cooking for kids, using raw garlic does make for a fairly zesty sauce. It tastes great! But it might be a little much for garlic-lovers in training.
Note that we opt NOT to salt our tomato sauce, because the cheeses you're going to use bring a lot of salt already. Speaking of cheese…
These Cheeses Are Good on Pizza
You only really need two kinds of cheese to get a perfectly balanced mixture of meltiness, creaminess, saltiness, and tang.
The magic duo is whole milk Mozzarella, and grated Parmesan. You can use pre-shredded cheeses if you like, but please do get freshly-grated Parm from the refrigerator section, not the more powdery kind that comes in a jar. You can substitute Asiago for the Parmesan.
Yummy and Healthy Pizza Toppings
When it comes to toppings, the sky's the limit! Some toppings we like on our homemade pizza are these:
broccoli
mushrooms
bell peppers
fresh tomatoes
red onion slices
black olives
fresh tomatoes
pineapple
deli ham
pepperoni
leftover cooked chicken
fresh basil leaves (scatter them on as soon as the pizza comes out of the oven)
fresh or frozen spinach
What to Cook Homemade Pizza On
You don't need any specialty bake ware to make homemade pizza. An ordinary baking sheet will work!
If you have one, you can of course use a round pizza pan or pizza stone (go ahead and preheat the stone along with your oven before baking.)
More Healthy Pizza Recipes to Try
Veggie-Packed Pizza Rolls
10-Minute Veggie Pizza
Hidden Veggie Pizza
Healthy Homemade Pizza
Healthy, kid-friendly pizza made with a whole grain crust, a simply-seasoned tomato sauce, whole cheeses, and loads of optional fresh toppings.
Ingredients
For the dough
For the sauce
1

14-ounce can

tomato sauce

½

teaspoon

dried oregano

1

clove

garlic, grated

or a pinch of garlic powder
Topping ideas
shredded Mozzarella

grated Parmesan

fresh veggies like bell peppers, onions, mushrooms, broccoli, or spinach

pepperoni, ham, chicken, or ground beef
Instructions
In a small bowl, whisk together warm water and yeast, and set aside. The mixture should start to foam after a few minutes.

In a large mixing bowl, combine flour, salt, and gluten if using. Stir well, then add the water/yeast mixture, olive oil and honey. Stir until a ball forms.

Use your hands to knead the dough for several minutes. (If the dough is too wet, you can add a couple of tablespoons of extra flour so it's easier to handle. But keep in mind that a dry dough won't get as stretchy and light as a wetter dough.)

Form the dough into a loose ball, drizzle a little olive oil on top, and cover the bowl with a clean dish towel. Let the dough rise for 1-2 hours.

When the first rise is finished, punch down the dough (deflate it with your fists) and cut the ball in half. Roll each piece of dough into a new ball, place them in separate bowls, and let them rise for another 30 minutes.

Meanwhile, preheat the oven to 425 F and prepare your toppings. Mix the sauce ingredients together and set aside, chop any veggies you plan to add, and grate your cheese into piles.

Sprinkle a few tablespoons of whole wheat flour on a clean counter top, then flatten one of the dough balls onto it. Use a rolling pin (a glass bottle works in a pinch) to gently roll the dough into a circle (if you're using a pizza stone) or an oval (if you're using a baking sheet.) Use your fingers to shape the edges into a slight crust. You can also lift up the dough by the crusts and gently turn it to help the dough stretch evenly.

Once the dough is shaped into a crust, place it on the stone or baking sheet.

Rub about 2 teaspoons of olive oil onto the surface of the crust, then add your desired toppings.

Bake for 10-12 minutes or until crust is brown, and cheese is bubbling.

Slice and serve hot! Repeat the process with your second ball of dough. OR refrigerate or freeze the reamining dough for later.
www.superhealthykids.com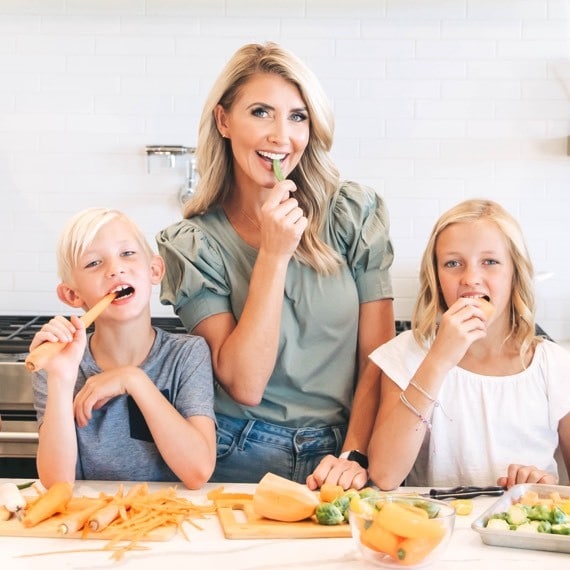 Natalie Monson
I'm a registered dietitian, mom of 4, avid lover of food and strong promoter of healthy habits. Here you will find lots of delicious recipes full of fruits and veggies, tips for getting your kids to eat better and become intuitive eaters and lots of resources for feeding your family.
Learn More about Natalie